The Most Interesting Blogs
1.

Evernote

2.

First Round Review

3.

Entrepreneur

4.

Michael Hyatt

5.

Gary Vaynerchuk

6.

Huffington Post

7.

Buzzfeed

8.

Mashable

9.

The Onion

10.

The A.V. Club

11.

Coursera

12.

Khan Academy

13.

Udacity

14.

edX

15.

Udemy

16.

Be My Travel Muse

17.

The Everywhereist

18.

Wild We Wander

19.

The Culture Map

20.

The Blonde Abroad

21.

Into the Gloss

22.

Allure

23.

Barefoot Blonde

24.

Free People Blog

25.

My Beauty Bunny
26.

Craft Gossip

27.

Cleverhiker

28.

The Literary Edit

29.

Adventure Journal

30.

Gameinformer

31.

NerdWallet

32.

MintLife

33.

The Penny Hoarder

34.

The Simple Dollar

35.

Money Under 30

36.

The Frugal Girl

37.

Popsugar Food

38.

Delish

39.

Sweet as Honey

40.

Pinch of Yum

41.

Love & Lemons

42.

Spoon Fork Bacon

43.

Scary Mommy

44.

The Inspired Treehouse

45.

Motherly

46.

Bounce Back Parenting

47.

Artforum

48.

Cass Art

49.

Lost Art Press

50.

ArtBar
Spending time seeking out a well written and creative blog can not only be entertaining or educational; it can inspire you and reinvigorate those creative juices.
One of the amazing things about the internet is the fact that you can find anything your heart desires, anytime you want it, day or night. The challenge becomes finding the choice blogs that can truly inspire you.
There are several reasons you should be reading widely from a variety of blogs and resources. Here are a few benefits:
It boosts creativity and inspires new perspectives.
It expands your vocabulary and improves communication skills.
It improves understanding and makes you more knowledgable.
It shows you different writing styles, voices, and other thought processes.
Types of Blogs
Where do you go to receive so much value though? Where should you start?
via GIPHY
The truth is, you should dive into whatever interests you the most. There's such a wide range of cool blog types, and many have their own niche sub-categories.
Business and Financial Blogs
Ok, so this category isn't exactly playtime, but these blogs do offer some great perspective and educational tips for improving your career.
Some niche subjects include:
Small business
Budgeting
Get-rich-quick
Entrepreneurial
Food Blogs
These are really fun if you're looking to freshen up your culinary skills. No matter if you're a professional chef or trying to grow past boiling rice, you'll have content designed for your skill set.
You can find blogs dedicated to:
Recipes
Cooking methods/culinary skills
Equipment reviews
Experimental cooking
Culture-specific foods
Parenting Blogs
Parents are human, too. You don't become an expert overnight when a baby enters your life. That's why parenting blogs have become a beloved resource.
They cover topics on:
Pregnancy and motherhood
Pediatric health
Parenting tips
Kid activities
Anecdotal stories
Travel Blogs
We all love to travel!
Whether your dream vacation consists of taking a wine tour through Tuscany, an eco-tour of the Central American rainforests, or a journey to ride the 10 best roller coasters in the United States, you'll find everything you need online!
You can find blogs focused on:
Sights to see
Travel guides (e.g., how to travel by train in Europe)
Adventure blogs
Luggage reviews
Flight hacks
Entertainment Blogs
Want to know what Angelina Jolie is up to this week? How about the latest new music or box office numbers for your favorite movie? Man does not live by work alone!
These blogs can help you stay ahead of the cultural trends or just give you a laugh during the middle of the day!
Some popular blogs cover:
Celebrity news
Film news and reviews
Music news and reviews
Fashion Blogs
The fashion industry is enormous, especially today where the rules of fashion are being broken and reinterpreted at scale. Fashion bloggers generate cult followings with their expertise and curious takes.
No matter what your style is, there's plenty of sources of inspiration out there.
Popular blogs highlight:
Top brands
Product reviews
Industry trends
"Who Wore It Best"
Style inspiration
Hobby Blogs
For all of those out there who feel like they're outside of the mainstream, you have a familiar crows out there too. Craft bloggers, collectors, fitness gurus, and even fishing masters are excited to share their knowledge and experiences online.
Some of the more popular hobbies are:
DIY
Fitness and training
Video games
Art
Gardening
Educational Blogs
In the information age, education should be a lifetime pursuit. At no other time in recorded history has so much information been available to everyone so easily. The internet makes it possible to increase your value as an employee, join and learn about social causes, and create change through education.
This is largely thanks to the introduction of massive open online course (MOOC) websites.
Honestly, you can pick any subject and probably find someone writing about it.
via GIPHY
Common Characteristics of Blogs
Subject may vary, but every blog follows a similar structure and flow that defines it as a blog. They all share different characteristics and commonalities that act as a sort of template for bloggers across blog type.
Even though they're incredibly customizable, you can pretty much identify the four key parts of a blog.
Header
You'll usually find some sort of title or banner here, along with a menu or navigation bar.
Featured Content
This is where the content lives. Bloggers either display previews of their blogs or post full-body articles upfront. Many include a featured image and supportive designs, CTAs, and a comments section.
Sidebar
Typically, this is where the blogger's social media accounts are featured, along with more CTAs, an "About" blurb, and a list of favorite posts.
Footer
The bottom of the page hosts disclaimers, the privacy policy, and any other relevant links that would disrupt the user experience in the header.
What Do the Best Blogs Have in Common?
via GIPHY
Every blog has what was just listed above, but only the best blogs understand that you need a lot more to stand out from the rest. The web is filled to the brim with blogs, so competition is intense.
How exactly do the great blogs rise above the noise and create their own space? It's a combination of two things:
1. A Unique Voice
No matter what topic you write about in your blog, it won't feel like just another drop in the ocean if you present your content with personality.
As long as you can put an interesting spin on a story, it'll feel new and exciting for readers. Half of building a following is letting readers get to know you through your voice and character.
2. Quality Content
The other half of it is by providing them with content that's actually valuable and pertinent to their interests.
You can't fake quality. Even if you have the ability to weave word magic and paint a pretty picture, you'll only capture a reader's interest for so long before they click away because they're not being fed anything.
The greatest blogs focus on providing creative content that will better their readers' experience in some way. Whether it gives them a good laugh or provides actionable takeaways, readers finish the post feeling like they benefited somehow.
Personality and quality are the perfect combo to attract viewers and keep them coming back again and again.
50 of the Most Interesting Blogs Loved By Their Visitors
Every blog you read, no matter the subject, can inform your professional endeavors. And we're always glad to help you on your quest for knowledge!
Here is our list of some of the most interesting blogs out there that you need to check out.
Interesting Business Blogs
From productivity building tips to sales and design and management information, these blogs can educate, entertain, and inspire you!
1. Evernote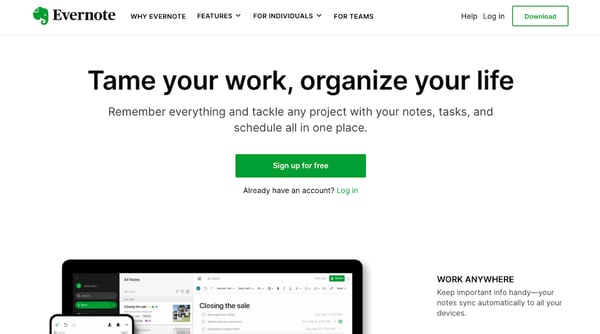 The days of pencils and notebooks are coming to an end. Or at least, they're becoming less convenient and accessible when compared to the huge selection of note taking apps, which are becoming the new preference for thousands of people.
Evernote is among the most popular choices and for good reason: It's super easy to use and simplifies the entire process of capturing and organizing information.
Evernote's blog offers a wealth of productivity boosting tips that can help you at home, in the office, and everything in between. For example, a July 2018 post showed how you can make your commute to work more productive.
The categories within their blog make it easy for visitors to find exactly what they need. These categories include:
Everything - get a glimpse at every post, including featured content and their latest publications.
Podcast - listen to advice for important topics, like boosting productivity, fueling creativity, and growing your business.
Customer Stories - these aren't just boring testimonials; this category includes interesting stories of all kinds of people (musicians, marketers, etc.) and offers pro tips.
Productivity - gain insights on making the most out of your time, reducing double work, harnessing focus, and so much more.
Evernote News - stay informed on the company's latest developments, including cool integrations and updates to their app.
Evernote Tech - get geeky by diving into the nitty gritty tech side of the app.
Using Evernote - this app is so powerful that they need an entire section to show you how much you can do with it, with tips on using tags, shortcuts, templates, etc.
2. First Round Review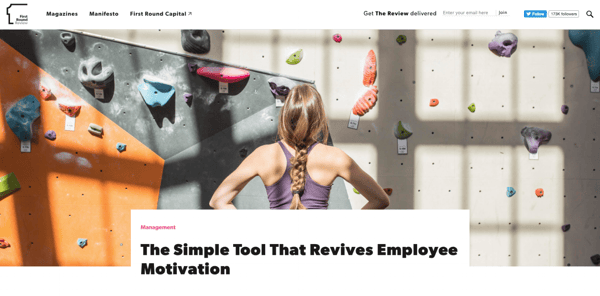 First Round Review offers information from some of the most creative entrepreneurs out there. Their content covers a wide range of interesting topics, including:
People and culture
Product
PR and marketing
Management
Engineering
Design
Sales
Fundraising
It's a diverse mix of information that keeps you coming back. The best part is that it features long form content, so its writers can really dig into a subject. This is great because the writers are thought leaders from some of the top businesses out there!
3. Entrepreneur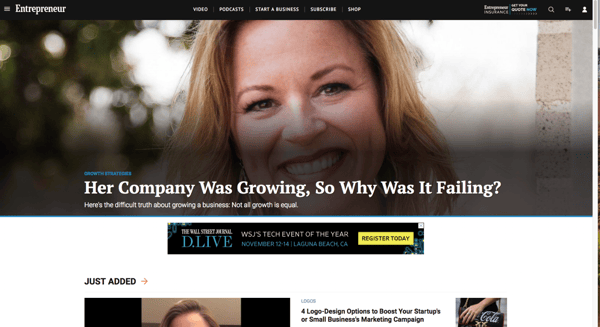 One of the best blogs you can find on all things entrepreneurship and business, Entrepreneur offers high quality content for every reader.
The topics they cover, while geared toward the entrepreneur, resonate with all kinds of professionals. These topics include:
Growth strategies
Franchising
Starting a business
Social media
Technology
Inspiration
Leadership
Marketing
Finance
Not to mention, they also provide editions for regions all over the world, feature podcasts, and create premium video content through the Entrepreneur Network.
4. Michael Hyatt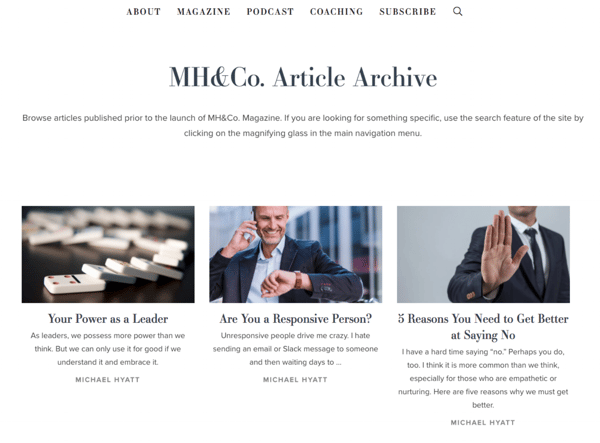 After building a successful career in publishing as a literary agent, chairman, and CEO, Hyatt is now best known for his speaking engagements and his best selling books.
His excellent writing combined with decades of experience in leadership make his blog a must read. While he recently discontinued his blog in late 2017, his website still provides archived posts.
Plus, his new venture, MH&Co. Magazine, offers a ton of awesome content from Hyatt, as well as several expert contributors, covering productivity, leadership, personal development, travel, decision making, and much more.
5. Gary Vaynerchuk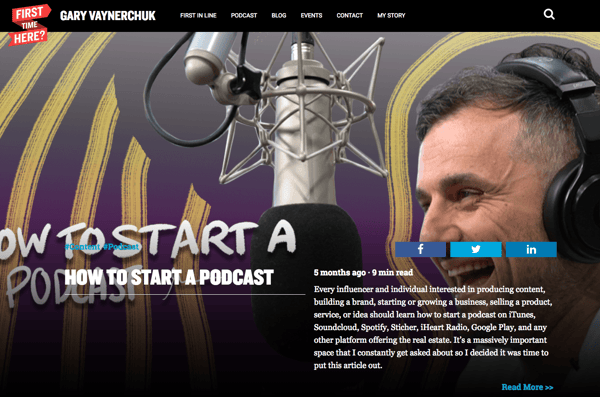 It's hard to not like Gary Vee's infectious personality. He's passionate. He's driven. He's enthusiastic. And he's a content machine.
Between his podcast, daily vlog series, and his super active social media presence, he somehow has time to manage his blog. He posts a few times a month, covering communication, content, social media, business, life lessons, personal growth, and more.
You will gain a ton of insights from Gary Vee. He's always delivering actionable advice that is inspirational.
Engaging Entertainment Blogs
The most interesting blogs in this category focus on it all: news, politics, entertainment, business, style, and more.
6. Huffington Post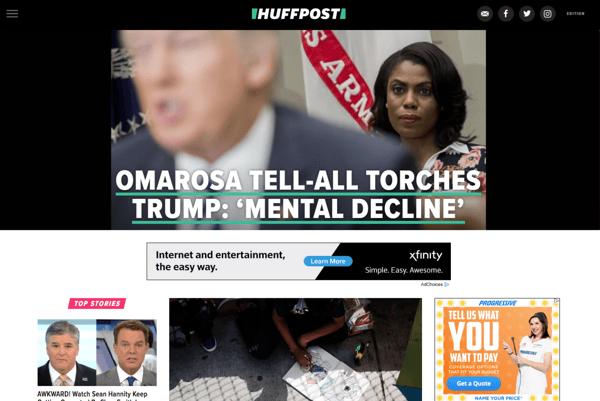 "HuffPo" specializes in reporting news stories and events in almost every major category and subcategory you can think of, and some you probably would never think of!
Founded by Arianna Huffington, Kenneth Lerer, and Jonah Peretti in 2005, the blog was purchased in 2011 for $315 million by AOL. Huffington Post features thousands of bloggers that contribute newsworthy content on a wide range of topics.
Outside of news and politics, they continue building a ton of content for their entertainment and life sections.
Entertainment subsections cover culture and arts, celebrities, TV and film, and media. Within the life section, you can explore topics like food and drink, money, style and beauty, travel, relationships, and wellness.
7. Buzzfeed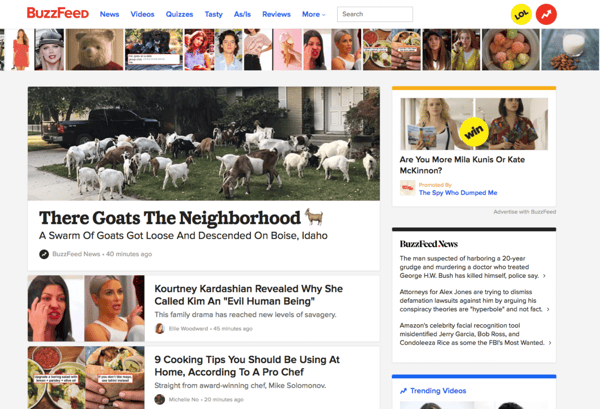 BuzzFeed focuses on social media and entertainment targeting millennials. It's trendy, image heavy, and a fun read. BuzzFeed's content often goes viral thanks to its flashy graphics and in-depth reporting.
The size of their audience is staggering. Statista's May 2016 research found that 7 billion viewers accessed their video content per month.
Founded in 2006, the outlet became known for their fun quizzes, listicles, and pop culture pieces. It really took off in 2011 when the BuzzFeed team began reporting on serious news using long-form journalism.
Outside of news and videos, visitors can enjoy quizzes, read in-depth consumer reviews, and explore content in many topics, including:
Technology
Business
Politics
Health
Animals
Investigations
Life
8. Mashable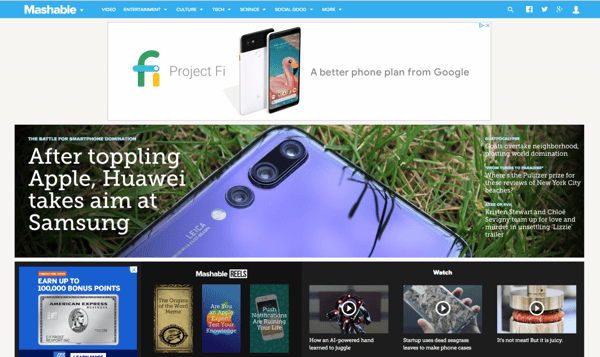 Founded in 2005, Mashable delivers newsworthy content about culture, science, technology, business, social good, and more. With separate editions for Australia, France, India, Asia, and the UK, it's one of the most read, reputable, and reliable go-to sources for information on the web.
In the entertainment section, they cover TV, movies, and gaming. Their numbers are impressive too. They earn over 45 million unique visits, have 28 million social media followers, and generate 7.5 million social shares every month!
9. The Onion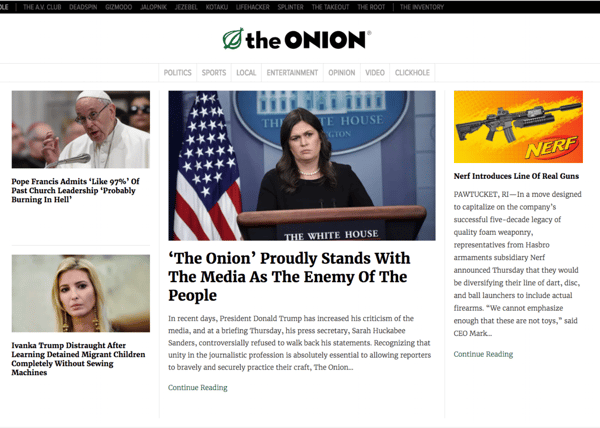 Founded in 1988, The Onion started as a weekly print publication in Wisconsin. These humble beginnings eventually paved the road for the publication to be arguably the most popular satire website.
They cover current events, but also tend to create fictional news stories with a satirical tone. Their content includes op-eds, interviews, and other formats that align with traditional news outlets, like the Associated Press.
Topics found on The Onion include politics, sports, local, opinion, video, and, of course, entertainment. This is one of the best outlets for big laughs.
10. The A.V. Club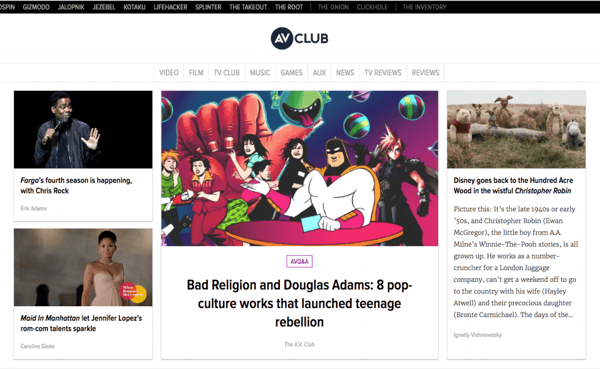 Speaking of The Onion, founder Stephen Thompson started The A.V. Club as an entertainment section in The Onion print newspaper. Three years later, both outlets debuted on the internet.
The A.V. Club now covers all things entertainment, including topics like TV, music, video games, film, and podcasts. Their team writes reviews, previews, criticisms, and commentaries.
Their online presence grew so much in popularity that they debuted an A.V. Club TV show on Fusion in 2017.
Valuable Education Blogs
These outlets not only provide awesome educational courses, but they also create informative, helpful blogs.
11. Coursera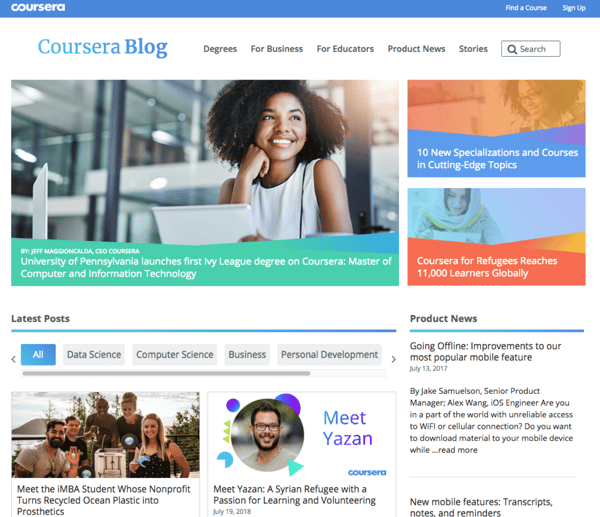 Coursera offers over 2,000 classes from some of the top universities in the world right in the comfort of your living room. Courses by some of the top professors at Stanford, MIT, Penn State, Johns Hopkins, Harvard, and more are available, many of which are free or low priced.
If you want to continue your education or focus on a topic, you'll find a course on Coursera! Plus their blog is really cool – learn about new course offerings, meet the teachers, and explore the subjects they teach.
If you're feeling stuck and in need of motivation, check out their stories on their blog. Hear from real visitors who shifted their careers, gained new skills, and even started their own companies thanks to Coursera's platform.
12. Khan Academy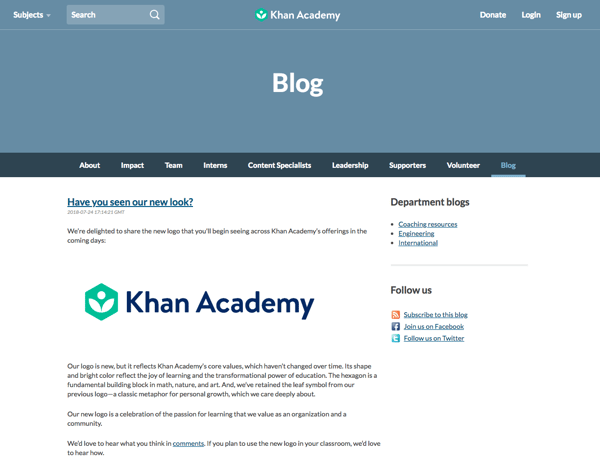 Khan Academy is another great resource for online learning. They offer a wide range of courses in mathematics that are organized by subject and grade level, science and engineering, computing, arts and humanities, and economics and finance.
Plus, they provide test preparation tools for standardized tests, like SAT, MCAT, LSAT, and more, as well as courses for college admissions, career management, entrepreneurship, and personal finance. The best part -- every course is free!
Their blog offers help for AP teachers and students, along with the latest news centered on their products and offerings.
13. Udacity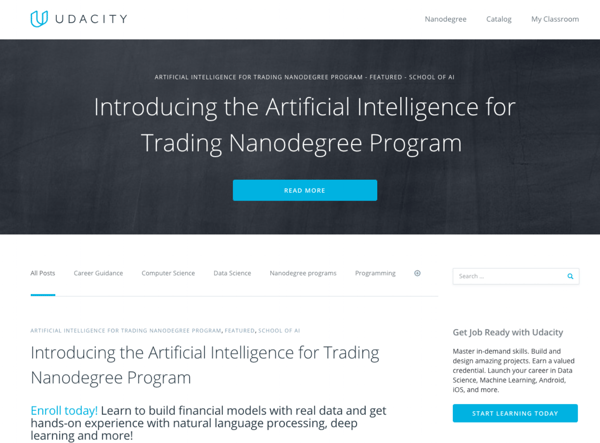 Another top rated MOOC provider, Udacity is one of the most forward thinking educational resources. They provide content for several unique topics, such as AI, flying cars and autonomous flight, machine learning engineering, VR, development, and robotics.
One of the main focuses they specialize in is tech. Their featured programs include Android and iOS development, full stack web development, and programming. But there are plenty of options if you're interested in business analytics, data science, Google Adwords, and other domains.
You can choose specific paths for careers, explore their catalog of available courses, and earn a nanodegree, which are project and skills-based educational credential programs.
Their blog provides awesome content in career guidance, data and computer science, college, lifelong learning, and news on courses and events.
14. edX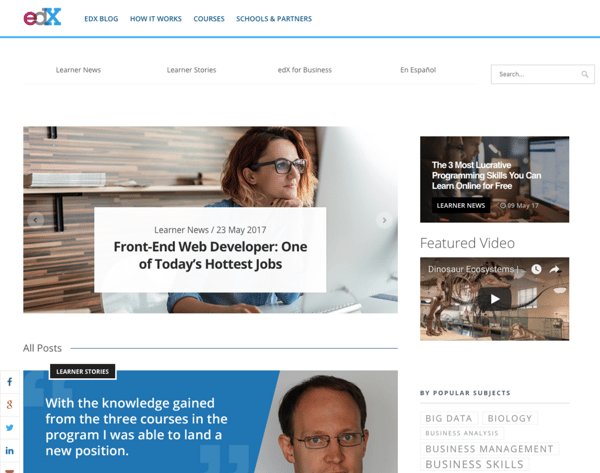 This nonprofit organization was created by professionals at MIT and Harvard in 2012. As of 2017, edX has about 14 million students. More than 70 schools and organizations, including Microsoft and UC Berkeley, are currently offering courses through this MOOC provider.
You're bound to find something interesting to learn through edX. The subject categories include everything from architecture and philosophy to law and engineering.
The edX blog includes categories based on learner news, learner stories (perfect for much needed inspiration), and business, as well as a category for Spanish speaking visitors. You can also search their blog by looking through subject tags.
15. Udemy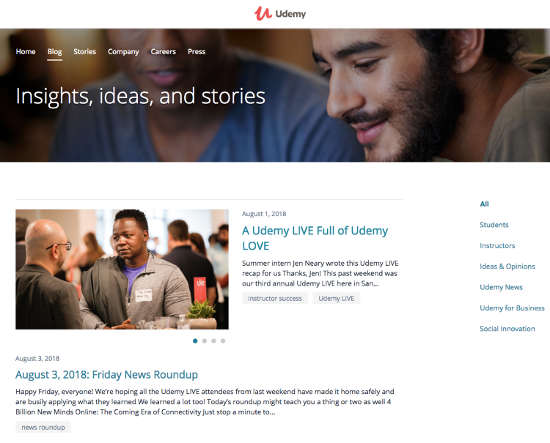 Students who take Udemy courses are seeking ways to improve specific job skills. None of their courses are credentialed or offered through colleges.
The main difference between the aforementioned MOOCs and Udemy is the latter provides course created by online content creators. They now offer over 80,000 courses to their students!
Udemy is best known for their massive selection of topics and subjects, such as business, development, health and fitness, music, teacher training, office productivity, and language.
On their blog, the Udemy team publishes consistently, educating students and instructors alike for both users to make the most of the platform. They also create content on ideas and social innovation as well as the brand's news.
Inspiring Travel Blogs
It's especially fun to see the unique, awesome ways content creators cover travel.
16. Be My Travel Muse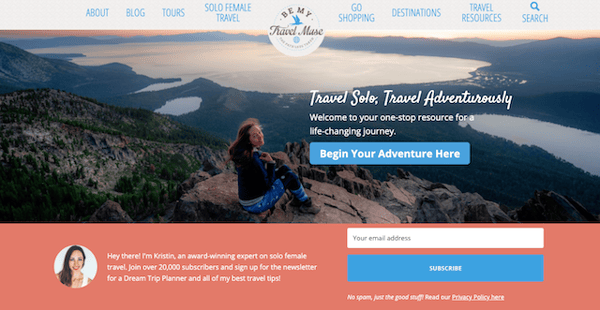 Kristin, the award-winning solo female traveler and creator of the Be MY Travel Muse blog shares her various travel experiences and adventures. She includes guides for other aspiring solo female travelers and writes about tips to help them on their journey, destinations they should visit, and even her dating life while she travels.
One of the goals of her blog is to help other people make their traveling dreams a reality. Her content is entertaining, informative, and engaging.
17. The Everywhereist
Geraldine DeRuiter's unique voice is a breath of fresh air in the travel blog world. When she's not fawning over Jeff Goldblum or tweet-flirting with her husband, Moz founder Rand Fishkin, she's writing hilarious personal essays, musings, and travel guides.
Her blog is a must read, especially her viral post on Mario Batali's sexual misconduct apology and how she addresses Twitter abusers. But you also can't miss out on her travel memoir All Over The Place: Adventures in Travel, True Love, and Petty Theft.
The national coverage from sources like Oprah.com, CNN, and Mashable and the accolades she earned from Forbes, HuffPo, and Time are all much deserved.
18. Wild We Wander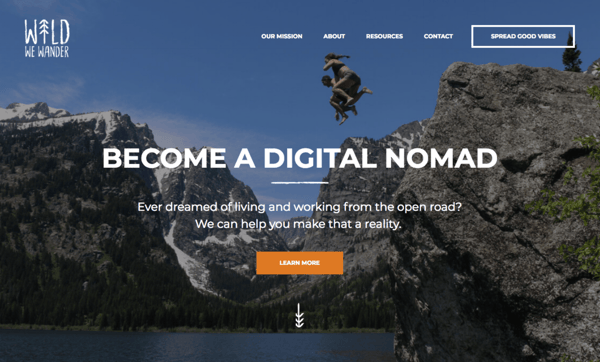 This blog is not strictly travel-focused; it's more focused on inspiring and educating readers to live 'alternative lifestyles' that are simple and adventure-oriented.
Here at Bluleadz, we love HubSpot. Our whole team earns certifications and takes courses through HubSpot Academy, which features Justin Champion, a content professor who also lives as a digital nomad with his wife, Ariele Champion.
They both document their digital nomadic life on their social media and their blog. They show you how to convert a truck into a camper, while maintaining a journal of their wanderings. Stay in the loop with their minimalist, nomadic lifestyle so you can enjoy your wandering too!
19. The Culture Map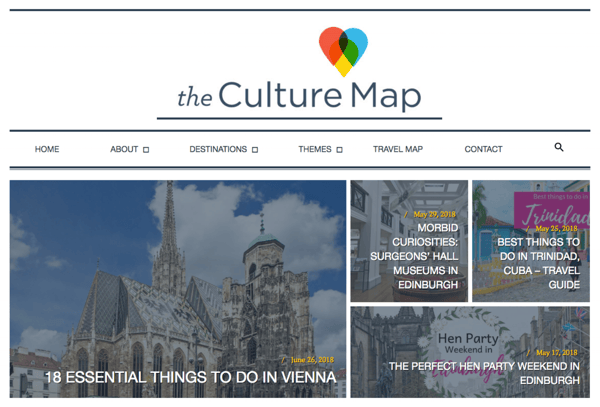 Shing's mission with her blog is plan and simple -- to salvage her memories. She's a twenty something who travelled to nearly 50 countries.
Her content is entertaining, inspiring, and informative. She educates on refugee crises, questions the tradition of running of the bulls, explores street art, and writes on so much more. Themes within her blog include food, museums, quirky places, responsible tourism, and Scandinavia.
Check out her travel map to see where she's been, and click the region to see blog content specific to that area.
20. The Blonde Abroad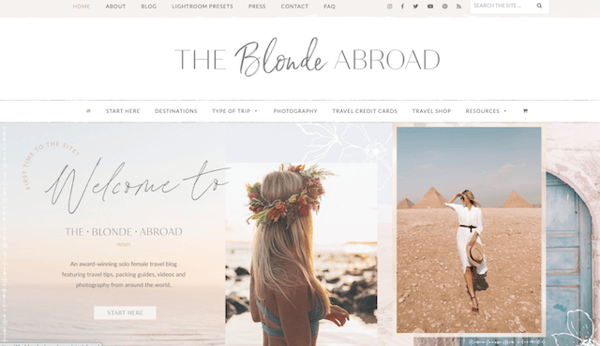 The Blonde Abroad is a travel blog created by California native, Kiersten. She is a solo traveler that shares her experiences and photographs from the over 70 countries she's traveled to.
Kiersten has packing guides, travel tips, and inspiration for women to travel solo. She even does giveaways and share videos of some of her adventures.
Other Fun Blogs to Read
If you enjoy learning about new things then you may consider reading blogs that enhance your personal life in some way. Take a look at some fun blogs we found for you to read in the following categories.
Beauty Blogs to Follow
via GIPHY
21. Into the Gloss
Into the Gloss is the beauty blog that started the popular makeup brand Glossier. This blog has helpful tips, guides, and interviews featuring every topic related to beauty, such as hair, makeup, and skincare.
They also include extra blog posts about topics unrelated to beauty. For instance, they recently posted a blog article about books called "What's Everyone Reading?"
22. Allure
If you're thinking Allure sounds like the once popular beauty magazine, then you'd be correct. Allure shifted their magazine to include an online blog presence that has been wildly successful.
They discuss the best of beauty each year to provide beauty product recommendations to their audience. Additionally, they write about wellness as well as makeup and skincare to help their readers glow from the inside out.
23. Barefoot Blonde
The Barefoot Blonde is a super popular beauty blog that reviews beauty products from various brands and stores. Amber Fillerup Clark, the creator of the blog, hopes to inspire others to learn something new and to express themselves through their style.
24. Free People Blog
Free People has a beauty blog! And it is full of helpful tips and tricks about everything beauty-related.
They have fun and engaging content that discusses anything from celery in skincare to the best products for your hair with honest reviews and opinions.
25. My Beauty Bunny
Love animals? This blog discusses everything related to cruelty free beauty.
Aside from beauty, they also cover vegan lifestyle, travel, pet care, and general health. For over 10 years, My Beauty Bunny has helped highlight brands that do not test their products on animals, acting as a leading voice in cruelty free lifestyle.
Hobby Blogs to Follow
via GIPHY
26. Craft Gossip
If you enjoy making a wide range of crafts, then this blog is for you!
The Craft Gossip blog shows you how to make crafts ranging from scrapbooking and quilting to jewelry making and glass art.
27. Cleverhiker
Love the forest, mountains, and the wilderness? Check out this blog for in-depth product reviews for gear that you need to go hiking, camping, and backpacking.
Their blog articles discuss the best gear options for you based on your adventure.
28. The Literary Edit
This blog provides you with everything book-related.
Read blog posts about books from various genres. See photographs of beautiful bookstores from all around the world. This London-based blog is great for literary lovers of all types!
29. Adventure Journal
The Adventure Journal is a wonderful blog about adventure gear, outdoor photography, and the environment. Check out this blog if you are an enthusiastic adventure lover!
30. Game Informer
The Game Informer is a blog that keeps avid gamers up to date about everything in the gaming world. This includes game releases, updates, and gaming products.

Personal Finance Blogs to Follow
via GIPHY
31. NerdWallet
This blog covers a whole host of personal finance advice. NerdWallet gives personal finance tips for topics such as credit cards, banking, mortgages, and insurance.
Readers are also provided with comprehensive "Best" lists, like the best of travel credit card options or the best online lenders.
32. MintLife
Need expert advice about finances? Look no further than the MintLife blog.
Some of their current article headlines include, "How Your Discretionary Income Impacts Your Student Loans" and "How to Reassess Your Finances After Unexpected Job Loss."
33. The Penny Hoarder
The Penny Hoarder is an extremely popular finance blog that helps people figure out how to afford their lives with the resources they have at their disposal. They also discuss how to gain residual income and how to save money.
34. The Simple Dollar
Ever wanted to know how to learn about finances in a simple and easy way?
The Simple Dollar provides easy-to-follow and engaging blog articles about everything related to your personal finance.
35. Money Under 30
It's no secret that learning how to manage money takes time and experience. Money Under 30 educates young people on how they can handle their finances to experience a financially healthy life.
36. The Frugal Girl
Want to learn how to become more frugal with your spending?
Check out this blog, The Frugal Girl. Some of her recent post titles include "Five Frugal Things" and "What I Spent, What We Ate."

Food Blogs to Follow
via GIPHY
37. POPSUGAR Food
POPSUGAR has a food blog with delicious recipes and food picks from various popular grocery stores. They write about several celebrity food picks and try their favorite recipes as well.
38. Delish
Delish is a super trendy food blog that features articles about food and recipes. They also feature videos about popular food hacks from social media platforms like TikTok.
39. Sweet as Honey
Sweet as Honey is a healthy and low-carb food blog that has breakfast, lunch, dinner, and snack recipes.
40. Pinch of Yum
The food pictures on Pinch of Yum will make you want to make more than cereal or microwaveable food for dinner. This food blog is dedicated to providing their readers with exciting and approachable food blog posts and recipes.
41. Love & Lemons
Love and Lemons blog features a bright and exciting homepage with beautiful food pictures and an offer to download their all new cookbook. Readers learn a lot about using seasonal ingredients and expand their horizons with new recipes featured on the blog.
42. Spoon Fork Bacon
Spoon Fork Bacon is a visually appealing blog with plenty of recipes for any diet. They feature appetizer, dinner, lunch, dessert, and other seasonal recipes.
Parenting Blogs to Follow
via GIPHY
43. Scary Mommy
Scary Mommy is a fun parenting blog full of information and blog posts for moms that help to uplift mothers rather than shame them. The blog categories include important areas of focus, like pregnancy, kids, parenting, lifestyle, and relationships.
44. The Inspired Treehouse
This parenting blog was created by two pediatric physical therapists. They provide blog posts that help parents understand the cognitive, physical, and emotional development of their children.
45. Motherly
Another important parenting blog, Motherly discusses everything about the joys and downfalls of parenting life.
They review interesting topics such as balancing work and relationships with children, childcare, and products for children to help parents on their journey of parenthood.
46. Bounce Back Parenting
Feeling lost in parenting? Look to the Bounce Back Parenting blog to provide you with information on connecting with your kids, dealing with anger, and other hot topics surrounding parent-child relationships.
Art Blogs to Follow
via GIPHY
47. Artforum
Artforum has the latest art news and reviews about art and photography. They feature information about art shows and critic picks.
48. Cass Art
Want an inside look at artist studios and interviews? Subscribe to the Cass Art blog to get a closer look at some of Cass' artist picks.
49. Lost Art Press
Founded by Christopher M. Schwarz, who is a furniture maker, the Lost Art Press blog discusses artwork like woodworking, window making, and door making.
Readers enjoy a lot of free blog content, but they also have access to more educational resources that they can pay for, including instructional videos and books. Schwarz also sells apparel, posters, and other miscellaneous items.
50. ArtBar
The ArtBar blog is all about art inspiration for children and teens. They have bright and colorful art pictures and tons of art ideas delivered to your inbox twice a month.
These are just a small sample of the interesting blogs you can find online. Blogs on this list are some of the best written and most informative blogs on their respective subjects.
If you're looking to expand your worldview, improve your productivity at work, teach your kids, learn a new hobby, seek design inspiration, or just goof off, check these out now!