All work and no play makes Jack (or Jill) a dull boy (or girl)! But, the truth is, spending some time seeking out a well written and creative blog can not only be entertaining or educational; it can inspire you and reinvigorate those creative juices.
One of the amazing things about the web is the fact that you can find anything your heart desires, anytime you want it, day or night. The challenge becomes finding the choice blogs that can truly inspire you.
There are several reasons you should be reading widely from a variety of blogs and resources. Here are a few benefits:
It boosts creativity and inspires new perspectives.
It expands your vocabulary and improves communication skills.
It improves understanding and makes you more knowledgable.
It shows you different writing styles, voices, and other thought processes.
To put it simply, every blog you read, no matter the subject, can inform your professional endeavors. And we're always glad to help you on your quest for knowledge!
Here is our list of some of the most interesting blogs out there that you need to check out.
Business
Ok, so this category isn't exactly playtime, but these blogs do offer some great perspective and educational tips for improving your career.
From productivity building tips to sales and design and management information, these blogs can educate, entertain, and inspire you!
1. Evernote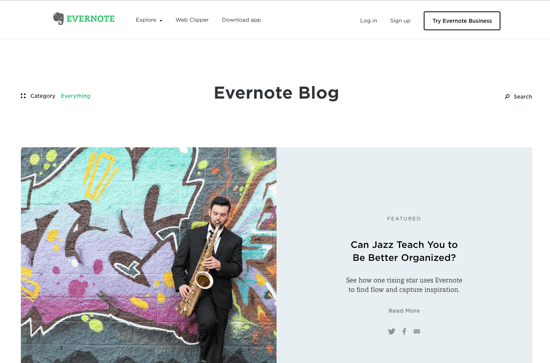 The days of pencils and notebooks are coming to an end. Or at least, they're becoming less convenient and accessible when compared to the huge selection of note taking apps, which are becoming the new preference for thousands of people.
Evernote is among the most popular choices and for good reason: It's super easy to use and simplifies the entire process of capturing and organizing information.
Evernote's blog offers a wealth of productivity boosting tips that can help you at home, in the office, and everything in between. For example, a July 2018 post showed how you can make your commute to work more productive.
The categories within their blog make it easy for visitors to find exactly what they need. These categories include:
Everything - get a glimpse at every post, including featured content and their latest publications.
Podcast - listen to advice for important topics, like boosting productivity, fueling creativity, and growing your business.
Customer Stories - these aren't just boring testimonials; this category includes interesting stories of all kinds of people (musicians, marketers, etc.) and offers pro tips.
Productivity - gain insights on making the most out of your time, reducing double work, harnessing focus, and so much more.
Evernote News - stay informed on the company's latest developments, including cool integrations and updates to their app.
Evernote Tech - get geeky by diving into the nitty gritty tech side of the app.
Using Evernote - this app is so powerful that they need an entire section to show you how much you can do with it, with tips on using tags, shortcuts, templates, etc.
2. First Round Review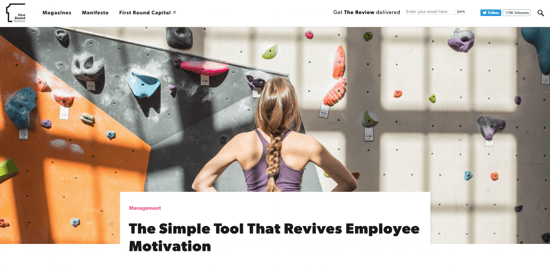 First Round Review offers information from some of the most creative entrepreneurs out there. Their content covers a wide range of interesting topics, including:
People and culture
Product
PR and marketing
Management
Engineering
Design
Sales
Fundraising
It's a diverse mix of information that keeps you coming back. The best part is that it features long form content, so its writers can really dig into a subject. This is great because the writers are thought leaders from some of the top businesses out there!
3. Entrepreneur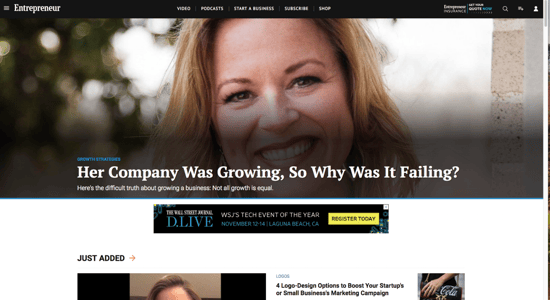 One of the best blogs you can find on all things entrepreneurship and business, Entrepreneur offers high quality content for every reader.
The topics they cover, while geared toward the entrepreneur, resonate with all kinds of professionals. These topics include:
Growth strategies
Franchising
Starting a business
Social media
Technology
Inspiration
Leadership
Marketing
Finance
Not to mention, they also provide editions for regions all over the world, feature podcasts, and create premium video content through the Entrepreneur Network.
4. Michael Hyatt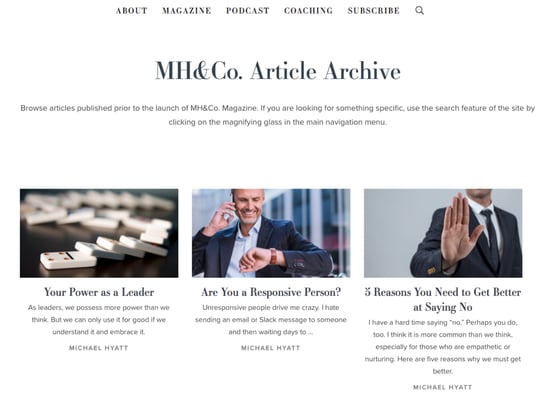 After building a successful career in publishing as a literary agent, chairman, and CEO, Hyatt is now best known for his speaking engagements and his best selling books.
His excellent writing combined with decades of experience in leadership make his blog a must read. While he recently discontinued his blog in late 2017, his website still provides archived posts.
Plus, his new venture, MH&Co. Magazine, offers a ton of awesome content from Hyatt, as well as several expert contributors, covering productivity, leadership, personal development, travel, decision making, and much more.
5. Gary Vaynerchuk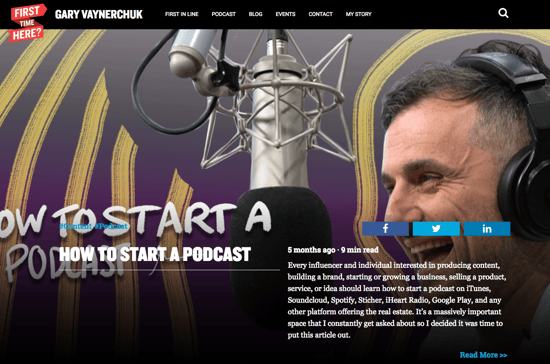 It's hard to not like Gary Vee's infectious personality. He's passionate. He's driven. He's enthusiastic. And he's a content machine.
Between his podcast, daily vlog series, and his super active social media presence, he somehow has time to manage his blog. He posts a few times a month, covering communication, content, social media, business, life lessons, personal growth, and more.
You will gain a ton of insights from Gary Vee. He's always delivering actionable advice that is inspirational.
Entertainment
Want to know what Angelina Jolie is up to this week? How about the latest new music or box office numbers for your favorite movie? Man does not live by work alone!
These blogs can help you stay ahead of the cultural trends or just give you a laugh during the middle of the day!
The most interesting blogs in this category focus on it all: news, politics, entertainment, business, style, and more.
6. Huffington Post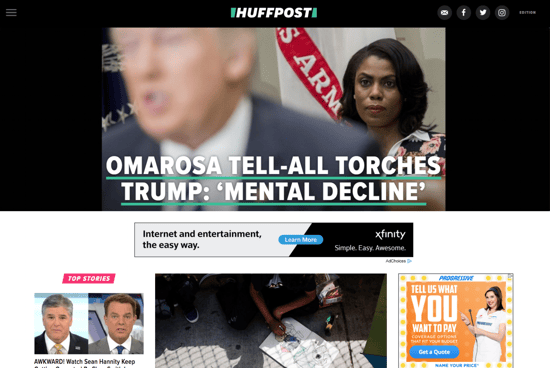 "HuffPo" specializes in reporting news stories and events in almost every major category and subcategory you can think of, and some you probably would never think of!
Founded by Arianna Huffington, Kenneth Lerer, and Jonah Peretti in 2005, the blog was purchased in 2011 for $315 million by AOL. Huffington Post features thousands of bloggers that contribute newsworthy content on a wide range of topics.
Outside of news and politics, they continue building a ton of content for their entertainment and life sections.
Entertainment subsections cover culture and arts, celebrities, TV and film, and media. Within the life section, you can explore topics like food and drink, money, style and beauty, travel, relationships, and wellness.
7. Buzzfeed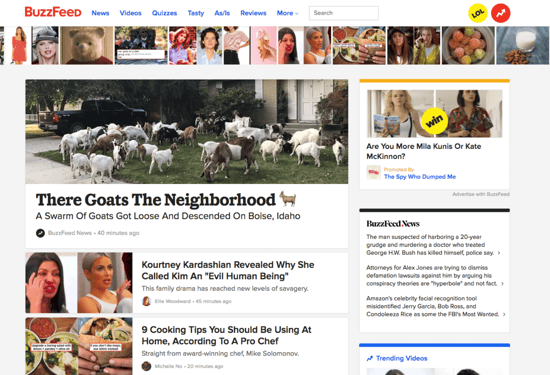 BuzzFeed focuses on social media and entertainment targeting millennials. It's trendy, image heavy, and a fun read. BuzzFeed's content often goes viral thanks to its flashy graphics and in-depth reporting.
The size of their audience is staggering. Statista's May 2016 research found that 7 billion viewers accessed their video content per month.
Founded in 2006, the outlet became known for their fun quizzes, listicles, and pop culture pieces. It really took off in 2011 when the BuzzFeed team began reporting on serious news using long-form journalism.
Outside of news and videos, visitors can enjoy quizzes, read in-depth consumer reviews, and explore content in many topics, including:
Technology
Business
Politics
Health
Animals
Investigations
Life
8. Mashable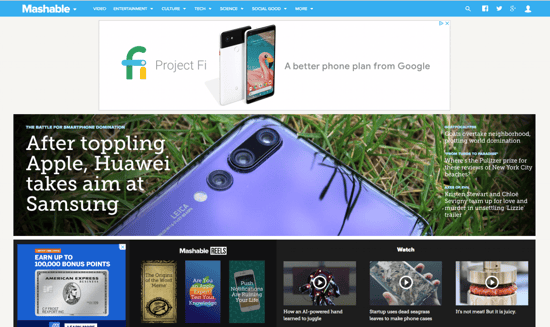 Founded in 2005, Mashable delivers newsworthy content about culture, science, technology, business, social good, and more. With separate editions for Australia, France, India, Asia, and the UK, it's one of the most read, reputable, and reliable go-to sources for information on the web.
In the entertainment section, they cover TV, movies, and gaming. Their numbers are impressive too. They earn over 45 million unique visits, have 28 million social media followers, and generate 7.5 million social shares every month!
9. The Onion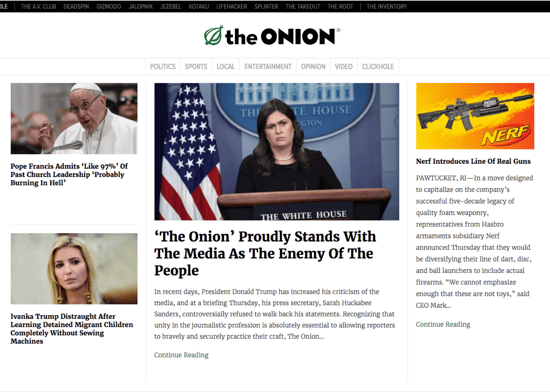 Founded in 1988, The Onion started as a weekly print publication in Wisconsin. These humble beginnings eventually paved the road for the publication to be arguably the most popular satire website.
They cover current events, but also tend to create fictional news stories with a satirical tone. Their content includes op-eds, interviews, and other formats that align with traditional news outlets, like the Associated Press.
Topics found on The Onion include politics, sports, local, opinion, video, and, of course, entertainment. This is one of the best outlets for big laughs.
10. The A.V. Club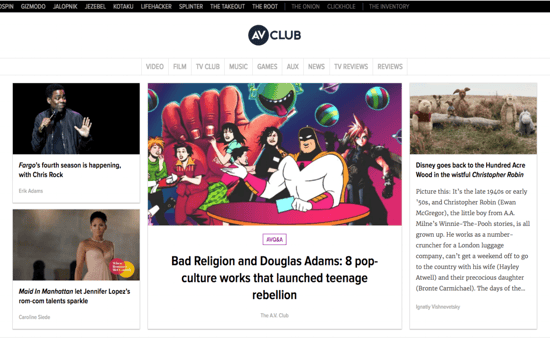 Speaking of The Onion, founder Stephen Thompson started The A.V. Club as an entertainment section in The Onion print newspaper. Three years later, both outlets debuted on the internet.
The A.V. Club now covers all things entertainment, including topics like TV, music, video games, film, and podcasts. Their team writes reviews, previews, criticisms, and commentaries.
Their online presence grew so much in popularity that they debuted an A.V. Club TV show on Fusion in 2017.
Education
In the information age, education should be a lifetime pursuit. At no other time in recorded history has so much information been available to everyone so easily. The internet makes it possible to increase your value as an employee, join and learn about social causes, and create change through education.
This is largely thanks to the introduction of massive open online course (MOOC) websites. These outlets not only provide awesome educational courses, but they also create informative, helpful blogs.
11. Coursera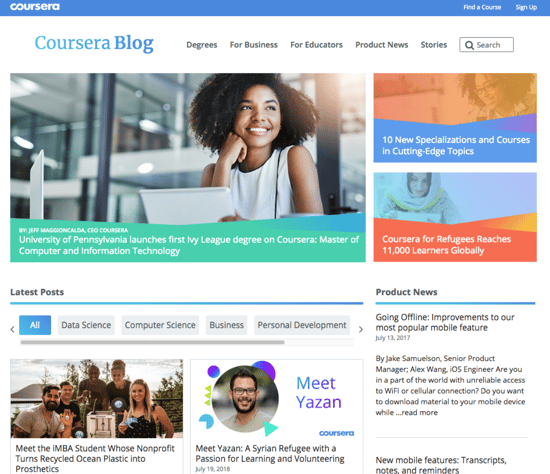 Coursera offers over 2,000 classes from some of the top universities in the world right in the comfort of your living room. Courses by some of the top professors at Stanford, MIT, Penn State, Johns Hopkins, Harvard, and more are available, many of which are free or low priced.
If you want to continue your education or focus on a topic, you'll find a course on Coursera! Plus their blog is really cool – learn about new course offerings, meet the teachers, and explore the subjects they teach.
If you're feeling stuck and in need of motivation, check out their stories on their blog. Hear from real visitors who shifted their careers, gained new skills, and even started their own companies thanks to Coursera's platform.
12. Khan Academy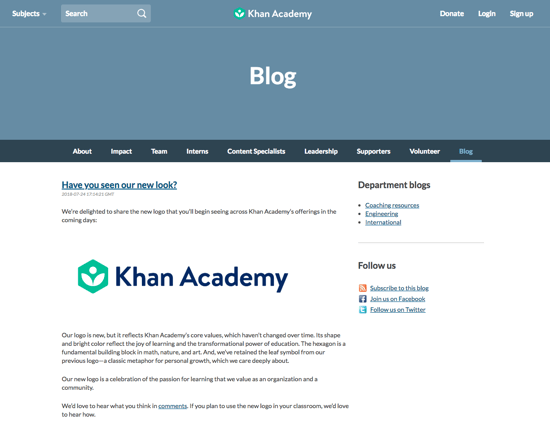 Khan Academy is another great resource for online learning. They offer a wide range of courses in mathematics that are organized by subject and grade level, science and engineering, computing, arts and humanities, and economics and finance.
Plus, they provide test preparation tools for standardized tests, like SAT, MCAT, LSAT, and more, as well as courses for college admissions, career management, entrepreneurship, and personal finance. The best part -- every course is free!
Their blog offers help for AP teachers and students, along with the latest news centered on their products and offerings.
13. Udacity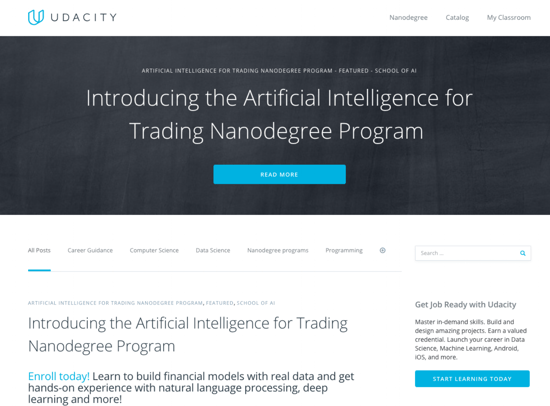 Another top rated MOOC provider, Udacity is one of the most forward thinking educational resources. They provide content for several unique topics, such as AI, flying cars and autonomous flight, machine learning engineering, VR, development, and robotics.
One of the main focuses they specialize in is tech. Their featured programs include Android and iOS development, full stack web development, and programming. But there are plenty of options if you're interested in business analytics, data science, Google Adwords, and other domains.
You can choose specific paths for careers, explore their catalog of available courses, and earn a nanodegree, which are project and skills-based educational credential programs.
Their blog provides awesome content in career guidance, data and computer science, college, lifelong learning, and news on courses and events.
14. edX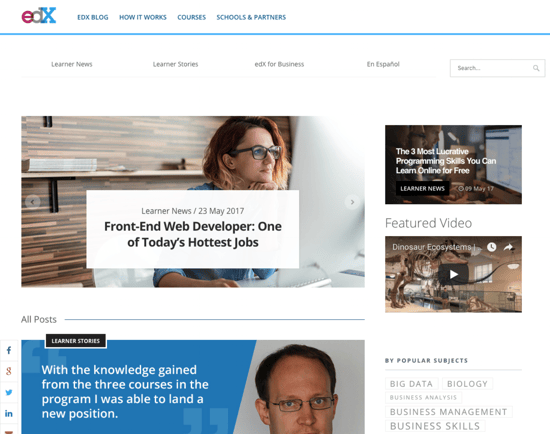 This nonprofit organization was created by professionals at MIT and Harvard in 2012. As of 2017, edX has about 14 million students. More than 70 schools and organizations, including Microsoft and UC Berkeley, are currently offering courses through this MOOC provider.
You're bound to find something interesting to learn through edX. The subject categories include everything from architecture and philosophy to law and engineering.
The edX blog includes categories based on learner news, learner stories (perfect for much needed inspiration), and business, as well as a category for Spanish speaking visitors. You can also search their blog by looking through subject tags.
15. Udemy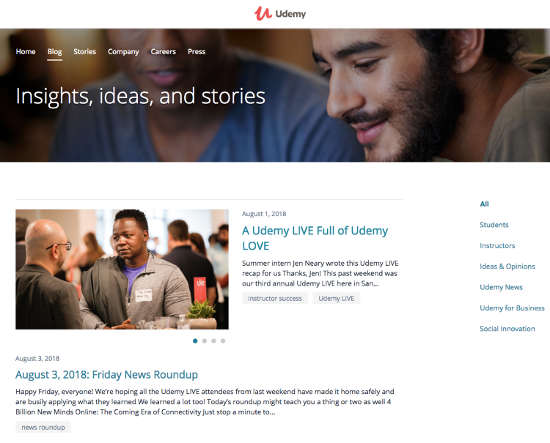 Students who take Udemy courses are seeking ways to improve specific job skills. None of their courses are credentialed or offered through colleges.
The main difference between the aforementioned MOOCs and Udemy is the latter provides course created by online content creators. They now offer over 80,000 courses to their students!
Udemy is best known for their massive selection of topics and subjects, such as business, development, health and fitness, music, teacher training, office productivity, and language.
On their blog, the Udemy team publishes consistently, educating students and instructors alike for both users to make the most of the platform. They also create content on ideas and social innovation as well as the brand's news.
Travel
We all love to travel! Whether your dream vacation consists of taking a wine tour through Tuscany, an eco-tour of the Central American rainforests, or a journey to ride the 10 best roller coasters in the United States, you'll find everything you need online!
It's especially fun to see the unique, awesome ways content creators cover travel.
16. Meraviglia Paper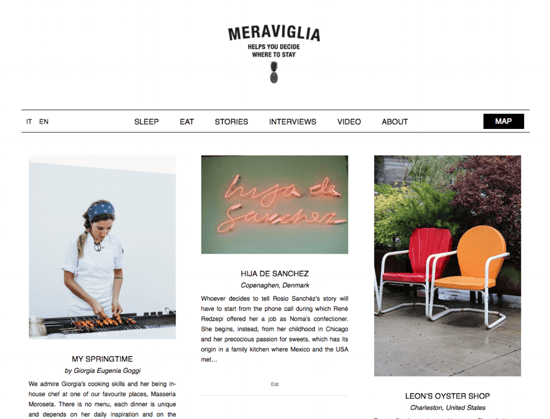 The tagline on this blog says it perfectly: Meraviglia helps you decide where to stay!
It pinpoints the most soulful places to stay in an intimate way, whether it's in the founder's backyard in northern Italy or a castle in Denmark! It includes lots of poetic photos and lyrical narratives offering a wonderful glimpse at some of the most beautiful travel destinations in the world!
This is the perfect blog for travelers who love discovering new places and cultures. Plus, their eat section is a haven for foodies.
17. The Everywhereist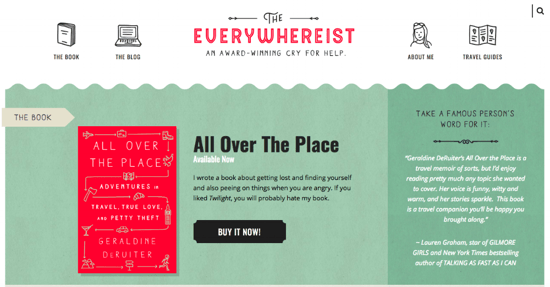 Geraldine DeRuiter's unique voice is a breath of fresh air in the travel blog world. When she's not fawning over Jeff Goldblum or tweet-flirting with her husband, Moz founder Rand Fishkin, she's writing hilarious personal essays, musings, and travel guides.
Her blog is a must read, especially her viral post on Mario Batali's sexual misconduct apology and how she addresses Twitter abusers. But you also can't miss out on her travel memoir All Over The Place: Adventures in Travel, True Love, and Petty Theft.
The national coverage from sources like Oprah.com, CNN, and Mashable and the accolades she earned from Forbes, HuffPo, and Time are all much deserved.
18. Wild We Wander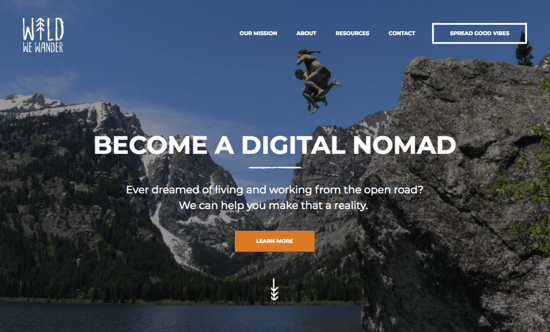 This blog is not strictly travel-focused; it's more focused on inspiring and educating readers to live 'alternative lifestyles' that are simple and adventure-oriented.
Here at Bluleadz, we love HubSpot. Our whole team earns certifications and takes courses through HubSpot Academy, which features Justin Champion, a content professor who also lives as a digital nomad with his wife, Ariele Champion.
They both document their digital nomadic life on their social media and their blog. They show you how to convert a truck into a camper, while maintaining a journal of their wanderings. Stay in the loop with their minimalist, nomadic lifestyle so you can enjoy your wandering too!
19. The Culture Map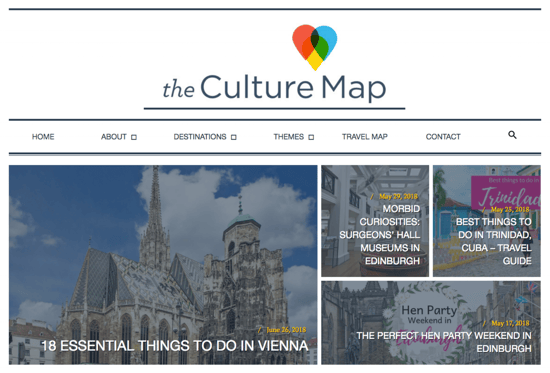 Shing's mission with her blog is plan and simple -- to salvage her memories. She's a twenty something who travelled to nearly 50 countries.
Her content is entertaining, inspiring, and informative. She educates on refugee crises, questions the tradition of running of the bulls, explores street art, and writes on so much more. Themes within her blog include food, museums, quirky places, responsible tourism, and Scandinavia.
Check out her travel map to see where she's been, and click the region to see blog content specific to that area.
20. Drew Binsky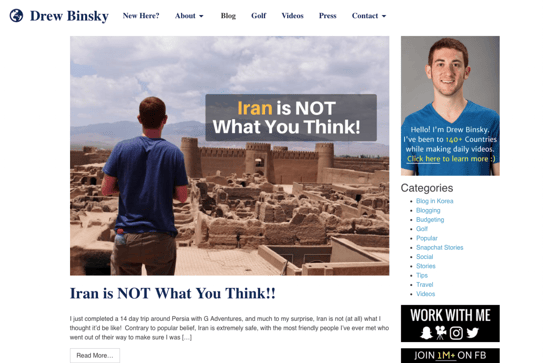 Binksy's social media following is staggering. He has over 1.2 million followers, and his video content has been viewed over 150 million times.
His blog content focuses on his travel experiences and shares tips and insights on blogging and budgeting, as well as golf resort reviews.
He built his audience through his Snapchat, and his video roll continues generating millions of views for good reason -- he addresses important topics, like budget-friendly tips for traveling through Europe and the welcoming culture you find in Iran.
These are just a small sample of the interesting blogs you can find online. Blogs on this list are some of the best written and most informative blogs on their respective subjects.
If you're looking to expand your worldview, improve your productivity at work, teach your kids, learn a new hobby, seek design inspiration, or just goof off, check these out now!
We'd love to hear about some of your favorites. Share in the comments section!
Editor's Note: This post was originally published in October 2017. It was updated in August 2018 for accuracy and comprehensiveness.