Social media has another big name entering the competitive world that is seemingly dominated by Facebook and Instagram.
Now, we have TikTok.
What Is TikTok?
It all started in 2014 with an app called musical.ly.
Users could record clips of them lip syncing to music, usually running 15 seconds to one minute long. Within two years of launching, the company had over 90 million users, which was a massive spike from 10 million from the previous year.
In late 2018, the app was acquired by ByteDance Ltd., a China-based internet technology company. They merged musical.ly with TikTok. The growth of the app's user base is astonishing – it now has 800 million monthly active users across the world.
via GIPHY
TikTok is more than just a karaoke app. Fans of it are more focused on self-expression, which can be accomplished through a variety of different content.
How Does TikTok Work?
Essentially, users can shoot videos up to 15 seconds long, but they can also create 60 second videos by combining videos. But it's not just pointing and shooting a video.
You can also add a lot of different elements to your content. For example, you can apply filters, add music, and edit your video – all within the app.
It's important to address the assumption that TikTok is just for Gen Zers who want to lip sync and make silly karaoke videos. That's not all this platform has to offer.
In fact, it's being used by more than just teens. Brands are jumping onboard, as well as artists and celebrities.
How to Use TikTok
As you can imagine, using the app is fairly simple. That's part of why it's so popular. It is incredibly user friendly.
Here's a simple breakdown of using the app.
1. Download the App and Start Browsing.
First, you need to download the app on your mobile device (duh). Once you download, you get instant access to their community.
From here, you can start browsing videos. This is a good first step because you can see how diverse the platform is. There are plenty of different types of creators and unique ways people and brands alike are expressing themselves.
2. Create Your Account.
When you're ready to dive deeper, you need to make an account. The app allows you to use your email, phone number, or other platforms (like Facebook, of course) to sign in.
Your username is automatically generated, but you can change it by going to the settings in the right bottom corner of your screen. From the Edit Profile button, you can also add a bio and link your other social accounts.
3. Explore Your Feeds.
Now, you're ready to explore the world of TikTok. The platform is divided into two main feeds.
For You: These videos are suggested to you based on your preferences and behaviors on the app, so the feed is more personalized over time.
Following: This is a feed of videos created by the people you choose to follow.
4. Start Engaging and Follow Accounts.
Just like other social media platforms, you can like, comment, and share content. The more you engage with content, the more the app learns about your preferences, so your For You feed is going to improve over time.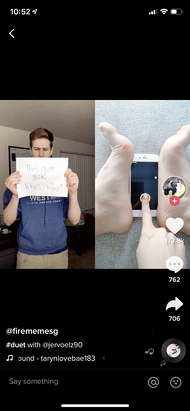 Source: HubSpot
You can also actively search for accounts and videos by tapping the magnifying glass on the Discover tab. You can filter by top viewed, usernames, video titles, sounds, and hashtags.
If you find accounts you want to keep up with, follow them by tapping the icon that has their profile picture and the red plus sign.
TikCodes are also useful for finding and following accounts. You can share your TikCode, where other users can scan it, which then gets them to follow you.
5. Shoot Your First TikTok.
Now, you're ready to post your first TikTok! Simply tap the camera mode icon, then adjust the camera to face the right direction.
You see icons for the following features:
Beauty filters that help hide skin blemishes.
A timer to set up a countdown so you can shoot your video completely hands free.
A flash option to capture content in darker environments.
Speed functions that speed up or slow down the video.
Colored filters that adjust the color in frame.
Sound options to include sound effects or add musical overlays.
Other visual effects, including a ton of filters that can augment the surroundings or the subject of the video.
Time limit settings for each video.
Photo template options that create a slideshow instead.
Once you record your TikTok and made the finishing touches with editing, you're ready to go live and start your channel. You can also create content based on challenges, which often trend through hashtags, and collaborate and create duets with other users.
Is TikTok a Good Marketing Channel?
With such a new app, it's always hard to tell how it will evolve. But given its massive growth, hitting over one billion downloads, it's certainly going to be a hot platform for years to come.
What's especially noteworthy from a marketer's standpoint is the engagement the app earns. The average user spends 52 minutes on the app every day. Additionally, on average, users open their app eight times per day.
via GIPHY
That's a lot of time and attention brands can earn from using TikTok as a marketing channel. And while it's a new platform, there are a number of brands creating content in fun, unique ways. You can learn a lot of best practices by assessing what users are getting the most engagement.
TikTok Marketing Best Practices and Examples
As you enter the TikTok environment, the main thing you want to keep top of mind is how you're going to stand out. After all, it's a crowded space already, and it's only going to get more competitive as the app evolves.
Follow a few simple best practices to make the most of your TikTok marketing strategy.
Drive User Generated Content and Host Hashtag Challenges.
As you see in the app, users often engage in challenges, which are usually seen with hashtags in them. These are built around silly, odd tasks that are very specific.
This is a great method of earning user generated content (UGC), which shares social proof while giving your customers a voice. Even better, it opens a channel of communication between a brand and a customer. Plus, free marketing content is nothing to sneeze at.
Several companies are crushing it at getting their fans involved.
Chipotle: Lid Flip
For example, #ChipotleLidFlip was trending. Participants had to show off their abilities to flip the lid onto their bowl without using their hands. The company launched this challenge as a way to promote their Cinco de Mayo deal – free delivery.
via GIPHY
But aside from promoting the free delivery, it also created a space for their fans to go purchase their product and play a game with it. And then they share that content with their followers and gain views by using the hashtag.
GUESS: In My Denim
Another great example comes from the fashion world. GUESS partnered with the app to launch TikTok's first branded content in the U.S. to host the #InMyDenim challenge, where they enlisted the help of popular content creators to show off their new denim outfits.
These influencers are great for promoting the campaign. Users who are fans of these influencers will feel excited about recording their own denim transformations.
These examples are great demonstrations of how brands can get their target audience excited about the products or services while also sharing and advocating for the brand with their followers on social media networks.
Showcase Your Products or Services in a Fun Way.
While hashtag challenges are one way to get users to see what you're selling, there are several other ways you can present your products or services to the TikTok world.
Given that the app's primary audience is young, consider how you're going to make this content engaging and fun. There is a lighthearted nature to most TikTok content. If you're going to try to give some boring product video to your audience, you won't get very far.
NBA: Diversified Content
With over 6.5 million followers, the NBA does an excellent job at engaging their audience. They produce a wide range of content that celebrates their brand and the sport itself in fun, impactful ways.
For example, they will share a highlight reel of mascots shooting trick shots and making big slam dunks, set to upbeat music. Or they'll post funny videos of halftime show antics. These are lighthearted and entertaining.
Some of their content aims at humanizing the athletes so fans feel a deeper connection to them. For example, they posted a video of RJ Barrett reacting to getting drafted. This gives fans a great experience of following Barrett's emotional journey to the pros.
Gymshark: Targeted Messaging
Rather than simply posting videos of people showing off their gym clothes, Gymshark posts a lot of content that is educational, like workout videos. This speaks directly to their target audience – fitness enthusiasts.
Other TikToks include flexibility tests, boxing training, challenges, and inspirational stories. Naturally, their audience is interested in learning about new workouts and staying motivated through their fitness journey. This is a great method for indirectly promoting their gym attire.
In short, if you want to succeed with TikTok marketing, you need to be creative.
Partner With Relevant Influencers.
As you saw with GUESS, promoting your content through influencers with massive followings can be incredibly lucrative. But you shouldn't just connect with any influencer.
You need to find the influencers who are right for your company and fit your budget and goals.
Crocs: Thousand Dollar Crocs
The famous footwear brand produces a diverse amount of content, including ads and challenges. One of the most notable examples is the #ThousandDollarCrocs challenge.
This campaign was inspired by a Post Malone lyric. This lead to a collaboration between the artist and the company, which sold out in no time.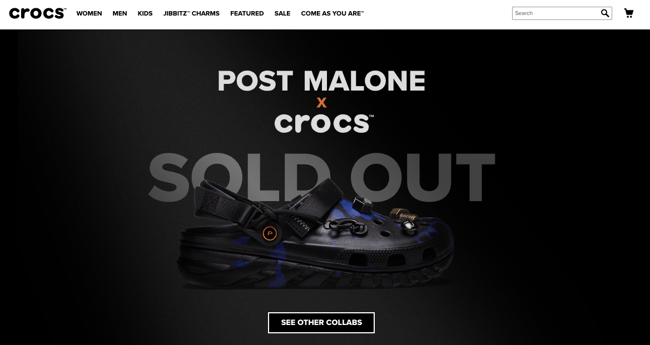 The hashtag challenge encouraged users to post what they think their Crocs would look like if they were priced at $1,000. The results: an 18 percent boost in followers.
Calvin Klein: My Calvins
As part of their #MyCalvins campaign, the luxury fashion brand enlisted the help of celebrities showcasing their favorite clothing items.
For example, musician Shawn Mendes, wearing a Calvin Klein outfit, talked about how he wished others could experience what it feels like to have large audiences sing back to you.
This campaign leveraged other celebrities that catered to the company's TikTok audience segment. Other influencers involved were A$AP Rocky and Kendall Jenner. They made the content appeal to the younger audience by choosing a suburban setting.
A Bright Future for TikTok Marketing
As you can see, there are plenty of opportunities that you can jump on in the world of TikTok. Determine if it's worth your resources all comes down to if your audience is on the platform.
But you have to ask yourself this: If they're not on today, will they be on tomorrow?
Given the rate of growth, TikTok is here to stay, and that could bring in a more diverse audience, including some who might be the age of the decision makers you're targeting in your industry.
In addition, TikTok advertising is still in its infancy, but it's proving to be a viable channel to get in front of your ideal customers quickly. Some of the current ad types available now include:
In-Feed Ads – native content that appears in your audience's feed while they're exploring.
Brand Takeover – full page ad, either a three-second image or a five-second gif, that appears when people open the app.
Brand Hashtag Challenge – sponsored challenges that are branded and placed on the discovery page.
TopView – similar to a brand takeover, but in-feed video can be used in this approach.
As more companies dive into TikTok marketing, there will be more evidence of successes in a variety of industries. But why wait? You can be the pioneer amongst your competitors.