Ah, social media. Millennials' favorite hobby and where you can get lost scrolling for hours until your thumb falls off.
But when it comes to your business' social media presence, how does it stack up?
Creating a Brand Aesthetic on Social Media
Social media has taken the business world by storm – now, over 90 percent of businesses actively use social media to spread brand awareness, and most businesses maintain between four and 10 social channels.
With all these opportunities to build new relationships, promote your products and services, and engage with your audience, it can be a lot. To build an entirely cohesive social media brand across all your channels, you might want to create an aesthetic.
What Is a Brand Aesthetic?
I know, it sounds a little bougie, and you mostly hear it in terms of interior design and decorating.
But, for social media use, developing a brand aesthetic can ensure that all your social channels are aligned and are spreading the same message about your business, who you are, and what you do.
Your social media aesthetic should reflect the personality and tone of your business. It doesn't necessarily limit you, per se, but it encourages consistency of your content.
Without a defined aesthetic or "vibe," there might be a disconnect between your brand identity and users, causing confusion and a forgettable presence that pushes your audience away.
Benefits of Creating an Awesome Brand Aesthetic For Social Media
It Allows Multiple People to Manage Your Social Channels.
With everyone in-the-know on what to post, what to say, how to edit, etc., there won't be any questions as to what content is a good fit for your business' social media accounts.
While putting one person in charge of social media when you're a smaller business is totally fine, imagine managing every platform for a 500-person company with 25+ individual channels for each office location.
Just thinking about it stresses me out.
As you continue to grow your business, you'll also want to grow your social presence. That means more posting, more interacting, and more time.
Ultimately, you'll want to develop a social media team to spearhead these efforts, and a social media brand aesthetic guide can keep them all in the loop.
It Fosters Cohesion.
I've said it before, and I'll say it again. Cohesiveness and consistency across your social media channels can help your business better represent and highlight your brand identity to your audience!
Having a similar tone, message, colors, etc. creates a nice harmony – mismatched or clashing messages and imagery can come off tacky and unorganized, which doesn't exactly look good for your company.
It Helps Your Business Stand Out From the Competition.
By presenting your business in a unique way, you can break apart from the social media status quo.
Each business' aesthetic should be something fresh and different from that of its competitors. There's a reason they're the competition – so don't post similar content to them on your social media, or you'll only fuel the fire.
Branch out and be different!
How to Build Your Social Media Aesthetic
1. Think About Your Audience.
Before you dive head first into any marketing efforts, make sure you know who you're targeting.
Who is your audience on your social platforms – what are their interests, where are they typically in the buyer journey, and what content do they want to see from you?
Knowing the "who" will make developing a brand aesthetic for your business a little easier.
2. Find Your Tone.
Understanding the message you want to send to your followers can play a huge role in the aesthetic you wish to create on social media.
Define the tone and personality you want to portray across your channels – this can help you determine the content, colors, captioning, and the overall "vibe" of your posts.
3. Determine the Essentials.
An aesthetic can't truly be an aesthetic without some guidelines – you don't want it to be a guessing game.
Sit down with your social media team, marketing team, or whoever is in charge of your various channels. Have an open conversation about the vision you have for the look and feel of your Instagram, Twitter, LinkedIn, Facebook, etc.
Consider each of these elements when developing an aesthetic plan:
Content: What types of photos, videos and posts do you plan on publishing? (e.g., products, company culture, lifestyle, etc.)
Colors: Are there any color themes you aim to stick to? (e.g., only taking photos that incorporate your brand colors)
Filters: Note which Instagram filters you wish to use, or what editing apps you plan to use for all photo editing.
Captions: Define what tone you want each of your social media captions to have and note any formatting rules.
Hashtags: Jot down the hashtags that should be used frequently in each post.
Photo Credit: If using user-generated content, how do you wish to attribute it?
4. Add Your Social Media Rules to Your Brand Style Guide.
A brand style guide is an essential asset to any business to maintain consistency on your website, in your content, design, etc.
Plus, if you are already or are planning on being more active on social media, it can be beneficial to your entire company to add your social media branding rules to your style guide.
This way, you have a written rulebook for captions, hashtags, visuals, tone, filters, editing, and more. Everyone can access the document, and you can easily keep things up to date as your branding efforts shift over time.
Bonus: Ensure All Your Profiles Align.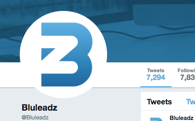 This is more of just a tip, but it's a biggie.
One of the best ways to align all your social channels to promote your brand and build a strong aesthetic is to ensure all your profile photos and channel names are the same!
That way, it's easier to spot your brand and connect the dots. You don't want to confuse your audience – use the same profile picture on every social media platform, and (if you can) create an account under the same name. (all of our social channels are called Bluleadz.)
The Best Social Media Aesthetic Examples to Inspire Your Own
Finding the right inspiration for your brand aesthetic can help push your efforts in the right direction. You might not know where to start, but that's ok – these five social media accounts know how to do it.
1. Taco Bell
There's no denying it – Taco Bell knows how to market to its people.
From making highly engaging videos to posting bold images of their scrumptious food, you always just keep coming back for more.
Taco Bell knows its audience and how to draw them into to get a pack of tacos. With bold graphics and bright colors, they keep their content fun and lighthearted. Just check out their Instagram feed: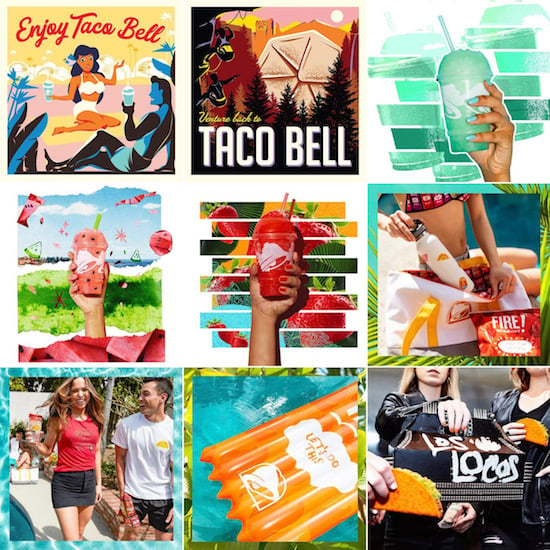 Each image they post is different, yet there's a sense of cohesion and likeness to all of them, which helps them accentuate their fun attitude on social media.
On Twitter, they're just as fun. They stay up-to-date on all the latest events, like NBA playoffs, and incorporate it well into their marketing to appeal to everyone. Even on Twitter, their graphics are creative, which ties back to their Instagram well.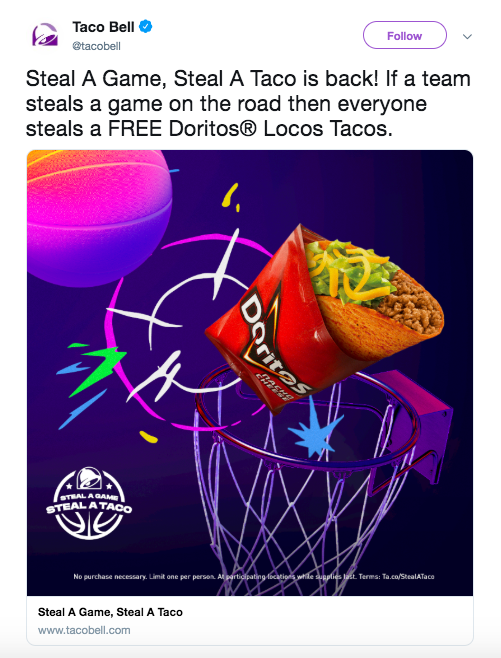 Taco Bell's Social Channels:
2. Airbnb
Going on an adventure? Airbnb is where you want to go when looking for a place (or room) to stay or a local excursion to book.
Airbnb's target audience is those jet-setters and adventurers that are always looking to do something. And what better way to appeal to those nomads than to highlight the amazing places and possibilities available on their site?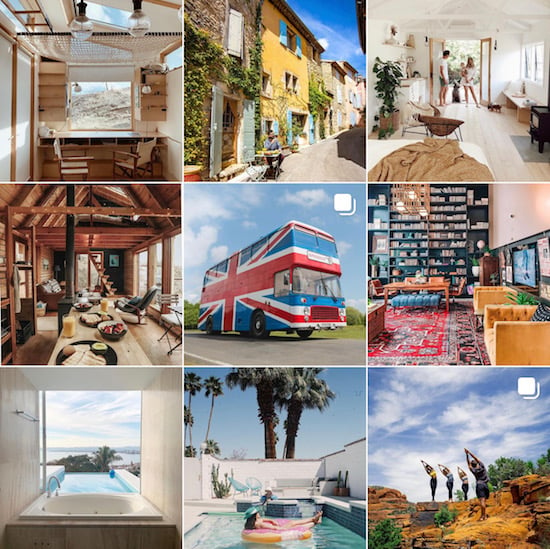 The Airbnb Instagram is full of user-generated content where real people have stayed, and each image is properly attributed to the amazing photographer behind the lens. Who knew that houses this beautiful even existed?
Yet, look at the colors on their feed. They're bright, but muted just a little. This filter effect creates a sense of adventure balanced with serenity and calmness in each photo – and relaxation is just what every vacationer wants.
On their Twitter, they follow the same photo rules. Plus their tweets continue to fuel that adventurous fire of their followers, inspiring people to check out their latest articles about travels and experiences.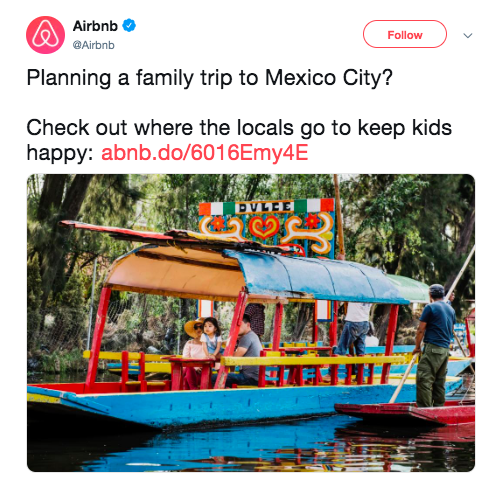 While their LinkedIn is a little more formal, they still take the time to call out their amazing staff of employees and discuss their journey to Airbnb.
Looking at their content, it's hard to tell which platform you're on because everything flows seamlessly and all their photos and messaging are consistent and clear.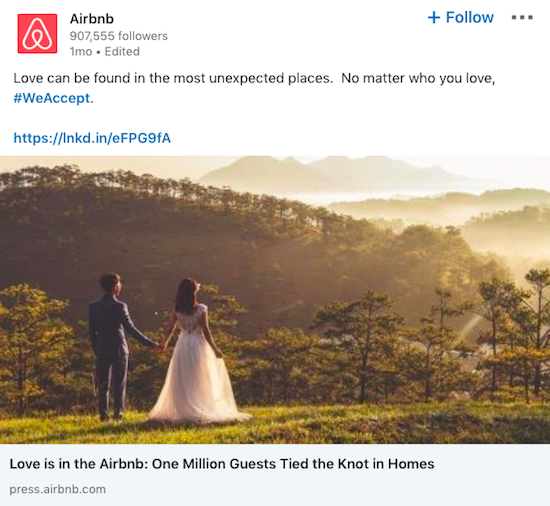 Airbnb's Social Channels:
3. Bath & Body Works
Walking into the store, you're greeted with colorful products and the most amazing smells.
The ambience in every Bath & Body Works is cheery and fun, and you can immediately recognize that blue and white gingham – and that's exactly the aesthetic they bring to their social media.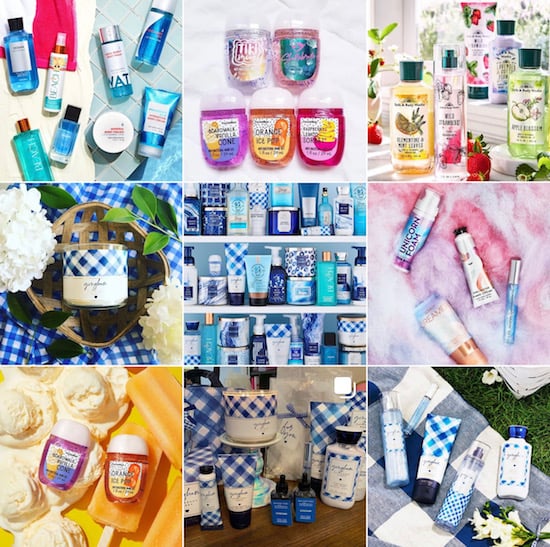 Bright, textured photos and gingham prints fill their Instagram feed, and you just can't help but check out every single one to learn more. You know you're on the Bath & Body Works feed the minute you click on it.
Each post features at least one of their fragranced products, and every caption includes fun emojis and some sort of value to their followers – whether it's the benefits of a product, the available scents, or how you can use a product, Bath & Body Works wants to sell you on it!
Sometimes they even end their caption with an action or question to start a conversation and involve their audience.
For example, attached to an image of their coconut-scented products, the caption reads, "Leave a 🥥 if Coconut fragrances are your year-round go-to!" And it seemed to catch on. Just look at the comments!
Bath & Body Works' Social Channels:
4. Apple
Ah, Apple. Mac. iPhone. Apple Watch. I've got it all.
Apple prides itself on the high-quality camera capabilities of their products. Need proof? Just check out their entire Instagram feed.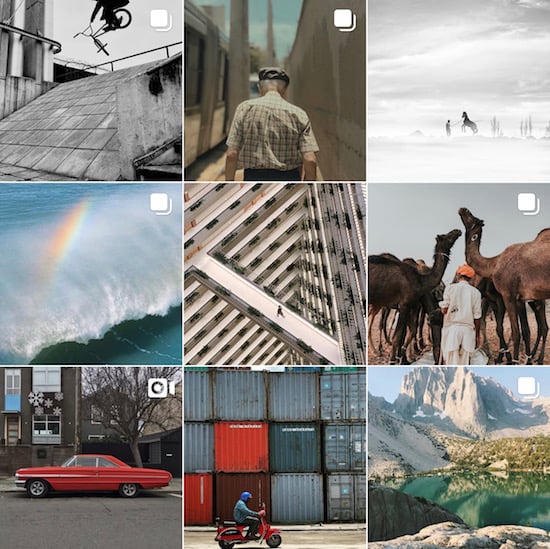 Every photo gives credit to the Apple user who took it, labeled with #ShotoniPhone, their name, and their Instagram handle.
But, more than just the imagery, each photo seems to inspire and help you feel a sense of admiration. It makes you want to go on an adventure and take pictures just like this with your own iPhone.
These lifestyle images complement the Apple brand perfectly because their products are lifestyle products. But unlike other brands who simply post an image of their products, Apple uses the Instagram platform to show you how you can use your products – and the result is pretty spectacular.
Apple's Social Channels:
5. Floyd
If you're into home furniture and decor, then Floyd's social media will serve you well.
As a Detroit-based furniture store, Floyd goes above and beyond other furniture stores to showcase their products in real-life settings. No boring showroom pictures here.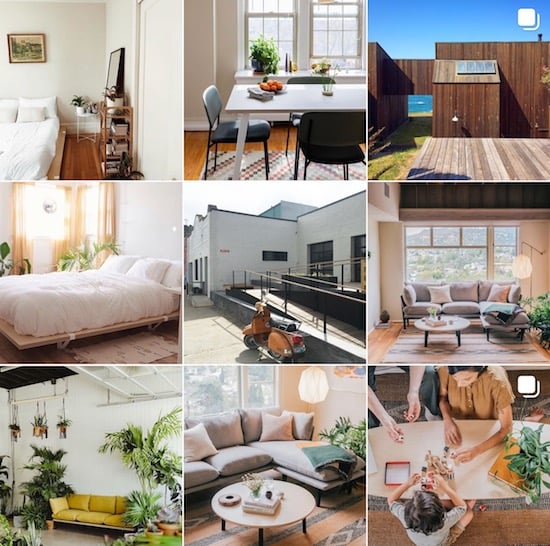 Their Instagram has similarities to Airbnb – it's a classic look. Muted tones make their feed cozier and relaxing, leaving the spotlight on their company and products.
Letting the images speak for themselves, they keep their captions very minimal, sometimes only using one emoji to caption a photo.
On their Twitter, they're just as simple. A lot of time goes into retweeting articles featuring their company and products to help build brand awareness and establish themselves as a top contender for all your furniture needs.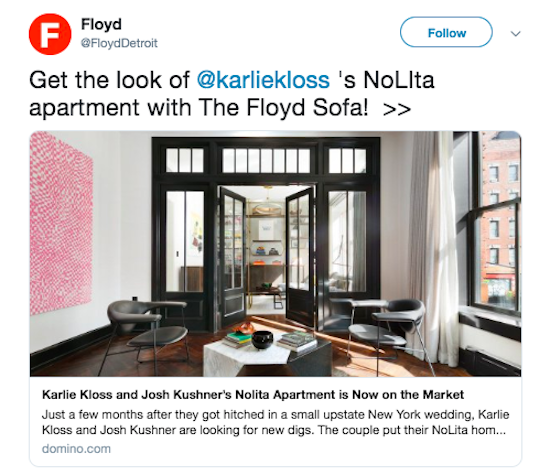 Floyd's Social Channels:
Get Aesthetic-ing Today
With these tips and inspirational examples in mind, you can start building out a better social media presence for your business.
Doing so can foster new relationships with your audience, establish your brand identity, and highlight who you are as a business.
Start implementing these ideas into your social posts, and take pride in what your company posts on social media. When you love how it looks and feels, then you know you've got the right social media aesthetic!