Inbound marketing exploded in the business world over a decade ago. And thanks to the proven effectiveness of inbound marketing strategies, most businesses are embracing it as their main focus.
In fact, HubSpot's 2018 State of Inbound report found that 74 percent of global organizations say they primarily conduct inbound marketing. And 75 percent of those using inbound say their strategy is effective.
As time goes and the customer experience evolves, more challenges and opportunities arise for marketing professionals to grow their profits and their share of an increasingly competitive market.
As HubSpot's report also found, the top marketing challenges being faced in 2019 include:
Generating traffic and leads (61 percent)
Proving the ROI of marketing activities (39 percent)
Securing enough budget (27 percent)
When you adopt the right inbound marketing strategies, you can win big and overcome these challenges.
Let's explore the best inbound marketing strategies you should conduct in 2019:
Build SEO Around Topic Clusters
There's no denying the value of investing in search engine optimization (SEO). But years ago, the main focus was on keywords. Search engines were so simple that some black hat tactics like keyword stuffing actually worked. Nefarious marketing professionals were gaming the system.
via GIPHY
Fortunately, those years are behind us. While it's still important to conduct keyword research and focus on ranking for specific queries your buyer personas are searching for, you need to approach SEO a little differently in 2019.
Investing in SEO efforts addresses the top challenge – generating traffic. And while keywords still play a big role, they're part of a much bigger picture: Topic clusters.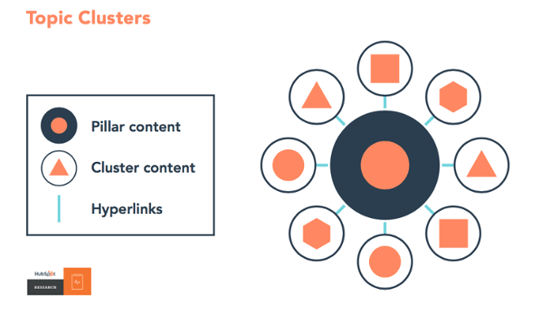 Source: HubSpot
The topic cluster model consists of a few parts. First, you want to create a pillar page – a long-form piece of content that covers a broad topic in a comprehensive way.
Then, you link the pillar page to cluster content, which are blog posts that dive deeper into subtopics associated with the broad topic. By linking to the post and linking from the post to the pillar page, you're showing search engines that a semantic relationship exists between these pieces of content, which can add link equity and boost ranking potential.
This is a must-have in your content marketing strategy. Aside from the SEO value, it also delivers an excellent experience for your readers. They can follow the links as they dig deeper into subtopics they need to know more about.
Earn Backlinks Consistently
Building links also continues to play a valuable role in SEO efforts. A link acts as a vote of confidence in the content, showing search engines that the source is an authority figure.
There are plenty of link building tactics you can start using today, such as:
Sharing content with influencers relevant to your audience.
Reaching out to webmasters who mention your brand to encourage them to link to you.
Engaging in social media groups and communities.
Contributing as a guest blogger on high authority sites.
The most important aspect of your link building strategy is consistency. Striving to earn backlinks every now and then won't move the needle much.
But if you systemize earning backlinks and dedicate enough resources for ongoing outreach, you can build your authority, expand brand awareness, and improve your site's authority over time.
Continue Personalizing Content
Ideally, you have the right tools and technology in place to create effective conversion paths on your website. For example, create content offers that readers can download.
This conversion is how you gather information, like their name, email, and job title, which you can then use to send personalized content.
Today, marketers understand the effect personalization can have on the buyer's journey. Evergage's 2018 Trends in Personalization survey found that 74 percent of marketing professionals say personalization has a "strong" or "extreme" impact on advancing customer relationships. Additionally, 88 percent of them think their customers and prospects expect a personalized experience.
via GIPHY
This is what inbound marketing is all about – delivering the right content to the right person at the right time. Tools like personalization tokens still add a nice touch when you're creating email campaigns for lead nurturing.
But don't just stop there. You can also use smart calls to action (CTAs). The CTA you include in your blog posts will change, depending on who is viewing it and what criteria you set.
Similarly, smart content is incredibly effective because it presents pertinent information to each visitor, depending on their previous activities and the information you gathered about them.
Bottom line: personalization makes visitors feel understood by you, which helps create a positive association with your brand.
Double Down on Video
Video continues to climb in popularity. HubSpot's report found that marketers plan to invest in several video content channels in the next year, including YouTube (45 percent) and Facebook video (41 percent).
To make sure videos aid in your SEO efforts, display a transcription in the description box on YouTube and Facebook video pages. You can also write a post for pages with embedded videos that will have relevant search terms and topics.
This will give search engines what they need to generate page results when consumers look for words related to their products and services.
Also, don't overlook the impact social media video can have on your business. For example, an effective Instagram marketing strategy will include video content, like Instagram Stories, Instagram Live, and IGTV.
Video will continue to be an inbound marketing staple in 2019 and beyond.
Close Your Loops In Reporting
Proving ROI continues to be a top challenge for marketers. This consistently ranks as a top concern year over year.
Even with more in-depth reporting and the ability to measure all kinds of consumer activities, marketers still scratch their heads when they need to report to their C-suite.
via GIPHY
This is where closed loop reporting is essential. Of those organizations that calculate ROI, an impressive 72 percent say their marketing strategy is effective, according to HubSpot's research.
Closed loop reporting ties all the ends together. There is a gap between the data that marketing is collecting and the data sales is gathering. When you create a strategy that brings these data sources together, all teams are on the same page. From a marketing perspective, you can make data-backed decisions to improve the effectiveness and efficiencies of your tactics.
One of the best examples of closed loop reporting is looking at lead qualifying and sourcing. Let's say you're generating leads with top of the funnel blog posts that drive readers to download a guide that's relevant to your audience's needs.
These leads turn out to be high marketing qualified leads (MQLs), who sales can then qualify and engage with. This shows that the marketing team can expand this campaign or mimic it in future campaigns.
In your inbound marketing strategies, data should drive decision making. You're no longer guessing what will work. By measuring and analyzing the right metrics, you're able to steer marketing in the right direction.
Keeping Sales and Marketing Aligned
Smarketing is a buzzword that's been around for several years. But it's not just another trendy, fun concept. Sales and marketing alignment yields real results.
HubSpot's 2018 State of Inbound report found that when sales and marketing use a service level agreement (SLA) and are tightly aligned, businesses report more revenue – 65 percent of marketers who use an SLA and say they're tightly aligned with sales say their inbound marketing brings a higher ROI.
Aside from using an SLA, you can also align your teams by conducting sales and marketing meetings on a regular basis. These discussions can keep everyone on the same page in setting their goals and identifying inefficiencies in processes like lead handoffs and lead qualification.
When you implement these inbound marketing strategies, you're well on your way to hitting your 2019 goals.