First things, first. What is an Inbound Marketing Plan? An Inbound Marketing plan is an online marketing plan that is designed to attract customers to you rather than you "shouting" your message out to them. It is much more effective in both response rates and cost than traditional "outbound" marketing methods like, yellow pages, TV, radio, print ads, billboards, etc. That being said, how do you create a well crafted and effective Inbound Marketing Plan?
The backbone behind Inbound Marketing is content creation. The philosphy is simple: Create, Optimize, Promote & Analyze.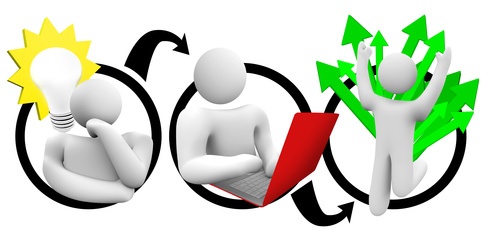 Create Content
You have to continously create useful and attention grabbing content in the form of website pages, blog posts, video, ebooks, infographics, etc. This content should be clear, to the point and very informative for your prospects.
Optimize For Search Engines
You have to optimize (Search Engine Optimization (SEO)) all of you content from blog posts to YouTube videos. This is the only way Google will even know your content is out there.
Promote Content On Social Media Channels
Make sure your conent is entertaining and remarkable enough that people want to share it with their friends and colleagues via social media. Also make it easy for them by putting social media sharing buttons on your content.
Analyze your Marketing Efforts
You have to periodically review your Inbound Marketing Plan to see what's working and what's not. Then based on this data you can make the appropriate changes to your Inbound Marketing plan to increase your ROI.
So what are the actual pieces of the Inbound Marketing puzzle?
Key Components of an Inbound Marketing Plan
Website: built on a Content Management System
Blog: preferrably on the same CMS platform as your website
Keyword Analysis
Competitor Analysis
Content Creation
Call-To-Action Graphics
Landing Page Creation
Search Engine Optimization
Inbound Link Building
Social Media Marketing
Email Marketing
Lead Nurturing
Marketing Analytics
There you have it, these are the critical pieces of the puzzle to a successful Inbound Marketing Campaign. The real question is how to utilize each one of these elements effectively so you reach as many prospects as possible and they turn into leads and customers. To learn more about that download our Free D-I-Y Inbound Marketing Plan.