Our team often gets asked whether SSL is a worthwhile investment for a website. Let's take a look at the facts around SSL security and what it really means.
What Is an SSL Certificate?
An SSL certificate is a special data file that enables secure connections from a web server – where a website's data is stored – to the browsers of site visitors. By encrypting data, it ensures that the data moving between the user and the website can't be decoded by hackers.
What's more, it verifies a website is really the site it appears to be and not an impostor.
How Does an SSL Certificate Help Companies?
An SSL certificate significantly reduces the risk associated with doing business online. It makes it much more likely a customer who has only recently heard of your brand will be willing to submit personal or payment details on your site.
An SSL certificate is essential in certain industries, especially finance. It's also required by discerning clientele in the B2B space. It helps protect your brand by making it harder for others to impersonate you and fosters trust by defending your users' data.
Most importantly for marketers, an SSL certificate provides visible marks of trust. Although not all users understand what an SSL certificate is, most browsers have become more emphatic in letting people know when they are (and aren't!) on secure websites.
The average person now knows to look for the padlock icon – and that means SSL.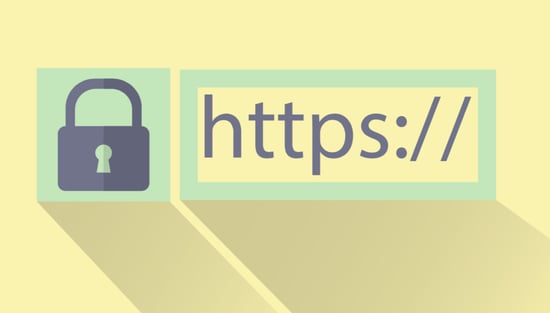 Last, but not least, Google has implemented some changes to its search ranking algorithm that take SSL into account. Sites that use SSL will get a relatively small boost to their rankings. Still, it could make a difference in organic search visibility if your niche is competitive.
How Does an SSL Certificate Help Compliance?
Data-driven enterprises, as well as those that manage privileged financial and healthcare data, are required to maintain SSL certificates for their web properties. SSL is also vital for organizations trying to achieve certain enterprise-wide data security certifications.
In general, enterprises are expected to archive a history of data concerning their network operations. This data allows them to backtrack and pinpoint data security weaknesses, especially if they suspect they have been targeted by hackers.
By closing down major avenues of attack, an SSL certificate helps you allocate your technology resources more efficiently and allows you to meet the high standards of insurers and professional associations. Implementing SSL before international expansion is a great idea.
How Does an SSL Certificate Improve User Security?
There are two major "states" data can be in, and hackers can target either one:
When data is in transit from one computer to another, we call it data in motion.
When data is stored and not being actively accessed, we call it data at rest.
SSL certificates protect data in motion – that is, data in transit to or from a user's computer. The forms they fill out, including payment forms, are data in motion. This type of attack is the type most likely to target the individual consumer instead of an organization.
SSL isn't as critical when it comes to data at rest. For example, your business probably has lots of invoicing and accounting records sitting around somewhere on your network. This data rarely moves around, but it's still sensitive and still needs protection (using methods other than SSL).
What Costs Are Associated With an SSL Certificate?
Cost-wise, an SSL certificate is an annual subscription that can be surprisingly inexpensive.
Some web hosting services focusing on smaller sites offer SSL certificates for as little as a few dollars. Enterprise-grade SSL certificates can run anywhere from $149 annually to over $700. It's vital to renew subscriptions promptly to keep your data safe.
All in all, an SSL security certificate is a very minor business cost. And it pales in comparison to the millions of dollars a company might lose after a data breach. Remember, hacking not only has direct costs, but also leads to lost business as would-be customers look elsewhere.
What Does SSL Security Say About Your Company?
To make a long story short, SSL tells your customers you care about their security.
Users might not understand all the ins and outs of data security, but they always want to feel that the companies they do business with are on the up and up.
SSL is one way you can reassure your users that your business is dedicated to transparency and takes their well-being seriously. If a breach does happen, your use of SSL shows you did everything possible to keep users safe.
The verdict: If your site takes user input like usernames, passwords, or payment information, SSL should be a priority. It's inexpensive and easy to set up, and it can also save you a lot of trouble.