HubSpot vs. Drupal
HubSpot and Drupal are two of the most effective content management software systems available. They both deliver a variety of customizable forms and modules that allow users to create great webpages that are unique to their business. HubSpot offers a more intuitive platform. Drupal offers more customization that requires users to have a more extensive tech knowledge.
A content management system (CMS) allows businesses to manage, maintain, and edit their webpages on a single platform without needing advanced technical expertise. Managing and updating websites almost daily is essential in the digital age we live in.
This is why having an intuitive CMS is crucial for businesses – they can easily update their website while keeping a consistent brand identity and maintaining consistent messaging.
Drupal and HubSpot CMS are two popular platforms that can help your business work more efficiently. If you need help figuring out which one to choose, follow our guide that outlines some of the key features and pros and cons of each CMS platform.
What Is Drupal?
Drupal is an open-source content management system that powers millions of websites and apps around the world. They help organizations and people build and maintain their websites with maximum flexibility for free.
Drupal is written in PHP and is primarily used with hosting providers like Acquia and Pantheon. Because Drupal is open-source software, it provides users with freedom, security, flexibility, and customization at a great price.
Notable Drupal Features
The content types it accommodates are unlimited.
You can create highly customizable forms.
Intuitive content creation tools are available.
It filters, retrieves, and presents content with easy-to-use tools.
The user role classification and permissions system controls access to features and content.
It includes a large variety of modules made by developers.
It has powerful in-place editing tools.
Drupal has a glowing platform with a highly engaged community that uses the interface to create and publish content easily.
What Is the HubSpot CMS Hub?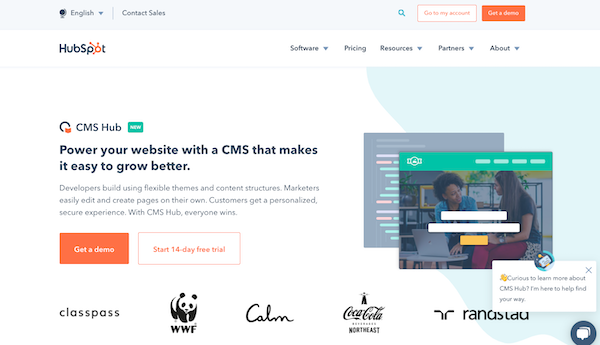 The HubSpot CMS Hub is a free cloud-based content management platform that is easy for marketers and developers to work with. This CMS includes great customization features for all of their themes that help businesses to make their site exactly the way they want it.
The CMS Hub also includes forms, live chat, and SEO tools, while integrating well with the HubSpot CRM. It is great for helping sophisticated teams to scale and grow their organization.
Another awesome element about the CMS Hub is the control it gives an organization over which team members have access to content with user permissions.
Notable HubSpot CMS Hub Features
It comes with custom themes.
You can use multi-language page testing.
Drag and drop editing makes content updates easy.
Track site-wide content changes with the HubDB.
Serverless functions reduce manual labor from developers.
It comes with two brand domains, and more are available to purchase.
The activity logs are automated.
Use memberships to deliver personalized content for specific segments.
Both of these CMS options are powerful with the most premier features on the CMS market. Let's compare them to one another so you can get a more in-depth look at each tool.
Pros and Cons of Each CMS
No CMS is perfect. But one platform may work better with your business than another. Review the pros and cons of each platform to see which one is best for you:
Drupal Pros and Cons
Pros
You get world-class security features with daily security reports.
It's great for creating large, complex websites.
The support community offers a wide range of user groups, support forums, and comprehensive documentation.
Cons
The complex interface may be difficult for beginners since it requires an understanding of CSS, PHP, and HTML.
It can be slow for you and your users unless you take the time to optimize Drupal to improve configurations and third-party modules.
It requires extra time and effort, and developer assistance is often needed.
HubSpot CMS Hub Pros and Cons
Pros
It has a multitude of features available to use.
Its clear and intuitive user interface makes it easy to use.
You get access to great support that is helpful and easy to communicate with.
Cons
Two people can't edit and save a page at the same time.
The analytics are limited because they only provide overviews of data, instead of in-depth reports.
It gets pricey when you add on additional features.
What to Consider in Your CMS
Your CMS is an essential part of your content marketing strategy. A great CMS tool can help you to streamline your work and make it easy to produce great content.
Here are some key aspects for you to think about before you make a final decision on Drupal or HubSpot CMS Hub.
Easy Content Creation
A CMS that has easy content creation allows your marketers to have more control over the changes made to your website and web content. This helps to free up time for your developers so they can focus on building other solutions that contribute to the growth of your business.
Make sure the CMS you choose is intuitive and easy to use for individuals who don't have extensive coding knowledge.
A Simple Pricing Structure
Pricing with content management systems can be tricky since most platforms offer several different pricing structures based on the features and capabilities you need.
You wouldn't want to choose a CMS with hidden costs such as charges for hosting, premium extensions, storage, and other items.
Fast Speed
It's a fast-paced world, and your CMS should be fast-paced to keep up with your user's needs. Search for CMS capabilities that ensure your site loads quickly when someone opens your page.
There are many things you'll worry about when it comes to your business. Make sure load time isn't one of them.
Security Features
Protecting your content and other sensitive information is not a luxury item that a CMS provides. It should be a standard.
The best CMS for you has security certifications and a 24/7 security team.
Personalization
Your site visitors expect personalization. It adds to their overall experience and provides them with content, deals, and information that interests them.
A great CMS can give you the option to personalize using smart content without requiring you to rely on a developer to get started.
For instance, HubSpot CMS Hub allows you to create personalized web experiences for your site visitors by creating a membership. People can sign in and receive a fully personalized experience catered to their interests and needs.
Drupal vs. HubSpot CMS: The Reviews Are In
Looking to real users can help you to identify the benefits and drawbacks of these CMS tools for your business. Check out these reviews from Drupal and HubSpot users taken from G2.
HubSpot CMS Hub Reviews
"I love being able to create custom-designed pages using Design Tools - it's easy to use and works similarly to a drag and drop editor. It takes less than an hour to create the pages that we want to create for our site.
"The ability to preview what your page looks like on mobile, desktop, and tablet is also incredibly helpful. I'm particularly excited about the Optimize section of the page builder - it's an extremely handy checklist to review before publishing to ensure that you are going to hit all of the boxes with Google."
"Super easy to create an impactful website, with impressive features and loads of easy-to-add modules. Plus, it's built on a powerful CRM, which helps websites to be lead-capture focused and provide a tailored visitor experience.
"Features like Smart Content that allow different website visitors to see tailored content based on criteria you choose from the CRM."
- Gemma P
"HubSpot Marketing creates a WOW effect on people who don't know the product. Many customers using SAP, Oracle, or Salesforce are surprised to see how complete it is ... and how beautiful the graphical interface is.
"In addition to the functionalities of campaigns, social media management, digital advertising, landing page, digital forms, and blogs (one of the best HubSpot products), it is very remarkable the functionality of HubSpot CMS, recently added to the Marketing stack. It is extremely easy to use, it has advanced SEO features, and the infrastructure in Cloudflare makes it one of the best we have ever known."
- Esteban C
Drupal Reviews
"Drupal is far more flexible than any other CMS I've ever used. You can build pretty much anything with it if you apply best practices and sensible architecture. People say Drupal is complicated, but they are referring to the developer experience.
"For an actual user of the CMS, I'd rate Drupal's ease-of-use above that of WordPress and other similar, popular platforms out there."
- Darren F
"Drupal has a huge library of website components that we can use that are free. There are also ways to get fancier components for a fee from external developers.
"I like being able to add other users to a Drupal project so they can log in and make changes as needed. It's a great way to collaborate on web design and be able to get several developers directly connected on a project."
- Pia J
"Drupal is simple to install and use it has a very good interface. It is excellent for websites with a lot of content or concurrency.
"Drupal is very customizable and adapts to your development needs. It works to create neat and professional websites, dynamic blogs, ecommerce, interactive sites, and has a variety of templates and accessories."
- Matteo B
HubSpot CMS and Drupal: Your Best Option
After you've read all of this information about both content management systems, you probably notice that each tool has excellent features and capabilities. The CMS you choose should be based on your content marketing goals and the skills of your marketers and developers.
HubSpot CMS Hub is simple to use with excellent migration services that make it easy to bring over the content you already have. If you need to start from scratch, that is easy too because you can create great pages with their intuitive and customizable themes.
If you need to customize further, then you can rest easy knowing that your developers have a head start using the themes you've selected to build on.
Drupal is a more complex system that is highly customizable for teams that know how to navigate the interface to the best of its ability. They have flexible tools that adhere to modern programming patterns with a rich assortment of add-ons.
HubSpot CMS Hub is the best option if you want to get your content out quickly and efficiently with beautiful designs and great user support.