No matter what industry or business you're in, you should be focused on local marketing strategies. Any marketing techniques that a localized business uses to market itself in the area it operates in counts as local marketing.
Its impact can be a lot more beneficial to your business than you may realize. And there's tangible proof, which you can see in the numbers.
Why Local Marketing Is So Important
As consumer behavior evolves, local marketing is becoming more and more of a necessity. The existing body of research on the impact of local marketing has uncovered several reasons why this particular strategy is so important today.
There Are More Local Searches.
"Near me" and "close by" type searches have grown by more than 900 percent over two years. Along with that, 97 percent of people learn more about a local company online than anywhere else.
How consumers discover and select the businesses they trust has transitioned almost entirely to online searching. And search engines have evolved to cater to that behavior. Google's autocomplete often suggests some sort of local keyword when searching for a business.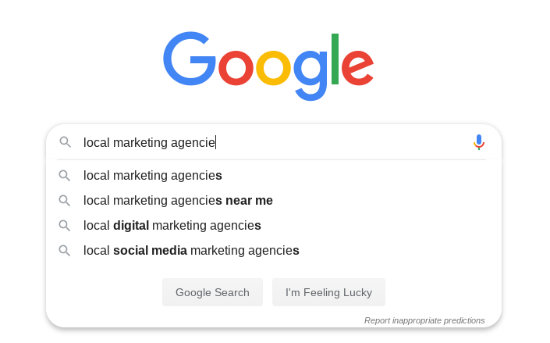 More Engagement Follows Local Searches.
A staggering 88 percent of customers who search for local businesses on their mobile device will visit or call that business within 24 hours of their search.
Search engines have become incredibly skilled at offering results that are going to provide true value to users, so it's not uncommon for a customer to find a business that meets their needs on the first try. If you're not appearing in those searches, though, you're missing out on a lot of first contact opportunities.
Mobile Search Has Big Influence.
By 2021, mobile devices will influence more than $1.4 trillion in local sales, and we can see that trend growing in real time with the introduction of product purchases within popular social apps and mobile Amazon markets.
Local searches result in purchases 28 percent of the time. In comparison to not ranking high in those searches in the first place, that rate means a lot.
People Put a Lot of Trust in Reviews.
The role a review has in the buying process is invaluable – 73 percent of consumers trust a business based on positive reviews.
We've learned this through the power of word of mouth. Your chances of converting leads into customers are a lot better when you have the backing of other customers' testimonials.
15 Examples of Local Marketing Strategies
There are several different tactics you can implement into your local marketing strategy, and they vary in value depending on your business. We'll go over some of the more versatile and valuable ones that you should look into.
1. Google My Business
Google My Business listings allow you to claim your business' information online and update it to your current address, contact info, hours of operation, etc. These details are vital to your brand's local business growth since it's going to be a huge contributor toward being found online.
If you haven't already, create or claim your listing and update it as soon as possible.
2. Loyalty Programs
Consumers appreciate being rewarded for their loyalty. Purchases aren't one sided, and your customers would like to know that their business with your brand is valued.
Institute a loyalty program where frequent customers can earn points or rewards toward coupons, deals, or other similar benefits. Not only will it please your user base, it'll incentivize purchasing from you again.
3. Referral Programs
It can be difficult to persuade customers to leave a review or refer a friend at times. Win their endorsement by building a referral program that's going to provide value to both parties.
Tempt them with a free product, demo, or a discount to both the original customer and whoever they refer. Include your staff in the program as well, offering a special gift in return for bringing in new customers.
4. Local Advertisement
Even though online strategies carry a lot of weight nowadays, that doesn't mean that more practical means are obsolete. Billboards, posters in transit stations, and newspaper ads are all still effective ways to increase your brand awareness.
As local customers go about their day in your area, they'll become familiar with your business and services.
5. Guest Blogging
Guest blogging is a great tactic to have in any content marketing strategy period, but there's a lot to leverage if you implement it into your local marketing strategies as well.
Collaborate with local bloggers and journalists to generate brand trust and positive word of mouth for your business.
It's also a great way to boost your credibility and authority as you create content for other organizations and have them create content for you, vouching for your services.
6. Social Media Engagement
Your audience is craving your attention. Really. Customers value brand engagement and actually find it easier to trust companies that authentically interact with their user base.
For local markets, many social platforms promote businesses near a user's location with paid targeted ads. Help your business enter that cycle of advertisements by tagging locations in your posts and including it in your social media profiles.
7. Live Events
Whether it be a fundraising festival, a networking social hour, or just a booth at a community event, it's important that your business has some sort of physical representation in the public's eye.
Consumers trust brands that they can associate, which is a lot easier for local businesses to achieve than international brands. Give customers the opportunity to meet you in person outside of a sales setting and start building lasting relationships.
8. Free Consultations
If you're a service provider, there's no better way to get leads into your door than a free consultation or service test. It's pretty widely known that consumers love an opportunity to test something out before committing to a purchase.
By offering a free, short-term service, you can show the value of your business to potential customers. Simultaneously, you'll learn more about your target audience, their needs, and create more detailed buyer personas.
9. Giveaways and Raffles
In the same vein, if your business is more product-based, giveaways and contests are a great way to generate word of mouth, awareness, and engagement.
A straightforward giveaway will attract attention and allow customers to sample your products, while a raffle is a fun way to engage with your community and create a positive reputation.
10. Community Sponsorship
Your local area likely has a variety of organizations and programs meant to foster community engagement and activity. Do some research on the different programs that you believe in and find out how you can help support them.
Maybe there's a local film festival in need of a sponsor. Or perhaps a little league that could benefit from some new equipment. You'll be contributing to your community while also getting your brand's name out there.
11. Mail Marketing
Mailboxes haven't disappeared from the planet. Yet. And until they do, there is opportunity to get your brand into households.
Create a postcard or coupon booklet that can be mailed to local neighborhoods. You may not convert every single family that receives it, but you'll likely reach a few customers who are looking for a service like yours that will meet their needs.
12. Market Your Story
Believe it or not, people want to hear how your brand came to be. Write the story of your company or maybe even create a short film talking about it.
You'd be surprised by the emotional impact it can have on your audience. They'll appreciate your authenticity and feel a lot more at ease with supporting a business who isn't afraid to be open and honest.
13. Cross Promotion
Partnering with another business can be incredibly valuable if there's no conflict of interest. A lot of industries have overlapping audiences, so why not try to kill two birds with one stone?
Your awareness will grow and with it, hopefully, so will your sales. There's also a certain degree of credibility that comes with the fact that a complimentary business will work with you, so you're earning brand trust along the way.
14. Online Directories
Websites like Yelp and Yellow Pages collect an incredible amount of data on local businesses for the public to access.
Making sure that your business' details are accurate will help with ranking in local results on SERPS and having customers be able to actually find you. The more listings your business appears in, the greater your visibility.
15. Local SEO
Optimizing your website is critical to getting your brand in front of local customers. Search engines crawl for information like local content, social media profiles, internal and external links, and citations in order to include you in local searches.
Help them out by including location pages to your site, creating local specific blogs and content offers, and optimizing all of your headers, titles, URLs, and tags.
Start Local Marketing Now
In order to drive sustainable results, you'll need a strong local marketing strategy in place. The best first step you can take is to actually start doing it.
For some businesses, considering the cost, it may be a more financially beneficial option to use a local marketing agency. Decide if you want to keep it in house or outsource it, then get started.