Best Company Culture Examples
1.

HubSpot

2.

Salesforce

3.

Hilton Hotels

4.

Mars, Inc.

5.

Intuit

6.

The Adecco Group
7.

DHL

8.

Mercado Libre

9.

Cisco

10.

Daimler Financial

11.

SAS
Workplace culture isn't something you can measure out and add just so like making a cake. Still, an effective workplace culture is a magic ingredient with lots of powerful benefits.
When people feel connected to their workplace culture, they become productive and engaged. They are more likely to actively seek out advancement and less likely to jump ship.
Whether you're talking about a company or a country, it's notoriously difficult to pin down just what culture is. One useful way to think about it is all the rules – written and unwritten – about "how things are done" by a particular group of people.
Organizations all have cultures, whether they've been developed intentionally or come about by chance. And even divisions and teams have their own cultures, a set of mutually agreed-upon norms that govern how stakeholders operate with reference to each other.
Bad workplace cultures tend to rise on their own as a result of unexamined assumptions. A small firm may have ad-hoc ways of getting things done that work at first, but don't stay effective over time. In this case, a workplace culture can be stifling. The organization gets stuck at the level of its culture.
On the other hand, a good workplace culture encourages everybody to reach their full potential.
There are just as many ways for a company culture to be good as there are for it to be bad. That said, one of the key differences in a good culture is awareness of values. Company values help explain the "why" of everything you do, leading to informed, consistent execution on "how."
Let's explore companies known for stellar workplace culture and clear values.
11 Companies With The Best Workplace Culture in 2019
1. HubSpot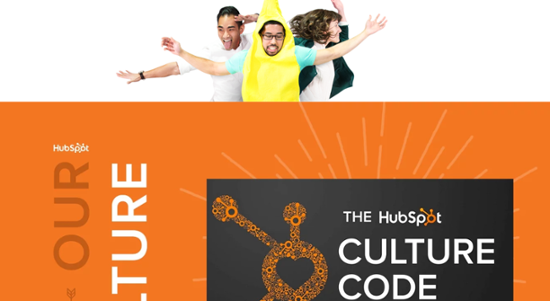 No list of companies with stand-out culture would be complete without HubSpot, the leader in inbound marketing.
Team members have their voices heard at HubSpot. Groups are encouraged to innovate and make projects their own as long as they offer a compelling, data-driven case. Leaders at all levels strive to be inclusive and hide nothing from their teams.
HubSpot focuses on the best fit for both talent and clients. Employees at all levels and functions are encouraged to flourish through unique perks like the Free Book Program, unlimited free meals with contacts, and "HubTalks" from experts. With its remarkable tools and tech, HubSpot builds lasting relationships for a select set of clients who'll gain incredible value.
There's so much to say about what HubSpot has done right that we've written an entire post about it. Find out how HubSpot nailed company culture and you'll get a crash course in the fundamentals of what makes a workplace great.
2. Salesforce
Salesforce is regarded as a leader in cloud-based sales enablement software. Its team, however, knows it as one of the most socially responsible companies around.
The executive team takes strong positions on social issues, consistently using business resources for good. This makes volunteerism and community engagement pillars of the employee experience.
3. Hilton Hotels
If you've been to a Hilton lately, you know what the brand prides itself on: Friendly hospitality that provides an end to end concierge experience.
The corporate culture fosters a feeling that everyone is approachable and on the same side. This allows fresh new ideas to percolate through the organization, invigorating a century-old brand so it can be as adaptive as a startup.
4. Mars, Inc.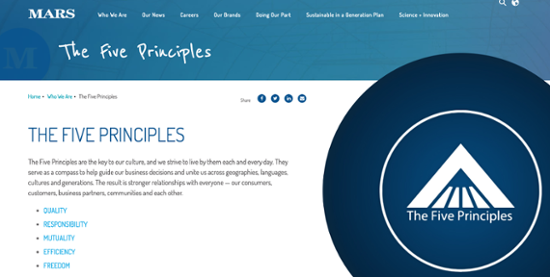 Mars is a family-owned company with a workplace culture driven by "Five Principles" of Quality, Responsibility, Mutuality, Efficiency, and Freedom.
You won't find micro-management here, just a commitment to trust and teamwork. Pet owners in particular have lots to love about Mars, which is known for a number of charitable initiatives to help animals.
5. Intuit
At Intuit, the north star of workplace culture is simple: Do the right thing.
Team members are encouraged to stretch their thinking and find new ways to deliver on the brand's core promises through integrity and positivity. A congenial, diversity-fueled atmosphere nurtures talent and gives everyone a remarkable feeling of support that extends beyond the workplace.
6. The Adecco Group
Work-life balance is at the heart of The Adecco Group's appeal. It has an enduring commitment to talent development, with unique initiatives like the "CEO for One Month" program.
It invests heavily in training: In 2016, 100% of applicants for the annual training scholarship got funding. Women are encouraged to explore leadership and benefits are top notch.
7. DHL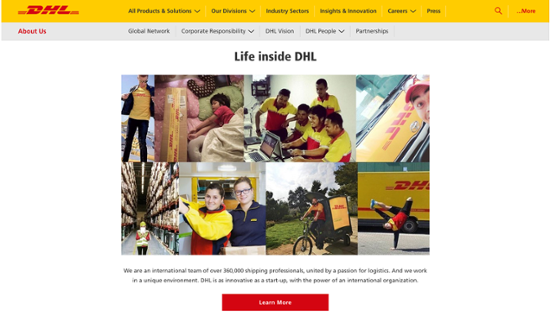 DHL stands out in how it is enriched by its dynamic, multicultural atmosphere. The company cares for its employees throughout their career with a range of initiatives, such as the unique integrated learning platform that sparks talent development.
Workplace wellness is another cornerstone, with annual events and long-term programs to safeguard employee health.
8. Mercado Libre
Headquartered in Argentina, Mercado Libre strives to be a truly disruptive innovator. A focus on autonomy gives team members genuine creativity in their work.
Self-directed learning and career development based on collaborative communities is a way of life, epitomized by the idea of the "knowledge nomad." Sustainability initiatives are also central to the company's DNA.
9. Cisco
Cisco's workplace culture is enlivened by a penchant for intelligent solutions at all levels of the firm: Not surprising for a legendary pioneer in computer networking!
A strong emphasis on ethics and telling the truth propels Cisco's people through the day, helping them build deep ties with customers, vendors, and each other. Drive, passion, and professionalism are rewarded highly.
10. Daimler Financial
Transparency is the watchword at Daimler, which has implemented far-reaching programs to help each team member embrace ownership. Town halls and management meetings take place regularly, with all participants encouraged to share feedback. Celebrations of big company milestones and goal attainment create the sense that "we're all in this together."
11. SAS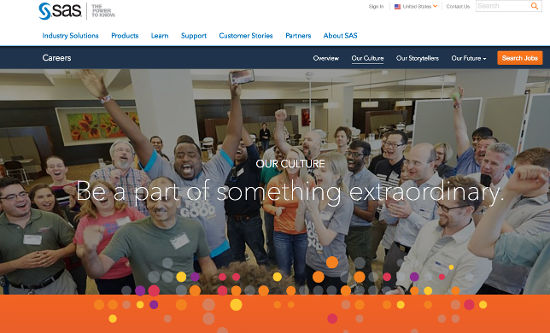 SAS has been a laboratory for game-changing employee benefits, imbuing its workplace with a sense that people are valued. Subsidized childcare is available on-site with a staff of more than 100.
Just as importantly, schedules and requirements are kept realistic so morale can stay high. Every stakeholder has the chance to gain exposure to multiple business areas.
Workplace Culture is Key to Success – and Satisfaction – in 2019 and Beyond
If your workplace culture isn't all it should be, don't fret: It's never too late to change.
An organization will have a culture whether it's intentional or not. That means the best way to make your culture better is to take the reins and do things with clear purpose.
Start by determining your core values – the fuel for the engine that drives your company culture. Learning to craft the perfect core values for your business will get you started. Since this involves getting and synthesizing lots of feedback, it may take a quarter or so.
Next, implement the suggestions we've laid out in How to Build an Infectious Company Culture. This will equip you with long-term practices that will take your culture from paper to real life.
Among their clients, employees, and the market, companies with a phenomenal culture stand out. Make culture a priority in 2019 and you'll see it transform from an idea to a competitive asset.