Best Company Culture Examples
1.

HubSpot

2.

Salesforce

3.

Hilton Hotels

4.

Mars, Inc.

5.

Intuit

6.

The Adecco Group

7.

DHL

8.

Mercado Libre
9.

Cisco

10.

Daimler Financial

11.

SAS

12.

Google

13.

Netflix

14.

Zoom

15.

Shopify
Workplace culture isn't something you can measure out and add just so like making a cake. Still, an effective workplace culture is a magic ingredient with many powerful benefits. When people feel connected to their workplace culture, they become productive and engaged.
Organizations all have cultures, whether they've been developed intentionally or come about by chance. These cultures can be characterized by a set of mutually agreed-upon norms that govern how stakeholders operate with reference to each other.
Bad workplace cultures tend to rise on their own as a result of unexamined assumptions. A small firm may have ad-hoc ways of getting things done that work at first, but don't stay effective over time. In this case, a workplace culture can be stifling.
On the other hand, a good workplace culture encourages everybody to reach their full potential. There are just as many ways for a company culture to be good as there are for it to be bad.
Let's explore the elements of great company cultures and look at examples of companies known for stellar workplace culture and clear values.
6 Elements of Great Company Cultures
You may wonder what sort of things actually make up a great company culture. Whether you're talking about a company or a country, it's notoriously difficult to pin down just what culture is.
One useful way to think about it is all the rules – written and unwritten – about "how things are done" by a particular group of people. Great company cultures include the following elements:
They Have Clear Mission and Values.
A clear mission and values are like the framework to the structure of your organization's culture. You need to know why you do what you do in order to provide your teams with direction and support.
via GIPHY
Knowing your mission and values helps you to craft teams that embody the things you stand for in their work. It is best to lead by example and to put clear intention behind your values so they are more than just words. In simpler terms, act on your values.
They Support Workplace Participation.
Encourage your team members to actively participate in the workplace. Make sure your teams know that their voice matters. Do your best to be supportive of a workplace culture that values participation and even rewards it.
Working is better when people get involved in whatever your company has going on. This will give your employees a sense that they belong there, rather than them sitting at their desks each day thinking that their job is just a pit stop on their way to someplace better.
They Are Transparent.
Keeping secrets from your team or lying to them altogether is not a good idea. You want to create a trusting environment. That means the workplace should encourage open communication between colleagues, from leaders to employees, and from employees to leaders.
via GIPHY
You'll find that no one enjoys working for an organization that isn't forthcoming about important aspects of the business.
They Celebrate Individual and Team Wins.
Team members that feel appreciated will always do more than what is expected. Companies that have great corporate cultures celebrate teams and individuals who create wins for them.
After all, your employees help make your dream a reality, and that should be something worth celebrating.
They Have Leaders Who Are Present and Accessible.
Leaders are supposed to do one main thing that their title entails. They are supposed to lead. Leaders who are present and accessible help guide their teams in the right direction, and they show that they are there to help and support anyone who needs it.
via GIPHY
Leaders become the face of the mission and values, and employees will follow accordingly to contribute to the company culture when leadership is carried out efficiently.
They Offer Ongoing Professional Development.
One of the great killers of success for your employees and your company is stagnation. Awesome company cultures offer educational and advancement opportunities to their teams so they can continue to grow and learn.
This, in turn, aids their productivity and helps to foster an environment of growth and professional development.
After reading about these elements, you may realize that you have some of them present in your culture, or you may realize that you have none of them. You should consistently work on making sure you have a great company culture to cultivate a positive environment that retains and attracts talent.
7 Tips for Building an Awesome Company Culture
Take note of these seven tips that will lead you in the right direction when you start to build (or rebuild) your company culture.
Ask For Your Team's Advice.
Don't be a dictator. Ask your team what you and your organization can do to make their time at work more enjoyable.
For instance, maybe they feel like they don't take enough breaks so they feel burned out. If this is the case, then you may decide that no one can eat lunch at their desks. This way, your team members get the break they need, and they feel refreshed and ready to be productive when they come back.
Hire People Who Understand and Believe in Your Mission.
Place job descriptions that include aspects of your mission, vision, and values on all of your job postings to try to attract people who can work in alignment with those aspects of your business.
via GIPHY
When you hire the right people, you may find that the positive workplace culture comes together on its own.
Encourage Learning.
If you already offer learning tools for your team members to use, then you are on the right track. But you also need to do more than just offer them. You need to encourage people to learn.
Let them know that they have time to take courses and get certificates. Maybe try to create one full day dedicated to learning for all of your team members.
Commit to Diversity.
via GIPHY
Life and work would be supremely boring if we were all the same, having the same ideas, talking the same way, and working the same way. Hire a diverse group of people who collaborate well together.
This means hiring people from different backgrounds of varying ages, education types, and experience levels. This helps you create an innovative environment that nurtures new and groundbreaking ideas.
Create a Welcoming Environment.
The environment you require your team to work in is a major part of company culture. It is likely that people will be more happy and productive in a well-lit space with comfortable and aesthetically pleasing workspaces, rather than in a dark and drab workspace that is uncomfortable.
People enjoy beautiful spaces. Make your office visually appealing and functional to help your team feel welcomed every day they walk in the door.
Stay Dedicated to Wellness.
Try providing your team members with healthy snacks and discounts on gym memberships to show that your company is dedicated to wellness. Team members will appreciate your efforts and will often be motivated by these perks.
Leverage Your Team Members' Strengths.
Each of your team members offers your organization a unique perspective. Use it.
Leverage their strengths to help make your business better. You can't keep trying to force people to do things they aren't good at and expect them to succeed.
via GIPHY
For instance, say you have an employee who is not great at public speaking, but he or she is great at writing memos. Have that team member write memos to the entire team each week, rather than leading team meetings.
There is probably someone else on your team who is great at public speaking, and everyone involved will get more out of the meeting this way.
15 of the Best Company Cultures
Let's take a look at 15 companies that have excellent workplace cultures. Learn from the best of the best and get inspired by these awesome examples.
1. HubSpot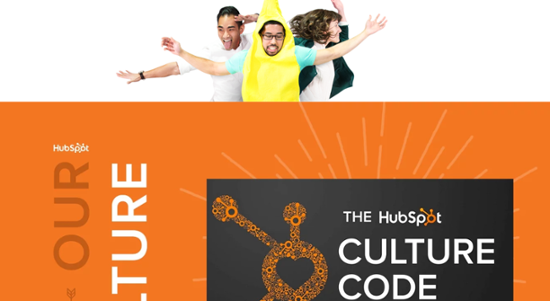 No list of companies with stand-out culture would be complete without HubSpot, the leader in inbound marketing.
Team members have their voices heard at HubSpot. Groups are encouraged to innovate and make projects their own as long as they offer a compelling, data-driven case. Leaders at all levels strive to be inclusive and hide nothing from their teams.
HubSpot focuses on the best fit for both talent and clients. Employees at all levels and functions are encouraged to flourish through unique perks like the Free Book Program, unlimited free meals with contacts, and "HubTalks" from experts. With its remarkable tools and tech, HubSpot builds lasting relationships for a select set of clients who'll gain incredible value.
There's so much to say about what HubSpot has done right that we've written an entire post about it. Find out how HubSpot nailed company culture and you'll get a crash course in the fundamentals of what makes a workplace great.
2. Salesforce
Salesforce is regarded as a leader in cloud-based sales enablement software. Its team, however, knows it as one of the most socially responsible companies around.
The executive team takes strong positions on social issues, consistently using business resources for good. This makes volunteerism and community engagement pillars of the employee experience.
3. Hilton Hotels
If you've been to a Hilton lately, you know what the brand prides itself on: Friendly hospitality that provides an end to end concierge experience.
The corporate culture fosters a feeling that everyone is approachable and on the same side. This allows fresh new ideas to percolate through the organization, invigorating a century-old brand so it can be as adaptive as a startup.
4. Mars, Inc.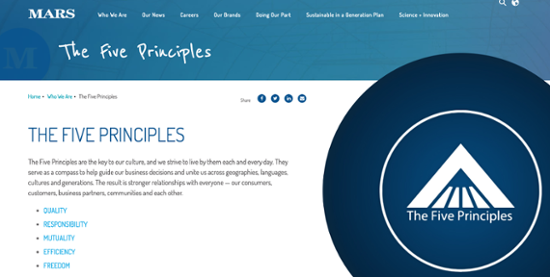 Mars is a family-owned company with a workplace culture driven by "Five Principles" of Quality, Responsibility, Mutuality, Efficiency, and Freedom.
You won't find micro-management here, just a commitment to trust and teamwork. Pet owners in particular have lots to love about Mars, which is known for a number of charitable initiatives to help animals.
5. Intuit
At Intuit, the north star of workplace culture is simple: Do the right thing.
Team members are encouraged to stretch their thinking and find new ways to deliver on the brand's core promises through integrity and positivity. A congenial, diversity-fueled atmosphere nurtures talent and gives everyone a remarkable feeling of support that extends beyond the workplace.
6. The Adecco Group
Work-life balance is at the heart of The Adecco Group's appeal. It has an enduring commitment to talent development, with unique initiatives like the "CEO for One Month" program.
It invests heavily in training: In 2016, 100 percent of applicants for the annual training scholarship got funding. Women are encouraged to explore leadership and benefits are top notch.
7. DHL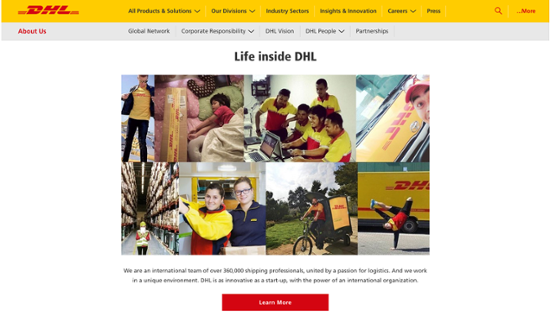 DHL stands out in how it is enriched by its dynamic, multicultural atmosphere. The company cares for its employees throughout their career with a range of initiatives, such as the unique integrated learning platform that sparks talent development.
Workplace wellness is another cornerstone, with annual events and long-term programs to safeguard employee health.
8. Mercado Libre
Headquartered in Argentina, Mercado Libre strives to be a truly disruptive innovator. A focus on autonomy gives team members genuine creativity in their work.
Self-directed learning and career development based on collaborative communities is a way of life, epitomized by the idea of the "knowledge nomad." Sustainability initiatives are also central to the company's DNA.
9. Cisco
Cisco's workplace culture is enlivened by a penchant for intelligent solutions at all levels of the firm: Not surprising for a legendary pioneer in computer networking!
A strong emphasis on ethics and telling the truth propels Cisco's people through the day, helping them build deep ties with customers, vendors, and each other. Drive, passion, and professionalism are rewarded highly.
10. Daimler Financial
Transparency is the watchword at Daimler, which has implemented far-reaching programs to help each team member embrace ownership. Town halls and management meetings take place regularly, with all participants encouraged to share feedback. Celebrations of big company milestones and goal attainment create the sense that "we're all in this together."
11. SAS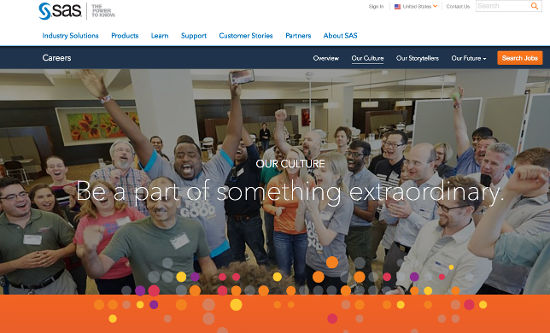 SAS has been a laboratory for game-changing employee benefits, imbuing its workplace with a sense that people are valued. Subsidized childcare is available on-site with a staff of more than 100.
Just as importantly, schedules and requirements are kept realistic so morale can stay high. Every stakeholder has the chance to gain exposure to multiple business areas.
12. Google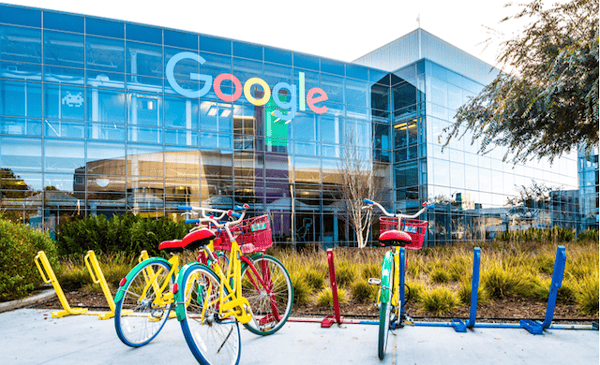 Most people have heard about Google's modern and exciting corporate culture. When you think about Google's offices, you may think about a beautiful campus that includes free meals, gym access, and napping pods.
Google has all of that and more. They focus on making sure their employees are happy and productive by focusing on a balance of work and play. They understand that this comes at a cost, but they also know that high employee turnover can be more costly.
13. Netflix
Netflix has a "people over process" philosophy for their company culture. They have a set of values that they truly believe in and encourage their team members to embody in their work.
The company is built on a keen sense of loyalty and ownership. Their goal is to make sure their beliefs and philosophies permeate the workforce to help motivate and encourage employees to support innovation for greater growth.
14. Zoom

Zoom is all about facilitating a workplace environment that is supportive through all-team meetings, volunteering, and community projects. Even more than that, Zoom has its own happiness crew! The happiness crew plans and runs events, outings, and other volunteer opportunities for team members.
They also strive to create a work environment that is fun for everyone, providing offices that contain wellness spaces and game rooms that appeal to various work styles.
15. Shopify
Shopify, the platform that allows people to build online ecommerce shops, has a culture that is made up of "every individual at Shopify." They have a peer-review system that has gained attention called Unicorn. This system involves employees praising each other for individual achievements.
It can be equated to a virtual high-five. They also offer great perks like free health insurance, Apple gear, catered lunches, and gym memberships.
Workplace Culture Is Key to Success
If your workplace culture isn't all it should be, don't fret: It's never too late to change.
An organization will have a culture whether it's intentional or not. That means the best way to make your culture better is to take the reins and do things with clear purpose.
Start by determining your core values – the fuel for the engine that drives your company culture. Learning to craft the perfect core values for your business will get you started. Since this involves getting and synthesizing lots of feedback, it may take a quarter or so.
Next, implement the suggestions we've laid out in How to Build an Infectious Company Culture. This will equip you with long-term practices that will take your culture from paper to real life.
Among their clients, employees, and the market, companies with a phenomenal culture stand out. Make culture a priority right now, and you'll see it transform from an idea to a competitive asset.