How often do you consider a healthcare organization's branding strategy? Probably not that often, right?
That alone is a pretty large indication that it should be taken a bit more seriously. Branding is an important facet of marketing, and marketing is how you get new customers in your front door.
The healthcare market may seem pretty straightforward and, at times, a bit dry, but there's plenty of space to spice things up and get your business top of mind.
What Is Branding?
So, what exactly are we referring to when we say "brand." Your brand identity is actually composed of a number of elements that come together to define a sort of persona for your company.
via GIPHY
These elements include:
Your company's values
A strong brand voice
Your brand is the culmination of everything that makes your business unique and how your audience perceives it. You can see why it's considered important, right?
Why Branding Is Important In the Healthcare Industry
The healthcare industry isn't excluded from this rule of thumb. In fact, there's never been a better time for organizations in this market to invest into their own branding.
The rise in digital marketing hasn't just added a new means of outreach. It's basically transformed how customers are making purchasing decisions today.
Unconvinced? Here are a few benefits to defining your brand in the healthcare industry:
Positioning
In the new market landscape, it's critical that a healthcare company be able to position itself well so that it can bring in new customers.
With a long list of regulations and tight budgets, finding the means to stand out can be difficult. But without it, organizations run the risk of falling behind their competitors.
Through researching your competition and creating a lasting impression on your audience, you're getting yourself situated to find and hold your spot in your marketplace for years to come.
Customer Experience
via GIPHY
Healthcare is almost entirely about the customer experience and meeting their needs. You measure your success based off of how satisfied your patients or clients are.
A great way to do this is by assessing customers' reactions and relationships with your brand. Do they consider your business reliable? Do they trust you? Does seeing your logo or hearing your company name instill them with confidence and comfort?
That's what a strong brand identity can do for your business. It gives your customers a visual and metaphorical anchor to place their good will and positive experiences on.
Audience Insight
Building a brand can also provide insight into your customers' wants, needs, and attention.
In the same way that analyzing customer-brand relationships can provide you with data about your organization, it can also tell you what exactly your audience is looking for.
Compare their responses to your brand with that of other companies in your industry. Who are they attracted to and why? What turns them off?
Paying attention to these details and finding ways to leverage them with a strong healthcare brand strategy will help keep your company at the top of its game.
Steps to Building a Brand
Crafting and refining a proper brand strategy isn't as difficult as it may sound. With a solid of understanding of your business and a deep analysis of your audience, you can launch your brand forward easily.
We've broken the process down into four steps for you:
1. Define Your Unique Value Proposition (UVP).
Your UVP communicates how your product or service provides value to your customers and others. It's what makes you, well, unique. It's kind of like your opening pitch on why they should choose you.
If you define your UVP early on, then you'll be able to build your brand and reputation around those ideas and reinforce it in your messaging.
It'll help your company stand out from your competitors in the long run.
2. Identify Your Target Audience.
via GIPHY
Of course, you'll need to figure out who you're trying to reach with your messaging. When it comes to healthcare, it can kind of feel like you're marketing to everyone since your target is human beings.
But if you're a specialized organization, consider your niche market. OBGYNs won't receive a great ROI if they were to invest their resources in a strategy geared towards men.
Identifying who your ideal customer is will help you in piecing together the look and feel of your brand. It often helps to have a list of buyer personas to represent your target audience.
3. Establish Your Mission and Values.
Crafting a mission statement that helps establish your core values to both your customers and your team is important.
It's not difficult to get lost in the day to day grind of working and lose sight of why you're doing what you do. And if you can't keep up with it, then your customers certainly have no idea either.
Implementing your guiding principles into your brand will help keep your business focused on, motivated, and aligned with your company's goals and aspirations.
4. Start Developing Your Brand Elements.
This is where the work picks up a bit. There's a lot that goes into defining your brand, but it helps if you already have an idea of who you aim to be in the eyes of your customers.
Do some research on brands you like to find inspiration and audit your own to figure out where you currently stand. If you've already got a strategy in place, you can find opportunities to grow or refine certain elements.
If you're starting from scratch, then dive in head first into what it takes to build a company branding strategy.
10 Examples of Kickass Healthcare Company Brands
For some inspiration, why not turn to your peers who have already started blazing a trail? These examples each have some unique spin on their business in a way that has bolstered their positioning in their market.
1. Mayo Clinic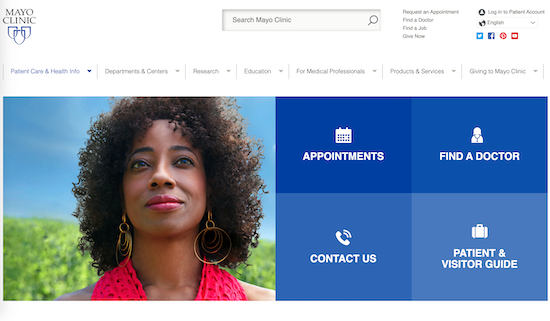 Mayo Clinic has built a pretty strong brand around its work across the globe, but one of their defining strategies is sharing patient experiences with the public.
Their Mayo Clinic Champions program encourages their "champions" to act as brand ambassadors and share their stories. They act as a voice for other patients. The organization's Sharing Mayo Clinic blog also broadcasts client experiences.
2. PainWise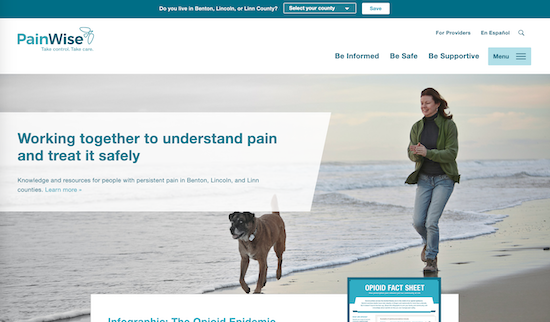 PainWise has done an excellent job of instilling their core mission into their messaging. Speaking on hope for individuals overcoming opioid addiction, the company uses images and colors to visually represent joy and trust.
3. St. Jude's Children Hospital
St. Jude's may be one of the most recognizable organizations in the healthcare industry today and probably not for the reasons you may think.
They haven't plugged their name in every space imaginable, though they do have an impressive marketing strategy. Instead, they focus on highlighting the children and their stories, rather than talking about what the company is doing for them.
This correlates directly with what St. Jude's is trying to achieve while fostering goodwill.
4. UnitedHealth Group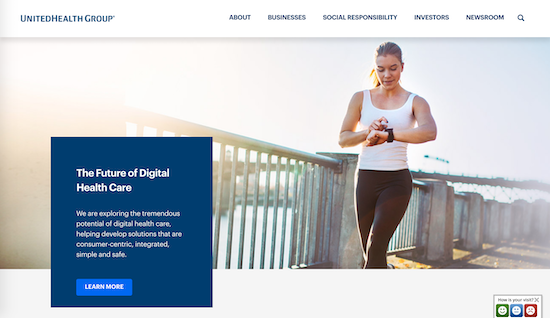 UnitedHealth Group's brand has been built upon a campaign that encourages customers to make the necessary changes in their life to promote healthy lifestyles.
Known as a supportive and interactive community hub, loyal customers trust that they can turn to the company's forums and social media accounts to be inspired and motivated.
Few healthcare organizations have displayed such high rates of engagement with their audience.
5. One Medical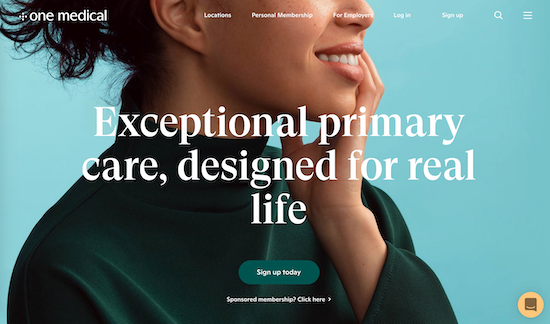 One Medical is a great example of a visually impressive brand. With a geometric, intelligent-looking logo and a very modern website, the company feels very professional and gives off the sense that they're experienced and know what they're doing.
While some other healthcare organizations can look and feel a bit outdated, One Medical has put effort into making sure that their brand is aligned with the times. That makes them feel more trustworthy.
6. Northwell Health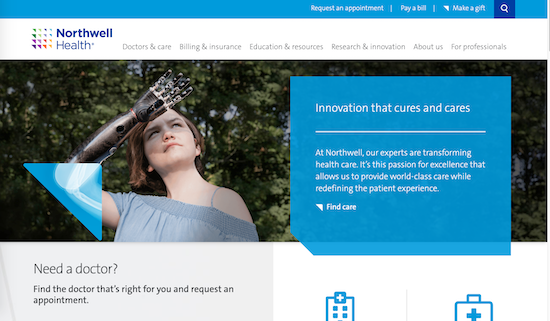 We explored brand audits earlier, and Northwell Health is a great example of a healthcare brand that executed theirs well. Formerly known as North Shore-Long Island Jewish, the company realized that they were restricting themselves to a single area with "Long Island" in the name.
In an effort to expand their horizons outside of the region, they rebranded, taking notes from other major systems that had done the same, and focused on a mission of redefining the healthcare industry.
They're now the 14th largest health system in the United States.
7. Dana-Farber Cancer Institute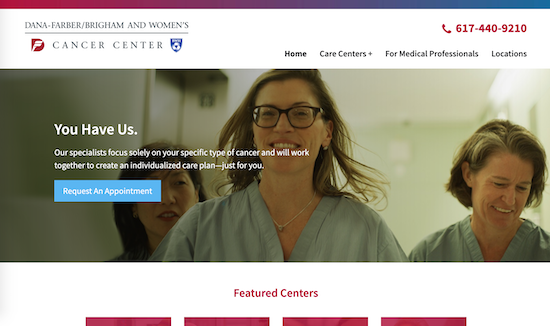 The cancer research institute has built their following around their slogan, "Right now you may have cancer. But what your cancer doesn't know is -- You Have Us."
The idea instills a sense of personalized confidence and trust into their patients. The idea is reinforced by a strong social media campaign that aims to uplift and encourage their target audience.
8. Quest Diagnostics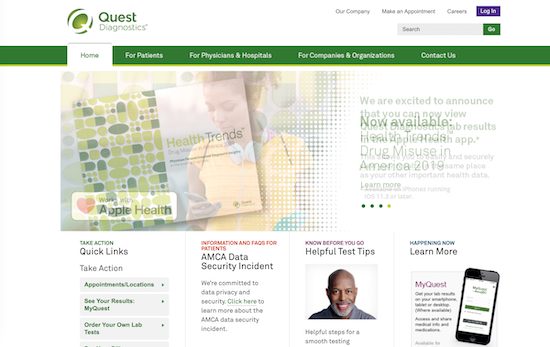 Quest Diagnostics prioritizes making itself easily recognizable to audiences with a consistent brand style. By being unique and individualistic, the company stands out from its competitors and is often the first option customers consider when looking into lab work.
9. Planned Parenthood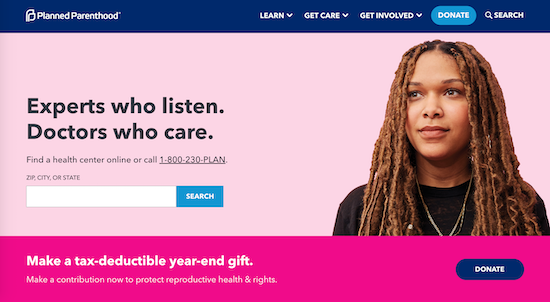 When discussing strong brands, you have to bring up Planned Parenthood. Despite current politics and controversy, or maybe because of it, the organization has developed their image online through a variety of campaigns and strategies.
Between their incredible UX app, their free educational resources, and strong social media presence, Planned Parenthood has made its presence known and fought to demonstrate what value they can provide to the world.
10. Humana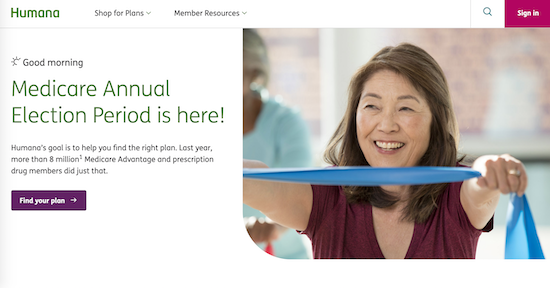 Humana has stood out with a brand that focuses on making Medicare and health benefits easy to navigate.
They operate in a complex market full of rules, obstacles, and restrictions, but their culture of providing support and guidance to their customers has made them one of the most trusted healthcare providers today.
A consistent, well thought out brand is a universal tool for organizations across industries. Without it, your audience doesn't know who you are or what you can offer.
As a healthcare organization, you provide important services to your customers. Get the word out there that you're ready to start helping them by building your brand strategy today.