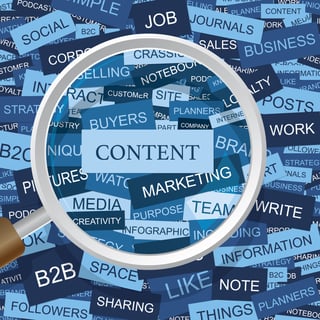 Every business wants to drive as much traffic as they can to their website, but what good does that do if you're not attracting traffic that is converting into qualified leads? A qualified lead is considered to be someone who has both a need or interest for your product or service AND is willing and able to purchase it, eventually.
The key to attracting qualified leads to your website is through the right promotion of your content. Your content is what attracts visitors and motivates them to learn more about your product or service. When a customer navigates through your website to learn more, their interests are probably somewhat already aligned with your business, which makes them more likely to become a qualified lead.
1. Content for Each Lifecycle Stage
Most visitors to your website are researching and looking for an answer to a question. Creating content offers based on the needs of your customers will help visitors find the answers they are looking for. These offers can be in the form of a guide or eBook, infographics, case studies, videos, webinars, etc. that will help your customers and website visitors find exactly what they're looking for.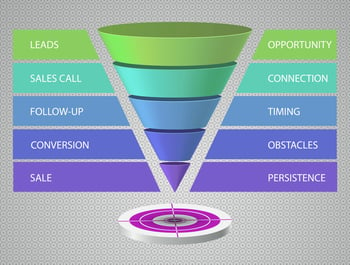 The type of content someone downloads depends on which lifecycle stage they are in as they move down the funnel towards becoming a customer. For example, someone at the top of the funnel will download a guide or eBook to learn more, while someone who is already a lead will most likely download a case study to see how you may be able to help them. Once a lead has reached the bottom of the funnel, they will probably go straight to requesting a quote or consultation.
As demonstrated in the above example, offering the right and relevant content will encourage visitors to fill out a form and download the piece of content you're offering; this ultimately results in leading them down the funnel towards requesting a quote or consultation. Content offers can also lead to blog and newsletter subscriptions and interest in following your company's social media accounts.
2. Landing Pages & Forms
Landing pages are where your content offers are downloaded by filling out a form. This is solely to obtain the information of visitors who are downloading your content. Forms that require many fields to be filled out usually result in less submissions because visitors don't want to spend more time filling out a form than the amount of time it took them to find the content they were searching for in the first place.
Creating a form with detailed and specific fields will allow you to identify which leads are qualified and which are not. This way, your sales team won't be wasting their time contacting leads that are not qualified. If you want to obtain the most qualified leads, you should be utilizing smart form fields. If you're a HubSpot user, you know what this is, if not, this option isn't available for your forms. Smart form fields recognize existing leads, so when they download another piece of content from your website, the form will replace some of the fields they have already filled out and replace them with new ones. This allows you to obtain more and new information about your existing leads to filter out ones that are not qualified.
3. MQL & SQL Smart Lists
In addition to smart form fields, another option exclusive to HubSpot users are smart lists. You should have two separate lists:
MQL (Marketing Qualified Leads)
SQL (Sales Qualified Leads)
These lists reflect the specificity of your forms and form fields. Your MQL list should include criteria based on those contacts you should be marketing to. Make sure your criteria excludes contacts who are employees of your company, existing customers, or competitors. For example, your MQL list criteria should include:
Any contact that has opened an email in the last 6 months
Any contact that has filled out a form on any page
Any contact that is NOT a member of an employee list, a client list or a competitor
Your SQL list should be significantly smaller than your MQL list. The criteria that makes up this list should be based on those contacts who are ready to purchase your product or service. The criteria will be similar to that of your MQL list, but will be more specific. For example, your SQL criteria should include:
Any contact that filled out your contact us/consultation form AND has opened an email in the last 6 months
Any contact that filled out your contact us/consultation form AND has filled out a form on any page
Any contact that filled out your contact us/consultation form AND is NOT a member of an employee list, a client list or a competitor
These two lists allow you to easily identify your marketing and sales qualified leads.
4. Blogging
Blogging is a great way to help attract qualified leads to your website by reaching out to subscribers and bringing in outside traffic through SEO. If your website doesn't already have a blog, you should begin blogging for the following reasons:
To increase your indexed pages and improve your SEO
To bring in more organic traffic
Your blog subscribers may or may not be existing leads and customers, but that can change when your blog articles are focused on problems they may be looking to solve
5. Social Media
Social media channels are a great place to post and promote your content offers and blog articles. It gives your company and your website exposure while increasing your credibility. Utilizing LinkedIn is the best channel to attract qualified leads. According to ReachForce, 44% of B2B marketers have generated leads via LinkedIn and according to the 2013 State of Inbound, 43% of all marketers have found a customer via LinkedIn.
Key Takeaway
Attracting more qualified visitors (and converting them into leads) on your website is easier than it sounds. However, there is no shortcut available. Once you get the hang of creating content for each lifecycle stage, your landing pages and forms will be recruiting more qualified leads.
This is especially true if you're able to implement MQL and SQL smart lists to help you keep track of those leads and develop a strategy for Closed Loop Reporting. Remember to stay on top of your blog and social media in order to attract new visitors, grow your social reach and publish content that is both remarkable and shareable. Following these guidelines will undoubtedly procure more qualified leads to your website and generate higher website traffic.