Your marketing team works really freaking hard – with all the content, lead nurturing, social media engagement and everything in between, they're working on so many different initiatives at the same time. It's amazing how much they do at once!
And, if your business has an active blog featuring the latest tips, tricks, and statistics for your industry, then you know how much time and effort it takes to write and publish kickass content.
We get it – my fingers ache as I write what feels like 100 blogs a day for Bluleadz!
Jokes and aches aside, the benefits of blogging are by far the most amazing part about it. And understanding and analyzing how your blog is performing can help you evaluate your content, methods, and strategies to help you reach your goals.
With that in mind, it's essential that your marketing and content team monitors your blog performance. What's the point in doing it if you never know if it even works?
The Benefits of Measuring Blog Performance on a Regular Basis
via GIPHY
Measuring the success of anything is important.
And, when it comes to your blog, consistently tracking its performance can ensure you're in the right direction of your strategy. Plus, you can even uncover new opportunities for content creation and promotion.
As you continue to monitor its progress, you have an inside look into how your performance shifts when you roll out new content, new tools, and more that continue to drive people to your site.
If you aren't keeping track of your traffic, shares, etc., you'll never really know if all your hard work is paying off – and that would be a bummer.
How to Measure Your Blog Performance
Establish Your Goals First
Every good strategy starts with goals. Goals can help you identify a target finish point and can help you keep track of your progress as time goes on.
Without goals in place, how will you define success? They're your target. You wouldn't go on a road trip without a destination in mind, would you?
Set a Timeframe
Ever decided, "I want to lose weight" and put yourself on a diet? Well, how long did you want to be on that diet? Hopefully, not forever – junk food is far too good.
Setting an end date for tracking and measuring your blog performance makes it easier to see how your blog success is improving over time. At Bluleadz, we set quarterly goals for our blogging efforts and check in with our marketing team weekly to see how we are advancing.
Keep Pushing Out Content
To monitor your blog performance, you need some kickass content!
Once you set your target numbers and timeframe, just keep doing what you're doing. During that time, keep track of specific metrics to see how your blog is performing. (This is covered later on!)
Deciding what reports to look at can help you spot common denominators in your content strategy to find what's working and what's not.
Luckily, many CMS platforms feature built-in tools that will monitor these metrics in real-time – allowing you to sit back, relax, and not stress about the math (who likes math, anyways?).
If your CMS platform lacks these tools or you aren't currently using one, check out Google Analytics to crunch your numbers.
Build Out a Repeatable Reporting Process
Once your timeframe has ended, it's time to take a look at your results. Based on your initial goals and the numbers you're looking at, did your blog performance improve?
You'll want to build a repeatable report that you can continue looking at on a deeper level as time goes on. Looking back a year from now, your content team will be able to see how different initiatives and content altered your overall blog performance.
5 Metrics You Need to Track and Measure
As you continue with your blogging efforts, take a look at these five metrics:
1. Traffic
Yes, it's obvious that the amount of traffic you're getting to your blog is a key indicator of its performance. The more visitors (qualified) that come to check out your blog, the better.
Comparing your visitor count over time can be a tell-tale sign of how your blog performance is improving (or decreasing – ouch!).
When it comes to blog traffic, it can also be helpful to monitor traffic on an individual post level. Luckily, some tools let you do just that.
On HubSpot, you have the ability to analyze individual blog post performance, including a breakdown of traffic sources.


Pretty nifty, right?
When analyzing your overall blog performance, take a peek at your posts generating the most traffic first. Jot down what you think makes them so darn good – is it your keyword use, in-depth explanations, or long-form structure? Since they perform so well, they just might be worth repeating across the board.
2. Lead Generation
With all that traffic coming to your site from your blog, you're bound to collect some leads here and there. Leads fuel your business growth, and attaining them via your blog is just one way to do so.
In fact, B2B businesses that blog receive 67 percent more leads than those that don't.
Using CTAs at the end of every blog and on sidebars is an easy way to convert random visitors into new contacts – plus, after you pop the CTA into your blog, you don't have to do anything but watch the leads roll in.
Keep track of how many leads you're converting from your blog, and also keep an eye on your contact-to-customer conversion rate to see how your efforts are stacking up in closing deals.
3. Blog Subscribers
Subscribers are your biggest fans: They enjoy your content so much that they voluntarily hand over their contact information so they can stay up-to-date on your blog content.
via GIPHY
Your blog subscriber count can be a great validation that your content is valuable and performing well.
Track how your subscriber count shifts over time. Naturally, not every person will stay subscribed forever, but keep a close eye on it to ensure it's steadily increasing as you continue to publish new content.
Tip: Nurturing your existing blog subscribers is an excellent way to keep them around. Establish a subscriber newsletter to keep them in-the-know on what's happening over on your blog. If they like what they see, they might share it with others! Speaking of sharing…
4. Social Media Shares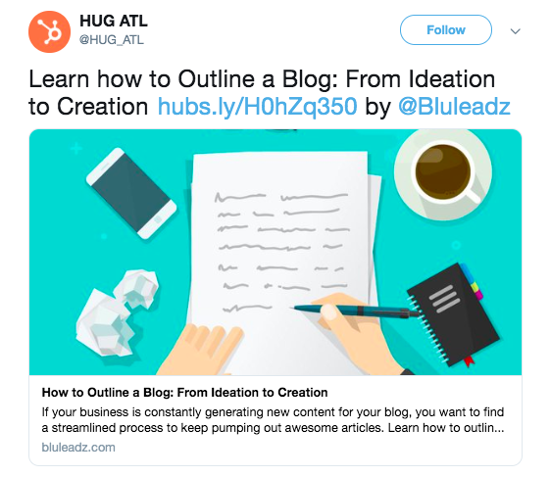 Social media shares keep your content buzzing on the internet. When someone shares your content, they're putting it in front of every single person that follows them. Imagine the reach!
Take a look at the social shares for your blog articles. Doing this can help you identify favorite topics and article structures that seem to speak to your audience the most.
And, be sure to always optimize your content for social media, including a featured image and snippet. That way, when others share it, it comes with a nice visual that can attract new people!
5. Backlinks
A backlink, also called an inbound link, is an incoming hyperlink from one website page to another website.
Each backlink you receive acts as a vote of confidence, informing search engines that your content is valuable and relevant to readers on a site.
So, in short, you want backlinks. And, the more backlinks you're able to attain, the higher your potential is to boost your SEO efforts and climb search rankings.
Tools like Ahrefs and Moz are great for tracking and finding new backlinks. With Ahrefs, you simply type in your domain, and head to Backlinks. You even have filtering capabilities where you can review new, lost, and broken backlinks leading to your site.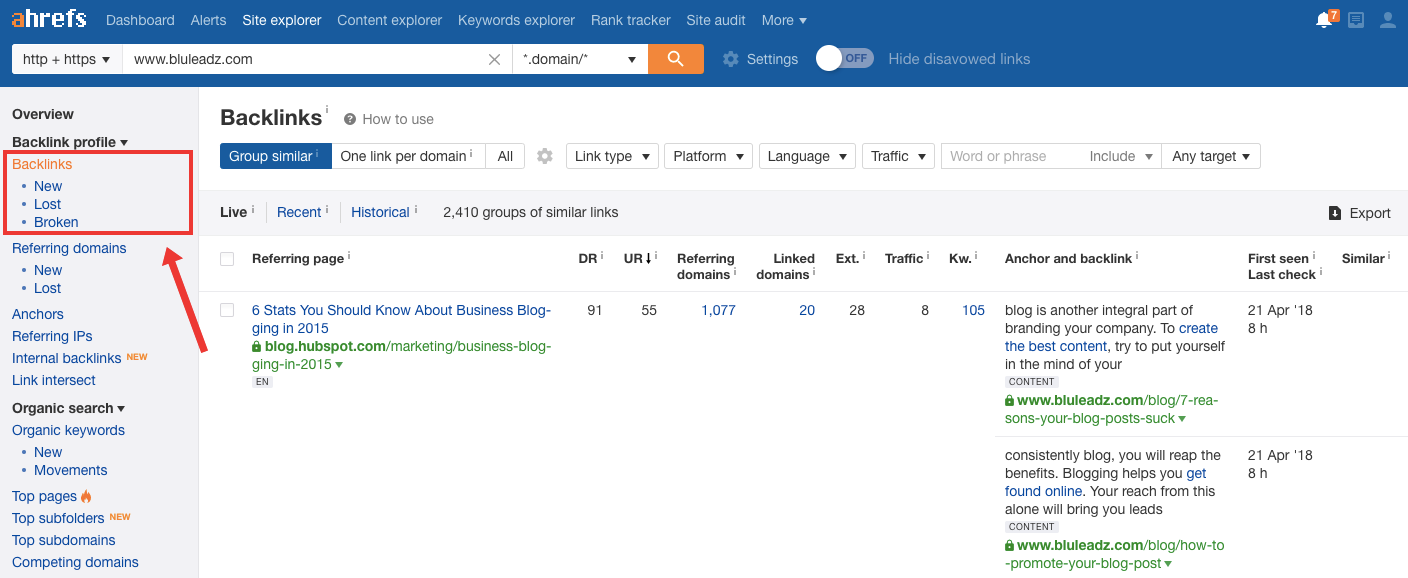 Keep Up the Blogging Success
Don't let these numbers get you down if they're not what you thought they were going to be.
Use these performance metrics to build on your strategy and identify both strengths and weaknesses in your content.
When you know how to measure blog performance and stay consistent in your tracking, you'll be able to find the blogging tactics, structures, and topics that work the best and use those to your advantage to crush your blogging goals.