A well designed pricing page can be a brand building tool that can help your prospects better understand your business.
There are many elements to consider when creating your pricing page including strategy, messaging, and the design itself. The structure of each of these elements plays a role in increasing the conversion rate of your page.
One of the best ways to improve your own pricing page is to take a look at the successful pages of other companies and what makes them work. When it comes to buying habits, several factors influence our decision making process.
From understanding the decision to be made, to gathering info, understanding the alternatives and finally making the purchase, many factors influence our final decision.
We are constantly looking for new ways to revamp our pricing page to convey the unique services we have to offer and better understand the final decision we want our prospects to make. For inspiration, we sometimes look to the best of the best!
Let's take a look at 14 companies' pricing pages that are doing it right and hitting one or more of these buying triggers!
14 Outstanding Pricing Page Examples
1. Mailchimp
Names of your pricing plans are important! By using descriptive meaningful names, you can reduce customer frustration and easily direct them to the plan that's best for them.
Mailchimp uses simple names that are pretty self explanatory. By distinguishing between new businesses (which is a FREE plan!), growing businesses, and professional enterprises, visitors to Mailchimp's pricing page immediately know which plan is best for them.
But, to compare the plans even quicker, Mailchimp lines them up side by side, checking off each box to the feature available in the package. This way, you can easily see which plan has all the features you need to help your business succeed.
2. TunnelBear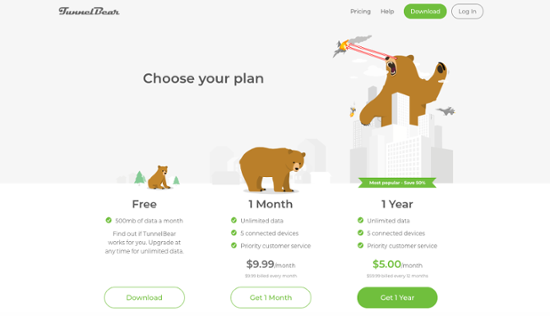 TunnelBear is a subscription service that focuses on providing apps that allow users to browse the internet privately and securely. Their pricing page (and the rest of their website) is a great example of branding. How can you not love a company that features a bear shooting laser beams out of its eyes on their pricing page?!
Actually, their pricing page really shows their brand's personality. Buying a service can be a difficult decision, but TunnelBears' humor and graphics make it a little easier... and they get bonus points for accepting Bitcoin and jars of honey as payment!
3. Statista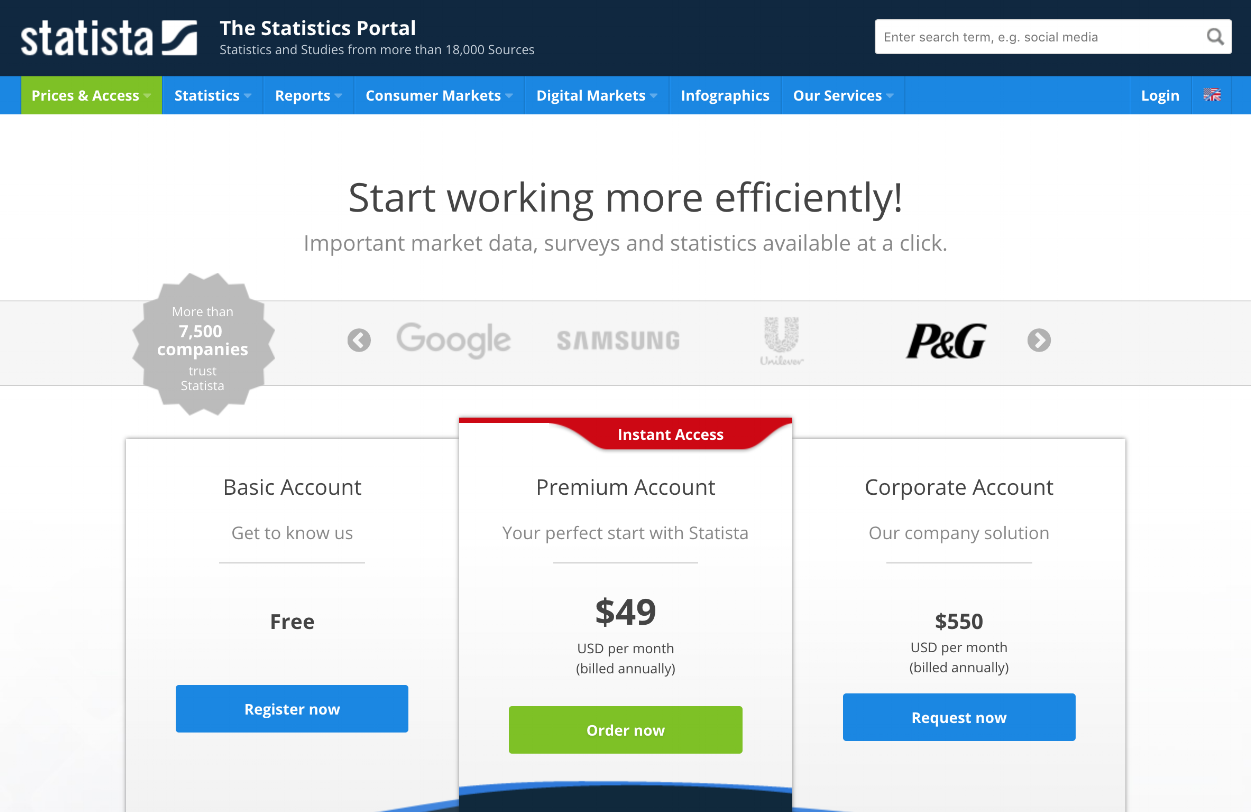 Statista is a business that offers users access to millions of online surveys, market data, and statistics with a mouse click. Trust is a major issue when it comes to making a buying decision. Statista's pricing page instills both trust and safety.
Testimonials and trust icons on a pricing page can give visitors a good example of companies that are using your service. Statista offers company logos on their pricing page as well as testimonials below and next to their pricing plans.
4. TicketLeap
TicketLeap is a ticketing service for special events. They allow users to create event pages, promote them, and them sell tickets through the site.
TicketLeap's pricing model is pretty complicated, but their pricing page makes it easy to understand – it allows you to see how ticket pricing options affect your bottom line and exactly how much TicketLeap takes.
By presenting complicated information in a simple way, it makes the decision making process easier. There's even a "calculate your fees" section for those who want to know the nitty gritty about what profits they will get out of TicketLeap's service.
5. Buffer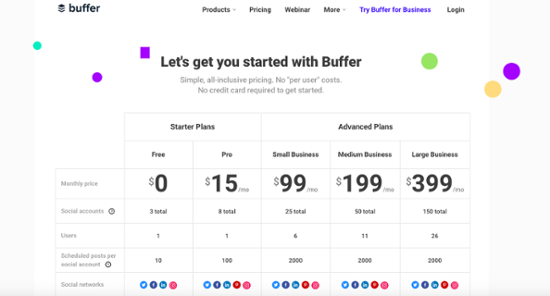 Buffer is a social media management platform that allows you to schedule posts across multiple platforms. It allows you to publish, schedule, and analyze all of your posts in a single place.
They offer a free option that is a great way to convert visitors and then work to convert free users into paying customers later. They also use testimonials and trust icons much like Statista. By using "Transparent Pricing," they easily explain their costs to new conversions.
6. Spotify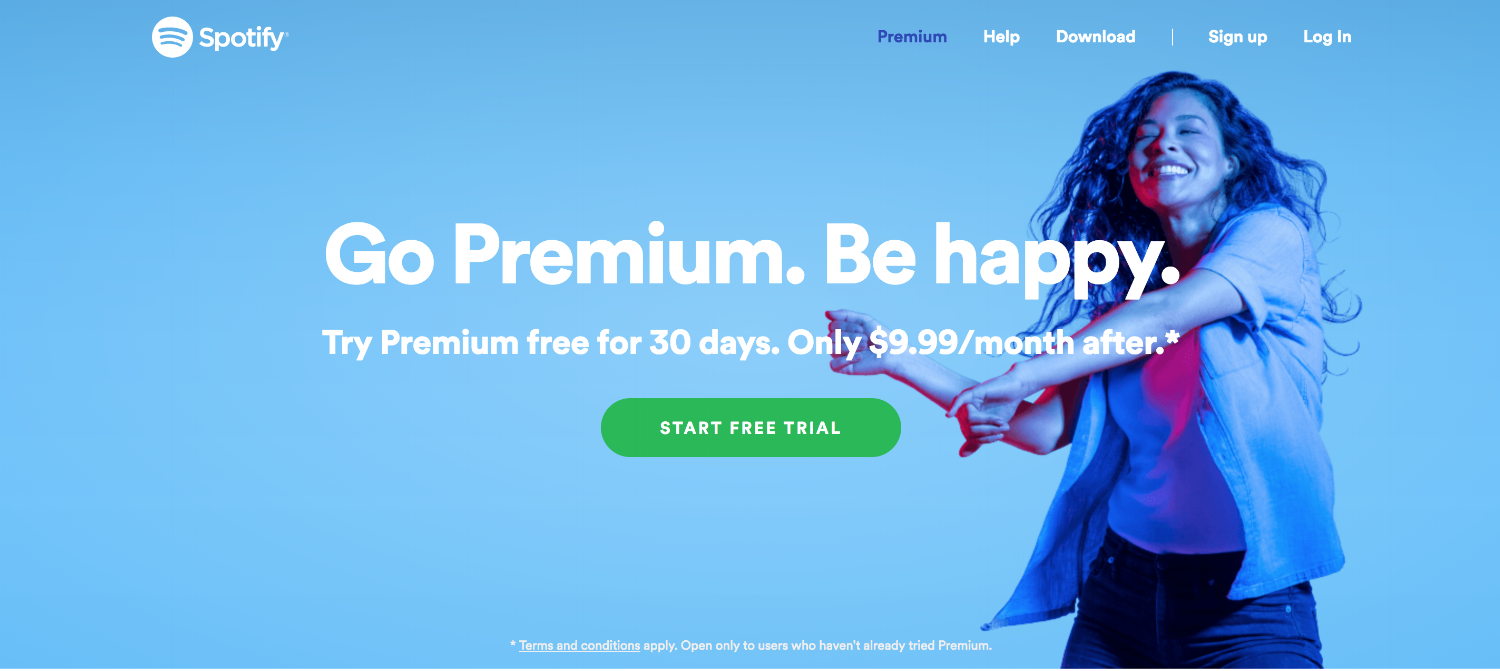 Spotify is a subscription music service that offers a free version and a premium plan. Their pricing page makes it easy to see the difference between their plans without any complicated fine print.
They emphasize their premium plan in a great way that clearly tells you the benefits of a monthly subscription. They also use graphics to clearly display the fact that the premium plan comes without any advertising. No wonder half our office has it!
7. Zendesk
Zendesk is a customer relationship management (CRM) software developer that offers businesses a suite of customer management tools. Their suite includes live chat, social messaging apps, self service guide, and customer support software solutions.
Their pricing page uses very clear names to describe their plans, so you have a really good idea of what you're getting for each price point. If you're unsure, they have a "Compare Our Plans" CTA button on the page, which allows visitors to compare exactly what they are getting at each level of service.
8. Box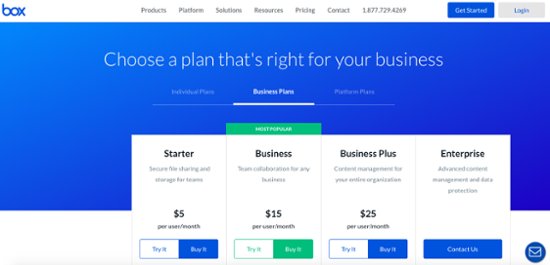 Box is a file sharing and collaboration platform for individuals and businesses. Their pricing page is informative, intuitive, and well designed.
They built the page to clearly differentiate between individuals and businesses making the user experience simple. They also highlight the profit maximizing option with their "Most Popular" label standing out on the page.
9. Squarespace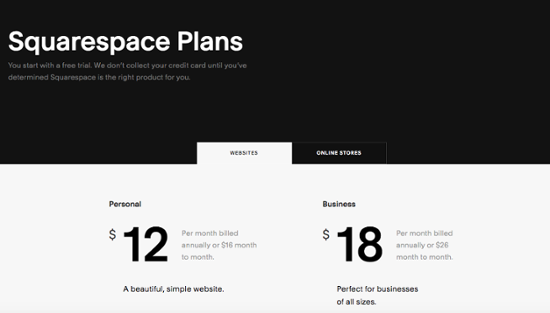 Squarespace is a website design and hosting platform that appeals to both personal and business users. On their simplistic pricing page, they easily list out all the features each plan as to offer.
They also include FAQs on the pricing page, making it easy for users to get answers to questions without having to bounce from the pricing page.
10. Wistia
Wistia is a professional video hosting site that includes analytics and marketing tools. Wistia's pricing page is an example of a great design.
It relies heavily on visuals to compare the three tiers of packages available. It says a lot with a little, which is just what people want these days. And, don't forget the simple CTA button at the end encouraging people to contact sales!
11. Slack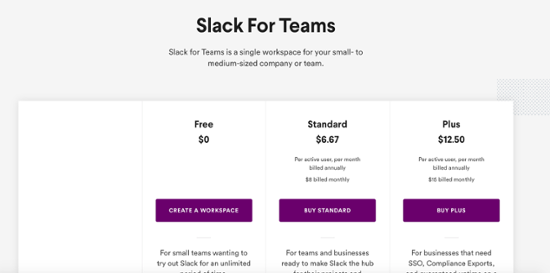 Slack is a collaboration communications tool that allows team members to send messages to each other using text, video, and voice. Their pricing page builds upon each level to explain the additional features as you move through the plans.
It's very easy to read, using a lot of negative space to make the highlights stand out, and includes a section of trust icons showing their focus on enterprise security and compliance programs.
12. Freshdesk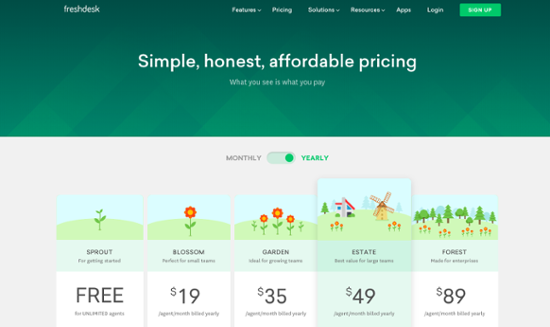 Freshdesk is a customer support software and ticketing system that can easily customize and automate your work. Its pricing page tagline says it all: "Simple, honest, affordable pricing." And its design is no exception.
Animated images tell the story of each package, and as you scroll further you can check out the features that come with each plan. Plus, there is even a monthly to yearly option that you can toggle with to see how pricing varies – simplicity at its finest!
13. HelloFresh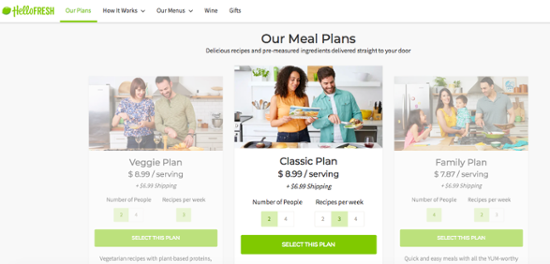 HelloFresh is a meal delivery service that brings fresh, homemade meals right to your doorstep. When it comes to pricing, there are a lot of options to choose from – so HelloFresh makes it easy for you.
When you head to HelloFresh's pricing page, you'll see the three plans available – Veggie, Classic, and Family – as well as the price per serving for each plan. However, with a few easy switches, you can see how much each plan is based on the number of people and the number of recipes you want per week. Simply put, HelloFresh makes understanding your customization and pricing options a breeze.
14. Blend
Blend is an inbound marketing agency that's there to help all businesses improve their marketing strategies. When it comes to pricing page design, sometimes less is more, and Blend understands that.
Blend's pricing page breaks down its pricing into three tiers, but then goes on to explain what all the features include. This element is graphic and simple, and it helps prospects know exactly what they are going to get with few words.
Your businesses pricing page is a great way to reinforce your brand and ideals. Whether it's showcasing your brand personality through whimsical graphics like Wistia, or through irreverent text and laser beam shooting bears like TunnelBear, using interesting graphics and expressing your brand identity using text can draw a visitor in.
Combine that with clearly descriptive product names that reduce visitor confusion and presenting complicated information in a simple manner, and you'll increase your conversion rates in no time!