20 Competitor Analysis Tools
1.

Google Alerts

2.

Google Keyword Planner

3.

SpyFu

4.

Semrush

5.

Alexa

6.

SpyOnWeb

7.

WhatRunsWhere

8.

Moz

9.

Ahrefs

10.

Majestic SEO
11.

iSpionage

12.

Open SEO Stats

13.

BuiltWith

14.

BuzzSumo

15.

Skyword

16.

Ghostery

17.

Quantcast

18.

Moat

19.

Datanyze

20.

WooRank
Sun Tzu said, "If you know the enemy and know yourself, you need not fear a hundred battles."
Today's inbound marketing experts are great at the "know yourself" part, but every now and then "knowing the enemy" falls by the wayside.
Yet, everyone always wants to be one step ahead of the competition. And in order to succeed at that, you have to understand what it is your competition is doing.
Conducting a competitor analysis is crucial for your business so you can be the top choice in your industry's marketplace.
Let's review some of the benefits of a competitor analysis, what you need to include in your analysis, and list out some useful competitor analysis tools to help you grow your brand.
What Is a Competitor Analysis?
A competitor analysis is the process of evaluating all aspects of your competitors' marketing strategy – from the way they market and promote their products and services, to their website functionality, social presence, and more.
A competitor analysis evaluates both the strengths and weaknesses of their current strategies to help identify opportunities and threats for your business to enhance your own marketing strategy.
Benefits of a Competitor Analysis
Analyzing and monitoring your competition on an ongoing basis allows you to peek behind the curtain of their actions and behaviors – giving you the information you need to stay ahead of the game.
A competitor analysis can also help you:
Nail down or create your unique selling proposition (USP).

Better understand current market trends.

Better target your current customer base.

Uncover untapped markets that your competitors aren't selling to.

Gather benchmark data to measure your growth against.

Find errors and gaps in your competitors' strategies where you can capitalize on a new product or service.
5 Essentials to Include in Your Competitor Analysis (+ Template)
A competitor analysis can include a multitude of sections – the more you are able to gather about your competitors' strategies and tactics, the better. However, when it comes to starting out with your first competitor analysis, consider these five essentials.
A Company Overview
Let's start with the basics. Gathering the core information about your competitors is the best way to start comparing them. Some good information to look into includes:
When was the company founded?
What is their value proposition?
How many employees and office locations do they have?
A great place to find information like this is by taking a look at their LinkedIn Company Page.
Products, Services, and Pricing
One of the most important parts of a competitive analysis is gathering data on their products or services – you know, the things that actually bring in revenue.
When looking into your competitor's products or services, consider:
Their top products
Unique product features
Their pricing model
What technology they use
Website Performance and Customer Experience
Website performance and customer experience play a huge role in how your brand is perceived by a prospect. Therefore, it's important to take the time to navigate through your competitors' websites and see how their UX and website layout compare to yours.
Some elements to include in this part of the analysis are:
Navigation: What's it like navigating around their site? Do they have only essential pages in their main nav?
Messaging: What is their messaging like across their website?
Imagery: What sort of images or graphics does the competitor include on their main website pages?
Branding: Is each page branded with their colors, logos, graphics, etc.?
Be sure to analyze their homepage, contact page, pricing page, resource pages, and core service pages to get an overall idea of their website.
SEO
A competitor SEO analysis helps to identify what is bringing in website traffic and what search queries they are ranking for in search engine results pages (SERPs). In this section of your analysis, you'll want to look at:
Ranking keywords
Top keywords
There are tons of tools that make a competitor SEO analysis a breeze. Some of our highest recommended software options include Moz and Ahrefs.
Social Media
Get a closer look at what your competitors are doing on their various social platforms to further engage their audience. You'll want to primarily review their LinkedIn, Facebook, and Twitter, but depending on your industry, Instagram and YouTube might also be worth analyzing.
In a social media analysis, you should review the following information about your competitors:
Follower count
Publishing frequency
Messaging
Audience engagement
Post variety
Free Template
Need a place to organize all this information? Download this simple spreadsheet to get started.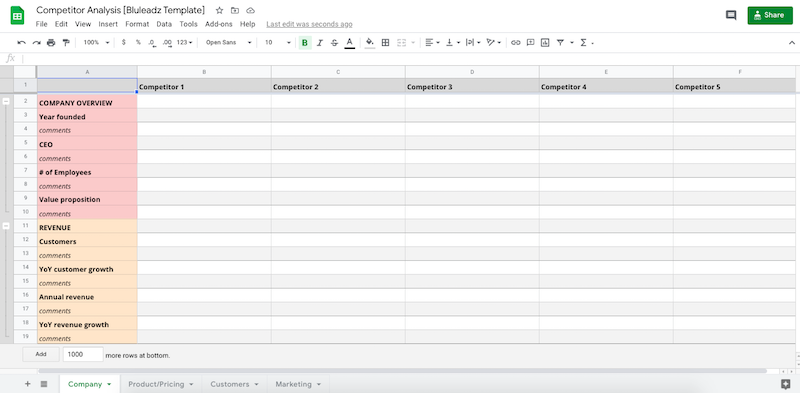 Click here to download the free competitor analysis spreadsheet
20 Competitor Analysis Tools to Help Grow Your Business
Although all companies do what they can to conceal their "secret sauce," there's a whole new generation of online tools to draw back the curtain.
No matter what form a challenger's marketing or advertising may take, you can discover everything you need to know using a variety of software options – most of which is free.
Let's look at some of the best online tools for competitive analysis.
1. Google Alerts
When it comes to free tools for keeping an eye on brand mentions, nothing beats Google Alerts. It's meant for everyone – not just marketers – so it's incredibly easy to use.
Even so, it leverages the full power of Google to provide you with frequent, targeted updates on topics of interest.
2. Google Keyword Planner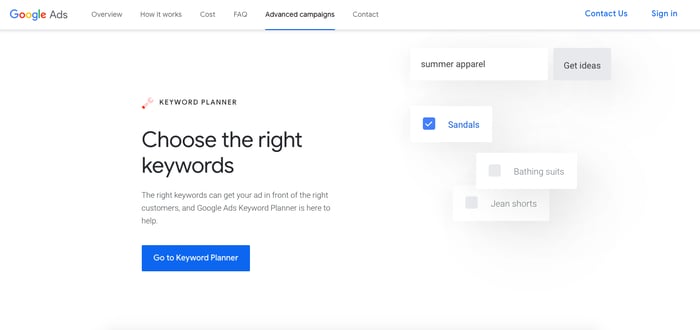 While we're on the subject, Google Keyword Planner is the mac daddy of free keyword tools. It's the only solution direct from the Big G.
Although it lacks snazzy modern features, it's free and you can use its keyword trends information to feed your other competitive intelligence tools.
3. SpyFu
When it's time to get the inside scoop on your competitors, SpyFu has the best blend of excellent features and a simple, yet powerful interface.
SpyFu not only reveals competitor keywords and ads, but also lets you know about the best keyword opportunities you have in relation to rivals.
4. Semrush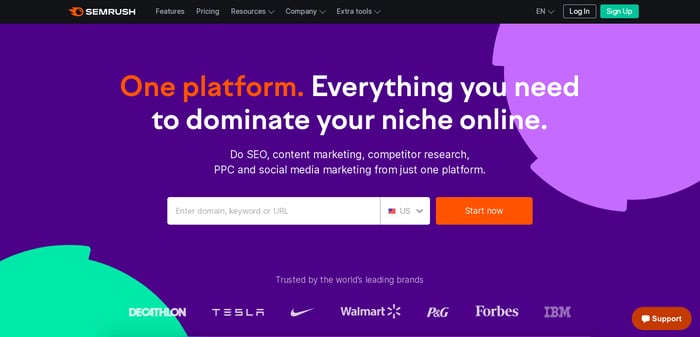 If you want to go a step beyond SpyFu, Semrush will fill in the blanks. It's a keyword tool with a laser focus on competitor information.
Anyone familiar with Keyword Planner will be able to jump into the interface right away, and you can follow competitor rankings like a pro.
5. Alexa
Alexa has been around the block far longer than the digital assistant of the same name, compiling deep stats on traffic statistics for the web's most visited sites.
Although it's a bit less incisive about smaller websites, it's great for finding out about a competitor's international traffic.
6. SpyOnWeb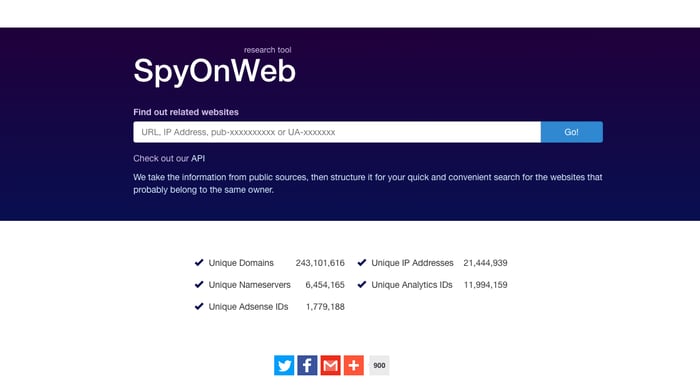 Small and mid-sized competitors have a tendency to play new initiatives close to the chest. If you want to really know what a company is up to, use SpyOnWeb.
By looking at a company's URL or IP address, it will identify resources from throughout the web linked to that creator.
7. WhatRunsWhere
No matter what your industry is, other people's ads will always be an incredibly helpful learning tool.
WhatRunsWhere gets you started by tracking your competitors across 40 different online ad networks. In addition to reviewing the ads, you can get alerts when a new one runs.
8. Moz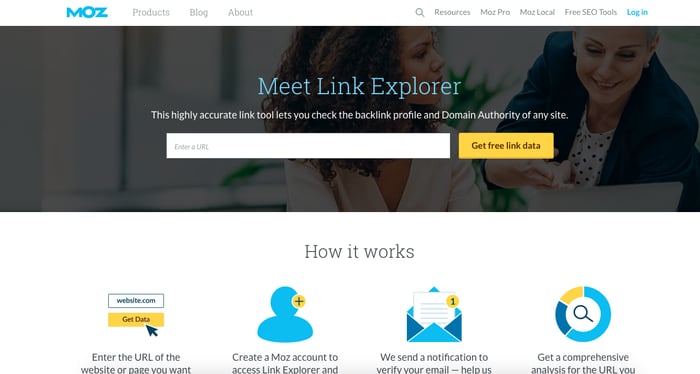 Link building – this never-ending battle on shifting sands just got a whole lot easier. With Moz, you have the opportunity to observe rivals' link building efforts practically in real time.
You'll see new links, anchor text, and an estimate of their domain authority.
9. Ahrefs
Ahrefs is an "all in one" SEO tool that's gradually making a big name for itself. It's one of those rare online tools that's great for small agencies, but also lets you service many accounts at once.
You get tons of data – frequently updated – on all the link building of your major competitors.
10. Majestic SEO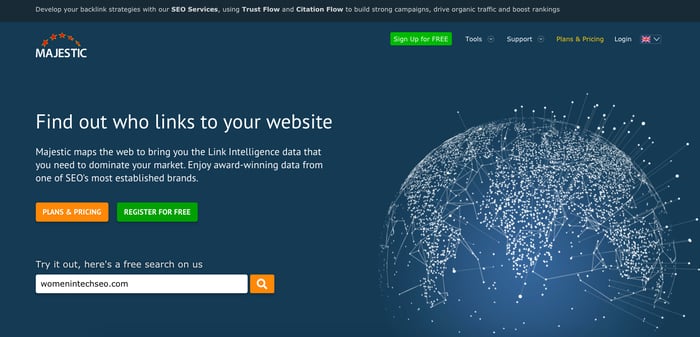 Majestic SEO is one of the leading online tools for all things search-related. It has one of the top link databases on the web, so its backlink monitoring service is eerily accurate.
All you have to do is click one button and you can get a complete copy of a competitor's backlink profile.
11. iSpionage
iSpionage gives you all the insights you need for competitor tracking on both Google and Bing. It also highlights the most effective ads for each competitor, making it great for launching any ad campaign to a fast start.
It's one of the few online tools that tries to provide industry-wide data, too.
12. Open SEO Stats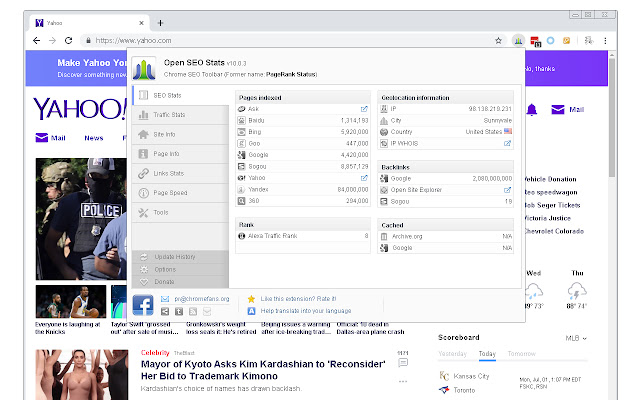 Image via Chrome Web Store
Open SEO Stats has been around the block, starting development back in the era of Google Page Rank.
It's one of the most convenient selections you can have, since it comes in the form of a Chrome plugin. Just visit a competitor website and you'll be presented with all kinds of stats.
13. BuiltWith
When it comes to knowing the enemy, it's not all about links and advertisements.
BuiltWith will give you a comprehensive breakdown of all the technologies used in a website, including aspects like CMS, email integration, and advertising partners. You might identify some unexpected opportunities!
14. BuzzSumo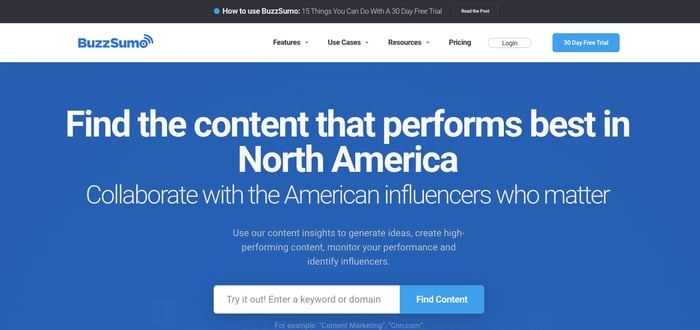 BuzzSumo's online tools have made a big splash in recent years by helping marketers identify the top performing content in their niches.
Its paid services go a step further, making your rivals' content marketing practices a lot more transparent.
15. Skyword
Skyword acquired one of the biggest names in competitor analysis, TrackMaven, in 2018, and have since continued to dominate – and for good reason. Their robust platform covers all the bases for content marketers.
Their platform and services support your brand's efforts in identifying key opportunities within your industry. Gain insights on topical ownership and set benchmarks against your competitors.
16. Ghostery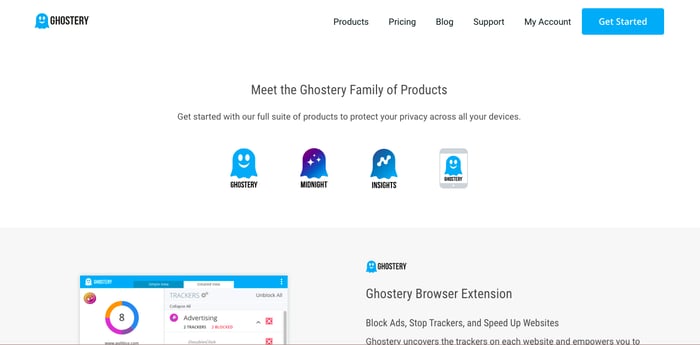 Ghostery is a browser extension that makes the invisible visible: It lets you see a list of any site's tracking pixels and tags.
In addition to being one of the most fun online tools to watch in action, you can learn more about each pixel and even opt out.
17. Quantcast
With nearly a decade of experience and a robust free service, Quantcast distinguishes itself with a tremendous amount of online traffic knowledge.
Specifically, it gives some of the most granular traffic data on competitors found anywhere, especially if the target site uses Quantcast.
18. Moat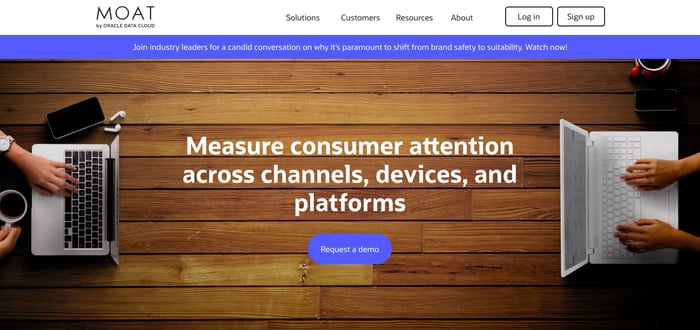 Moat is something for ad experts to stack on top of SpyFu and WhatRunsWhere. It gives you deep details on advertisements served on display networks.
You can see the creative unit itself and dissect it with tons of handy stats that update constantly.
19. Datanyze
Like BuiltWith, Datanyze also allows you to peek behind the curtain and see what current technology and software your competitors might be using.
This includes company-level information like revenue, company size, and location, as well as a company's tech stack, such as their CRM, email tools, and more.
20. WooRank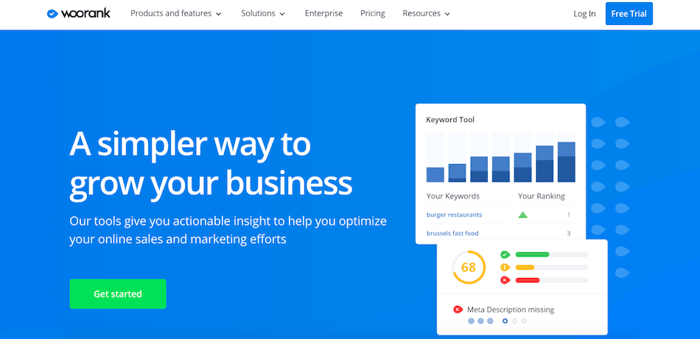 WooRank is an SEO checker that allows you to audit your SEO and compare it against three competitors. This includes a comparison of technical SEO, site performance, backlink quality, keyword use, and more.
Identify How to Outgrow Competitors
If you're looking for inspiration – or motivation – for your next digital marketing campaign, there's no need to look any further than the companies you hope to compete with.
With these online tools, you won't find yourself reinventing the wheel: You can find out what's working well, pare it down to the finest details, and start figuring out how to make it work for you.
This can be a lasting, powerful adjunct to your regular strategy sessions.
There's always something new to learn from the many different ways people approach problems – and the people in question don't have to be your friends or co-workers. When you commit to using competitive intelligence, you get insider information on your competitor's expertise that you can learn from to grow your brand.
That's exciting, but remember never to lose sight of the ultimate goal...
Helpful, informative web content that will build trust and move your prospects toward a sale.