Business to business product pages take on many forms, but what does it take for visitors to click and get to the next step toward becoming a customer?
Find out what tools and techniques successful B2Bs use to grab attention and increase their base of customers. From sharing customer testimonials to answering visitor questions via chat boxes, see the different ways B2Bs are helping prospects find the solutions they need quickly.
Here are eight B2B product page examples you'll want to steal:
1. Salesforce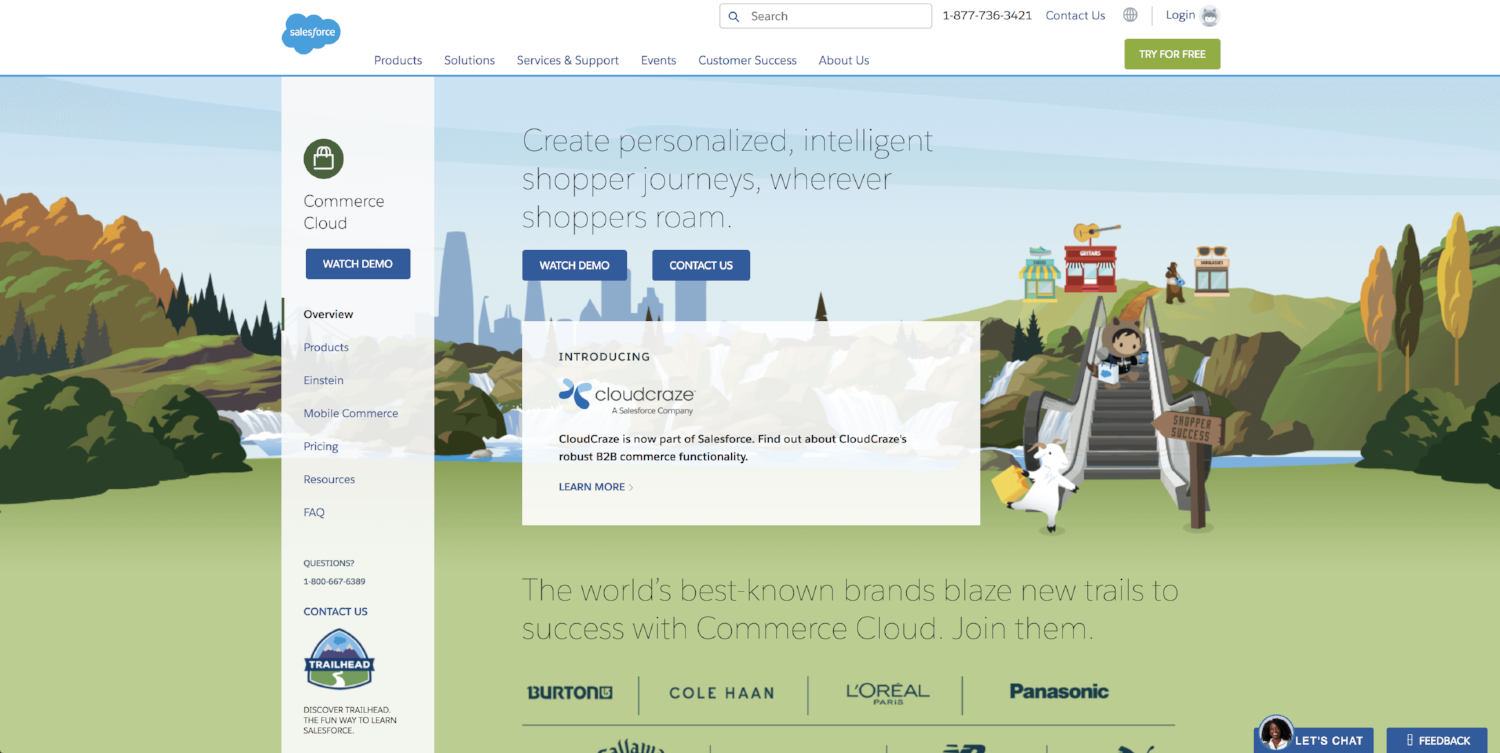 What Makes it Great
Share customer testimonials. Salesforce shares the shining achievements of its customers through testimonials, giving visitors an idea of what can await them if they use Salesforce's Commerce Cloud offerings themselves. Salesforce broadcasts a "Customer Success Story" on the page in which a business boasts a growth in revenue of 28 percent after using this tool.
In another success story, the customer testimonial is prominently seen in a quote box on the page with an ecommerce marketing manager at cosmetics company NYX, "Continuity of content and experience is really important to us and we wanted to be able to marry the two." This testimony notes the desire the cosmetics business had and how Salesforce was able to fulfill it.
2. Adobe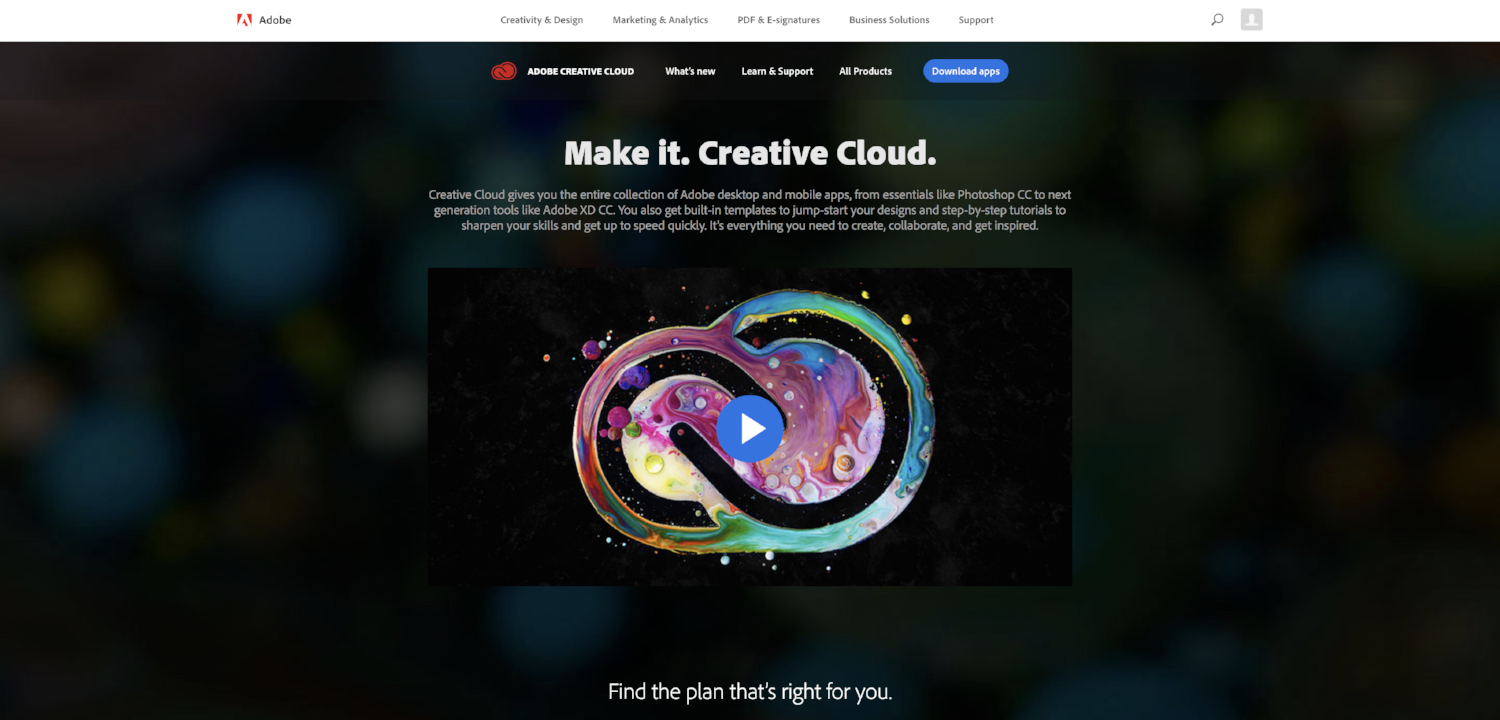 What Makes it Great
Engage with video. It's no surprise that a company famous for its design software would have amazing visuals on its landing page for its Creative Cloud suite, including a stunning video illustrating its collection of tools.
Once visitors click on the video, they get clips of the tools in action being used by its target audience -- photographers, filmmakers and artists -- and a voiceover highlighting the features that can take their images and videos to another level like typekits, mobile-friendly access and more.
3: Cisco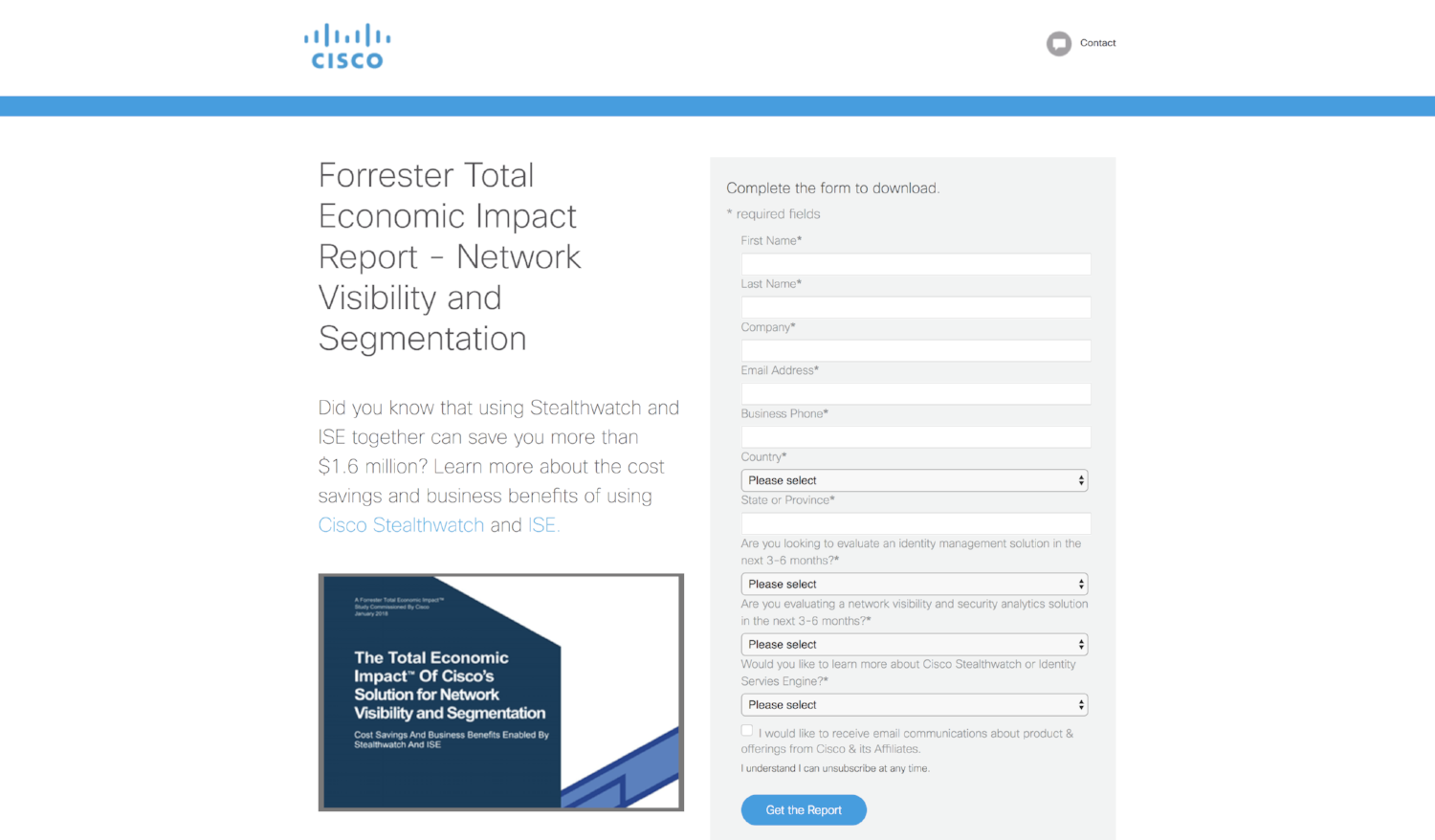 What Makes it Great
Use reports to show customers real-world examples of effective products. Cisco offers a total economic impact report to show the cost savings when companies use its various network security tools, suggesting firms could save more than $1.6 million.
Utilize research and data to your advantage like Cisco to pique potential customer interest and offer this information to visitors for free in exchange for their information.
Cisco has a form on its website where visitors can input their contact information, including company and business phone, in order to download the report.
4. Intuit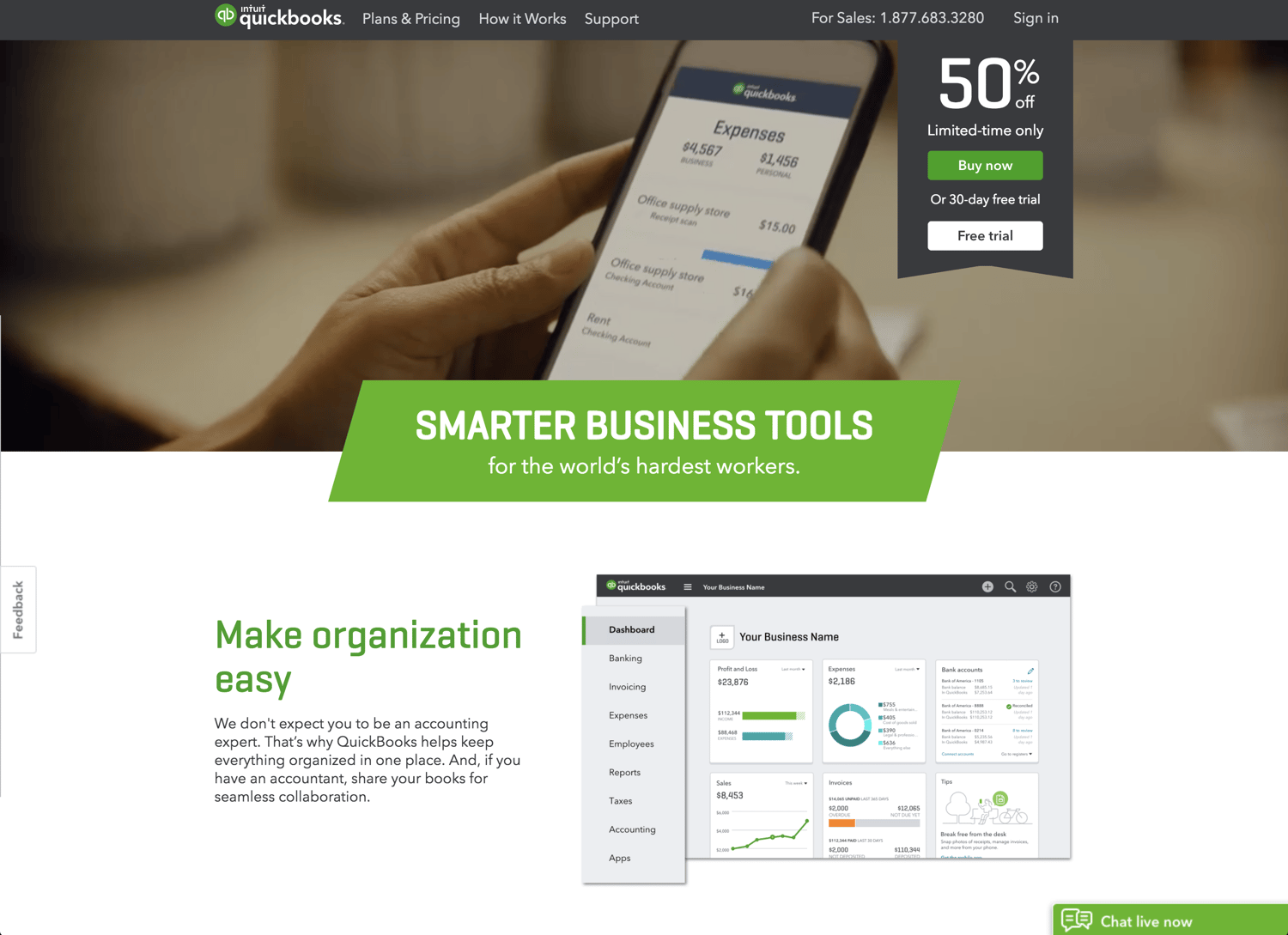 What Makes it Great
Offer social proof. Potential customers often want to know that a product works for other people before they try it themselves. B2B product pages can provide examples of this by offering social proof.
One way you can do this is by talking about the number of users you have like Intuit, which notes it has more than 4 million customers. You can also share information like how many followers you have on social media accounts (or even your customers' social networks) or how many shares a page has.
Back to the Salesforce page, the company notes its customer NYX has 8.5 million Instagram followers. Telling visitors that your clients have a sizeable following on social media is sure to get their attention because that is where they want to be.
All of these examples give further proof that your business is worth talking about and investing in.
5. Capital One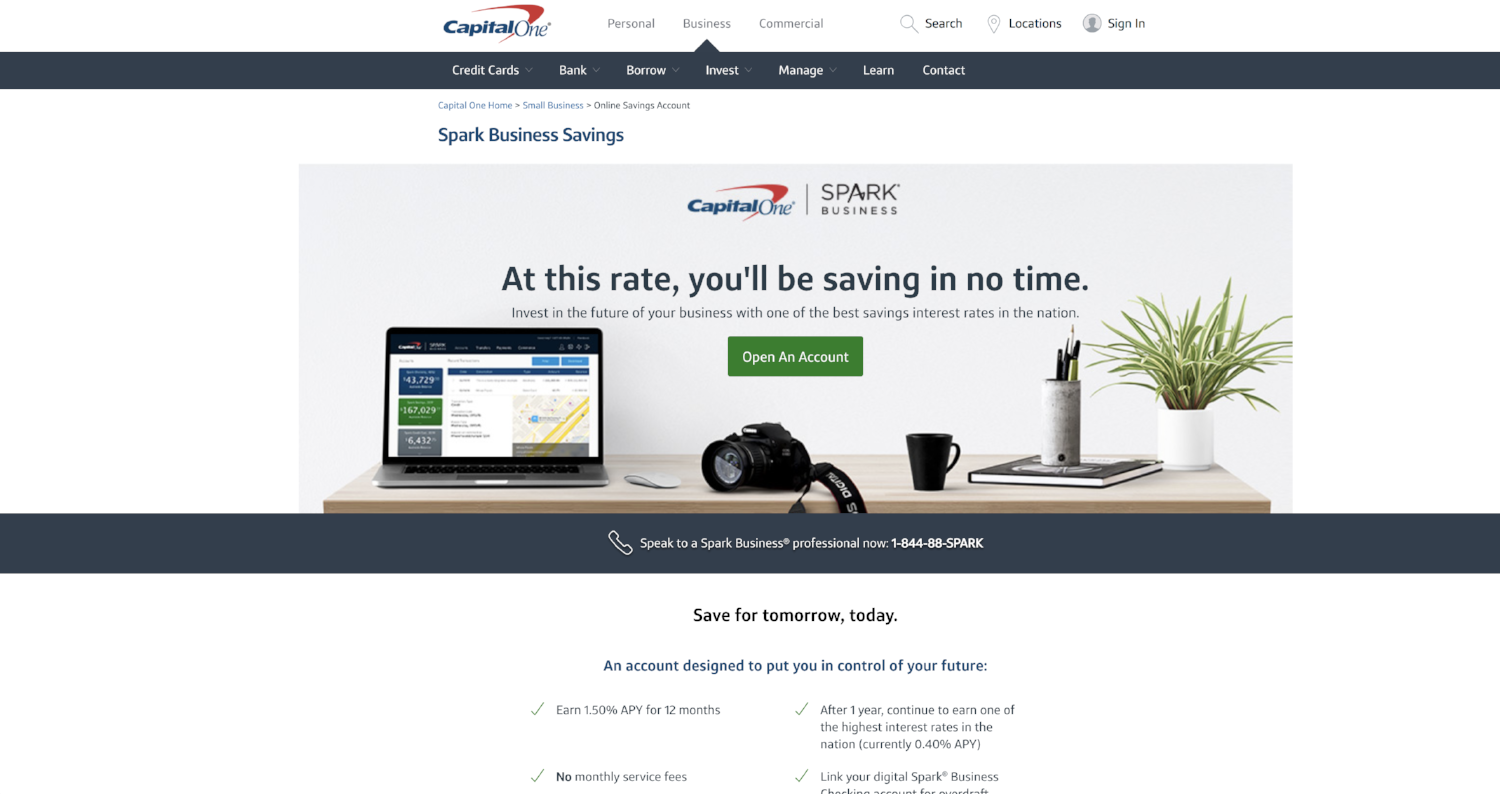 What Makes it Great
Answer questions with a frequently asked questions (FAQ) section. When visitors land on your business page, they often scan the page for information they may be searching for, but may continue to have questions about product or service options, how to sign up and more.
However, a FAQ guide on the page devoted to answering these questions is valuable to connect visitors to the answers they seek fast, even if it's something as simple as contact or pricing info found on other pages. The point is to make content easily digestible on B2B product pages so customers contact you sooner.
The Capital One page for Spark Business Savings lists FAQs prospects might ask, like "Is Spark Business right for me?" and "Are there any monthly service fees?" These are all relevant questions with answers that are worded so they point to Capital One business savings accounts as being the solution to their problems.
6. Hootsuite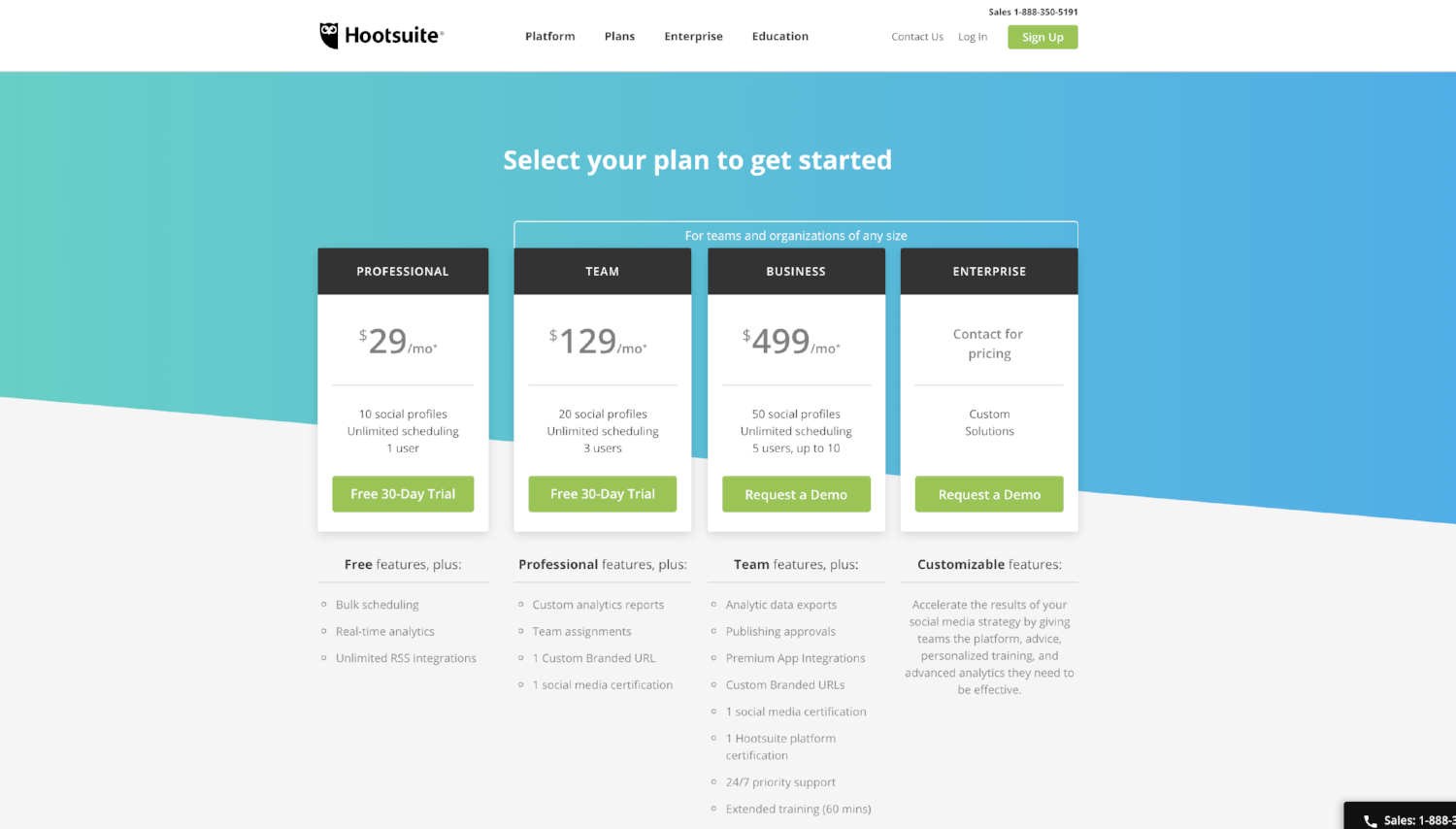 What Makes it Great
Glance at different plan options quickly. When visitors are more invested in learning about a company, they want to make sure they get the best value for their money by comparing plans on B2B product pages.
A table breaking down their various plan options and costs like the one on Hootsuite lets visitors know which features belong to which plan and maximum number of social profiles and users, giving organizations a better idea of which plan suits the size of their company or needs.
7. Dropbox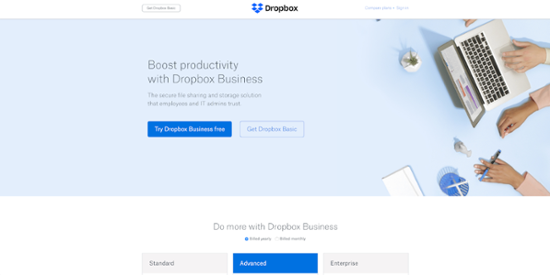 What Makes it Great
Landing page clearly defines product offerings. The Dropbox Business page states what it does -- "secure file sharing and storage" -- and notes its target audience -- business "employees and IT admins" -- at the top of the page so visitors know in seconds whether this product is for them.
The page has icons, like a lock, that match descriptions of its product offerings so a quick scan of the content conveys what Dropbox Business can provide to its future customers.
8. Price API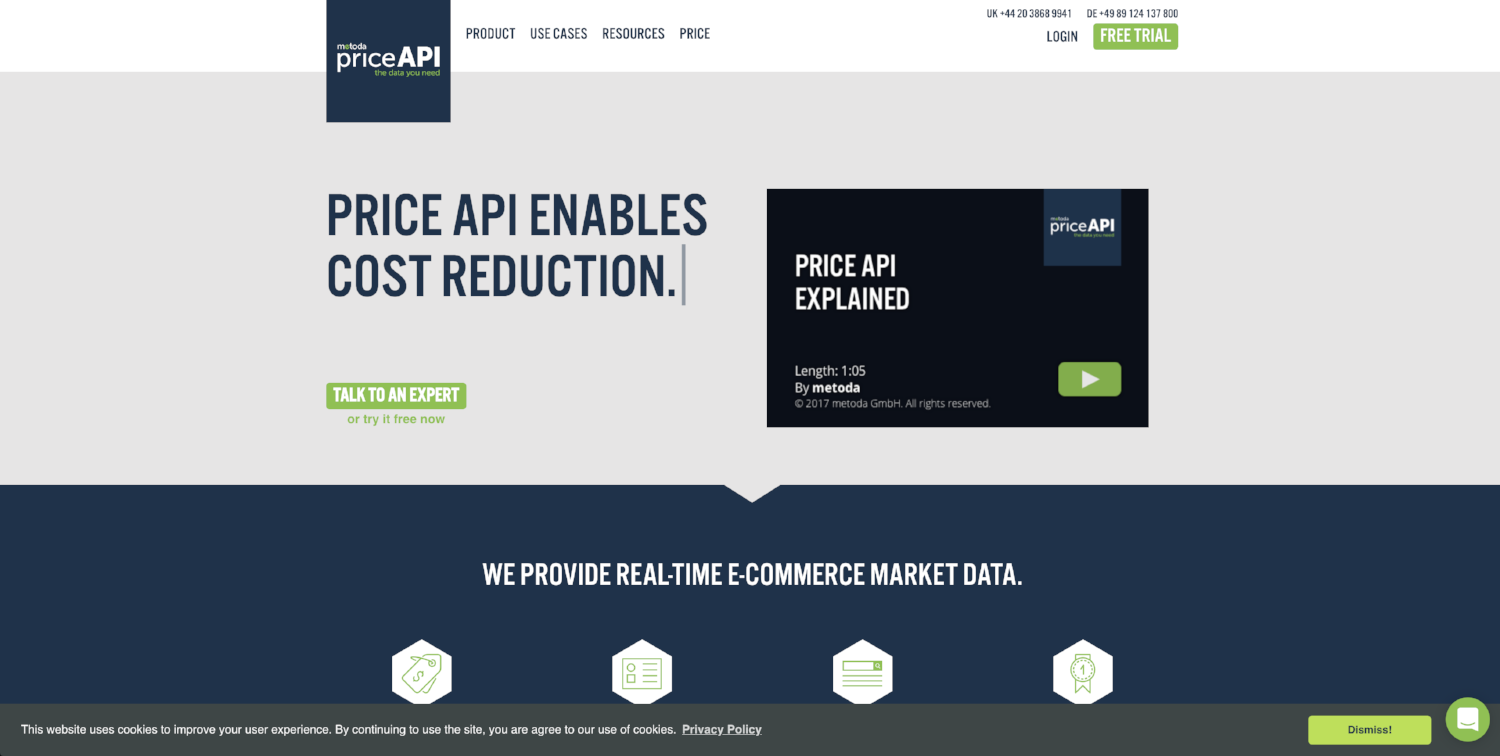 What Makes it Great
Use call to action buttons. These buttons get visitors to what they really want on B2B product pages, whether that's learning more info or requesting a demo.
In this case, the Price API home page uses CTA buttons like "Contact Us" and "Send Message" to engage with visitors and convert them into leads.
In addition to CTA buttons, you can add chat boxes with CTAs, such as "Get Help" or "Chat with Experts" that pop-up after a visitor has spent a few minutes on a landing page. This can spur visitors who were initially in the stage of gathering information into taking action to become a lead or customer.
There you have it, 8 B2B product pages that absolutely crush it. Consider taking some of the elements listed above, and incorporating them throughout your website.