When it comes to setting goals, you likely have an end result in mind, but the journey toward that result is equally as important. Not every goal is achievable, but if you want success, you must figure out how to set the best sales goals possible.
These goals shouldn't focus only on actual sales numbers or pricing, but also on other elements that attract new buyers and keep current customers coming back again and again. About 92 percent of people never achieve their goals, but the eight percent who do have a few things in common that apply to sales.
1. Know Your Customers
The first step to creating a sales goal that makes sense for your company is to truly understand your typical customer. Once you understand the habits and emotions that drive your target audience, you can better understand what goals to set in order to reach that demographic.
There are many different ways to understand your target audience. Study internal analytics and figure out the average age, income and even gender of your customers. Conduct polls to learn more about your customers. Ask them for feedback on what promotions they'd like to see in the future. All of this information combined creates an outline that helps with future goal setting.
2. Figure out Your USP
What is your unique selling proposition (USP)? Why does your product stand out from your competitor's? Figuring out your USP allows you to market to potential customers and show them why they really need and want your product. This process alone can increase sales as more and more people see the reasoning behind why they should purchase your product.
Kiva offers a unique proposition where consumers loan money to those in poverty. This action creates opportunities, such as allowing them to start a business.
The site details how the money is used and statistics such as 100 percent of funds going into the field and boasting a 97 percent repayment rate. This information allows generous donors to loan money again and again, helping more and more people.
3. Choose Specific Numbers
You've probably heard before that your goals should be specific, and this aim also applies to sales goals. When setting a revenue plan, base your numbers on last year's sales, and come up with a reasonable percentage increase.
Have your IT department run numbers and predict what goals are achievable based on past sales performance. Choosing a specific number goal motivates sales and marketing to work together to achieve that number.
4. Create Useful Information
Selling more product isn't just about selling more product. Sometimes, you simply need repackaging of your product and how you present it to the world. Create useful information for your leads so that they know exactly what your company is about and why your product is useful.
Present this data in the form of articles, videos and white papers. The more ways you present useful information, the better.
Raft One explains how their services cover many different types of adventures. They go into detail about the terrain a bike rider experiences on a recreational adventure or the process to take a zip line canopy tour.
It creates useful information for the potential customer, because they clearly see what the adventure includes and the exact outdoor experience they'll encounter.
5. Break Goals Into Achievable Chunks
Choosing a sales goal number is just one step toward creating and achieving big goals. Let's say you crunched the numbers and plan to up your overall sales by 10 percent in the coming year.
That's an achievable goal for most business models, but it's also a big goal. However, if you break the increase into one percent monthly goals, it becomes much more doable, even if you don't hit that goal each and every month of the year.
6. Set Customer Service Goals
Companies known for great customer service have a higher chance of retaining the customers they have. A current customer is 60 to 70 percent more likely to buy something from you than a new lead.
If you want to keep the customers you currently have, you need to step up your customer service. Show them the love, and they'll stay with you. Customer service translates easily into sales.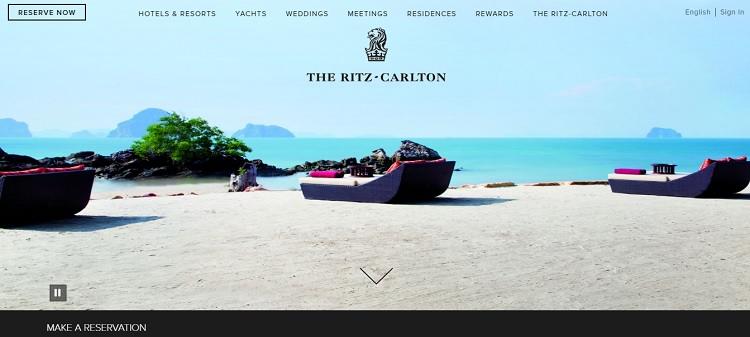 The Ritz Carlton is known for premium prices but justifies them with customer service that goes above and beyond. Those who stay at a Ritz-Carlton know they will be pampered and treated like royalty.
The company empowers its employees and allows grand gestures to meet customers' needs. One example is of a chef who had his mother buy rare specialty ingredients for a guest with food allergies and fly them into town for delivery.
7. Evaluate Your Sales Team
Part of your goal setting process should include evaluating your current sales team, assessing their capabilities and identifying weaknesses. You can then fix any issues ahead of time through training of the team or hiring people in additional specialty areas.
Don't just throw out a bunch of numbers to your sales team. Involve them in the goal-setting process. Doing so ensures the goals are achievable and allows input from those on the ground. You may even be setting goals too low, but you won't know that unless you pull Sales into the conversation early in the game.
8. Pick a Niche
Is your company trying to be everything to everyone? Choosing a niche area and focusing on that is a good place to start when setting sales goals. Perhaps you sell widgets and whatsits, but you focus on blue widgets this year.
You make sure the quality and USP for those blue widgets are the best possible. You might still sell a few red widgets and some whatsits, but your blue widgets are the focus for now.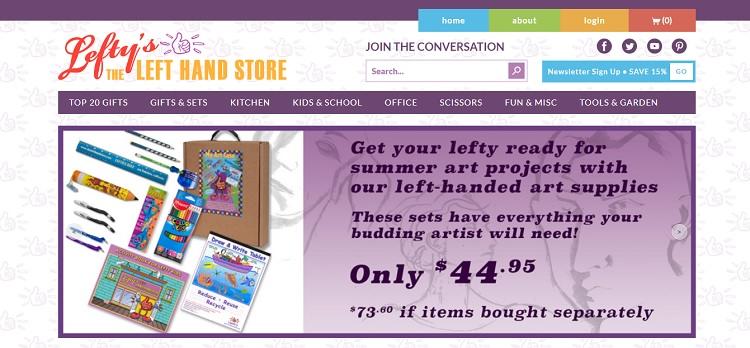 Lefty's the Left Hand Store is a good example of a company with a niche market. They sell products specifically made for the left-handed population. Even within this niche, they further narrow their sales focus based on the season at hand.
In the above screenshot, you'll notice that they're promoting a summer kit for art projects at the moment. That kit is filled with left-handed artist supplies.
9. Incentivize Your Team
Set your goals high enough that you can afford to provide some extra incentives to your sales team. If you need to hit 11 percent in sales in order to give out awards to your top sellers or buy the entire department a day out at a local theme park, then that should be your goal rather than 10 percent.
Factor in the cost of incentivizing your team when planning your sales goals. Setting incentives at the same time you set goals is a smart way to get everyone on the same page and motivate your sales force.
The Best Possible Sales Goals
Remember that your best sales goals aren't necessarily based on monetary results. While making money is a necessity if you want a business that thrives year after year, many other goals related to sales achieve the same effect in the end. Focus on everything from customer service to actual sales numbers, and you'll begin to see measurable results.

Published on June 12, 2018