The world of business consists of a plethora of buzzwords, many of which are overused and should be put to rest. But there is one term that still holds a great deal of value. It is one of the most important business terms that every team has heard before.
Touchpoints.
What Is a Touchpoint?
Any way that a consumer can interact with a business should be considered a touchpoint, whether it be through a website, in a chat, on an app, or face-to face. Of course, the focus is on the point of interaction, not necessarily on what method was used to interact.
via GIPHY
Touchpoints are more specific than channels. For example, LinkedIn could be considered a channel, but LinkedIn's messaging system would represent a touchpoint.
It's important that you're able to recognize how customers relate to touchpoints:
Before: How did they find your business? What aspect of your marketing strategy was successful in drawing them in?
During: How are they engaging with your brand? What content are they looking at? Which channels are they using to interact with your sales team?
After: What happens after the sale? In what ways will they continue interacting with your brand (e.g., reviews, returns, newsletter subscriptions)?
Since customers generally instigate and lead these moments, they're often referred to as customer touchpoints.
Why You Need to Understand Customer Touchpoints
There are plenty of reasons why identifying and evaluating potential customer touchpoints in your business should be considered valuable.
You Can Improve the Customer Experience.
The more you can know about how, when, and where your customers interact with your brand, the more you'll be able to improve the overall customer experience (CX). The CX should never be forsaken for other ideas.
via GIPHY
A whopping 73 percent of consumers say that their CX plays a huge role in their purchasing decisions, and 86 percent say that they would be willing to pay more for a better CX. In other words, neglecting how your customers interact with your brand could cost you business.
You Can Support Your Flywheel.
Customer centricity is key to creating and running a sustainable business. This can be accomplished through the flywheel.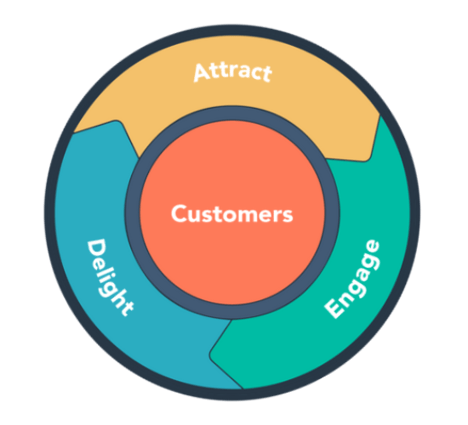 Source: HubSpot
The flywheel model is composed of three stages centered around the idea of providing value to the customer: attract, engage, delight.
Attract: Earn attention and visitors via useful content and eliminating obstacles. This is where your marketing team comes in.
Engage: Build relationships with leads at the their preferred pace, focusing on alleviating their pain points rather than just making a sale.
Delight: Focus on giving the customer the best experience possible, from start to finish. Your service team's success should be dependent on the customer's success.
Observe what aspects of your business provide the biggest impact and build them up to create speed and momentum in your flywheel. Decrease any friction by testing, measuring, and adapting your strategies to streamline your processes.
You Can Optimize Them to Drive Results.
Part of the CX is how easily customers can get around your website, reach out to you, and make purchasing decisions. Streamline the sales process by simplifying each of these touchpoints.
With the establishment of online shopping, customers expect quick and easy steps without losing any experience quality. Each touchpoint should provide at least one of the four interaction types:
Appropriate: Everything from the context to the culture of the interactions should be catered to the customer's needs.
Endearing: A positive relationship needs to be established by the end of the interaction.
Meaningful: The interaction should be valuable and intentional, serving some sort of purpose.
Relevant: The customer's problem or question should be addressed during the interaction.
You Can Share Your Insights Using Customer Journey Maps.
Customer journey maps are a great way to get all of your teams aligned when it comes to optimizing touchpoints.
By taking into account every step a customer goes through when purchasing, your marketing, sales, and service teams will all be able to adopt a customer-focused perspective to everything they do.
via GIPHY
It's pretty clear that in order for your business to operate smoothly, your flywheel segments need to all be on the same page. It's important that everyone – marketing, sales, and service – understands and optimizes their touchpoints.
Customer Touchpoints for Marketing
Marketers have had to reinvent how they interact with a user base that is "always on." The advancement of mobile technology has created an audience that is constantly accessible.
Touchpoint marketing is a new method in which a contextual, engaging experience is available to inspire and aid customers along their journey. Examples of marketing touchpoints include:
Reviews and Surveys
Reviews and surveys aren't only great ways to bolster your lead generation and credibility.
The forums and forms where they exist are all potential points of contact between you and your potential customers, which you can then leverage and guide them to more customer touchpoints.
For instance, someone who fills out a form to submit a survey should be sent a follow up email addressing whatever their thoughts were. Someone reading a published review may make their way to your website, where you can engage with them through chats.
Social Media
Advertising on social media platforms isn't a new fad. It's become a part of the culture to be able to view product catalogs on a brand's Instagram.
Some consumers enjoy the efficiency of sending a tweet to a company to have their problem addressed. Being online isn't the touchpoint. The touchpoint is your ability to be accessible, inspiring, and engaging through those online channels.
Word of Mouth
Sometimes, your previous customers are some of your best means of reaching a new audience. A happy customer may refer someone they know to someone on the sales team who helped them.
It's up to that team member to take it from there, but half the work of validating your business is done because of word of mouth.
Community Involvement
It may not necessarily be a strategy to execute on a daily basis, but engaging with your community is a valuable means of getting in contact with your audience.
Local marketing strategies get you out into the crowd and provide your marketing team with plenty of opportunities to engage with new leads.
Customer Touchpoints for Sales
Interactions between your leads and your sales team should feel genuine, authentic, and encouraging. You can build those types of positive relationships in a variety of different sales touchpoints, such as:
Phone Calls
Good old fashioned phone calls are some of the best ways to engage with sales qualified leads (SQLs) looking to learn more about your business.
Whether it's your sales team reaching out to potential prospects or people calling you to find ways to alleviate their needs, that moment when someone speaks into the phone is an opportunity to develop another sale.
Email Follow Ups
Keeping in touch with leads is vital to guiding them through the sales pipeline. If they feel like they've been forgotten, then they likely won't follow through with the purchase.
Touch base through touchpoints like following up via email to make sure that they're happy and still interested.
In-Person Interactions
Nothing beats face-to-face time together, especially with customers. Consumers today prefer a more authentic buying experience, and a big part of that is knowing who they are buying from.
It's no longer enough for the mysterious shadow of a brand's name to entice someone to buy, unless you're Gucci or Nike. Audiences now prefer building relationships with sales. Those are clean opportunities to really get to know what your customers want and need.
Social Media Engagement
Social media is as equally valuable to marketers as it is to salespeople. Platforms like Instagram, Twitter, and Facebook give your sales team the opportunity find out what your leads are looking for in real time.
You can track their interests, behaviors, and popular market trends while tapping into discussions about all three.
Customer Touchpoints for Service
Service is based entirely on supporting the customer after they've made it through the sales process. Following up with customers is a way to continue showing that you care about their experience and are able to still provide value.
To create more cross-sell or upsell opportunities and continually delight your existing customers, focus on optimizing customer service touchpoints, like the following:
Contact Forms
After the sale, the customer's information doesn't just magically disappear. Through invoices, receipts, and returns, you'll have a pretty consistent means of keeping up with who has bought from you in the past.
Following up with a customer after they've made a purchase not only generates brand trust, but it will also give you a window to try and make another sale in the future.
Encourage customers to keep their information updated through various CTAs, surveys, and promotions on your website and social channels. Email and newsletter subscriptions are a popular way of doing this.
Automated Emails
Following that line of thinking, take advantage of automation software and platforms that will help make it easier for you to keep track of what you sent to who.
Via workflows, you can send catered content to customers at different stages. This encourages them to re-engage and possibly sets your team up for cross-selling or upselling to deliver even more value.
Customer Feedback
This is one of the most immediate touchpoints that your service team can engage with. Asking for and receiving feedback from paid customers keeps them engaged with your brand.
Seeking out feedback sends a clear message to your customers – you care about them and want to continually support them.
Touchpoints aren't just business jargon. They're how your customers make decisions and get in touch with you.
They're also how the entire sale is guided down the pipeline (with your assistance, of course). Optimizing them throughout the flywheel is critical to your business' success.