Money can't buy happiness. Or can it? The adage may be popular, yet increasing revenue is on everyone's list of main goals. And while striving for it is certainly logical, the only way to achieve it is to make customers happy.
But what does that mean? You can ask a hundred people what makes them happy, and you'll likely get one hundred different answers. Yet, from a business perspective, there are several common denominators. And finding out what they are will get you on that proverbial yellow brick road.
What Is Customer Happiness?
Customer happiness is the key to your success. It defines not only how satisfied a person is with your service or product, but with the entire customer experience.
Let's take that even further — a customer will be happiest when you exceed their expectations. That's when they'll rave about your business to everyone they know and keep coming back.
Stats on Customer Happiness and Retention
When it comes to customer satisfaction and retention, the numbers speak for themselves. And if you're not paying attention, your revenue will feel it. Consider this:
As you can see, the way customers feel about their experience with your brand impacts several areas of your business, which is why you need a strategy in place for measuring and improving customer happiness.
Customer Happiness Metrics You Need to Be Ranking
It's impossible to keep track of every single person who comes into contact with your business. Fortunately, there are several customer feedback tools that can give you a visual of how things are going. The top customer happiness metrics you should be measuring include:
Customer Satisfaction Score (CSAT)
CSAT scores can be measured by asking for a graded percentage score or by clicking on a smiling, neutral, or frowning face — this latter one being a better tactic for younger demographics.
It's straightforward, easy to use, and only takes a couple of minutes. A good score is anywhere in the 75 percent - 85 percent range, but this could vary depending on your industry.
Net Promoter Score (NPS)
NPS measures a customer's rating on a scale. This could be by assigning a number between 0 and 5 or 0 and 10.
To make it easy, let's look at a 1 to 10 scale. Anyone who gives your business a score between 0 and 6 is known as a detractor. These are the clients who are unhappy with their experience. Scores of 7 to 8 are known as passives. These are people who feel ok about what you offered, but aren't really writing home about it.
Then there are the promoters — the ones who score 9 or 10. These are the ones who tell everyone they know about how happy they are they did business with you.
To calculate your NPS, you can follow these simple steps: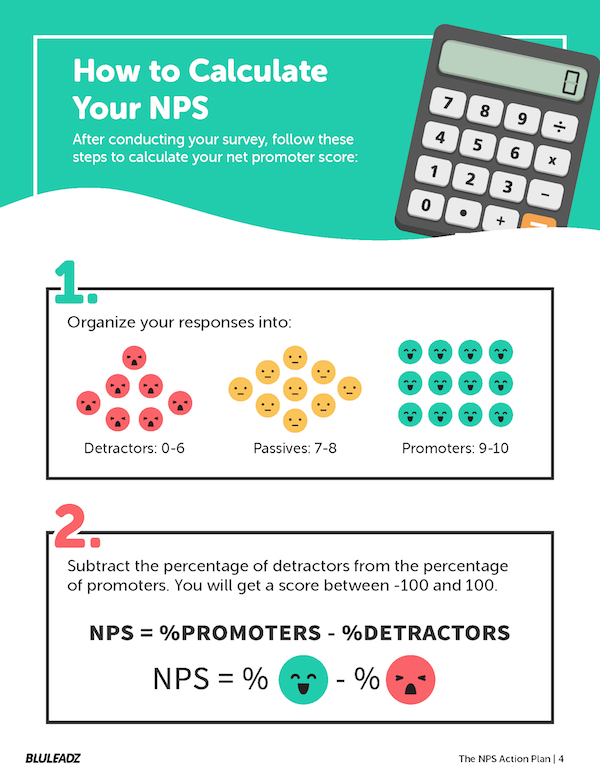 Customer Effort Score (CES)
Nobody likes to do hard things (except Olympians, marathoners, and Elon Musk). CES lets you gauge how much effort customers have to put into resolving an issue.
The best way to measure this is by carefully wording your questions to ensure they are reliable. This type of survey should be sent to customers right after they have had an experience with your company's customer service. It's an ideal way to know what's working and help you identify blind spots.
7 Tips for Making and Keeping Customers Happy
1. Attract the Right Customers.
In order to attract and engage good-fit customers, you need to know exactly who that is and what they do. In other words, you need to have a good buyer persona. It's impossible to cater to every single person under the sun. And the more focused your efforts are, the higher the likelihood of success.
Think about demographics, education level, income range, typical hobbies, and news sources of the people who would be your ideal customer. Once you've developed this, you'll be able to frame your marketing efforts toward making that person happy. Those who don't fit your buyer persona description probably won't be interested in your business anyway — reducing the chances of someone coming in with unrealistic expectations.
2. Send Targeted Communications.
Don't be impersonal. People can tell when they receive boilerplate marketing — and get annoyed if what you're sending is not relevant to them.
For example, if you send an offer for a product or service a person already bought, or deliver a communication introducing your business when they have been purchasing from you for years, it makes you look like you don't understand your customers.
By personalizing your marketing, you nurture your relationship with customers. This is a critical component to make customers feel appreciated — and when someone feels valued, they are more likely to continue doing business with you.
3. Engage With Customers.
Designate someone on your team to monitor customer emails and social media messages and mentions. Then have them reply to their concerns, thank them for positive feedback, and participate in conversations relating with your service or product. This makes them feel like you're actually listening to what they have to say.
And if you get a negative review, use it as a learning experience. Maybe someone on your team dropped the ball, or there was a miscommunication or a possible blind spot. Addressing them gives you the opportunity to show to that customer that you care about what they have to say. It also gives other readers the chance to see that you are willing to learn from unpleasant experiences and do what's within your control to make things better.
4. Provide a Good User Experience (UX).
User experience (UX) refers to the ease of interaction between your customer and your business. The simpler the process, the happier the customer. There are several ways to improve your current UX, including the following tips:
Make sure your website loads fast — on desktop, tablets, and mobile phones.
Have a clear menu of services.
Make your phone number click to call.
Make it easy to do returns and exchanges.
Send appointment reminders.
Include instructional videos and/or written step-by-step guides.
Make content scannable.
Keep information interesting and engaging.
Do all the research you have to do to ensure that all of these experiences are specifically tailored to your buyer persona.
5. Offer Free Valuable Information.
Customers research services and products prior to making a purchase. Sometimes, they're not ready to buy yet. Other times, they've already purchased from you, but are looking for practical advice on how to use the product or service.
Give them what they're looking for through newsletters, blogs, downloadable brochures, instructional videos, and/or anything else that will make their journey easier. Once they're ready to make a purchase, they'll come back to you.
6. Keep Track of Relevant Data.
In addition to collecting names and email addresses for your email list, gather information that's relevant to what you have to offer. Selling running shoes? Ask them about upcoming races. Provide a meal service plan? Make sure you know who's plant-based, has food allergies, or has any special dietary considerations.
You can gather relevant information by including surveys, online forms, or customer interviews. Then use this data in future communications and to tailor your services to their specific needs.
7. Provide Excellent Customer Service.
How much do you like being put on hold for 45 minutes by a customer service rep? Listen, we're all busy. This includes your customers, and not respecting their time is a surefire way to send them toward your competitors.
Things you can do to ensure the best customer experience possible is to have people answer the phone — and please make sure people are always routed to the right department. Be proactive about making your employees happy. If they're overworked, overwhelmed, or stressed, customers will feel the brunt of it. Answer emails and queries in a timely manner. Above all, treat people the way you'd want to be treated.
As with so many insightful things she wrote, Maya Angelou hit the nail right on the head when she said that people will forget what you said and what you did, but they will always remember how you made them feel.