There's a pretty stark difference between a customer and an engaged customer.
One will make a purchase once and forget about you. The other will keep coming back, likely bringing their friends and family with them.
Which sounds like a better investment for your business?
If you chose the latter, then you better start looking into your customer engagement solutions.
What Is Customer Engagement?
via GIPHY
The bridge between your organization and your customers is built on the frame of reliable, friendly engagement. It's about the interactions your customers have with your brand, from email marketing to customer service calls.
Because the spectrum of "engagement" is so broad, definitions vary from business to business depending on goals and the value put in customer interactivity.
There are different levels of customer engagement, and as such, there can be different degrees of prioritization within an organization.
Ultimately, though, you'll want to have it pretty high on your list. Salesforce found 84 percent of customers put extreme value in their overall experiences with a company.
Why Customer Engagement Matters
It's a pretty well established fact that customer retention is just as important as bringing in new buyers for a company. Acquiring customers is the first step; a sale and retention are the desired end results.
But there's a space in the middle that's critical to maintaining a healthy customer base and earning a profit – engaging customers in meaningful and sustainable ways.
via GIPHY
Strategies implemented to keep customers engaged and interacting with your brand typically focus on building a positive relationship with your brand. An emotional bond with a product, service, or company can lead to repeat customers and a stronger reputation due to word of mouth.
Think of IKEA's fan base. Sure, they're popular because they make some pretty cool furniture, but they also have a reputation of interacting with and servicing their customers in exceptional ways.
Customers want to feel valued and prioritized throughout their journey. Actively seeking to engage with them is a great way to make them feel like VIPs.
How to Measure Customer Engagement
In order to be able to effectively understand and optimize your customer engagement, you'll need to know how to measure it. But what actually counts as engagement?
We'll go over some of the key interactions that you should monitor.
Site Visits
via GIPHY
There are plenty of more benefits to tracking site traffic than just calculating customer engagement. You'll be able to see just how effective your website is in converting visitors into leads and what steps you should take to optimize that ability.
Furthermore, you'll be able to better understand how your customers interact with your site. Which pages get the most traffic? How are visitors getting there? What are they doing on those pages?
Examining site metrics can tell you a lot about how you can better engage your customers.
Social Interactions
Social media is one of the top ways to interact directly with your audience. By keeping track of how your customers are interacting with your social media accounts and tuning into what they're saying, you'll get a pretty good idea of what their needs are.
Are they tweeting about complaints? Are they sharing your news with friends and family?
Look at your social data to find out.
Wait Times
Nowadays, customers have high expectations for receiving speedy responses. They aren't a patient crowd, and having long wait times can hurt both your engagement numbers and overall customer satisfaction.
On average, this is how long a customer can comfortably wait to hear back from you:
Phone calls: two minutes
Emails: four hours
Live chat: 30 seconds
Social media: one hour
Standing in line: four minutes
If you notice that your service team exceeds those time limits frequently, then you may want to look into better optimizing your service operations. There are different tools that can help, like chatbots, if scalability is an issue.
5 Customer Engagement Strategies
If your customers aren't already interacting with your business at a high level, it can seem pretty intimidating to try and initiate that relationship from scratch.
via GIPHY
Here are some easy customer engagement strategies that can help you approach them on their level and set high expectations for success.
1. Create a Personalized User Experience.
It's human nature to respond better to an experience if it feels like it's tailored to us. How cool do you feel when the staff at your favorite food spot knows your name and usual order?
Personalizing a customer's experience with you should become a given when it comes to developing strategies for your business. From using their name in emails to reminding them what's in their cart, demonstrating a focus on them is always appreciated.
In the same way that you'll keep returning to the restaurant that knows your face, your customers will come back to your business and engage with you on a more personal level as well.
2. Leverage Live Messaging Software.
We mentioned chatbots earlier and while they have their uses, live chat can be way more valuable at times.
That one-to-one interaction between someone from your team and a customer can encourage the customer to build a stronger, more meaningful relationship between themselves and your brand.
Live messaging can be implemented at any stage of the buyer's journey. Team members can welcome new visitors to the website and provide insight on what your brand offers. Service members can quickly address customer needs through messaging apps.
3. Reward Engaged Customers.
A loyalty program is a great way to win repeat customers and encourage engagement from every customer, not just your die-hard fans.
By incentivizing business interactions, like signing up for the program or participating in certain sales, you're essentially asking them to engage with you without begging for attention.
And at the end of it all, both you and your customers are benefitting. You'll see an increase in engagement and sales and they get some pretty great deals and rewards.
4. Conduct Customer Surveys.
via GIPHY
Surveys are a great way to hear about what you're doing well and how you can improve directly from the source.
As a business in a constantly evolving marketplace, you should always be on the lookout for opportunities to grow or adapt how you provide value to your customers. Otherwise, you risk falling behind your competitors who are listening to their audiences.
Ask customers for their feedback at different stages, like:
After a purchase
After having a service ticket resolved
After subscribing to a newsletter or loyalty program
In addition, you'll also be able to monitor engagement data on your surveys and gain even more insight into customer behavior.
5. Empower Your Customer Service Team.
This is a strategy that can go a long way for you and your business. Your service team is on the front lines with customers every day and they've probably learned a thing or two about what customers want.
Ask for their input and insight on what can be done to provide a better customer experience.
Don't forget to ask them what they need to help them deliver on that better experience. Offer new learning opportunities and skills training so that they're better equipped to handle what comes their way.
4 Examples of Customer Engagement
Encouraging positive relationships with customers isn't a new idea.
For years, businesses have understood that the more engaged with customers they are, the more likely the customer will keep coming back. Some companies just lean into it more than others.
Here are four organizations that have leaned all the way in:
1. Duolingo
When talking about personalization, you have to mention the notorious language learning app, Duolingo.
The user is set on a personalized journey from the moment they sign up all the way until they've mastered their language of choice (and hopefully moving on to a new one).
When creating a profile, Duolingo asks why you're attempting to learn a new language.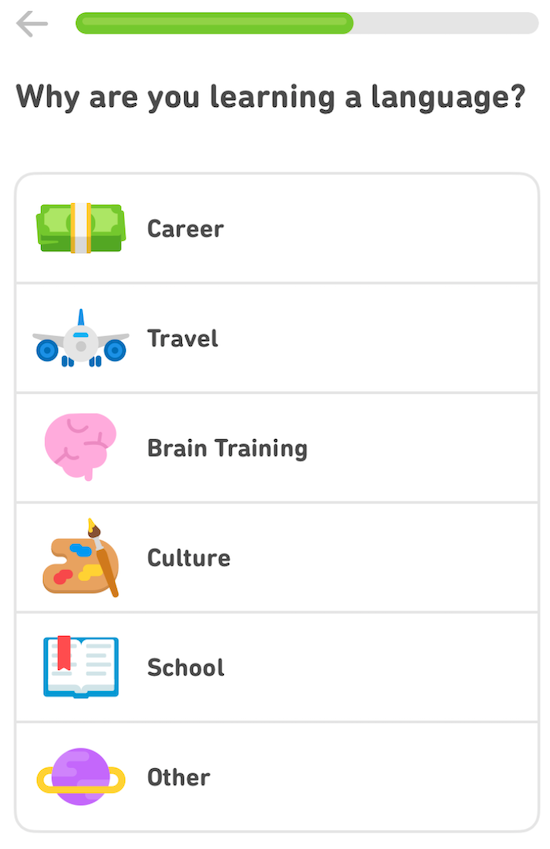 Source: Appcues
By answering, the app is able to deliver an experience tailored specifically to meet the user's need. If it's for travel, best believe you'll be learning the names of locations pretty early on.
This back and forth between the app and the user definitely counts as engagement, and it's all for the sake of elevating the user's overall experience and helping reach their goal.
2. Casper
This mattress company came up with a creative way to gather customer information while simultaneously entertaining potential leads.
Casper introduced a free chatbot designed specifically for insomniacs.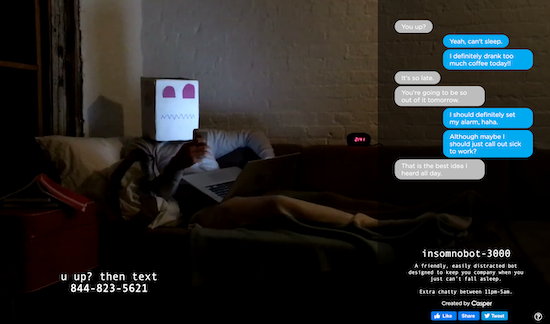 Insomnobot3000 is there for any customer who just can't get any shuteye between 11 P.M. and 5 A.M. It's a silly venture, but Insomnobot pulled in $100 million in sales after its launch in 2015.
After capturing customers' phone numbers, Casper was able to send promotional offers and deals for their mattresses and other products.
This was a genius way to meet customers on their own level.
3. Polaroid Originals
Polaroid Originals rewards customers every time they make a purchase in an effort to return the investment into their customers.
Whether a loyalty member follows the company on Twitter, likes a Facebook post, or places an order, they can earn points to go toward a future purchase.
Incentivizing and gamifying brand interactions will certainly draw customers closer to you as a brand, and Polaroid has evolved that even further by demonstrating a true appreciation of their customers.
4. Netflix
How could the streaming giant not make the list?
Netflix's entire algorithm relies on customers interacting with their platform to the fullest capacity. Every time a user likes a new show or gives a low star rating to a movie, Netflix learns more about the user's taste.
In return, the service delivers a curated list of viewing options tailored specifically for that person. This gives the user content they'll appreciate, leading them to continue their subscription, which means Netflix retains another customer.
Talk about reciprocity.
And now, with the introduction of Black Mirror: Bandersnatch, movies and shows are interactive!

Customer engagement is about a lot more than just numbers and charts and data. It's about forging that bond between the audience and the brand.
In today's flooded market, brand loyalty is more important than ever. Improving customer engagement is one of the best ways to fostering that relationship.