Retention is actually incredibly important to the future growth of your business, but it's often an afterthought. But for every new customer acquired to replace a lost one, it costs a business about 5-25X more than it would to sell to an existing one.
Because of that, customer loyalty programs can have a significant financial impact on your company.
What Is a Customer Loyalty Program?
You know those customers who have confidence in your business? Who have built up trust in your products or services and just keep coming back for more? The ones who are willing to speak on their great experiences with your organization?
They're the poster children of customer loyalty.
via GIPHY
Different from brand loyalty, which is more of how a brand is perceived by a customer, customer loyalty relates to how and where a customer actually spends their money.
When a customer repeatedly purchases from a business, they're demonstrating their allegiance and trust in what that business can do. And implementing programs to foster and reward that can be incredibly beneficial for a variety of reasons.
The Benefits of a Customer Loyalty Program
It's incredible how much you can gain from such a simple initiative. By acknowledging repeat customers and promoting customer loyalty, you'll reap some serious benefits.
You'll See Greater Customer Retention.
via GIPHY
A solid customer loyalty program creates another way to engage with your customers.
Their relationship with your business takes on a whole new meaning, encouraging them to stick with your brand for a lot longer than they may have originally planned.
Loyalty programs keep engaging with customers beyond just the sale. The promise of rewards for picking your company to do business with leaves customers happy and excited about interacting with the brand even more.
You'll Experience an Increase in Revenue.
The boost in customer retention directly correlates with a boost in sales. Customers who already have trust in a brand are more likely to spend more in a single transaction more frequently.
With the assumption that you're bringing in new customers as well, those new sales stack on top of a steady, predictable flow of revenue from existing customers.
You'll Provide a Better Customer Experience.
A customer loyalty program allows you to track and monitor each individual customer's interests and purchasing behaviors. All of that valuable data should be used to personalize their experience, which is a priority for most modern day consumers.
via GIPHY
Encouraging customers to fill out profiles as part of your loyalty program allows you to obtain data that will customize and enhance their buying experience, like recommended products or birthday coupons.
You'll also be able to leverage that data to build more targeted marketing strategies, build stronger customer relationships, and create opportunities to ask for referrals.
You'll Attract New Customers.
Ever heard a friend or family member say that they signed up for a credit card because of the rewards, points, or flight miles? They were drawn in by the loyalty program.
People get excited over the idea of earning discounts – especially if you offer them upfront as a reward for signing up. By leveraging the advantage they get by joining your program, you then get a long list of new customers to add to your mailing lists.
You'll Reward Existing Ones.
A good rewards program can bring in customers who haven't interacted with your business before, but that doesn't mean you should neglect the ones who have.
Your existing customers have helped grow your brand in one way or another, and it's a testament to your company's values to recognize them for it.
You can offer bonus points to your frequent buyers or build in reward tiers based on the age of a customer's relationship with your business.
Rewarding your loyal customers will keep them coming back to you. It'll also generate some pretty great word of mouth if you treat them well, which goes full circle back to bring in new prospects!
How to Create a Customer Loyalty Program
There are many elements you need in your customer loyalty program in order to get the best results possible:
The "Velvet Rope" Effect: In order to make the program feel unique and appealing (not just another keychain card), promote a sense of exclusivity. There should be a list of perks and benefits that a customer can't get without being a loyalty member.
Easy Entry: Getting into the "exclusive club" shouldn't require a customer's first born child. Even though obtaining data is valuable, only request necessary details (i.e., name, phone number, email). A long process will deter signups.
Repeatable Benefits: A customer won't see any value in a program that will reward them only once. Make sure the requirements to earn rewards are attainable and can be earned repeatedly, frequently. This will promote frequent buying while pleasing the customer.
Brand Consistency: The perks that you offer should either be directly relevant to your own products or services, or at least relate to a business similar to yours. A relaxing spa giving out discounts for a paintball center doesn't make all that much sense.
Building your own customer loyalty program can seem pretty intimidating. But the better you know your buyers and what it is they want, the easier it should be to map out how you can best reward them.
Here are some steps to help you create an attractive program.
1. Really Get to Know Your Customers.
via GIPHY
Doing research on your consumers' interests and buying habits will inform you on how and what you can offer that will provide true value and encourage memberships.
Using data you've already collected from your existing strategies, analyze your demographics and find answers to these questions:
What type of products do they buy and how frequent are their purchases?
Can we sell them other products?
How much does this customer buy in a year?
How long have they been a customer?
How satisfied are they with our company?
How could we improve our business relationship?
2. Develop a Meaningful Purpose.
One of the most common obstacles businesses face when trying to earn sign ups is how often their customers are offered a rewards program. Chances are, they hear the same spiel at every checkout counter.
In their minds, it's just another pitch to get them to spend more money. But if you can attach a deeper meaning or goal to the program, you can make them feel good about participating.
via GIPHY
For example, DSW offers 50 points toward a discount if you donate a pair of new or gently used shoes at a store. The shoes are then given to someone in need.
3. Offer Rewards for Multiple Behaviors.
Of course, the goal is to have customers convert their spent dollars into your offered benefits, but engagement is just as valuable to a business as a flat sale is. Give your customers the option to earn and spend their points flexibly.
Incorporate double points days, give exclusive deals during specific times of the year, and offer points in exchange for event attendance or for friend referrals. Your customers will love the versatility and feel less pressure to spend routinely.
In a kind of reverse psychology strategy, they'll actually be more likely do that with a company that isn't super pushy.
4. Build a Variety of Rewards.
via GIPHY
From points-to-dollar conversions to limited edition product access, there's an infinite amount of ways that you can reward your customers.
Depending on your industry, building a versatile catalog of perks and benefits will encourage customer participation and engagement.
Your business will grow exponentially if customers know that they have the freedom to use their rewards how they want rather than being restricted to one small discount they may not actually be interested in using.
5. Provide Multiple Engagement Points.
Even though the point of sale is the most common touchpoint to introduce a customer loyalty program, it shouldn't be the only one. Not every buyer has the time or interest in signing up right then and there.
So, to resolve that issue, you can simplify the process for them. Collect their email at the checkout counter and let them know that they'll have the opportunity to finish signing up online on their own time.
And, to overcome the obstacle of them forgetting, you can send an email reminding them of the program and providing the easy steps it takes to finish signing up.
Also, be sure to make your rewards program accessible on your website. If it's a customer's first time interacting with your brand, they won't have a sales associate there to tell them how they can start earning benefits.
Provide CTAs and pop-ups that let your site visitors know they can sign themselves up easily.
The Best 10 Customer Loyalty Program Examples
There's so much value packed into a single initiative, and we're not the first to realize it. Several different brands have keyed into the benefits of providing benefits.
Here are some of the most noteworthy customer loyalty programs around today:
1. Nordstrom
Nordstrom's Nordy Club has been revamped, and their customers are loving it. A lot of the changes from the original program have been based around a better customer experience.
A valuable explainer page details the perks of their VIP program, like early discounts, members-only access to new brands, curbside pickup, free alterations, and style workshops.
Most of Nordstrom's audience associates the brand with high end luxury, so these rewards speak directly to their interests.
And it's a good thing too, since competition with other department stores is high. But with the VIP experience, Nordstrom is able to keep their customers coming back again.
2. Bean Box
For all of the coffee fanatics out there, Bean Box has a unique subscription program that generates customer loyalty despite a monthly commitment.
With the pitch of a regular supply of coffee (which is super appealing to fast-paced business offices like ours), customers can sample different types of coffee beans on a monthly basis.
The subscription delivery method allows the brand to maintain a consistent relationship with each customer, providing a routine and predictable degree of engagement. Additional perks, like an extra 20 percent off for signing up for the six month plan, encourages customers to stick with Bean Box.
A longer commitment in exchange for more value. Bean Box has figured out how to get the best of both worlds.
3. Chipotle
Chipotle has swept the nation and generated an extremely huge customer base. In response, the Mexican grill built a program around the idea of "Turning Eating Into Rewards."

Source: Chipotle
An easy-to-understand, easy-to-earn points system, their customers can earn rewards with every meal. For online or app orders, you can earn 50 percent more points, incentivizing engagement through multiple channels.
Chipotle does a great job of modeling how to reward your customers and promote sales in a straightforward, cut-and-dry fashion.
4. Amazon Prime
You can't talk about customer loyalty programs without mentioning Amazon Prime.
Even though it isn't as much of a loyalty program as it is its own service, all of its perks and benefits are still noteworthy. Free two-day shipping, an expansive streaming service, and Prime Day sales, all for a flat annual free.
Amazon's competitors are able to offer similar, if not the exact same, products, so the ecommerce company has instituted a program that will set themselves apart from the likes of Walmart or Target.
Providing the option to buy new or used products, offering same-day shipping, and the introduction of pick-up lockers, customers are encouraged to shop with Amazon exclusively.
With 175 million products purchased on 2019's Prime Day, I'd say they're doing a great job.
5. Barnes & Noble
Barnes & Noble's membership costs a flat fee of $25 a year. That can be a difficult sell at the checkout counter. So how do they get any sign ups?
By pitching 40 percent off of hardcovers, 10 percent off of everything else, free express shipping, and member-exclusive discounts of course.
B&N's VIP program is built to provide more value than the cost of the membership. They even incentive sign ups by offering discounts upfront just for becoming a member.
To reinforce the value of the program, they leverage social proof via testimonials from existing members.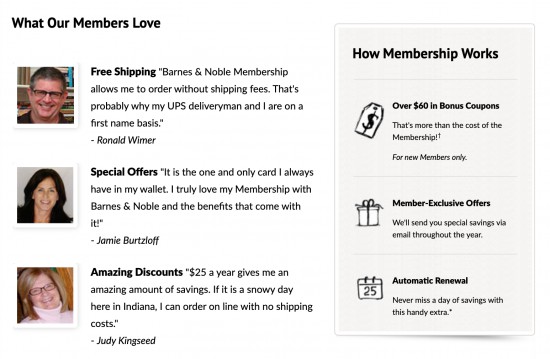 Source: Barnes & Noble
6. Sephora
Some brands are known because of their rewards programs, and Sephora leads the parade for that niche. With 17 million program members, 80 percent of Sephora's annual sales are made up of members.
It's not hard to understand why that's the case when customers can spend the points they earn however they so choose.
Beauty Insider, the program's clever name, offers members the opportunity to redeem points for discounts and gift cards. A lot of products sold by the makeup retailer have high price points, so those rewards provide direct value to customers.
When more exclusive or limited products come into season, loyalty members can purchase them with points, encouraging them to earn and save points in advance.
That degree of flexibility is extremely appealing to consumers.
7. DSW
Designer Shoe Warehouse, more commonly known as DSW, has had a tried and true points system for the loyalty customers. For every dollar spent, you earn a point (or for VIP Elite members, you earn two points).
Work up to 100 points, and you get $5 off a future purchase, along with free shipping, easy returns, dollar credit on your birthday, and other such rewards. Oh, and the company keeps track of all of that for you.
Since the program is automated (all you need to validate your membership is your email or phone number), DSW has had to find a way of reminding customers that they have a lot to gain from spending more.
Thus, their VIP rewards email campaign was born. A personalized email is sent out to each customer detailing what deals they're currently eligible for, how many points they've earned, and how close they are to getting their next discount.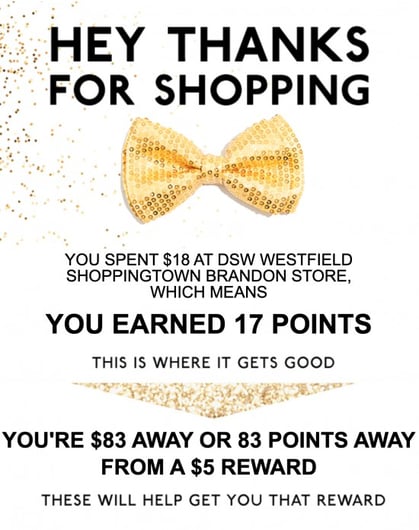 The personalization has made the campaign pretty successful and also collected a ton of customer data for DSW, allowing them to create even more relevant marketing emails.
8. Starbucks
Mobile rewards has become very popular among consumers, and Starbucks has jumped on the train.
If you become a member, which is a pretty quick process, you begin earning "stars" with every transaction. Stars turn into free drinks, pastries, lunches, and swag.
For die-hard Starbucks fans, this is an invaluable asset. Customers who visit the Siren daily rack up stars pretty quickly.
The mobile app also allows customers to customize orders, put money in their accounts for easy purchasing, and even be notified when seasonal faves come into cycle. Starbucks takes all the data tracked through the app and converts it into relevant perks and interactions with their customers.
9. Uber
Uber offers several different options to their user base: UberPool, UberX, UberLUX, etc.
But the ride share company recently decided to take their accessibility one step further and release their new strategy: Uber Rewards.
Customer loyalty program members can earn points through rides and food orders and work toward Uber Dollars that can be spent on more rides and food orders.
This cyclical method of spending is actually ideal for frequent users who can appreciate the extra control and flexible.
10. The North Face
The North Face, a popular outdoor gear and apparel retailer, has a loyalty program that can be tailored to any one customer's particular lifestyle.
By earning points in the VIPeak program, members can garner discounts toward gear – gear that they can use while earning more points with the company.
The North Face has a unique setup for their points system. You can earn them the traditional way, through purchasing in store and online. Or, you can participate in events that the company sponsors, like summer campouts, marathons, and workshops.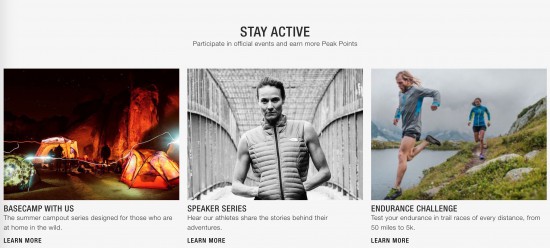 Source: The North Face
It keeps customers engaged with their business and active in their beloved community.
Customer loyalty really is the driving force behind a business' growth and success. It increases sales, generates word of mouth, brings in referrals, and even sparks user-generated content, which is basically free marketing.
A rewards program can set any business up for steady, sustainable success by acknowledging those most loyal to it.