How to Get Instagram Followers for Your Business
1.

Promote Your IG on Your Other Networks

2.

Use Popular Hashtags

3.

Monitor Hashtags

4.

Add Video Content

5.

Optimize Your Brand Page

6.

Post Consistently

7.

Follow + Like + Comment

8.

Explore Influencer Marketing

9.

Use Geotagging

10.

Run Giveaway Contests

11.

Engage in Collaborations

12.

Use Instagram Stories

13.

Run Instagram Live Sessions

14.

Create Instagram Guides

15.

Host Influencer Takeovers
Instagram is more than just the leading repository of latte art.
It has more than one billion monthly active users – yes, billion with a "b." And while the majority of users are in the U.S., it has a massive presence globally, with big user bases in India, Brazil, Indonesia, and Russia.
Instagram also skews young and hip, with the under-30 crowd making up about 60 percent of the platform. Teenagers are drawn to it in growing numbers.
B2C brands can make a big splash on Instagram. Whether you're showing off a delicious meal, a beautiful car, or an amazing office gadget, Instagram is the way to connect with consumers who want to consume straightforward, energetic, visually engaging stories.
What Is Instagram Marketing?
Through Instagram marketing, businesses connect with and engage with their target audiences using pictures and videos. In recent years, Instagram has become a great tool for brands that want to show users their corporate cultures to market products and services in a new and exciting way.
This often attracts new customers and potential talent while building brand loyalty and establishing brand identity.
via GIPHY

Instagram has free insights into user analytics for business profiles that allow you to track impressions and engagements on your stories and posts with the option to take a look at demographic information such as gender, age, location, and active hours.
With Instagram, you can apply key marketing strategies in several creative ways that reflect your brand, including influencer marketing, advertisements, giveaways, and others.
Marketing on Instagram is great for businesses that want to convert more leads, increase sales, create brand loyalty, and position themselves as influential thought leaders in the market.

How to Create an Instagram Business Account
Creating a business Instagram account is super simple! Let's walk through the steps so you can start highlighting your products and services on the app now.
1. Download the Instagram App.
If you don't already have an account, go to the app store on your device and download the Instagram app. Once the app is downloaded to your device, tap it to open it.
2. Create an Account and Username.
Hit "sign up" to create an account and enter your business email address. If you already have a business or personal Facebook account that you would like to connect to, you can tap 'sign up with a Facebook account.'
You'll need to create a username for Instagram related to your business name, location, or brand. Usually, companies use their official company name as their username (ex. @bluleadz, @hubspot, @airbnb.)
If your company has multiple locations, collections, or sub-brands, you can create a unique account for each and expand on your company name to create a specific Instagram handle. For example, the popular clothing brand Zara has its main account @zara and accounts @zarakids and @zaraman.
3. Switch to a Business Account.
Now that you have your account set up, you need to go to settings to change your Instagram into a business account. Once you are in settings, scroll down until you find the Switch to Professional Account selection.
You're then prompted with options to self-select as a creator (for public figures, artists, producers, etc.) or a business (for brands, retailers, etc.). Once you choose your type of professional account, follow the prompts, which lead to the next step.
4. Add Your Business Contact Information.
After you switch to a business account, you can add business information such as your email, phone number, location, business category, and store hours.
You can also add a creative bio with a tagline or other pertinent information.
Next, you will begin posting great content for your followers. If you don't have many followers starting out, don't worry. This takes time. And we can help you with useful tips and tricks.
15 Ways to Get More Instagram Followers
Although Instagram is beloved by people worldwide, many marketers aren't as familiar with it as they are with Facebook, Twitter, or even LinkedIn. That can lead to a bit of culture shock as you figure out an Instagram marketing strategy that works for you.
Of course, active, attentive, and real followers are the cornerstone of success.
Here's how you can get more Instagram followers for your business:
1. Promote Your Instagram on Your Other Networks.
Most users are on several different social platforms, so you can always start by letting followers know about your new Instagram account. If they like your content, they'll probably add you – and that gives you two (or more) ways for your message to reach them.
An Instagram business account also must be linked to Facebook, so you can always share your Instagram posts on your Facebook page, giving your Facebook users a sneak peek of what they can expect on your new Instagram feed.
2. Use Popular Hashtags.
Instagram is hashtag-driven, just like Twitter, and using the right hashtags at the right time can make your posts easier to discover. Naturally, you should always double-check a tag's meaning before you use it, and be sure you only use tags that suit your brand identity.
via GIPHY

To increase your traffic, likes, and followers, try these top Instagram hashtags:
#love (1,271,692,015)
#instagood (742,795,562)
#photooftheday (507,358,504)
#fashion (487,010,088)
#beautiful (463,668,566)
#happy (427,528,663)
#cute (418,686,470)
#like4like (417,887,839)
#tbt (413,049,020)
#followme (392,011,012)
#picoftheday (380,504,677)
#follow (371,102,705)
#me (348,193,980)
#art (343,874,151)
#selfie (337,204,715)
The most popular hashtags do change from time to time, so keep an eye on the latest stats.
3. Monitor Hashtags (Even If They're Not So Popular).
Instagram is even more centered around commenting than other platforms. If you want followers to engage with you, it's a good idea to take the first step.
Keep an eye on hashtags in your niche, even if they don't lead to a lot of daily traffic, and respond to matching images to build a rapport. If you have a local business, be sure the hashtags you choose are geo-targeted to your area.
4. Spice Things Up With Video Content.
Video content is tremendously important on Facebook and Twitter. You shouldn't overlook it on Instagram, either!
On Instagram, engagement is growing faster for videos than images. The truth is, people just can't get enough of quirky, compelling, short-form videos. Just check out how Bluleadz incorporated video into our feed.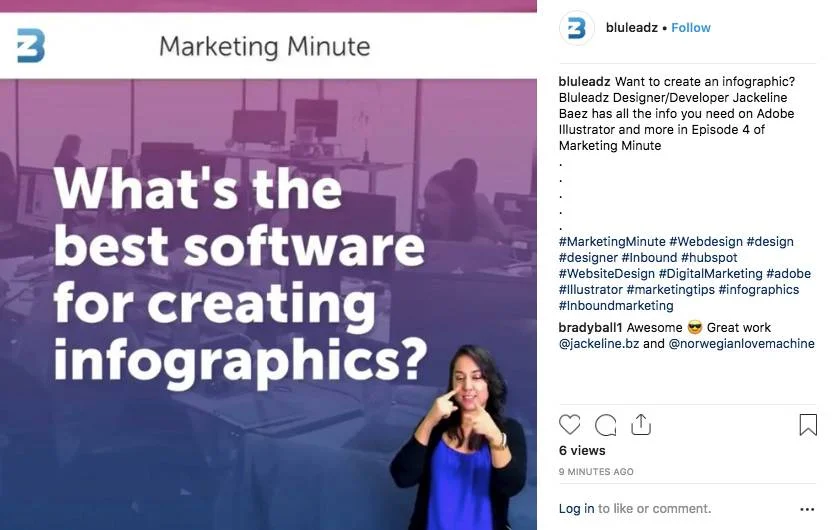 In addition to posting pre-recorded videos at least once a week, don't forget about Instagram Live. Nothing says "authenticity" like live video: Grainy smartphone footage can be much more popular than a polished, professional video, especially on a site full of 20-somethings.
Plus, when you go live on Instagram, you'll get a prominent place on your followers' feeds until you wrap things up. Afterward, you still have the chance to share the replay with those who missed it.
5. Optimize Your Brand Page.
Your Instagram brand page is your company's public face – and there's a lot to do here.
Your brand page is your opportunity to introduce yourself to the Insta-world and get some traffic to your site. This is one of the rare cases where linking right to your homepage is the way to go, but a landing page especially for Instagram users can be even more effective.
To round out your brand page, you'll need a branded username, complete bio, profile image, and captions for your images. You should also add important contact options like "call," "email," and "directions." These will show up as clickable buttons on your profile.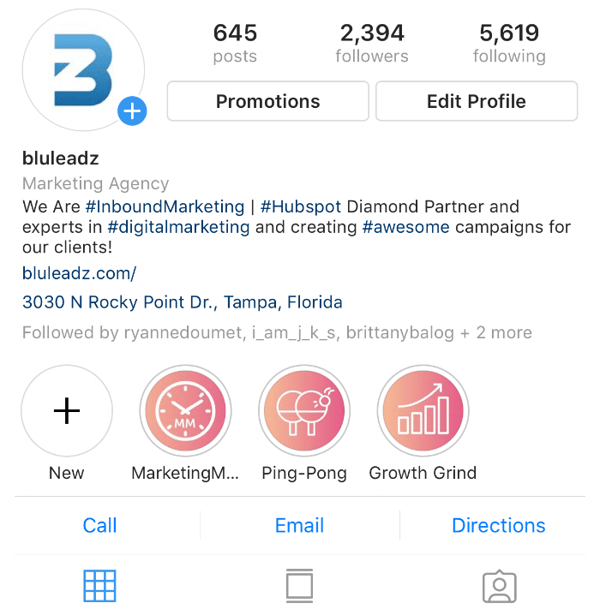 Too many Instagram pages are half-complete or abandoned by their companies after setup, littering the web with junk. Don't be that person.
6. Post Consistently and Stick With It.
If you're adding Instagram to your social strategy, remember it's a big commitment: Brands should aim to post at least once daily. Once you have a workflow and pipeline for your visual content, ramp things up to two or three posts per day to be more competitive.
Instagram requires sizzling images to get eyes on your message, so unless you're a photography firm, you'll probably never hit the eight to 10 posts a day you might make on a platform like Twitter.
That makes the timing of your posts all the more crucial, so do some research on the best times to post on Instagram. It doesn't hurt to check out the optimal times to post on other social platforms.
No matter how many daily posts you settle on, keep plugging away at the same level.
7. Follow + Like + Comment (FLC).
This simple formula can get you a lot of followers fast – but there's a bit more to it.
The absolute quickest way to turbocharge your follower count is to start with your closest competitors' followers. The more local your business, the more effective this is.
Engage directly with those followers by following them, liking a photo of theirs, and leaving a comment. You can even repeat the process on different days until you see a response.
via GIPHY

Preliminary research on this shows that, when done with a personal touch, it's amazingly effective. Out of 100 contacts, you might find nearly a third will follow you back.
For social media, that's an earth-shaking response rate. Chase it!
8. Go Wild With Influencer Marketing.
There's nothing new about influencer marketing, but Instagram is its current home on the web.
Instagram influencers are the rockstars of the social media world. Because their following is so engaged, they have the power to send active, purchase-ready users direct to your door.
To get started with Instagram influencer marketing, you only need to find large accounts in your niche. Typically, it takes at least 20,000 users to make a real splash.
Of course, many influencers have 200,000 or more.
From there, contact the account owner directly – most experienced influencers will list a contact email address in their profile – and inquire about their Sponsored Post rates.
Sponsored Posts tend to be on the affordable side. Many up-and-coming young influencers will also be interested in trading a product sample for a Sponsored Post. This could be the way to go if you're looking for a detailed review that will inform users about your offerings.
9. Use Geotags to Help Local Users Find You.
In addition to using hashtags, you can also tag your location on your posts and stories to make them discoverable. You may tag the city you are in or the venue where you took the video or photo.
Locations have their own Instagram feed and story-like hashtags that you can contribute to so more users will see your content.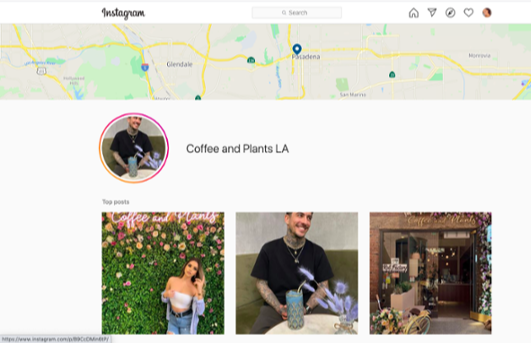 Geotags are especially helpful for local businesses that want to gain attention from and engage with local users. Businesses with unique artwork or flower walls with neon signs tend to attract many millennial consumers. Post the unique aspects of your business to share with a geotag, and you are sure to attract new followers and customers.
10. Run a Giveaway.
Everyone likes free stuff. Gain attention from other Instagram users by running a giveaway for your products, services, or other merchandise related to your business.
Many businesses on Instagram have users enter a giveaway by following multiple pages, tagging three to five friends, and reposting content. This helps increase your visibility and allows you to gain many followers quickly.
11. Collaborate With Others.
Instagram collaborations are a powerful way for businesses to expand their reach and gain new followers. By partnering with complementary brands or influencers, you can tap into their existing audience and leverage their credibility to enhance your brand's visibility and attract like-minded followers.
Collaborations can take various forms, such as co-creating content, hosting joint campaigns or events, or featuring each other's products or services. Look for accounts that have a similar or slightly larger following than yours to ensure a mutually beneficial collaboration. By working together, you can cross-promote each other's accounts, create engaging content, and introduce your brand to a new and receptive audience.
12. Use Instagram Stories.
When leveraging Instagram Stories, it's important to create compelling, visually appealing content that aligns with your brand identity. Whether it's behind-the-scenes glimpses, product demonstrations, or exclusive offers, Instagram Stories allow you to showcase your brand in an authentic and captivating way.
The use of features such as polls, quizzes, and swipe-up links can also encourage active participation from your audience, increasing engagement and attracting new followers. Everybody loves a good game! Have fun with your stories; you'll see how they drive engagement, likes, and follows naturally.
13. Run Instagram Live Sessions.
Businesses can conduct Q&A sessions, interviews, product demonstrations, tutorials, or share industry insights during Instagram Live sessions. This type of real-time interaction allows followers to ask questions, provide feedback, and feel more connected to the brand. By addressing the interests and concerns of your audience, you can build trust and loyalty, which in turn can lead to an increase in followers.
Promoting your Instagram Live sessions in advance is crucial to maximize attendance and reach. Tease the upcoming session through posts, stories, or even direct messages to your followers, letting them know the session's date, time, and topic. Let your followers know to get excited and plan ahead!
14. Create Instagram Guides.
By creating informative and visually appealing guides, you can establish your expertise, attract new followers, and provide a valuable resource for your audience. Identifying topics or themes that align with your brand and resonate with your target audience is critically important.
You can create guides that offer tips, tutorials, recommendations, or curated content that showcases your expertise or addresses common pain points of your audience. By providing valuable and relevant information, you position your brand as a go-to resource and attract followers interested in your content.
15. Host Influencer Takeovers.
Influencer takeovers are an exciting way to gain followers; you don't have to do the work! Just find the right influencer and let them create the content!
When planning an influencer takeover, it's crucial to collaborate with influencers whose values and target audience align with your brand. Look for influencers whose content and followers overlap with your niche or industry. This ensures that the takeover will resonate with both the influencer's audience and your existing followers, leading to increased engagement and potential follower growth.
During the takeover, give the influencer creative control to develop content that aligns with your brand but also showcases their unique style and expertise. This allows for a genuine and authentic experience for both the influencer's audience and your followers
Finally, you could always send in a hilarious #hashtag to Jimmy Fallon and hope he reads it on air!
4 Examples of Awesome Instagram Marketing Strategies
Here are four great examples of Instagram marketing strategies being put to use by real brands:
Dove
Dove often uses hashtags for meaningful social media campaigns that get their customers involved. Users who would like to participate just post a picture using Dove's hashtag to help a specific cause to which Dove is trying to bring attention. They may be featured on their social media pages or website.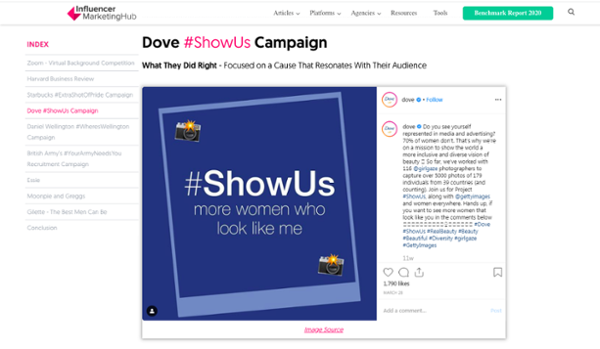 Dove's target audience is generally women, so they center their Instagram hashtags and messaging around this target audience. This helps them gain the attention of Instagram users who haven't interacted with the brand and provides them with a library of user-generated content.
Suja
Suja, the organic juice brand, often posts giveaways on Instagram to help them gain more followers and customers. They also partner with other brands on Instagram to help increase their brand visibility.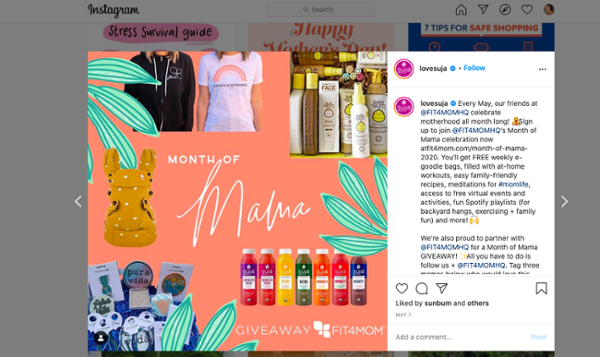 They used their own hashtag for the giveaway and required users to repost the image and tag three friends to enter the giveaway.
Sephora
Sephora leverages its Instagram stories by advertising promotions for its followers to see.
For example, they recently posted a promotion on their story regarding a sale on eyeshadow. Users are likely to share information about promotions with friends and family, which helps Sephora gain more followers and customers.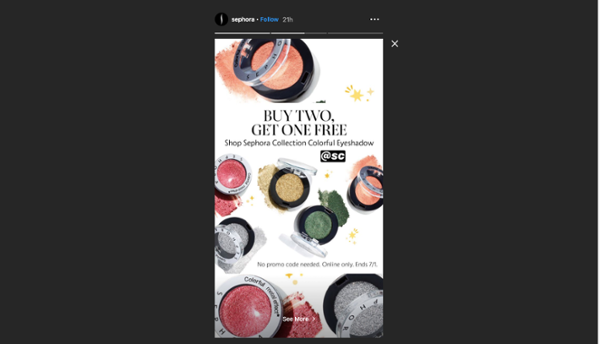 Selena Gomez
Apart from being one of the biggest pop stars of our time, Selena Gomez has achieved more than just musical success. Boasting a staggering 425 million Instagram followers, her account stands among the most popular on the platform.
What sets her apart and contributes to her immense popularity? Perhaps it is her down-to-earth personality that resonates with countless individuals. Gomez has an innate relatability that makes her highly accessible to the masses.
Moreover, she fearlessly uplifts those around her by acknowledging and promoting their talents. Additionally, her captivating photos provide a glimpse into her life, featuring both behind-the-scenes moments and engaging videos for her devoted fans.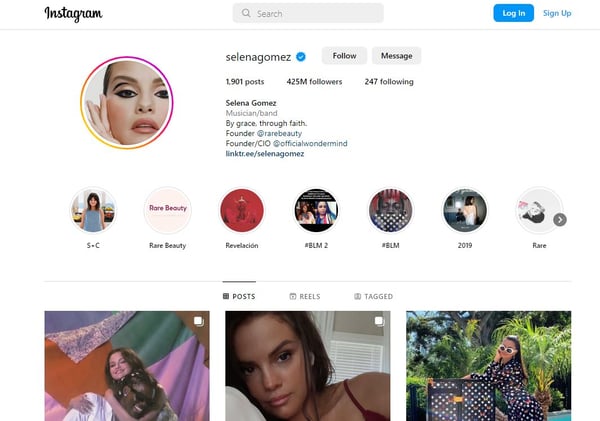 For aspiring influencers looking to establish their presence, Selena Gomez's Instagram account undoubtedly serves as an excellent source of inspiration and guidance.
Leverage Instagram for Marketing Success
If you spend most of your time on social media mainstays like Facebook, Instagram may not be quite what you're used to. Still, most inbound marketers are ready to take the plunge. You know the value of visual content and of understanding your audience... just combine the two.
Instagram isn't right for every brand, but it should be a big part of your social media strategy if you're out to connect with the young, trendy, and ambitious. A billion people all around the world are waiting for your next breathtaking photo or fascinating video to capture their attention.