Ways to Conduct HubSpot Data Cleansing
1.

Use the De-Duplicate Tool in Contacts

2.

Identify What Data Problems You Should Clean Up

3.

Create Workflows to Update Data

4.

Use List Feature to Check for Missing Data

5.

Seek Help From HubSpot
Keeping your CRM data clean and tidy is vital to your business success. When your data is messy and inconsistent, you jeopardize vital components of your business, including customer retention, marketing initiatives, and sales productivity.
CRM data needs to be cleaned regularly to avoid this. Whether this is the first time you're cleaning your CRM data or you are looking for ways to improve your data cleansing routine, learn the benefits of using the HubSpot CRM, what to consider when deleting contacts, and the best ways to conduct a HubSpot data cleansing.
The Benefits of Using the HubSpot CRM
Here are a few of the key benefits of using the always-free HubSpot CRM for your business.
It Helps You Bridge the Gap Between Sales and Marketing.
HubSpot is known for providing one of the best marketing automation platforms on the market called Marketing Hub, which integrates seamlessly with the HubSpot CRM. When you use these tools together, your sales and marketing teams are able to communicate and see each other's reports while going about their respective duties.
It Can Integrate With Your Website.
HubSpot's premium tier subscription has a feature that integrates your CRM with your website. With this feature, you will be notified when a lead visits your website. This way, you can stay up to date on all the content your leads view, the information they download, and the other pages they engage with.
Using this knowledge, you can have targeted, personalized conversations and provide more value to your leads and prospects to move them through your sales pipeline.
It Allows You to Track Communication.
Documenting all your contact's information in the HubSpot CRM gives you full visibility on the correspondence between sales reps and leads. You can send emails directly from your platform, record phone calls with customers, and add notes in each contact record.
These insights make it easy for sales reps to decide what a lead or prospect needs at a later follow-up date.
It Makes It Easy to Automate Data Entry.
With the HubSpot CRM, your team won't have to worry about spending time logging calls, emails, interactions, or meetings. Instead, information is automatically collected and organized in the system.
The CRM also makes it easy to categorize deals by the stage they are in. The rep chooses the deal stage for the contact, and the system automatically handles weighing, summation, and visualization.
It Has Comprehensive Sales Reporting Tools
Collecting and organizing data about prospects and deals is simple for sales reps with sales dashboards and reporting tools. Reports allow reps to manage their contacts, pipelines, and deals in a more efficient way.
Sales reps can also evaluate their personal sales performance and keep track of their achievements and goals with HubSpot CRM reporting tools.
To make the most of these benefits, you need to ensure your contact database is accurate and always up to date. Whether you're new to the HubSpot CRM or you've been managing your contacts for years, you need to know the basics of what data cleansing is.
In its simplest terms, data cleansing refers to the process of removing inaccurate records from your database. But you need to proceed with caution when you're looking to delete contact records.
4 Things to Consider Before Deleting Contacts in HubSpot
Unengaged contacts are contacts in your lead database that have not responded to or interacted with your brand in any way within a certain time frame. You should carefully consider these things before deleting unengaged contacts:
Identify the Contact Types That Should Be Deleted.
Not all contacts should be deleted, even unengaged ones. Categorize your unengaged contacts in a list, and determine which ones are safe to be purged from your database.
For instance, the following contact types are safe to be deleted:
Hard bounces
Unsubscribes
Contacts from unknown sources
Event attendees
Contacts from purchased email lists
People you added from social media such as LinkedIn
Determine Whether or Not You Can Re-Engage Them.
You have a chance to re-engage contacts who haven't unsubscribed. If you haven't emailed them in a while, or if they haven't responded to an email in a while, there is still hope.
Try to re-engage them by reaching out to them a few more times before you decide to get rid of them. Make sure your touchpoints have a clear goal and deliver value for your contacts. If they don't respond, it's probably time to let them go.
Deleting Contacts Also Deletes All Past Statistics of That Contact.
All contact history is deleted along with the contact information. The history deleted includes the information about the links they clicked, the campaigns they've engaged with, and any other actions they've taken on your website.
This impacts your historical data by deleting the contact from all campaign reports. If you need to keep contacts to collect meaningful data about the success of certain campaigns, then you may want to wait until a specified time (e.g., the end of a quarter) to delete contacts.
Deleted Contacts Cannot Be Recovered.
If you think you'll need these contacts again, you may want to back them up into a CSV file because once you delete them, that's it. They're gone forever.
Keep contacts that you think may be useful to you in the future, and delete only the ones you are sure won't bring you any value.
After you consider these four things, you are ready to begin conducting a HubSpot data cleansing.
5 Ways to Conduct HubSpot Data Cleansing
As noted above, data cleansing is the process of identifying or correcting inaccurate or corrupt records in a database. Once they are identified, they are replaced, modified, or deleted. It's important to conduct regular data cleansing to ensure your database is organized and running smoothly.
Here are five ways to conduct data cleansing in HubSpot.
1. Use the De-Duplicate Tool in Contacts.
Duplicates cost you money because HubSpot's pricing increases with the volume of contacts you have. Luckily, there's a tool that allows you to de-duplicate contacts.
In HubSpot, go to your contacts at the top of the navigation bar.
Select "Actions" in the top right, and then choose "Manage Duplicates."
A list of duplicates will be split in two columns; choose "Review."
Review the information of each contact to determine which contact to keep and which to delete.
2. Identify What Data Problems You Should Clean Up.
Assess the overall state of your data. Check for data that is not up to date, useful, or relevant. Decide what is worth keeping and what you should eliminate.
Bad data often stems from human error, but here are some additional situations you should check for:
Hard bounced or unsubscribed contacts: It's best to delete these contacts from your database when you see them.
Unengaged contacts: Properties such as the last marketing email opened, recent sales email replied date, and recent conversion date in HubSpot are good indicators of a contact's engagement level.
3. Create Workflows to Update Data.
Workflows can be used for more than email and sales automation. Use workflows to update your data by categorizing it and setting enrollment triggers. This helps sort out your good data from your bad data.
For instance, you can categorize your contacts by region and get rid of contacts that don't fit in a specific region. Create a workflow with criteria that says the state or region is ____. Then, you can create a yes or no option. Workflows are expansive, so you can set the criteria as you need to simplify your process.
Sort your contacts and see where your contact data stands so you can easily get rid of the contacts that don't fit anymore.
4. Use the List Feature to Check for Missing Data.
Deleting lists is easier than deleting contacts one by one in HubSpot. Create active lists with unknown buyer personas or view contacts without companies. Once you set your list criteria, you can delete the whole list of contacts together to save you time.
Here's how to create lists to delete contacts:
Navigate to Contacts, then use the dropdown to select Lists.
Select Create List.
Make sure it is an active list.
Select the filters that would qualify your contacts to be deleted. You may also select qualifiers to segment your contacts further.
Create a reminder to check and delete the list periodically.
5. Seek Help From HubSpot.
It is a lot of work to keep on top of cleaning up your data. You have to be dedicated to setting aside time every month or every week to clean up your CRM.
If you don't have time, reach out to HubSpot or a HubSpot partner agency that can help you use tools that allow you to strategize, plan, and execute data cleansing in a simple but effective way.
3 Data Cleansing Tools That Streamline This Process
Here are three data cleansing tools that will help speed up your HubSpot cleansing process.
1. Insycle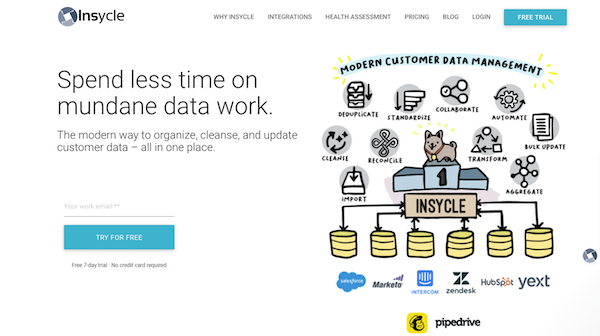 Insycle is a HubSpot integration that finds and merges duplicate contacts, companies, and deals in HubSpot. The best part? They do it in bulk, automatically.
With Insycle, you can cleanse contacts, deals, and companies to improve personalization and achieve high-quality data. It also allows you to schedule the HubSpot cleansing process so they run automatically.
2. Data Ladder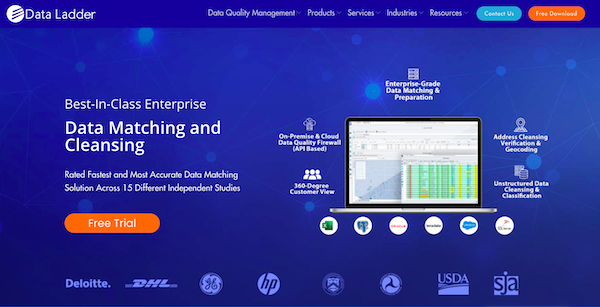 Data Ladder is one of the fastest and most accurate data matching and cleansing solutions. It has a highly visual platform that is designed to quickly identify and resolve contact data quality issues.
Data Ladder also matches and links records to de-duplicate and integrate data sets from almost any source.
3. WinPure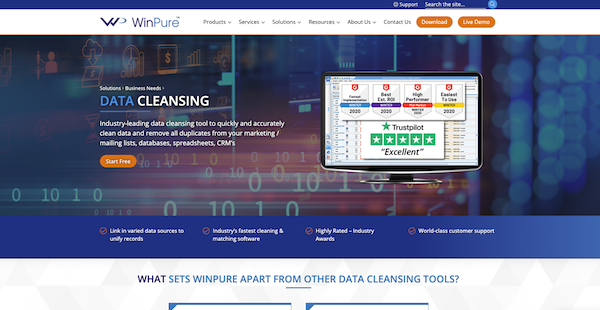 Use WinPure to quickly and accurately clean data and remove all the duplicates from your CRM. With WinPure, you get advanced data profiling, intelligent data matching, and WinPure CleanMatrix, which provides a simplified method of applying data cleaning processes.
Make a plan to clean up your data in your CRM and follow it. Sticking to a regular routine for cleaning up data, no matter how you go about it, is vital. This ensures you can maintain control over your data.
Maintaining pristine data puts you in the right spot to keep up with a great HubSpot CRM strategy that streamlines contact management and supports your marketing, sales, and customer service efforts.