Knowledge bases!
It may sound like a boring topic. Nobody out there describes themselves as the Michelangelo of knowledge bases, after all. (And if you do, please get in touch – we want to meet you!)
And yet, with so much information moving online, knowledge bases are more important than they have ever been. With the buyers journey now guided by the pace decision-makers choose, a knowledge base is a powerful central resource.
In short, a knowledge base is a repository of all the possible information a certain "type" of user might need to use your product or service. It enables customers, staff, or the public to collect, organize, retrieve, and share information relevant to their needs.
A good knowledge base does several things:
Provides users with a bird's eye view of available problems and solutions to use at will.
Accelerates the process of self-service so users can solve their own issues independently.
Curbs the need for tech support to walk users through problems by phone, email, or chat.
Some users prefer talking to a "real person" no matter what the problem is. Others will find that the issue they're facing is so complex or intractable they need personalized help.
With a comprehensive, user-friendly knowledge base, these are edge cases rather than business as usual. You'll still need support teams, but they can focus on higher-level tasks and issues.
Just about every enterprise has at least one knowledge base: A customer-facing one. While the concept can and should be extended to internal use, it's often these public knowledge bases that have the greatest challenges to overcome – in design, interface, and writing.
Let's look at some of the best knowledge bases around and what you can learn from them.
1. Lyft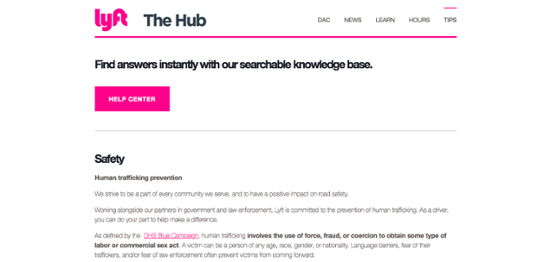 Lyft probably has one of the most famous knowledge bases on today's web. The entire structure of the Lyft service and interface is intended to make using it self-evident: So, when people click over to the knowledge base, they usually have a burning question to deal with.
The Lyft team has questioned how a knowledge base "should" be in two ways. First, there are separate bases for questions riders and drivers – the real power behind the app – may have. Second, the answers are formatted as short blog posts with eye-catching titles and graphics.
The Lesson:
Knowledge bases can be customized for the exact type of user who will need them.
Presenting your topics as long-form blog posts can help people cultivate their skills.
Eye-catching titles and imagery will hold users' interest as they search for info.
2. Canva
Canva is an online graphics design platform that's become popular among marketers. Many users enjoy its ability to craft banners and digital advertising collateral in a convenient drag and drop format. Its toolkit is also versatile enough for designing print materials.
Most users of the Canva software are marketers, not graphic design professionals. As a result, Canva's knowledge base is laid out in an amazingly effective way that combines nested topics and featured articles, directing people to specific answers as quickly as possible.
The Lesson:
How information is presented should depend on the level of knowledge the user has.
Users should be able to move deftly from simpler general topics to more complex ones.
Knowledge bases need to cover things like billing and installation as well as project tips.
3. HubSpot Academy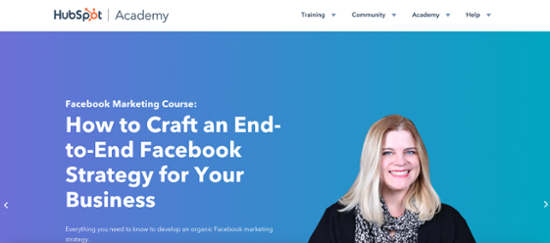 HubSpot is the maker of the free HubSpot CRM and the originator of all today's best practices in the inbound marketing world. One outstanding thing about the HubSpot brand is the way it has cultivated so many different educational resources for marketers and enterprises.
Since HubSpot's information architects are so attuned to meeting users wherever they are in the buyer journey, its knowledge base is a compilation of many different resources. Its trainings span video, interactive demos, and group sessions so there's a variety of approaches and depth levels.
The Lesson:
A knowledge base doesn't have to be text only – it can appeal to different learning styles.
It doesn't have to be isolated, either: It can lead users to connect with others like them.
A good knowledge base is interwoven with the other educational resources of your brand.
4. Asana
Asana is project management software that helps teams collaborate better. It's one of the latest generation of apps that have become popular as sophisticated remote teams have sprung up. Not surprisingly, both project managers and other users need to understand its ins and outs.
Among the entries on our list, Asana is unique since it deals with inherently complex workflows. It could have been designed hundreds of different ways, and its knowledge base needs to lay its assumptions bare. With its sleek design, it's a potent tool for customer onboarding.
The Lesson
A minimalist, clutter-free design can help people stay focused on the topics at hand.
Dividing knowledge into broad, sequential topics equips users to teach themselves.
5. Loco2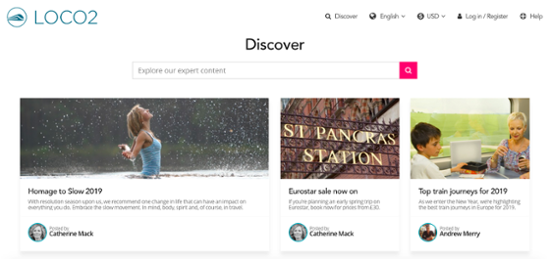 Loco2 is an app that helps people plan and manage their journeys by train. Although trains aren't very popular here in the United States, they remain a fact of life for people throughout Europe. Some people even use them for commuting, either within their country or across borders!
This means riders often have to deal with a variety of challenging logistical issues. They could be frazzled, confused, and even lost while standing around in a train station. With this in mind, the Loco2 knowledge base is built around the unique contingencies of train voyages.
The Lesson:
A knowledge base can be optimized for where it will be used, not just by whom.
Customized content that pulls from user location data can make things easier.
It's vital to understand how users approach a process and where they may trip up.
6. Dropbox
Dropbox is one of the leaders in cloud storage. A pioneer in this area that competes directly with Google for the lucrative enterprise market, its core offerings are remarkably straightforward to use. Its knowledge base benefits from its designers' deep insight into its user base.
Since there are relatively few key issues that people can run into while using Dropbox, it can focus on the most likely questions first. It emphasizes the user-friendly nature of the platform by delivering quirk illustrations alongside the information it presents.
The Lesson:
Not all knowledge bases need to have tons of bells and whistles to be effective.
A "less is more" approach can inform not only text and layout, but organization.
Don't be afraid to portray your brand using color, illustration, and other methods.
Okay, so your knowledge bases probably won't be winning a Pulitzer Prize any time soon. Still, they can cut down on hours of confusion. You'll save work for both your customers and your teams. In some cases, you can even help convince leads that your solution is right for them.
Knowing how to design and deliver information is essential for anyone whose business is driven by online traffic. That's never more obvious than when it comes to knowledge bases.
There's one simple way to make them easier: Put yourself in your reader's shoes and prioritize their needs. They'll thank you in how they use your work.