22 of the Best Free Survey Tools
1.

SoGoSurvey

2.

HubSpot Forms

3.

SurveyLegend

4.

Qualaroo

5.

ProProfs Survey Maker

6.

Google Forms

7.

Latana

8.

SurveyMonkey

9.

Typeform

10.

CrowdSignal

11.

Survey Planet
12.

SurveyNuts

13.

SurveyGizmo

14.

Zoho Survey

15.

Feedier

16.

Survs

17.

Survey Anyplace

18.

LimeSurvey

19.

GetFeedback

20.

AskNicely

21.

Survey Designer by Confirmit

22.

JotForm
When it comes to keeping your customers happy, providing them with a voice is crucial. And the channels you provide them to speak that voice through matter more than you may think.
That feedback can prove to be invaluable toward improving your business' customer experience and retention. One of the best ways to gather that feedback is through online surveys.
What Is an Online Survey?
An online survey is a series of structured questions that customers, prospects, or employees fill out over the internet. Online surveys can have multiple formats and lengths. For instance, some surveys are multiple choice, yes or no, short answer, or a combination of all of these questions.
Online surveys are used to gather more data on customers or to gather feedback about a specific product, service, or experience to find out how customers are reacting to it. To properly conduct and manage your online surveys, you need to find a tool.
What Is a Survey Tool?
A survey tool is digital software that allows you to make and send thousands of surveys. The surveys provide you with data you can analyze to see what you are doing right versus what you need to improve.
Most survey tools come equipped with survey templates and sample questions. They make it easy for you to incorporate surveys into your website or emails. With the right software, your process of collecting and managing customer data is truly seamless.
There are even more benefits that you can take advantage of when you use survey tools in your business processes.
The Benefits of Survey Creation Tools
Creating customized questionnaires and conducting online surveys can help you gain a better understanding of what makes your customers tick, gauge customer satisfaction, and gather feedback so you can adjust your marketing efforts to better meet the needs of your target market.
via GIPHY
The list of benefits to a quality online survey should be on every team's radar.
They're Cost Effective.
Research can be expensive, especially when you factor in administration costs.
Instead of investing in paper, printing, and postage, and then manually entering collected information into a database, survey responses are processed automatically online.
They Streamline Fast Data Collection.
With the magical pairing of automation and high-speed internet, one of the best perks of an online survey is quick, real-time results.
Data can be analyzed the moment a respondent completes the survey, allowing your business to quickly look at the feedback and start developing actionable solutions. A lot of survey tool platforms provide extensive report filtering to aid the process.
They're Customizable.
There's a lot of flexibility in online survey design, allowing businesses to tailor questions to their target audience.
You can manipulate the order of the questions, have certain questions skipped if past answers meet certain criteria, or give respondents the option to skip ones they don't feel are relevant.
They Gather More Accurate Data.
Online survey data often proves to be far more accurate than mail polls and other research methods. Because responses go directly to an online database, there's little room for human error in comparison to someone manually entering responses.
You can feel confident that you're getting exactly what your customers think.
They Foster Objectivity.
Since they can be made anonymous, online surveys can achieve a degree of objectivity that allows for more honest feedback.
Without the pressures of pleasing an interviewer over the phone or in person, respondents will be more forthright, making their answers more valuable.
They're Easy to Use.
With most interactions taking place online today, online surveys are preferred by most audiences and businesses alike. There are several platforms who have taken notice of this trend and have developed tools that are meant to be easy to use.
From design and style to answering and reporting, survey tools are meant to provide accurate, fast results with minimal effort from both sides of the business.
Essential Components You Need In Your Online Survey Platforms
Here are seven essential features for you to consider while you search for the right survey tool for you.
Survey Display Options
These options allow you to select where you'd like your survey to be displayed. For instance, you can showcase it on your website, within an email, or on a page hosted by the survey tool.
User Segmentation
With user segmentation, you can send specific surveys tailored to parts of your audience. This helps you to capture data from a variety of different customers to give you a variety of views on your different customers' experiences.
For instance, you can choose to make surveys that are only shown for new visitors, returning visitors, or visitors from a specific location.
Various Answer Types
If you want to get the most granular information from your surveys, it is best to have a variety of answer types. Some answer types include multiple choice, grid/matrix answers, and text boxes.
Branching Logic
Branching logic allows you to set up different questions according to the response chosen by the user. The follow up question changes according to the response from the first question.
For instance, let's say you ask, "Did you purchase a product from us during your last visit?" When the user selects "Yes," you can generate a follow up question that pops up and asks "What product(s) did you purchase during the visit?"
However, if they answer "No" for the first question, then you can make a different question pop up.
Data Analysis
This feature allows you to analyze everything in one place instead of having to review survey answers one by one.
With data analysis capabilities built into your survey tool, you can look over a group of respondents to see what they answered and what it all means using graphs, charts, and other graphics.
Multiple Survey Triggering Options
You want to have the option to decide how your surveys will be triggered. For instance, the most common options include on-load, on-click, on-exit, or on-scroll.
Website Integration
This cool feature gives you the ability to link your website to a survey. This way, the user only has to click on one link.
The 22 Best Survey Tools for Customer Research in 2021
Online surveys aren't exactly a new tool, and the market is full of different platforms and suites. But not every tool is made equal, so we've compiled a list of the best free survey tools available right now.
1. SoGoSurvey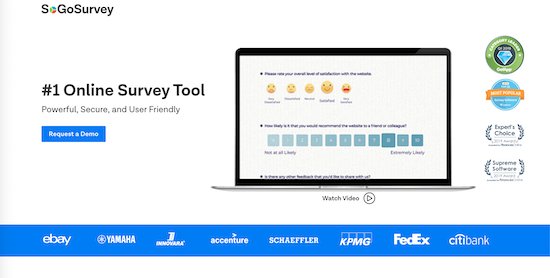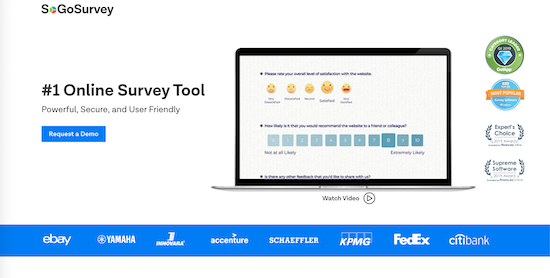 SoGoSurvey has unique features allowing you to create multilingual surveys, customizability, and even branching logic. Their comprehensive reporting program focuses on treating feedback as a vital aspect of a business' growth.
Users on the free plan are provided with unlimited surveys and 200 respondents, 100 per survey, with a long list of basic features and reporting. Additionally, their data exporting options are free, including CSV, Word, and HTML.
There are plenty of paid plans that offer a ton of additional features, starting with the Plus tier at $25/mo.
2. HubSpot Forms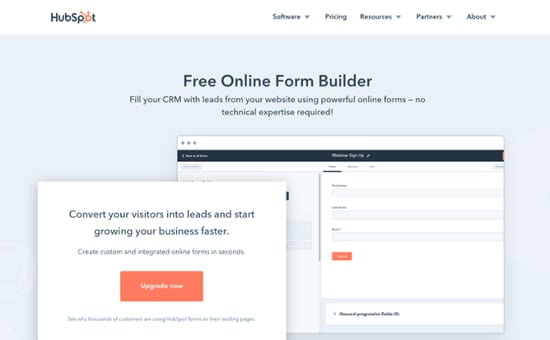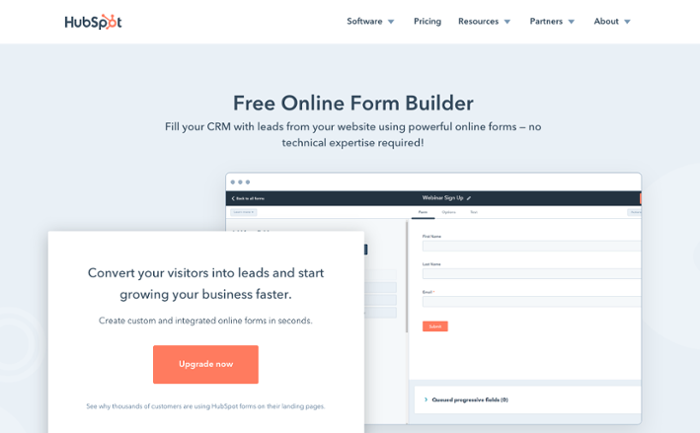 HubSpot Forms makes it easy to send surveys to your customers so you can understand what they think and feel about your product or service. You can easily add your form onto your website in seconds, or use a standalone form page.
Everyone who fills out your form will be automatically routed into HubSpot CRM, which is free. You can further manage the relationship with that person by setting reminder tasks, calling them, or sending them a personalized email.
HubSpot Forms is included in their free tier for their marketing hub.
3. SurveyLegend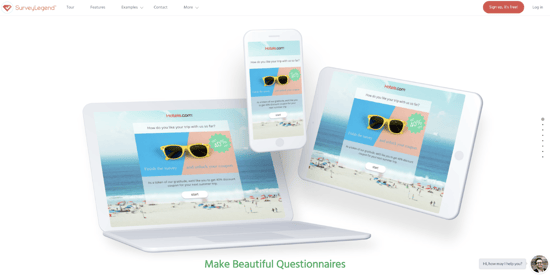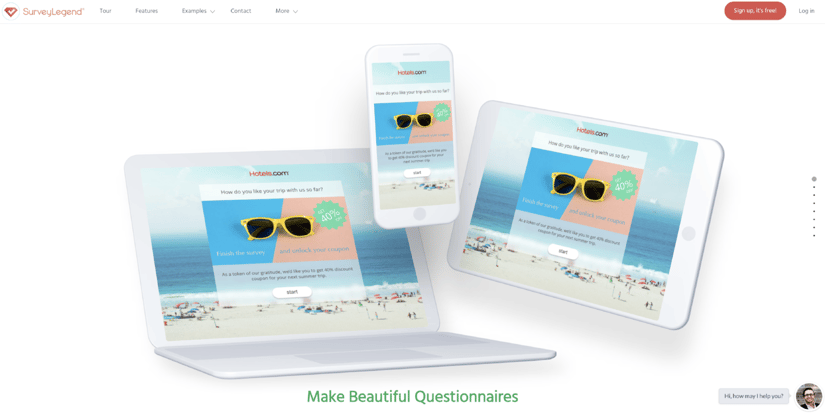 SurveyLegend is a platform that allows users to create beautiful, easy to use surveys and includes optimization for mobile devices, like tablets and other smartphones. It's used by major brands like Samsung, GroupOn, and AirBnB. SurveyLegend's questionnaires have a more polished feel than many other platforms.
The free version does have some significant limitations, like only allowing three surveys per account. However you can ask unlimited questions and receive unlimited responses to those three surveys. Data export is only available with paid versions – starting at $19/mo.
4. Qualaroo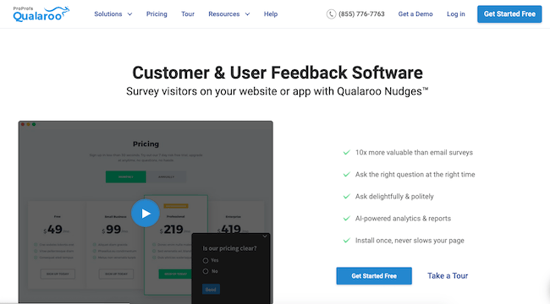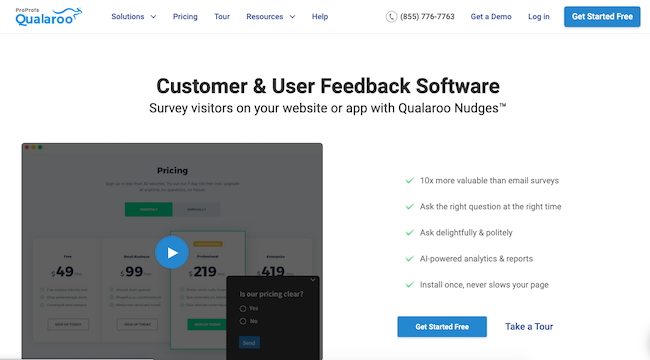 Qualaroo is a top choice for online survey creation tools, thanks in large part to their Qualaroo Nudge™ feature.
The Nudge™ appears in a non-intrusive way so you can gather insights via various channels. You can target this feedback mechanism based on who your audience is, where they are, when they visit, how often they visit, and more.
You can place Nudges™ within mobile apps, tablets, and mobile browsers, and on any webpage. You can even create a Nudge™ as a unique link that you can share via email, chat, and more.
Additionally, its integration with IBM's Watson's Natural Language Understanding can deliver analysis about your audience's sentiment, specifically how they feel to help you discover why they make a certain decision.
Pricing starts at $25/mo. for the Essentials plan and $50 for the Premium plan. You can try any plan free for 15 days, and Qualaroo offers a zero cost plan as well. Simply put, both small and large organizations alike can find a plan that fits their needs.
5. ProProfs Survey Maker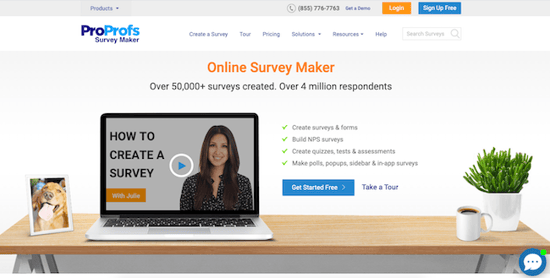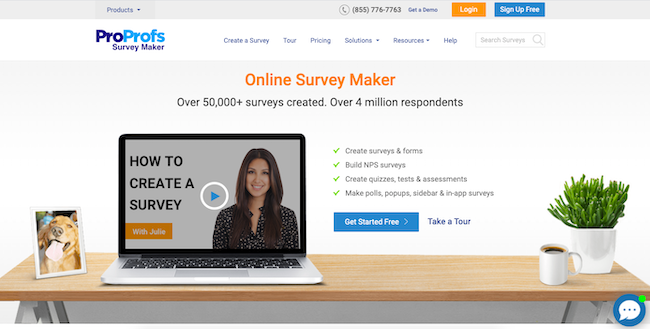 Another easy-to-use survey tool is ProProfs Survey Maker. Simple and feature-packed, this tool helps you create engaging surveys and share them across email and social media or embed them directly on your website.
With 100+ survey templates and a vast library of 1,000,000+ questions, ProProfs Survey Maker makes survey creation a breeze.
Besides, its robust AI-powered reporting system gives you useful insights into who took your survey, when it was taken, and how the respondents answered. Regardless of who your target audience is and which platforms they use, this tool is all you need to offer a delightful and streamlined survey experience to your respondents.
It comes with a Forever Free plan that allows you to create unlimited surveys and gives you access to 10 respondents. Paid plans with advanced features start as low as $0.05 per response per month.
6. Google Forms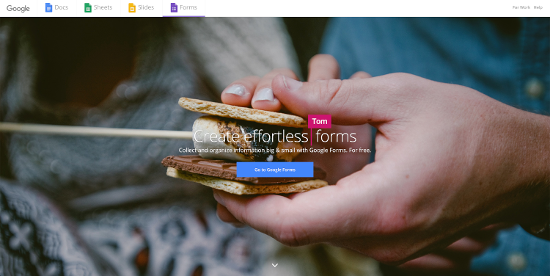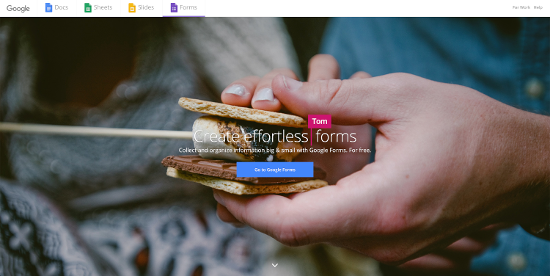 Google offers a suite of free tools to help you with all of your online efforts, from Google Docs to Gmail. They also offer one of the best free survey tools available. Google Forms allows you to create unlimited surveys, with unlimited questions and receive unlimited responses.
Plus you can custom design your forms to meet your specific needs and export the data to Google Sheets to better analyze your results. Google is also one of the true full featured free programs – you get complete functionality without ever having to upgrade to an advanced paid version.
7. Latana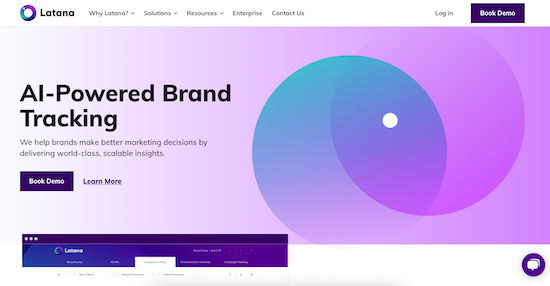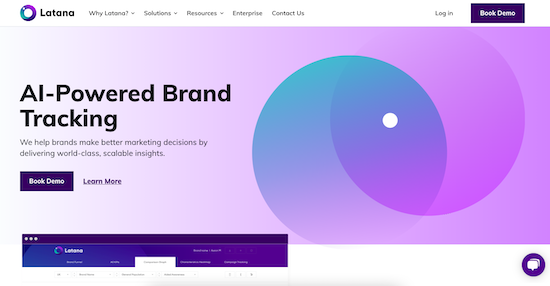 Latana is the go-to brand tracking solution because of its robust platform. Features include customizable dashboards, brand funnels, characteristic heatmaps, and ad awareness tracking.
Given all of these tools, you get access to the most accurate data. Latana delivers mobile optimized surveys to achieve high conversion rates and capture key customer information. Deep audience segmentation allows you to focus on the audience that means the most to your brand.
Pricing starts at $7,000 per market per year for the base plan, which is a good fit for companies that are new to brand tracking. Their pro and enterprise levels are better options if you want customizable KPIs.
8. SurveyMonkey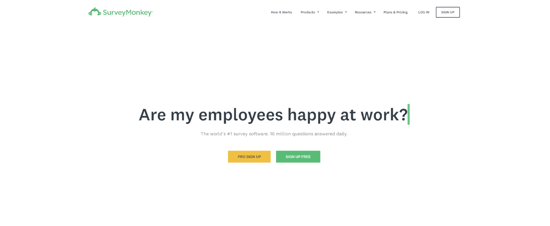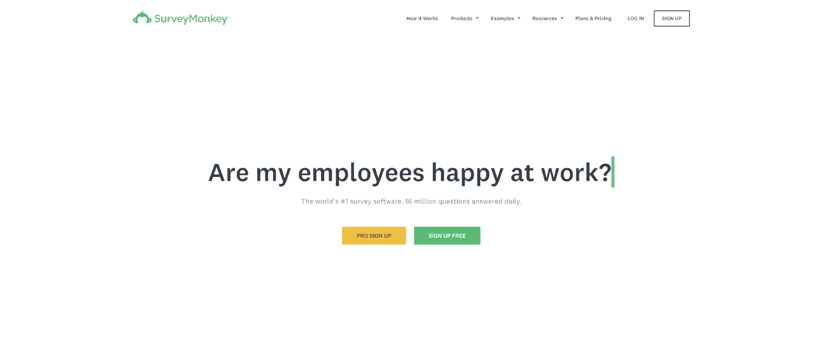 SurveyMonkey is one of the most popular online survey tools. It's well designed, easy to use, and allows you to embed surveys on your site. The free version offers you up to 10 questions, 100 respondents, and 13 question types.
Customization options are limited, but they do offer templates. Unfortunately the free version doesn't allow you to export data, but paid versions start at $25/mo.
9. Typeform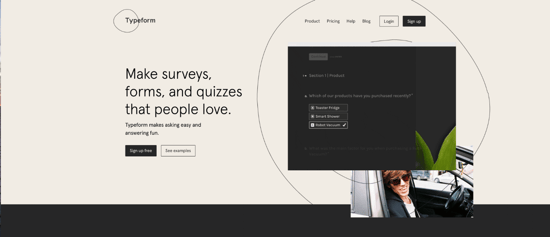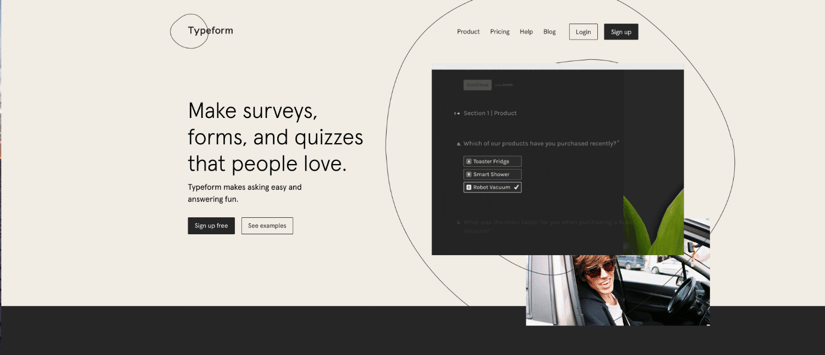 This tool offers one of the most creative survey creation styles out there. Typeform's interface is intuitive, attractive, and fits perfectly with the company motto, "Asking questions should be easy, human, and beautiful."
The free version is called the CORE Plan and offers users 10 questions, 100 responses a month, custom design themes, templates, data export, and basic reporting. It's a pretty great feature set for a free version.
10. CrowdSignal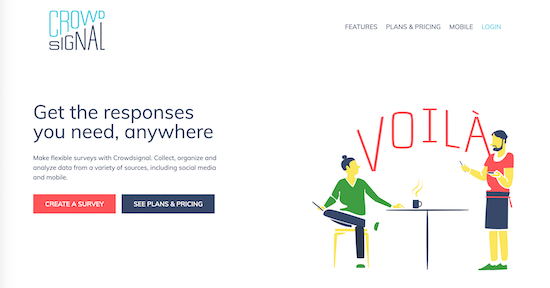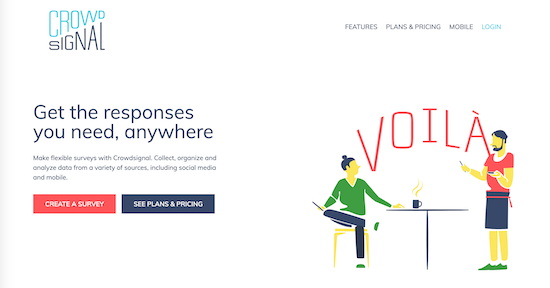 CrowdSignal's free version offers unlimited surveys, unlimited questions, and unlimited responses. However you can only customize surveys and export data with the paid versions. CrowdSignal integrates seamlessly with Wordpress.
Upgrading removes the CrowdSignal branding and adds custom CSS options, data export, and access to email support. Paid plans start at $17/mo.
11. Survey Planet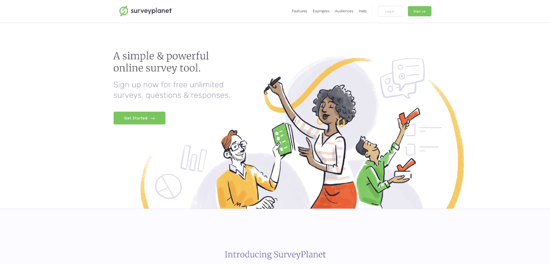 The free version of Survey Planet is pretty deep. It offers unlimited surveys, questions, and respondents. It also has a selection of survey theme options and embedding.
For $20/mo, you get plenty of extras. With the upgrade, you can remove the Survey Planet branding, print survey results, and include images in your questions. Only the Pro version can export data to Excel.
12. SurveyNuts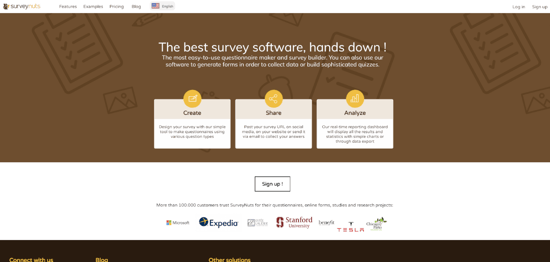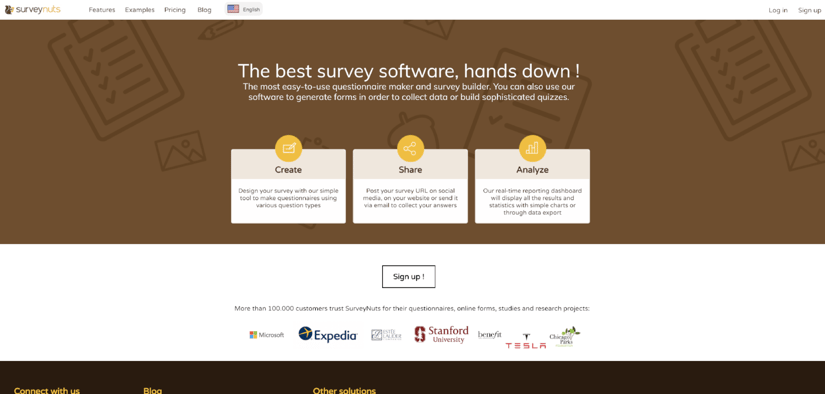 If you need to create a survey as quickly and easily as possible, SurveyNuts is the best option. You can create your survey right on their homepage and you don't even need an account.
Surveys are limited to 10 questions, but you have 100 responses. Unfortunately, you can't customize surveys or export data without purchasing their Pro plan at $25/mo. But if you need to create a short one-time survey, you can get the job done in a couple of minutes with SurveyNuts!
13. SurveyGizmo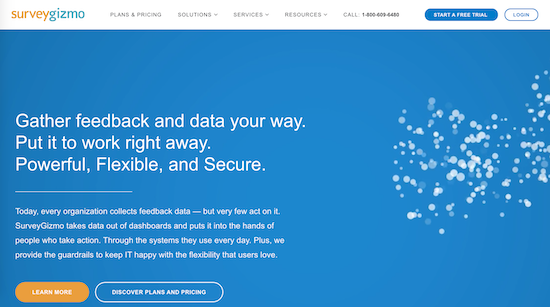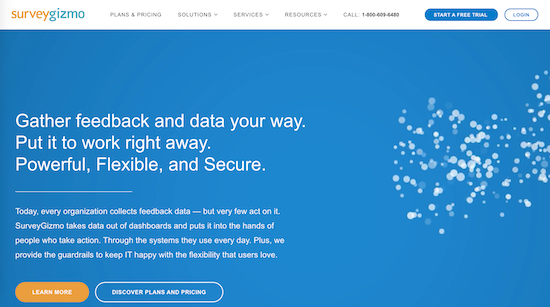 SurveyGizmo is like SurveyMonkey in terms of inviting respondents and customization options. What makes SurveyGizmo different is the look and feel of the survey.
You can choose from almost 100 different question types and customize them to meet your needs, and you can easily create your own custom surveys. Their free plan allows for three surveys and 100 respondents, but you can unlock unlimited numbers and data exports at $25/mo.
14. Zoho Survey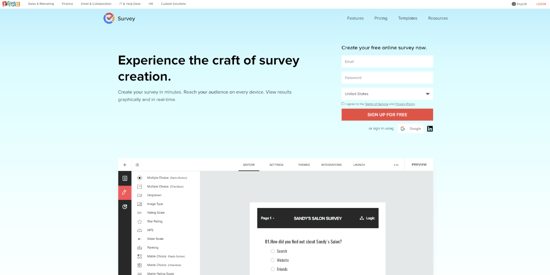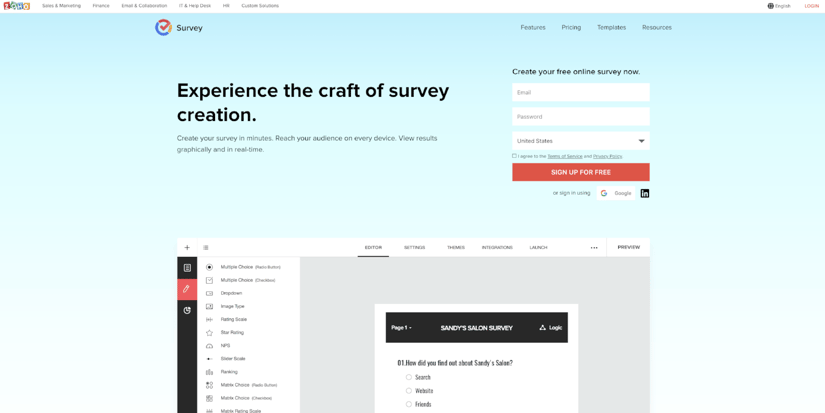 With a Zoho Survey free account, you can create an unlimited number of surveys with up to 10 questions and 100 responses. Surveys are not customizable and you can not export data on a free plan.
Paid versions, starting at $20/mo, offer interesting features like offline surveys, multilingual surveys, email notifications, and advanced reporting options.
15. Feedier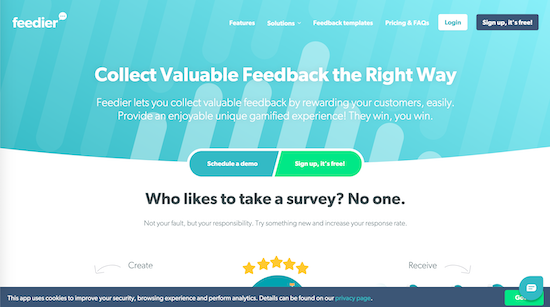 An interactive platform is Feedier's biggest draw. With a smart interface, survey scheduling, and a respondent rewards system, it's probably the most customer-centric tool on the list.
Unlimited feedback is allowed on one survey on their free plan. Upgrading provides you with customizable follow-up emails, thank you emails, and SMS surveys. Paid plans start at $59/mo.
16. Survs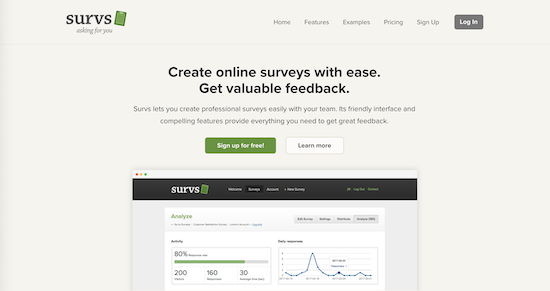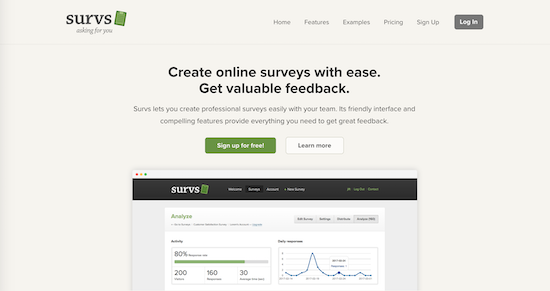 Survs is a collaborative platform, designed to let groups design and distribute surveys together. Users can add passwords to secure surveys, brand templates, and utilize skip logic.
The free version includes 10 questions and 20 responses, with a pretty large customization deck. For password security, data exporting, and advanced report filtering, plans start at $19/mo.
17. Survey Anyplace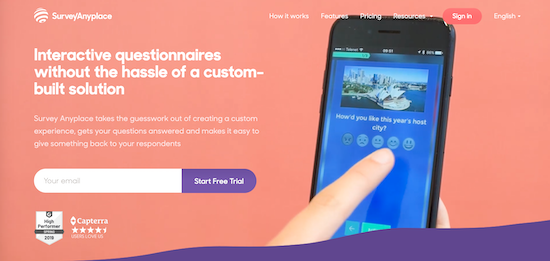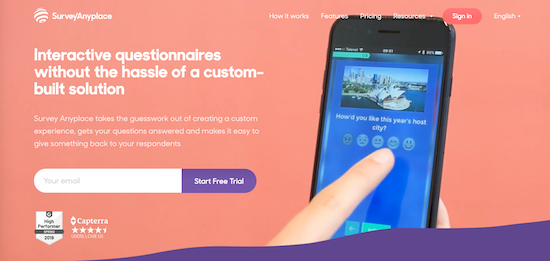 Survey Anyplace prioritizes mobile accessibility and engagement in its survey tools. Audiences are enticed to respond in a unique way with your brand by leveraging mobile features and being rewarded for participation.
Users are allowed 20 responses a month, while the most basic paid plan starts out at 400 responses. At $25/mo, you earn unlimited questionnaires, offline functionality, custom branding, and more.
18. LimeSurvey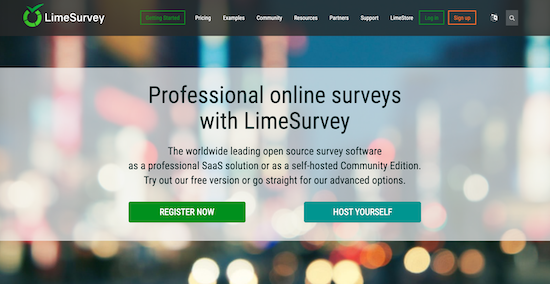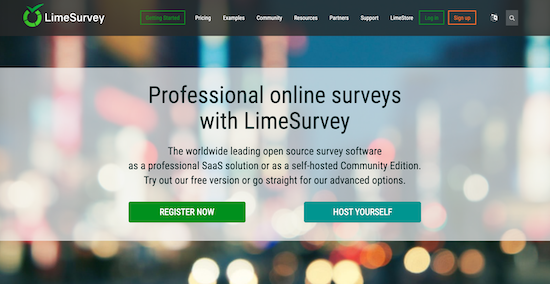 Best suited for non-profit organizations, universities, and similar institutions, LimeSurvey is an open source download. This means a community of developers and users are available to provide support and guidance on how to best use the software.
Its free service includes 25 monthly responses, unlimited quizzes and administrators, and up to 10 MB of data storage. Paying $24/mo jumps you up to 1,000 responses each month, 250 MB of storage, and no ads.
19. GetFeedback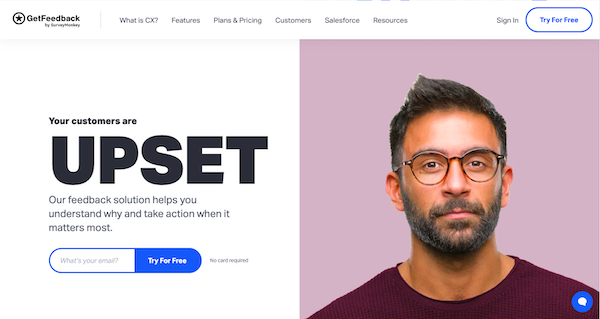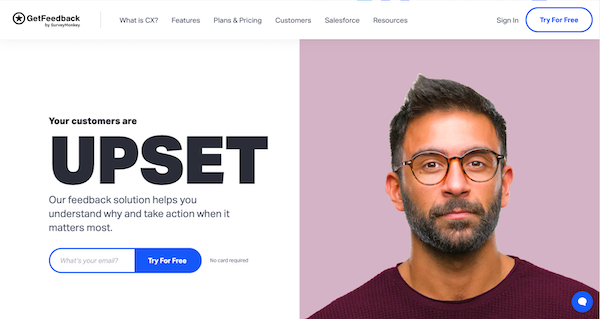 GetFeedback is a customer experience tool by Survey Monkey that allows you to design mobile friendly surveys to capture customer feedback for you to analyze. This tool allows you to personalize the survey experience so you can get more survey responses.
These surveys can be distributed on chat, email, and SMS. The feedback collected can then be analyzed with the intuitive insights that GetFeedback provides you.
In addition to the analysis feature, GetFeedback also has a feature that allows you to take action on negative feedback to change the customer's experience into a positive one.
Try GetFeedback free for 14 days and contact them for more details on their custom pricing plans.
20. AskNicely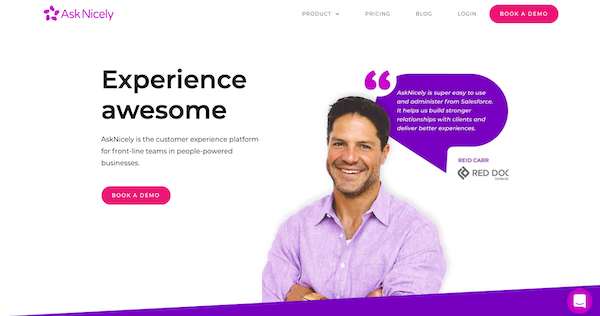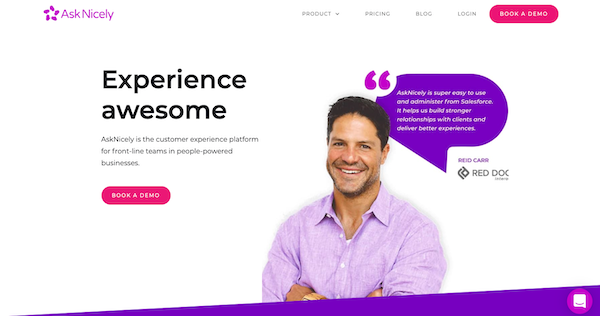 AskNicely is a feedback tool that focuses on helping you collect real-life comments and real-time ratings. This tool aims to start a conversation rather than an interrogation by allowing you to ask for survey responses at the right time using their rich insights.
You can also personalize your surveys by using your logo, brand colors, trusted domain, and your customer's name.
Pricing is not available on AskNicely's website, but you can book a demo to get pricing information.
21. Survey Designer by Confirmit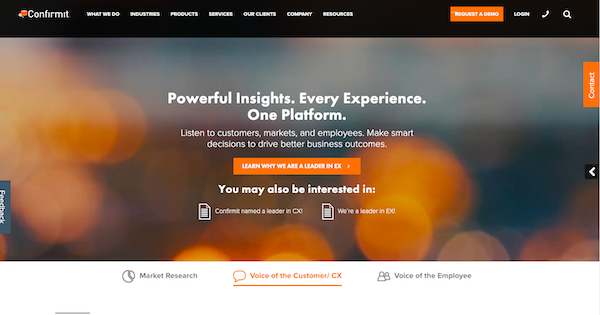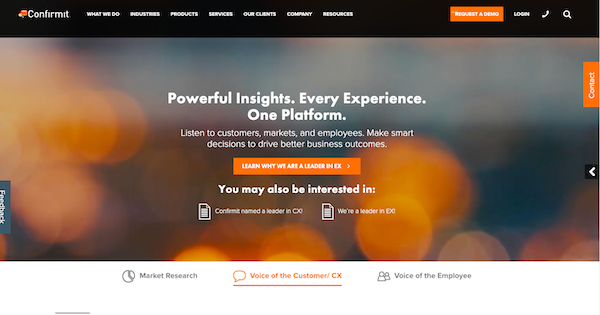 Confirmit offers survey design software that allows you to design surveys to engage your audience and gain useful insights.
Their survey design software has a host of features and capabilities that make it easy to choose a variety of surveys with multimedia clips, innovative question types, and many feedback methods for you to distribute throughout many channels, including phone, web, mobile, print, and email.
Book a demo to learn more about their pricing.
22. JotForm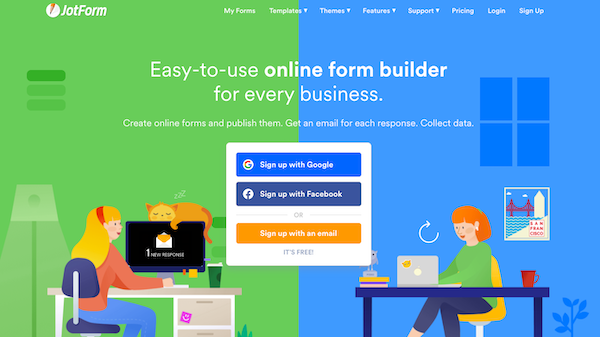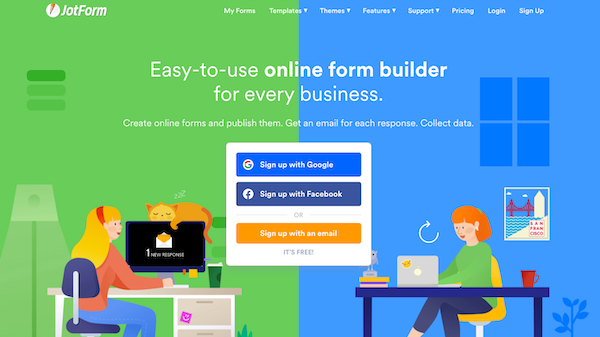 JotForm is an online form building tool that allows businesses to generate surveys to gain feedback quickly. Their drag and drop survey maker is free and allows you to add your own questions, set up branching logic, and share custom surveys on a variety of devices to start collecting responses right away.
You can upgrade to paid tiers to gain access to more monthly submissions, additional space, more payment submissions, and a higher limit on the number of forms you can create. Paid options start at $24/mo.
Start Surveying Today
Surveys can help you to better understand your customers and build your business. These free survey tools offer a lot of functionality and if you love a particular platform, paid versions are affordable.
Creating online surveys is a great method for engaging with your customer base and can help you gather the information you need to improve the user experience on your website.