Video isn't marketing's next big thing; it's the big thing already, and that's not going to change for a while. As more and more businesses begin incorporating video in their marketing strategies, those in "boring" industries often feel stuck.
How can a traditionally "boring" business use video marketing to draw in audiences and eventual customers? As it turns out, even the most dull subject matters can become highly engaging with video.
Thanks for reporting a problem. We'll attach technical data about this session to help us figure out the issue. Which of these best describes the problem?
Any other details or context?
message
Using video to attract and close leads isn't limited to businesses in exciting or "sexy" industries. In fact, video often presents businesses in "boring" industries one of their best opportunities to break that view. The reason? Video is the strongest form of content for building brands and telling stories, as it has the power to engage audiences on an emotional level.
Video for "Boring" Business: Storytelling 101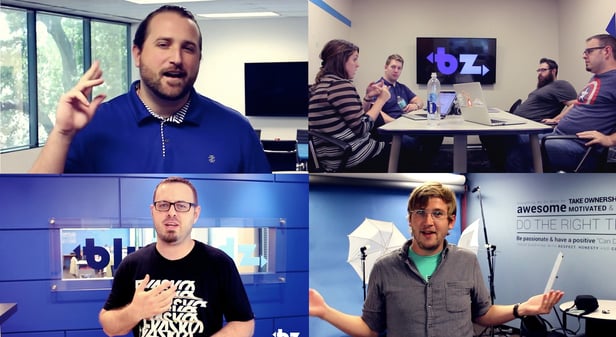 One tactic that can help "boring" businesses find success with video marketing is to move away from featuring screencasts and product/software demo videos as high-level forms of content, and instead tell a story with the videos featured throughout their main website pages. For instance, a video featured on your homepage would be better suited for telling a story about who you are than a product demo or software screen recording.
Another tactic "boring" businesses can try is repurposing existing screen recordings and presentations and salvaging best portions from those recordings to create shorter live-action scripts. If you have a lengthy software demo or screen recording video that's particularly popular, create a live-action video of one of your business's best speakers covering the most important lines and topics from the old recording.
As we discussed in another blog post, more people are likely to click on and watch a video if they feature on-screen talent. It's little changes like these that can put your business above others in terms of both creative value and audience engagement.
Any business in any industry can use video to tell a story. Don't worry, I'm not talking about classical narrative storytelling (for the most part); I'm talking about using traditional story structures and frameworks to create compelling content that both informs and engages.
Think of it this way: the video on your About page shouldn't be an "About Us" video, it should be an "Our Story" video. Instead of diving into "We're Example & Placeholder Associates. We create Product using Materials and...," consider using this storytelling framework to evoke an emotional response with your audience: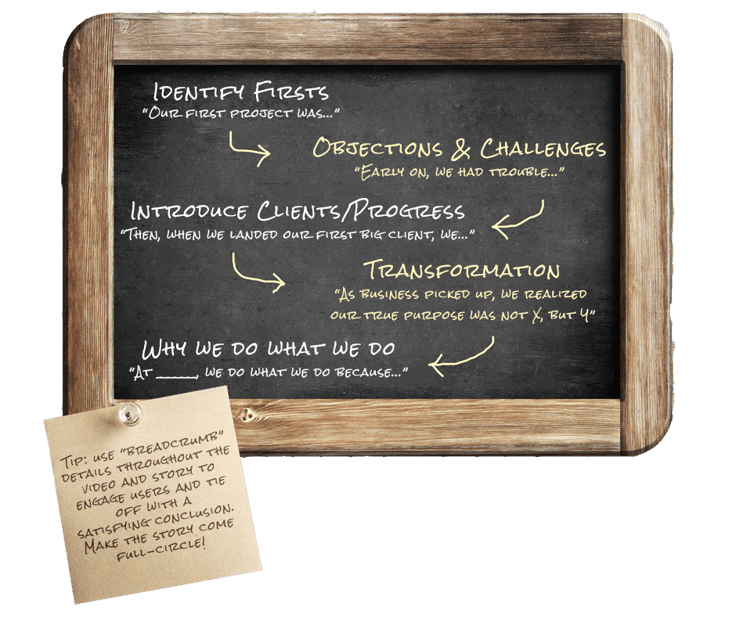 One of the biggest strengths of video is the power to make audiences relate to what is being shown. By using storytelling conventions to emotionally invest audiences, businesses in even the most "boring" industries can establish a connection with users and push engagement.
Don't be Afraid to Let Your Team Get Creative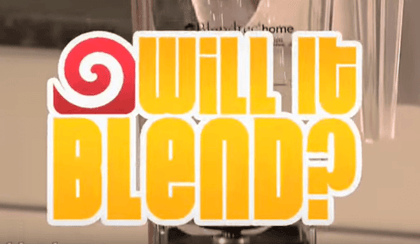 What must the Marketing Director at Blendtec have said when their creatives pitched the now widely-recognized "Will It Blend" video series?
If you're unfamiliar with the absolutely viral video series (Will It Blend's iPad and iPhone episodes have over 18 million and 15 million unique views, respectively), you might be surprised by the concept at first. In the series, Blendtec founder Tom Dickson takes gadgets, everyday items and, really, anything, and uses a company blender to see if those objects will... blend. That's the whole concept. The videos typically last 1-2 minutes, and a large portion of what's shown is close-ups of items being blended.
"The videos were placed on the Internet in early November [2006]. Within just a few short days, we had millions of views. The campaign took off almost instantly. We have definitely felt an impact in sales. Will It Blend has had an amazing impact to our commercial and our retail products.
"The campaign is all about brand awareness. Helping us to build top-of-mind awareness and establish Blendtec as the premier blender manufacturer."Tom Dickson
If you're a business owner in a "boring" or dry industry, one of the biggest things you'll have to accept in incorporating video is that, to achieve the engagement and results you're looking for, you're probably going to have to give your team greater control over the creative process.
Let your business's most creative minds collaborate and pursue out-of-the-box video ideas that can make even the most dense industry topics approachable.
Video as a medium isn't meant to convey swaths of technical information or the bottom-level data of an ebook or datasheet. Video is powerful because it allows businesses to establish culture, increase audience trust and build a brand.
Some of the most effective video marketing campaigns ever released probably had the entire company C-level shaking their heads. Video works not because it lets businesses turn text into a video file, but rather because it lets businesses connect with audiences on personal, emotional and human levels.
Even if that just means blending iPhones.