In a previous post, we introduced Smart Goals and talked a little about why they're good for business. Of course, using Smart Goals means switching from whatever goal-setting and planning methodology you're using now – and that can be a heavy lift.
We all know innovation is important, but what makes Smart Goals different? Why should you give it a try if what you're doing now is working perfectly well? There are clear reasons ... and if you use Smart Goals consistently, you can expect to see them in action fast.
Setting goals the Smart way is simply better, no matter what your specific goals are.
We've seen organizations of all sizes and industries start doing things the Smart way. Those that bring courage and commitment to the process consistently report these changes:
1. Higher Marketing ROI
Using Smart Goals means achieving a higher rate of success in everything you invest time into. For marketing, that means quickly and effectively finding ways to multiply the revenue you get from your spend. The cumulative effect of Smart Goals is to get more done in less time.
Many marketing organizations are only semi-successful. They start with a vague idea of what they "should" be doing and then try to implement it. Goals remain hazy, too: More traffic, more sales. Doing things the Smart way, you quickly zero in on where you effort produces results.
2. Fewer Pitfalls and Setbacks
When you don't know where you're going, it can take a long time to get there. Some companies end up wasting money on Web traffic that doesn't convert or content that doesn't secure engagement because they haven't set Smart targets and don't have clear steps to reach them.
No matter how you approach your goals, there's always going to be a learning curve. When you do things the Smart way, however, you have an advantage. You'll never spend more than a quarter on a strategy that isn't producing at least some results, making it easier to justify budget.
3. Improving and Adjusting Daily
Digital marketers who want to capitalize on Smart Goals need to make sure they're doing it the right way. In this field, that means using analytics. With analytics, you can get real-time data on how each element of your campaign is working.
Combined with Smart Goals, you can iterate fast. You can recognize opportunities and take action. And, as above, you can ditch approaches that aren't working. Not only can you reach your goals, but you can continuously accelerate the pace as you stretch further.
4. Easier Reporting Up the Chain
The modern marketer has more and more to deal with – new technologies, new channels, and ever-evolving consumer demands. As the marketer's domain gets bigger, senior executives know less about what actually gets done. You need clear reporting to show your contribution.
Smart Goals give the marketer opportunities to talk to senior executives about topics they fully understand: Targets, timelines, and the bottom line. Combined with inbound methodology and a deft interpretation of analytics data, reporting can get easier while marketing gets more complex.
5. Real "Lessons Learned"
The first time you stuck your hand on a hot stove, you learned for good why you don't do that. Sadly, organizations often forget valuable (and costly) lessons. New technologies and turnover can make it hard to discern when an enterprise has already tried – and failed – a given approach.
Each time you set a Smart Goal, you're building it with the framework you'll need to know if it was successful or not. From beginning to end, you understand whether you're moving forward, what changes you made along the way, and how it's all played out.
That makes it easier to teach in the future – which, in turn, means learning lessons once and well.
The More Ambitious Your Company, the More You Need to Be Smart
When companies are small, they often have the leeway to throw things at the wall and see what sticks. As things get more complex, however, your processes need to scale up with the size of your business. The Smart Goals system gives you the opportunity to clarify decision-making and supercharge the action steps that will take you from A to B.
This is especially vital in digital marketing.
Today's online marketers have a dizzying array of data at their fingertips. They can instantly see how users are reaching a website and what they're doing once they arrive. From this data, it's possible to deduce the best next step to achieve any goal. But to consistently do it, you need a framework that will support you ... and that framework is Smart.
It gives you the power to think like a Fortune 500 and move faster.
Try it this quarter and tell us about your results!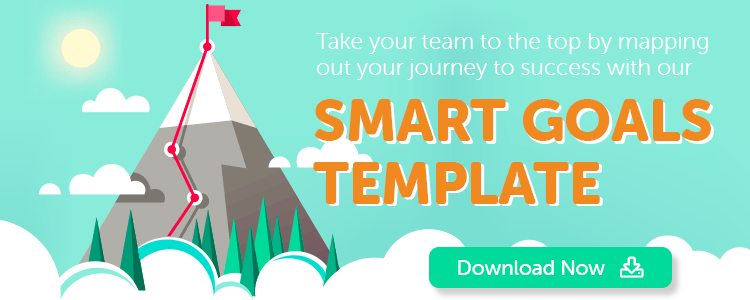 Published on May 12, 2017