Customer Experience Services
Increase Customer Retention and Drive Referrals.
Once prospects become customers, more opportunities open up. Inbound service focuses on delivering education and support on a consistent basis to continually delight customers and turn them into promoters of your business.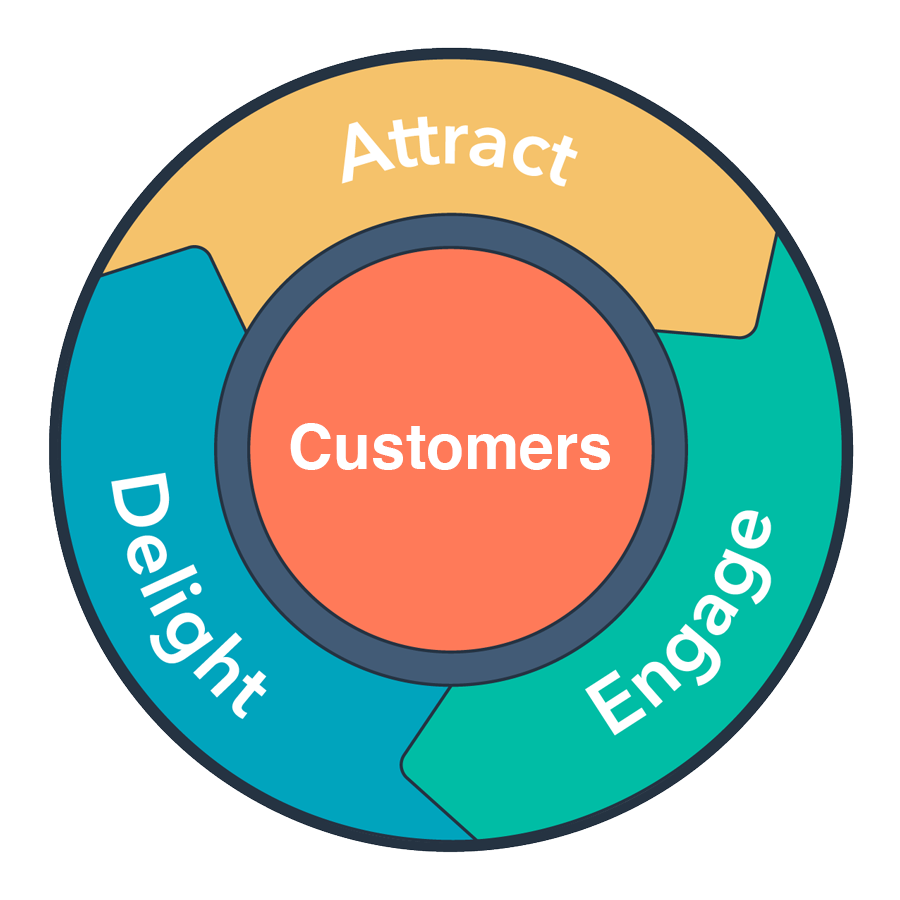 Be Present for Customers
Your customers are going to have questions about the products and services you have to offer. But where will they find help? How can they determine solutions that best fit their unique needs?

With inbound service, we focus on developing a strong knowledge strategy to ensure you're delivering the right answers in ways that best fit your customers' preferences. This ensures a meaningful, supportive experience starting on day one.
Streamline Conversations
When customers can't find what they need in your knowledge base, they will need to talk to you. Even with the best knowledge strategies, your service team is bound to interact directly with your customers.

Inbound service tools like chatbots and live chat can provide contextual answers in an instant. But they won't always fully solve every issue. If it comes to ticketing, you can streamline the service process through ticketing tools. Our team helps you set up and refine these processes to ensure consistent engagement.
Collect Feedback
You need to understand if you're delivering an awesome customer experience. And if you're not, where are you getting it wrong? This is why a feedback system is crucial to your service team.

The best way to step into your customers' shoes is to simply ask. Our team helps you make the most of tools for collecting feedback scores, so you can continually learn from your customers and improve the overall experience. This system of checking in with your customers on an ongoing basis helps you refine and enrich your knowledge resource content as well.
Leverage Your Current Customers to Drive Revenue
Let's delight your current customers together! Want to chat?
Fill out the form below and schedule a meeting!
Automation Setup
We help your team develop automation strategies and service processes, including ticket routing, internal notifications, customer marketing email campaigns, and task creation.
Conversations Dashboard
Your dashboard is your best asset for your service team. Our experts help customize your conversations dashboard to fit your unique needs and simplify aspects like reporting, routing, and chat inboxes.
Knowledge and Support Content
Customers need instructional content so they can try to solve problems on their own. We help you develop a knowledge strategy and create educational content for your knowledge base. We also help create templates for customer support messaging.
Who's a Good Fit?
If customer service, customer education, and customer satisfaction are your top priorities, inbound service is your best solution. Our team of inbound service professionals can help you address any ongoing service concerns. Check out the common issues you may be experiencing below.

Customer Support Timeliness
Your team is taking forever to resolve customer issues. You might be seeing a high complaint rate, or your customers often say it takes too long to get a first response.
Net Promoter Score
You have a low NPS, indicating a high number of detractors. Your team is struggling with encouraging customers to recommend you. Or perhaps referrals are rare, and they don't generate much business.
Customer Service Content
Your service team lacks content for customer support. There is limited information in your knowledgebase, so your customers can't find many solutions on their own. You don't have any content for customer onboarding.
Management of Tickets
Your service team feels overwhelmed by the existing backlog of tickets. Your customer's questions are going unanswered for a significant amount of time, and some are expressing anger.
Inbound Service FAQs
Get a Free Service Consultation
Our service pros will take a look at your current customer service process and make suggestions on what can be improved.