The Best Customer Service Software
1.

HubSpot Service Hub

2.

Apple Business Chat

3.

Salesforce

4.

Zendesk

5.

Zoho Desk

6.

LiveChat

7.

ConnectWise Control

8.

Help Scout

9.

TeamSupport
10.

Happy Fox

11.

HelpSpot

12.

Freshdesk

13.

Kustomer

14.

Live Agent

15.

Atlassian

16.

Intercom

17.

Hootsuite

18.

Sprout Social
Good customer service requires a lot more than greeting people with a smile — especially in a world when so many transactions are conducted online.
And while having customer service representatives helping you manage questions and offer support is a good start, as your business grows, you need a more sophisticated way of keeping track of everything.
This is why customer service software is so important. But how much can it really help? How can you use it efficiently? And what are some of the best softwares in the market?
Why Use Customer Service Software?
For a business to be sustainable long-term, it's essential that your customers are happy. This ensures that they return when they need your goods or services, and that they recommend you to friends, colleagues, and family. The more the merrier, right?
Customer service software makes life a lot more manageable. When you choose one that's right for your business, it can be used to organize all communications, provide consistent support, and provide you with insights so that you can determine what's working and what needs to be improved.
It's also extremely helpful to keep everything in one centralized location, so that everyone on your team can refer to it. This eliminates the frustration customers face when they have to repeat their story to different agents, or receive contradictory information from customer service reps.
So it makes things better for you and for your customers. So really, the question shouldn't be whether you should use customer service software, but which type would serve you best.
Types of Customer Service Software
Cookie cutter approaches to anything seldom work. That's why there are different types of customer service software. You can choose one (or several of them) depending on your industry and what your target market would benefit from the most.
Customer Relationship Management (CRM)
Personalization always wins the game. And CRM platforms facilitate such practice.
Whenever a customer calls, you can view their entire history with your company — all communications, previous concerns, marketing materials they've received, and anything else that's relevant to that specific caller. No need to make them rehash everything.
Help Desk and Ticketing Software
Help desk and ticketing software provide a practical and efficient way to keep track of all customer queries. In addition to helping your customer service team stay organized, it also prioritizes tickets where time is of the essence.
Some softwares also come with additional features, such as assigning tickets to the right people and automating repetitive tasks.
Instant Messaging and Live Chat
Live chat is an effective tool for individuals who either have a quick question and/or who prefer to solve issues in real time. You can have frequently asked questions answered by a bot, coupled with live agents who can assist with more complex queries.
Another benefit of chat boxes is that FAQs can be attended to/resolved around the clock.
Email and Shared Inbox Software
Email provides customers with a convenient way of reaching out to you — on their terms, when they have time to do it. It also gives them the peace of mind that comes with being able to reference earlier communications simply by scrolling up.
Having email support that replies promptly and fully answers the customer's questions within the first message (or as close to it as possible) takes the cake in customer happiness.
Text Messages
SMS customer support provides a more informal, faster way of communicating with customers. It's also an ideal way of reaching out to a younger target market.
In addition, offering this option lightens the load for customer service reps who work with a high volume of phone calls.
Phone Support
Older generations still prefer to pick up the phone and talk with a customer service rep. Bonus points if a real person answers the phone instead of exasperating them with endless menu options that tell the caller 100 percent of the time to listen to all of them because they've been "recently updated."
Knowledge Base
Some customers prefer to look up information for themselves — especially introverts who'd rather watch paint dry than engage in human interaction.
Having a knowledge base allows them to access information immediately. So taking time to create one that's accurate, easy to use, and regularly updated can go a long way in ensuring customer satisfaction.
Customer Service Software Best Practices
Technology alone doesn't simply make your customer experience perfect. You need to actually implement your software the right way to ensure you get the most out of your investment.
Empower Your Employees.
Your customer service reps are skilled professionals. You hired them because you trust that they can get the job done. Therefore, empower them to make the decisions they deem the most appropriate to assist customers.
This will allow them to resolve customer issues much faster, which makes customers happier. It also makes them feel trusted, valued, and will likely stay longer with your company. Set guidelines by providing adequate training and keep an open door policy for continued mentoring.
Manage Customer Expectations.
People are more likely to remain calm and pleasant if they know what to expect. If something is going to take a few days to resolve, tell them. Don't say it'll be done ASAP, or within the next few hours, or that "one of our customer service reps will get back to you."
Tell them when. Be realistic about the complexity of the issue and the workload of your team. This way you don't end up overpromising on something you can't deliver.
Personalize the Experience.
One of the worst customer experiences is for people to feel like the person on the other side of the communication is simply repeating canned responses from a script. When you call people by their name and make reference to facts they've provided for you, you are letting them know that you value them and that you're listening.
And if this is the first time a specific rep is communicating with the customer, a CRM platform can assist them in hitting the ground running.
Gather Information.
Context is everything. Someone may have all the time in the world to receive an ordered item, while another customer may need it ASAP for a gift, or to solve a problem they're experiencing.
Ask questions that will help you paint a full picture of the customer's situation. This will help you go the extra mile in providing support. And by documenting everything, the next customer service rep who speaks with this customer in the future will be able to provide a more personalized service.
Choose Software That Fits Your Unique Needs.
You want customer service software that makes things as efficient and easy as possible for your customer service reps.
This may include automatic ticket routing that directs communications to a rep who has previously helped that customer, dedicated help desk groups for different departments, offering multiple customer service channels, etc. Every business is different, and you have to do your due diligence to determine what would work best for you.
Tips For Choosing the Best Customer Service Software for Your Business
There are several things you want to keep in mind when choosing a customer service software.
Is It User Friendly?
Your team already has a lot to do. Make sure they keep enjoying their job by providing them with tools that are easy to use.
You want a simple interface, software that's easy to navigate, and intuitive features. This will cut down on training time and allow customer service reps to resolve issues in a timely manner.
Does It Integrate With Your Existing CRM?
Customer service software should be able to work together with CRM platforms. This will allow your reps to get the full contexts of customer communications and provide a personalized experience.
It also removes duplicative tasks and reduces the risk of confusion. Integration also allows you to gather customer service insights when looking at your company's analytics.
Is It Scalable?
More business is a good thing. And it's even better when you don't have to worry about whether scaling means having to upgrade your existing softwares.
If you're planning on growing your business, look for platforms that allow a large number of team members to use it at the same time. Other features to look for is whether different departments can communicate with each other, and whether there are limits on how many tasks can be automated.
Can It Be Accessed Remotely?
COVID-19 turned the world upside down. But it also made a lot of businesses realize that employees can work from wherever they can access a reliable WiFi connection.
This has improved many people's quality of life and has given businesses the ability to cast a wider net when seeking to hire new talent. Therefore, you want to make sure that your customer service software allows you to check the status of customer requests wherever the reps are located.
Does It Support Collaboration?
It's common for different departments to work together. Sales needs to know what the marketing team is doing and vice versa. Team members should be able to easily reference information without having to wait for someone else to log off.
Being able to have your entire team work together reduces duplicative work. It also eliminates the cringe worthy response of: "I don't know the status of your request because that's being handled by such and such department."
Best Customer Service Software of 2021
1. HubSpot CRM and Service Hub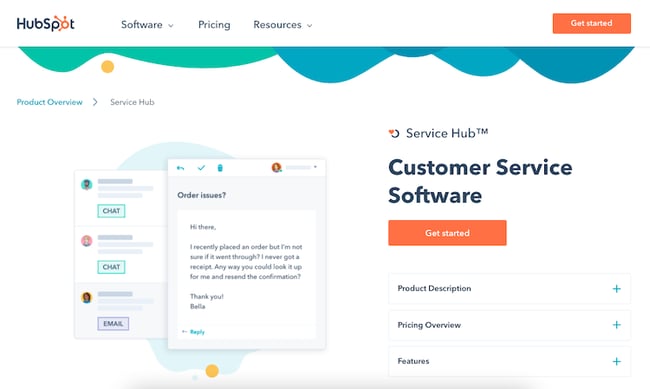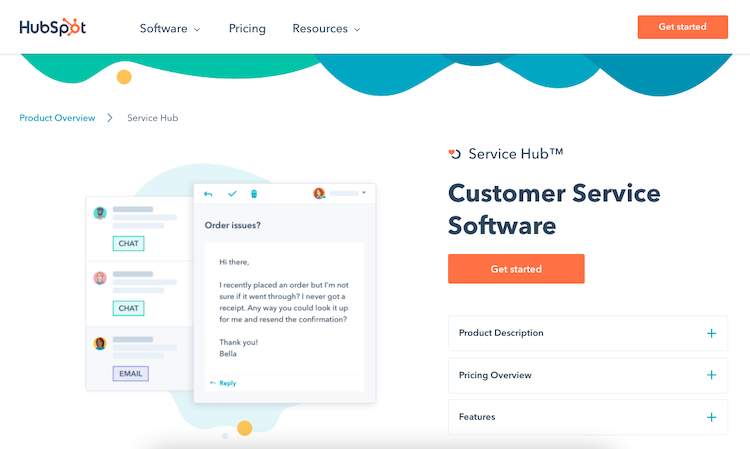 HubSpot provides a CRM platform and customer service software known as the Service Hub with multiple tools, including help desk and ticketing, a knowledge base, live chat, automated responses, and reporting dashboards to assess your teams' performance.
In addition, HubSpot offers a wide array of features designed to deepen customer relationships — such as conversation intelligence that automatically captures details of every call, 1:1 personalized video messaging, and custom surveys that you can use to improve the customer experience.
They offer several plans, ranging from a basic, free one, starter, professional, and enterprise. And HubSpot's own customer service reps guide you through the onboarding process, offering 24/7 support.
2. Apple Business Chat
Hey Siri, find me a customer service rep. If your buyer persona loves to resolve everything through their iPhone, iPad, MacBooks, or Apple Watch, Business Chat allows them to get their customer service issues resolved through iMessages.
It's like they're chatting with a friend who has all the answers and sends them useful links. And if they want to make a purchase after the conversation, they can do so right on the conversation thread with Apple Pay.
3. Salesforce
Salesforce is another CRM platform that offers multiple channels for resolving customer service issues. It uses artificial intelligence to automatically route queries to the best customer agent for each specific case and to provide assistance to reps as they're helping clients.
It also allows the creation of self-service portals to provide customers with guided processes for simple issues and answers to frequently asked questions. This frees up your team's time to focus on more complex issues.
4. Zendesk
Zendesk provides multiple customer service channels. You'll be able to provide answers to questions sent by email, chat, phone, and text messages, as well as queries left as comments on Facebook, YouTube, Instagram, and community forums.
It also delivers a seamless experience by providing customer service representatives with the entire customer file to put everything into context.
5. Zoho Desk
Zoho Desk lets you manage all customer queries across multiple channels (from website forms, email, chat, social media, and phone) in one centralized location.
It also allows you to embed AI capabilities on your website and mobile app to assist customers in finding what they need, as well as provide them with the ability to check on the status of their customer support tickets.
6. LiveChat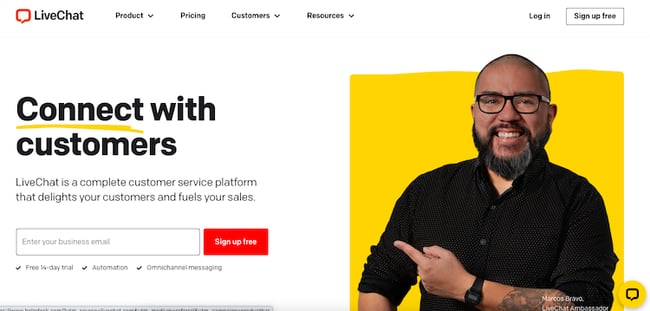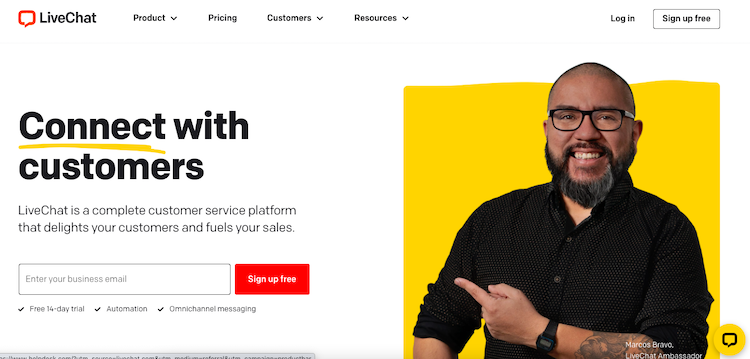 LiveChat lets you provide customer service where your customers prefer to chat — Facebook Messenger, WhatsApp, Apple Business Chat, text messages, email, or any mobile application.
It also anticipates questions for faster responses and uses artificial intelligence to route customers to the right agents. In addition, it integrates with over 200 tools, such as HubSpot, MailChimp, WordPress, and Shopify.
7. ConnectWise Control
ConnectWise Control allows customer service representatives to connect to the software instantly, from wherever remote location they are working from. It also provides robust security, by requiring two-factor authentication and providing AES-256 encryption.
It's compatible with MacOS, WIndows, ChromeOS, Linux/Unix, and most major browsers; and their premium plan allows for tech support to provide assistance through live streaming video.
8. Help Scout
HelpScout is specifically designed for growing businesses. It allows for adding customer service channels, automated tasks, and agent accounts without needing to hire consultants or admin assistance and has a user-friendly interface to minimize setup and training times.
In addition, you get real time reporting, and it integrates with a long list of tools, such as HubSpot, Jira, Salesforce, MailChimp, and Shopify, to name a few.
9. TeamSupport
TeamSupport was specifically designed for B2B customer service. It allows for team collaboration (hence the platform's name) to provide support to technology-based companies, and software, computer hardware, information technology, and telecommunications industries.
It consolidates related requests, monitors customer satisfaction, and gives you a heads up if you're dealing with a frustrated customer.
10. Happy Fox
Happy Fox lets you customize your support ticket systems and convert all inbound requests (whether from phone, email, social media, or live chat) into tickets. It also integrates with Slack and Microsoft Teams to facilitate internal communications within team members and offer plans for an unlimited number of users.
11. HelpSpot
HelpSpot filters, tags, and categorizes tickets for easier management. They are then stored in customized fields and you receive notifications of SLA-related issues, as well as trends in customer service queries.
In addition, you can choose whether you want to store your data within your brown servers or in the HelpSpot cloud; and if you're thinking of scaling, they offer unlimited everything — users, mailboxes, self-service portals, and all the features you need for your customer service department.
12. Freshdesk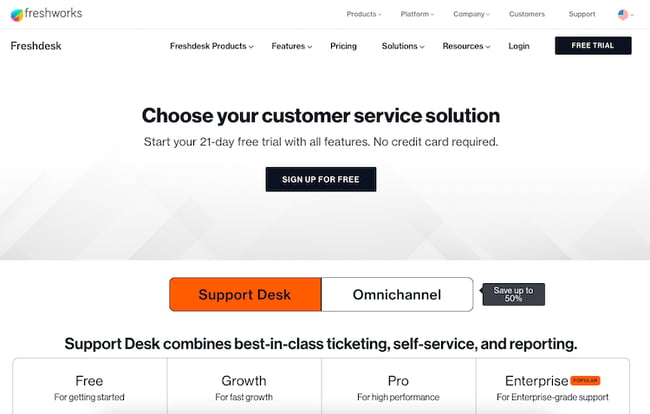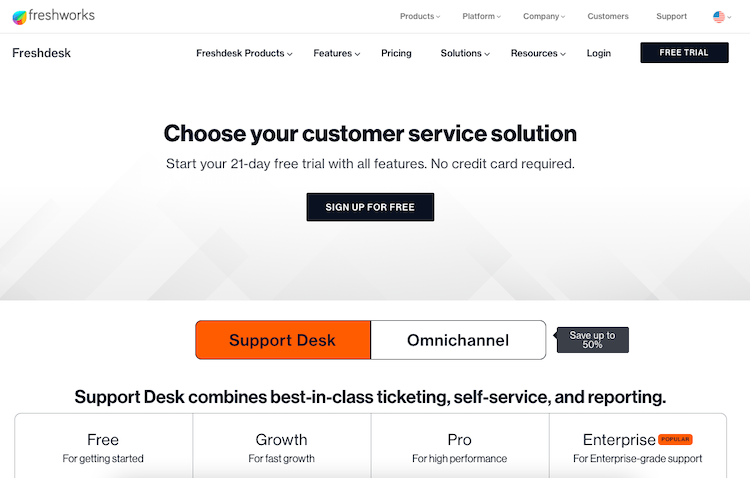 Freshdesk routes customer service queries based on the skill sets required to answer them. It also provides support for marketplace applications, SLA management, canned response suggestions, and it ensures HIPAA compliance.
Plans start free for agencies that are first starting out, and can be upgraded for maximum support for enterprises.
13. Kustomer
Kustomer lets you manage customer service queries through phone, email, live chat, social media, or messaging apps. It uses artificial intelligence to interpret customers' intent, to provide faster answers for high-frequency needs, and to route queries to agents who have the skills and capacity to answer questions the moment they come in.
14. Live Agent
Live Agent automatically sorts communications into tickets and distributes them throughout agents to ensure manageable workloads. It also provides notifications when customer requests are related to service level agreements (SLAs) and merges multiple tickets about the same issue into one ticket.
You can integrate it with call centers, live chats, and social media, and it offers translation services in 43 languages.
15. Atlassian
Atlassian's service management platform allows for easy collaboration across teams by providing the ability to link issues across tools. It also makes it easy to revise processes through complete audit trails.
The software offers different plans, depending on how many customer service reps need access to it at one time — from a basic, free plan for three agents, to a premium one for up to 15 agents.
16. Intercom
Intercom resolves repetitive queries instantly, prioritizes urgent issues, routes complex issues to a human representative, and informs customers of scheduled outages. It also integrates with Shopify and Stripe for a seamless ecommerce experience, as well as with over 250 tools and applications.
17. Hootsuite
Hootsuite streamlines customer service through social media channels. You can connect all of your networks within the Hootsuite platform for easier management — allowing you to respond to queries or assign them to the appropriate team member.
In addition to managing incoming messages, you can monitor mentions so that you can address them as soon as possible. It also has a machine learning feature that automatically recommends saved replies to frequently asked questions.
18. Sprout Social
SproutSocial is another way to provide customer support through social media. It collects all messages across networks into a centralized, smart inbox that alerts you to time-sensitive situations.
It also provides automated chatbots to respond to quick queries to frequently asked questions. In addition, it offers easy integration with Zendesk and HubSpot CRMs.

Find the Best Customer Service Software Now
The size of your organization and budget are major considerations for selecting the right kind of customer service tools for your business. However, you also want to think about the future — you need customer service software that can grow with you.
Once you find the right tools, you're ready to delight your current customers and turn happy customers into revenue growth by driving word of mouth marketing and increasing referrals.