Your main focus in marketing is getting found by people.
But not just any people. You want to attract those who are in the process of potentially buying your products or services.
These visitors should align with your buyer personas and fit in your target audience. They're somewhere in the buyer's journey, so they're doing a lot of research on their pain points and goals. Like most people, your ideal customers are probably conducting their research on Google.
The shift toward digital marketing is not just a fad. It's a necessity in the buyer-centric world we live in. Your prospects and customers are able to find answers to their questions using search engines like Google.
And when they're searching for information related to your business, who is going to show up with helpful content? You or your competitors?
What Makes Getting Found Online Via Google Different?
Things are different when people look things up on Google and other online search engines.
Here, the person doing the search has some sort of need. They're demonstrating an active investment of interest and energy that could lead them to your business.
via GIPHY
Through inbound marketing and SEO, you're not intruding on someone's personal time to push a product. You're guiding someone looking for a solution to a problem or an answer to a question to your website.
For most businesses, the majority of their potential customers can be found online, but getting found on Google isn't necessarily easy.
No matter what your business' specialization is, you'll have thousands of competitors trying to attract customers to their own sites.
Plus, the algorithms used by Google and other search engines are constantly changing — so what works one month might not be as effective the next.
Your SEO strategy determines how you will be found online, and the best way to fully understand how to get found on Google is to start by looking at how Google actually works and the criteria and factors involved with their ranking algorithm.
The 3-Step Framework of How Google Works (In SEO Terms)
Google follows a simple three step process to deliver results to users.
1. Crawling
The term "crawling" refers to the process of discovering new webpages and adding them to their existing list of known pages. It all starts with search bots.
Google's search bots, referred to as spiders, crawl the web visiting each webpage they find. There are many ways spiders find webpages. For example, they might crawl a link from a known page to an unknown page, or a website owner can submit sitemaps to be crawled.
2. Indexing
As the bots find webpages that are crawlable and optimized, Google strives to better understand what the webpage is about.
Through the indexing process, Google analyzes the webpage's content while cataloging media, including images and video. All of this information is stored in the Google Index.
3. Serving and Ranking
When a person enters a search query, Google looks through their index to find the most relevant answer. The end goal is to serve the highest quality content that is easy to access and digest for the user.
Google's ranking algorithm takes many aspects into account during this step. These aspects influence the final results in their search engine results page (SERPs).
What Goes Into Google's Ranking Algorithm? 5 Key Factors
via GIPHY
The search engine giant processes over 3.5 billion search queries every day, which boils down to over 40,000 searches every second. That's a lot of queries to manage.
Google's ranking algorithm is designed to sort through billions of webpages in their search index to find and present the most relevant results to the searcher.
The company constantly test and update its ranking algorithm by conducting live tests and employing thousands of external search quality raters who are trained and adhere to the search quality guidelines.
The ranking algorithm includes many key factors that determine what results are returned for each query.
Search Intent Behind a Query
Google's language models are designed to understand language being used by searchers. These models decipher what each query's word combinations mean and how that intention can be found in their index.
From a marketer's standpoint, you need to keep search intent at top of mind when you conduct keyword research and build your SEO strategy. You want to create helpful content that aligns with intent so your content shows up first when your target audience conducts research on Google.
Quality of Content
The adage "content is king" is only partially true.
Yes, you should be regularly publishing content that is crawled by Google search bots. However, the quality of your content matters far more than frequency of publication.
Google's search algorithm is designed to identify webpages that come from a credible source that is authoritative and trustworthy.
via GIPHY
Backlinks play a big role in showing Google who is an authority in a specific industry. When a credible domain links to you, that link acts as a vote of confidence, telling search engine bots that your content is relevant and trustworthy.
Webpage Relevance
The content on a webpage needs to relate to the searcher's intent of their query. Keywords are important when it comes to optimizing your content for relevance.
Your content should be written around specific keywords that match search queries you want to rank for. But Google has advanced well beyond simple keyword matching, which lead to several black hat SEO tactics like hidden text and keyword stuffing.
Ultimately, content that provides a valuable response to a search query will be favored. Google uses aggregated, anonymized interaction data to improve relevance signals and help machine learning systems improve their relevance estimation.
Webpage Usability
Another crucial factor for ranking is how usable your webpages are. The user experience doesn't simply impact a person's perspective of your site. It actually can make or break your SEO.
Google's ranking algorithm looks at signals of user behavior to determine how people actually experience particular webpages.
For example, if a page load time is long or if a webpage's content doesn't appear clean and easy to read in certain browsers or on mobile devices, that can hurt the webpage's ranking potential.
Bottom line: mobile optimization, loading speed, and other elements that have a direct impact on how people experience your content need to be on par to outrank your competitors.
Settings and Context
Search settings. History of searches. Location. All of these impact how Google delivers results to users. So if you're looking up certain kinds of restaurants, Google will deliver results that are in your area.
A person's search history also impacts results because your Google account activity shows your interests. These influence how Google tailors recommendations.
How to Make Sure Your Website Is Found on Google: 7 Must-Haves
In order for you to show up in SERPs, you need to audit your website and ensure you have these key elements.
1. Great Page Speed
How often have you left a website that took longer than five seconds to load? Probably a lot. And you're not alone.
There is a lot of research showing how people expect fast load speeds. In fact, it has a direct impact on bounce rate.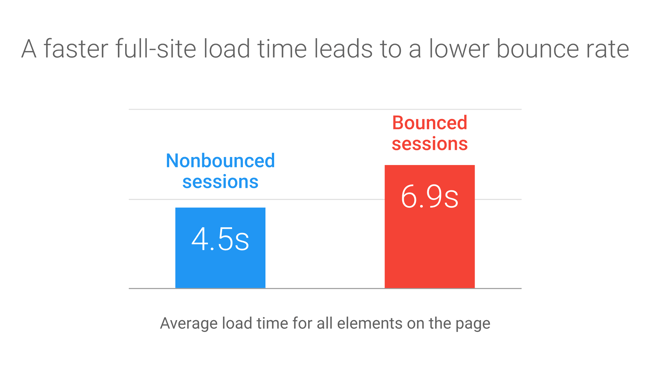 Source: Think With Google
Also, the slower your page loads, the more likely you are to lose some visitors.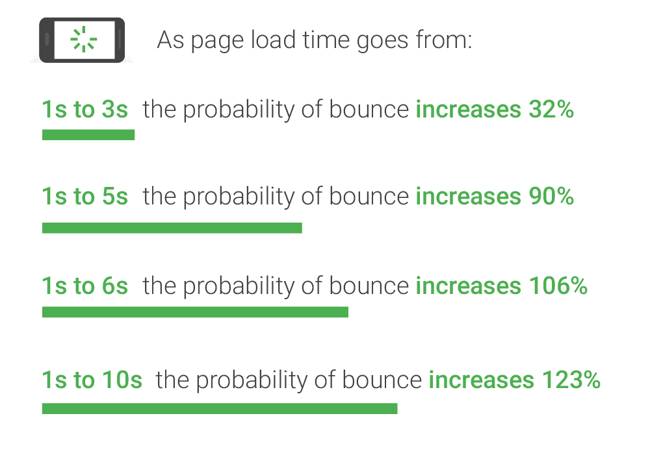 Source: Think With Google
In short, if you're not making load speed a priority, your visitors are going elsewhere. And that elsewhere could be your competitors who have better website performance.
2. Good Security and Accessibility
One of the most obvious must-haves for your site is a URL that Google can actually get to.
The best way to help their bots find your site is to use a website builder that has good code, create a sitemap, and include a robots.txt file to properly direct the bots to pages you want them to crawl.
Additionally, while it's not technically necessary, it is wise to enable SSL security on your site. HTTPS helps keep your site secure and give you a leg up on those who don't offer this level of security.
3. Quality Links
There are many kinds of links you need throughout your site, including the following:
Internal links: Links from one of your pages to another shows the relationship between your content.
Inbound links: Links from referring domains demonstrate relevance and authoritativeness.
Outbound links: Linking to other awesome sites shows your site's relationship to the niche and establishes trust.
Given the nature of the internet, which is built through links, this is an obvious priority.
4. Authority
Your website demonstrates authority based on the quality of your content, among other factors. There are a couple popular metrics associated with site authority, which include Moz's domain authority (DA) and Ahrefs' domain rating (DR).
They act as comparative scales, ranging from 0 to 100. The higher your score, the more likely your pages can rank higher in SERPs. It's important to note, though, that DA and DR do not directly impact Google's ranking algorithm. They're merely measurements on ranking potential.
5. Mobile Optimization
The experience you deliver on mobile devices is not just a nice-to-have. When you see how much mobile technology has become a part of the daily human experience, you see the value of creating an awesome mobile experience.
No more awkward side scrolling, oversized images, and poor mobile site navigation. You can't afford to settle for this. Your mobile visitors will leave and never come back.
via GIPHY
6. On-Page and Technical SEO
On-page SEO refers to the content you actually see on the page. Aspects of on-page SEO you need to prioritize include:
Headlines
Images
Keyword placement
Optimizing your content is just half of it. You also need to look at the backend to follow best practices for technical SEO. You can do quality checks on technical SEO by looking at your code.
Look for things like crawl errors, duplicate content, broken links, lengthy meta descriptions, and the like. Even with awesome content, if you have bad code and all of these issues on your site, you're drastically hurting your ranking potential.
7. Social Signals
There is no direct correlation between social media activity (like links, shares, and like) and site ranking. However, it can have an indirect impact.
Getting more shares can help expand awareness and your reach, which is great from an audience building perspective. Plus, social shares can lead to other more direct impacts, like generating backlinks from high authority sites.
Now that you know the essentials for being found, let's look at how to actually submit your site to be indexed.
How to Submit Your Site to Be Indexed and Found By Google
Your website will likely get found by Google at some point, but you can actually speed up the process of getting found and indexed. Follow these two simple steps.
1. Finalize Your Sitemap.
Your sitemap is an XML file that lists your site's most important content. It lists the URLs your site carries.
The pages you want to be found on Google should be included in your sitemap. Basically, your map shows crawlers how your site is built and organized.
Depending on what CMS you're using, you can create a sitemap in no time. For example, HubSpot automatically generates your sitemap as you publish new pages. With WordPress, you can simply download the Yoast SEO plugin, then turn the XML sitemaps toggle on.
Note that if you have a huge site with more than 50,000 URLs, you might have to create more than one sitemap.
2. Submit Your Sitemap Via Google Search Console.
Once your sitemap is finalized, you need to know the actual location of it. For plugins, your URL probably follows the standard "domain.com/sitemap.xml."
If you had to manually create your sitemap, you should follow a consistent naming format so you can properly identify it and upload it to your site's root folder.
Once you have your sitemap URL, log into Google Search Console and navigate to the sitemaps folder, which is located on the left hand sidebar, under the "index" section.

Then, simply paste your URL into the "add a new sitemap" form field. Now, Google knows where to find and index your site.
4 Ways to Help Get Your Business Found (First) on Google
Now that you know how to get indexed by Google, let's go over how you can get found and be ranked above your competitors.
Hone In on Your Ideal Customers.
Getting found on Google first is awesome, but what good is the traffic if they're not going to enter your marketing and sales cycles? You want traffic that is qualified and shows potential for converting into leads.
To truly hone in on the right people, start by creating buyer personas. Buyer personas shed light on what your ideal customers are struggling with and what their goals are.
When you get a full understanding of your buyer personas, you can create optimized content that ranks for their queries, which leads into our next tip.
Target the Right Keywords.
Your content should be built around primary keywords, answering specific questions related to certain topics your target audience is looking for. Conduct keyword research using tools like Moz and Ahrefs.
Start by brainstorming a list of topics related to your business, then dive deeper on long tail, semantically related keywords that your personas are likely looking for. These lists of primary and secondary keywords should inform your content marketing strategy.
Train Your Content Team on SEO Best Practices.
As we discussed, SEO best practices are a must for ranking well in search. But don't just assume everyone knows the ins and outs optimizing content.
Assemble your content team for some SEO training, and provide them additional resources so they continually educate themselves. In addition, you should keep them in the loop as best practices evolve.
The world of SEO is always changing, so naturally your approach to content should too.
Build Links the Right Way.
There are so many different approaches you can take for link building. But the bottom line is, no matter your approach, you need high quality backlinks.
That doesn't happen naturally. Building links in an ethical way requires consistent outreach and relationship building. So whether you're using the broken link method or doing manual outreach, you should be dedicating enough resources to generating links day in and day out. These little wins will pay off big over time.
Now that you understand how Google indexes your site, you can adopt these tips and best practices to be found. You're ready to join the ranks and generate high value traffic to your site.