There are plenty of marketing automation software solutions available for companies to utilize, so why is HubSpot your best solution for digital marketing?
In simplistic terms, HubSpot does more than just promote your product or brand through electronic mediums; it's your one-stop shop for analyzing yours and your competitor's performance, lead nurturing, campaign execution, email marketing, design etc.
HubSpot enhanced digital marketing platforms by founding and spearheading the inbound marketing movement.
This meant that you wouldn't have to guess how well your marketing efforts were performing in terms of ROI or chasing down leads.
Inbound marketing means that you can organically acquire leads with informative and educational resources while tracking your marketing ROI.
After HubSpot founded the inbound marketing movement, the rest of the market followed suit with similar tactics, such as content marketing.
Rather than having to use a myriad of platforms to handle all your digital marketing strategies, HubSpot hosts your website and handles all of your SEO needs.

It has a built-in CRM database and the ability to take care of and track all of your digital paid media, CTA analytics and more.
HubSpot has everything built into it—it's an all-inclusive platform.
6 HubSpot Inclusions
Since HubSpot encompasses all of your digital marketing needs, it is designed to be user-friendly so marketers can easily do everything inside it without needing a designer to change the width and size of different modules on a page.
It is an efficient platform for internal marketing teams and if you are paying an agency to manage your digital marketing needs, it allows them to utilize their time better and costs less money.
Plus, you don't need to know HTML to use it. The following are the inclusions HubSpot provides you with for all your digital and inbound marketing needs.
Dashboard
Your HubSpot Dashboard tab is an overall view of your marketing strategies ROI. It includes snapshot graphs, including your:
Landing page performance

Visits

Leads

Customers

Contact's lifecycle

Blog performance

Emails

Persona overviews
Contacts

Your HubSpot Contacts tab, in your marketing portal, is a scaled down customer relationship management (CRM) tab. Within this area, you can do the following:
Create or modify static and smart lists for emails and workflows

Set-up lead nurturing campaigns and workflows

Design forms

View lead scoring

Manage and analyze your contact settings
However, HubSpot offers a free and more robust CRM for your sales. To access this CRM, simply click on the far left HubSpot icon, as shown in the image above, on your tool bar and select sales instead of marketing.
Content
Your HubSpot Content tab is just what it sounds like. Within this tab you can create and draft all sorts of content, including:
Webpages

Landing pages

Blogs

Emails
This area is also a space where you can design and manage other areas of content, including:
Calls-to-Actions

Files

Designs

Templates
Social Media

Your HubSpot Social Media tab is where you can manage nearly all your social media channels, including:
Twitter

Facebook

Linkedin

Google+

Xing

YouTube

Pinterest
Within the social media tab, you have the ability to monitor and publish your social posts, respond to tweets and messages, link social accounts and modify your share settings.
Reports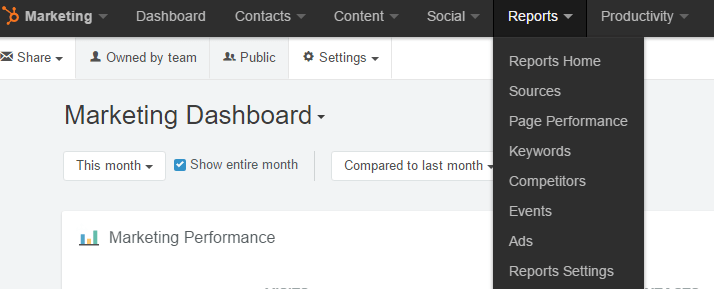 Your HubSpot Reports tab is an area where you can track and analyze your marketing performance on a more granular level, including:
Sources of your inbound visits, contacts and customers

Individual page performance

Keyword ranking

Your ranking among your competitors
Productivity

Your HubSpot Productivity tab is a new feature where you can view and manage your:
Projects

Calendar

Campaigns
How does HubSpot compare to other marketing automation software—see for yourself?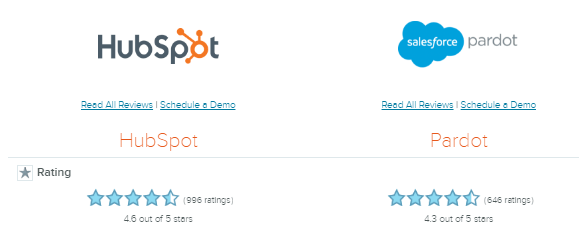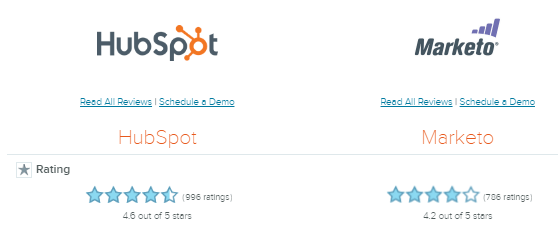 The difference between HubSpot in comparison with other automated marketing software is that they are a one stop shop that is continually updating their software to be compatible with advancing technologies.
Also, from a director of marketing's perspective, HubSpot has bridged the gap between marketing and sales—smarketing.
HubSpot's built-in CRM allows a 360 view of a lead starting from the time they come to your site and become integrated into your CRM system to nurturing them through your sales funnel and become a customer as they continue to work with you and grow your brand and site.
Their CRM portal allows you to look at everything a customer interacts and does with your site.
HubSpot is Your Best Solution for Digital Marketing
HubSpot offers you unparalleled technical support and assigns a consultant to you for support on strategy and to help get you up and running.
They try to partner with their customers whether you're using an agency like Bluleadz to outsource your marketing efforts to ensure they are truly successful in their marketing goals.
HubSpot is a holistic and turnkey solution for your digital marketing campaigns and they have free training accessible to the world which empowers and educates digital marketers.
They offer a level and solution for any size company. When you choose HubSpot, you're choosing an innovative, user-friendly, one-stop shop, digital marketing software to meet your needs and grow your business and brand.