Challenge Faced #1:
Search Engine Optimization Trouble
Express Sewer & Drain suffered from poor local search results, ranking under 60% in SEO Moz. Bluleadz knew this needed to be improved upon in order to ensure accurate information was being displayed and to bolster their visibility and reputation online. In conjunction with poor local listings, their on-page SEO needed improvement, as well.
Solution
Increase and Optimize Local Directory Listings as Well as Optimize On-Page Content by Performing Keyword Research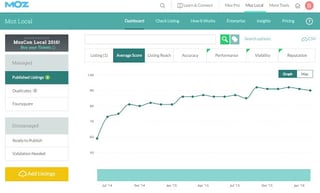 When first coming to Bluleadz, Express Sewer & Drain was not showing up in local directory searches. Being able to be discovered in local directories, especially for a company that deals with emergencies, is pivotal.
Bluleadz was able to ensure that Express Sewer & Drain was posted on every local listing you can get on. We also began cleaning up and optimizing Google NAPs (Name, Addresses, Phone Numbers).
Bluleadz performed extensive keyword research to help figure out what their customers were looking for; consequently, we were able to tailor Express Sewer & Drain's content around their customers' concerns so Express Sewer & Drain could begin ranking higher in search results. That, being coupled with on-page optimization such as clear keyword friendly page titles, meta descriptions etc., led to a drastic increase in organic visits.
Results
Their Local Listing is Now Ranking Over 90%
By increasing their local listing ranking over 90%, Express Sewer & Drain has increased the likelihood of being found for plumbing issues/emergencies in the Sacramento California area drastically.
Express Sewer & Drain is in Top 3 Results for 125+ Keywords
Once Bluleadz was able to determine the correct content based on what was being searched, Express Sewer & Drain began ranking in the top 3 search results for over 125 important keywords. Express Sewer & Drain was very pleased with this result, as it directly related to a substantial increase in qualified organic traffic to their website.
620% Increase in Organic Visits
From March 2015 to December 2015, Express Sewer & Drain saw a huge spike in organic traffic (620%). By pairing increased qualified traffic to the site and freshly optimized local directory listings, this ultimately led to more service calls.