Challenge Faced #2:
No Website Conversions
One of the first tasks Bluleadz tackled for Lowman Law was creating a strategic blog editorial calendar. With a new website, Google would begin indexing their website more quickly and frequently with a blog present. Their website was stagnant; without a blog, new content wasn't being added to the website and Google was factoring that into their ranking. Also, potential clients that aren't sure if they need an attorney or not aren't having their questions answered.
Solution
Create a Startegic Content Calendar
By conducting buyer persona research, Bluleadz was able to gain greater insight into the Lowman's typical client's pain points, hesitations for contacting a personal injury lawyer and other challenges. From there, Bluleadz created a blog editorial calendar with topics that provided solutions to these problems, and optimized each blog using best practices for SEO. Bluleadz knew that implementing a strategically-crafted blog editorial calendar would increase Lowman Law's organic traffic. Their blog also allowed them to learn more about their potential clients by finding out what topics were important to them and what questions they were having.
Create Gated Content Offers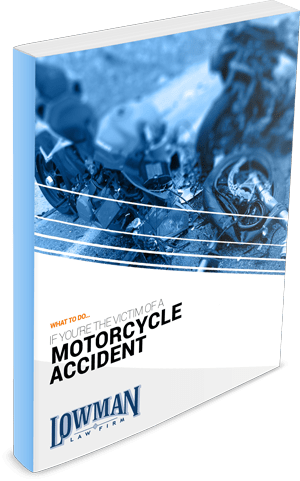 The new content offers that Bluleadz created also helped website visitors figure out what they needed to do in case of an auto or motorcycle accident. In Lowman Law's industry, prospects are often looking for very specific and niche topics - such as "loss of control motorcycle accident" or "PIP benefits in Florida." By providing their website visitors with helpful information tailored to their exact search topics (like the content offer on the right, "What to do If You're the Victim of a Motorcycle Accident"), they were able to ensure that their visitors were able to help answer any questions Lowman Law's visitors were running into.
Utilize HubSpot Forms for Lead Generation
Bluleadz created forms on Lowman Law's website to make it easy for prospects to reach out to the team of lawyers.
The forms were short enough to encourage prospects to fill them out and get help. Each newly designed landing page was gated with a HubSpot form so gaining access to speak to a lawyer was simple and easy
An example of a content offer and landing page designed by Bluleadz for Lowman Law
Results
Increased Contacts an Averagage of 322% Every Year for Five Years
The content and site page changes Bluleadz made generated fast results for the law firm. Their website's overall strategy empowered users to contact an attory because it was written around their concerns and needs, in their language.
Lowman Law is escatic with the amount of new clients coming through the door, just from learning more information about them on their website. Over the years, Lowman Law increased their leads by a whopping 322%. Lowman Law viewed this as a huge win and saw first-hand the power of inbound marketing combined with website optimization.