Challenge Faced #3:
Homepage Optimization for UX
nexogy came to Bluleadz with a very nice website built on HubSpot's COS platform, but it needed a few updates from our development team. At first glance, there wasn't much of a difference if you came to the homepage as a visitor or a current customer.
Bluleadz knew they could make a few strategic changes to help solve this problem.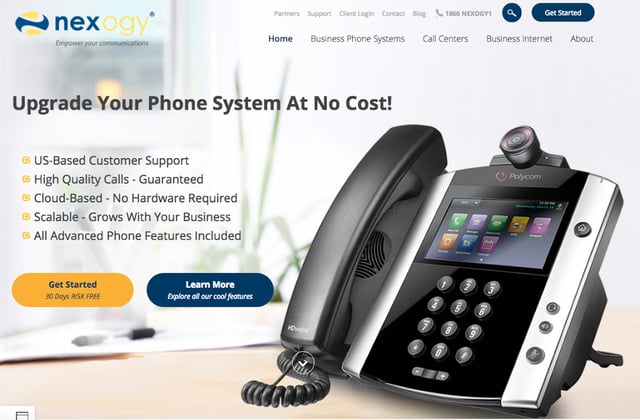 Solution
Create the Homepage Around Visitor's User Experience
Bluleadz knew visitors were dropping off the website too early in the buyer's journey. The resolution to this problem? Bluleadz optimized the website around the user experience. Here are a few key improvements Bluleadz made to the nexogy homepage:
1. Bluleadz utilized smart content. Bluleadz implemented smart content (content that is customized to the visitor's need) on nexogy's homepage, so it is able to resonate best with each prospect. Bluleadz segmented the smart content based on the visitor's lifecycle stage--if they were a customer, they would see different content than if they were a prospect or new visitor. Smart content helps personalize a website to the individual user, which ensures that they're getting the most relevant information.
2. The most noticeable modification Bluleadz made was the video background. Using video humanizes the nexogy brand and makes the company more relatable as an all-around solution to business' growing pains. Bluleadz also added video to their "Our Team" page to further humanize their brand, since it was one of the more popular pages to view.
3. Simplify how to request a quote. If a prospect is curious about your product, they're going to want to know the price--plain and simple. It's part of the Consideration Stage of the buyers journey. If they can't find it, they're likely to look elsewhere, or worse... move on to your competitors' sites to find what they are looking for.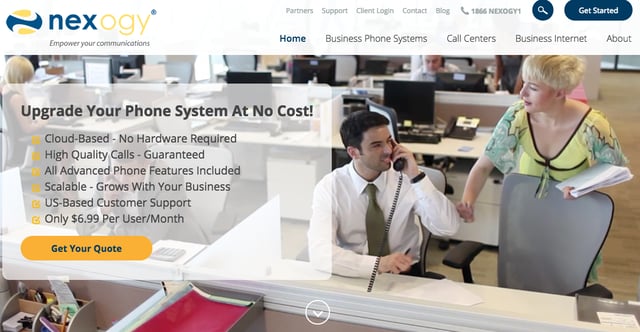 Results
Increased Traffic by 20%
After Bluleadz implemented the design changes, nexogy saw a steady increase in visitors. As you can see below, after revamping the content for keyword optimization, nexogy was starting to gain some serious traction. The User Experience, created with the buyer persona in mind, allowed visitors to naturally flow through the sales cycle and more smoothly transition from a curious visitor to an engaged prospect.
More website visitors were finding nexogy organically and sticking on the website longer, which eventually helped increase web visitors and bring in better qualified leads for their sales team.