HubSpot vs. Zendesk
Both HubSpot Service Hub and Zendesk Support Suite offer must-have customer service features that help you keep track of tickets to provide consistent customer service. Each tool does have its own special features. For instance, Zendesk has a self-service portal for customers, and HubSpot offers a brilliant customer feedback system.
It's time for you to focus more on creating streamlined service and support to your customers. It may seem impossible to get to every single ticket or issue your customers submit, but with customer service tools, you can ensure no ticket slips through the cracks.
Two top contenders for customer service tools are HubSpot Service Hub and Zendesk. These two tools have some of the best features to help you deliver consistent customer service.
But, which one do you choose?
Consider this overview of some of their most popular features with reviews and a list of pros and cons to help you make the best decision possible.
Here is a closer look at each of the customer service tools.
What Is HubSpot?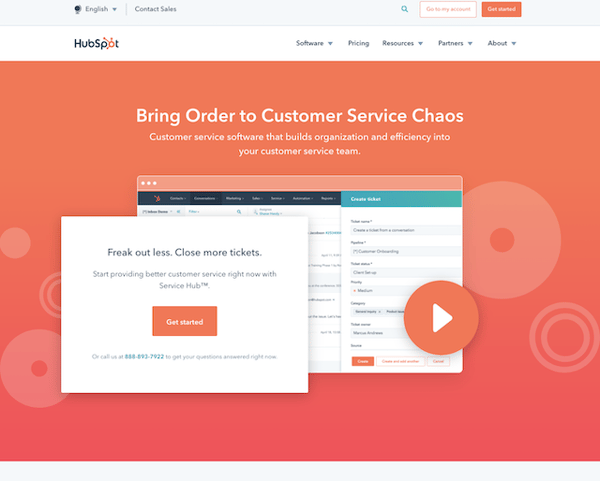 The HubSpot Service Hub is one of HubSpot's many useful tools that allows you to build a modern customer service help desk that helps you adapt to the needs of today's empowered customers.
The Service Hub is built around the inbound methodology that encourages more conversational experiences with customers on channels other than just phone and email.
This way, you can engage, guide, and grow better customers.
HubSpot Service Hub starts at $0! They offer a lot of great free tools, like live chat, ticketing, and meeting scheduling.
To unlock more features and explore beyond limitations of the free tools, you can inquire about upgrading to the next tiers, including:
Starter – $50 per month
Professional – $400 per month
Enterprise – $1,200 per month
To see how Service Hub compares to Zendesk, let's review a list of some of HubSpot's features.
Notable HubSpot Service Hub Features
An easy ticketing system that allows users in need of support to submit tickets.
A customer feedback system where users can enter thoughts or ideas.
Live chat.
Advanced reporting.
Conversational bots that operate quickly.
Automation for customer service workflows and comprehensive ticket routing.
Universal team email inbox.
Integrations with Marketing and Sales Hub.
Email templates.
This free customer service software comes stacked with some of the most sought after features on the market.
What Is Zendesk?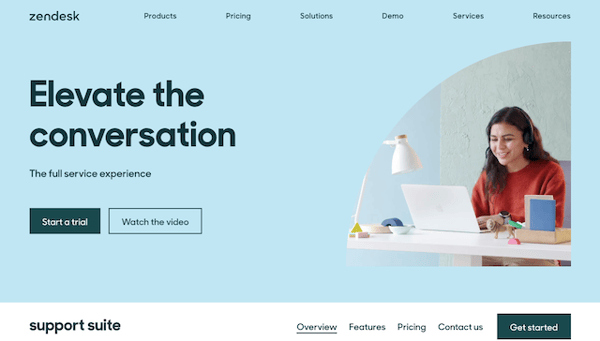 Zendesk is a popular cloud-based customer support software that helps to improve the relationship and communication between a company and its customers.
It allows an organization to communicate and create tickets from various channels including social media, mobile devices, phones, and email. This customer support tool places all customer interactions into one brilliant interface for a seamless process.
Zendesk starts at just $5 per month for the essentials and goes up to $149 per month for the support suite with additional features for enterprises.
Notable Zendesk Features
Several support streams including social media, chat, web, phone, and email.
Automated and customizable ticket management.
Mobile apps available for Android and iOS devices.
Over 100 integrations available for third-party apps.
Reporting tools and in-depth analytics.
Multi-brand support.
A full audit trail is available for agents in case they need to track the trail of a conversation.
Workflows that ensure a ticket is in motion, assigned, escalated, and completed so no ticket gets overlooked.
Self-service portal.
A fully customizable and responsive help desk.
Performance measurement that allows you to keep track of team performance and workloads.
All of the HubSpot Service Hub and Zendesk features seem pretty great right? Let's review some of the true benefits of each software as well as some of the disadvantages to help you get a more in-depth look at each tool.
Pros and Cons of Each Customer Service Tool
Reviewing the pros and cons of HubSpot Service Hub and Zendesk will give you a deeper understanding of both softwares. This will aid you in your decision making process so you can choose the best for your customer support team.
Here are some of the pros and cons that have been taken from real-life users:
HubSpot Service Hub Pros and Cons
Take a look at a few of the pros and cons for the Service Hub:
Pros
The Surveys portion of the Service Hub makes it easy to capture and manage customer expectations right away.
It is easy to combine HubSpot CRM features with the service desk.
The ticket filtering system is convenient and easy, and it allows you to duplicate or mere tickets seamlessly.
Includes a free for life version.
Cons
A closed ticket isn't reopened when a customer responds after closeout, which means response can be missed.
Customers can't view their open or outstanding tickets.
The team inbox can get confusing because it is difficult to define who is specifically responsible for each email.
Zendesk Pros and Cons
Now, let's review the pros and cons for Zendesk:
Pros
The software is highly functional, and it makes it easy to run a smooth and efficient help desk.
Integrations are available for popular apps like Slack, Jira, Gmail, and Talkdesk to make support processing simple and streamlined.
It's highly customizable and can be adapted to fit your brand's needs.
Provides you with a centralized hub to process and handle support tickets.
Cons
The routing function and tracking is sometimes slow.
It is difficult to set up automations.
Pricing shoots up for the features you really need with the Enterprise plan.
What to Consider Before You Buy
Purchasing new customer service software takes careful consideration. You want to make sure your customer support team can use the new tool fully to create better customer experiences for your clients.
Here are some key aspects for you to think about before you purchase HubSpot or Zendesk:
Your Budget
Be realistic about what you are willing to pay for a great service software. Determine what the return on investment will be on the tool to help you decide how much to budget for a new customer support software.
Introductory prices and free trial versions for software are enticing, but keep in mind the future expenses. You often need to purchase add-ons and upgrades to be able to use all of the wonderful features a customer support tool has to offer.
HubSpot has an enticing free forever guarantee that allows you to use a good amount of service features for free.
Consider all the pricing factors as you shop around for software to ensure you get all the features you need in one package with a flat price.
Integration and Customization Options
When choosing a ticketing and service software, you need to consider the tools you will be working with in conjunction with the new software. Your support and service software should allow for integrations to make your workflows seamless.
Also look for options to customize areas like reports, dashboards, and self-service areas. This will help you to provide the precise type of support you want your customers to have.
Security Features
Your software is most likely going to store important data such as private customer information. Security is important so you can help protect your customers' information. Search for a tool that assigns role-based permissions.
This helps to limit access to certain areas within the software. You may also want to select a help desk with two-factor authentication to prevent unauthorized access.
Consider the special protections for the date you store before going with any help desk. Some data requires help desks that are compliant with HIPAA or GDPR.
Collaboration Features
Whether you have a small or large team, your customer service tool should facilitate successful collaboration between all teammates.
Search for a tool that truly helps everyone stay on the same page. Your goal should be to prevent any confusion about follow ups by selecting software that doesn't let customer conversations get lost in the shuffle.
For instance, some customer service tools may issue a warning for tickets that have two agents working on them to prevent double follow up.
Reporting and Metrics Options
Providing service to your customers using your new software should reflect an increase in customer satisfaction. Your customers' satisfaction is directly related to the quality of your support.
The best way to track the quality of your customer support is through easy-to-understand metrics and reports. Metrics provided through your help desk can shed light on your team's most productive hours, response times, frequently asked topics, the customers that access the knowledge base articles, and which saved replies are used most frequently.
This insight is necessary for you to have so you can strategize and continue to provide great customer service.
After you take these elements into careful consideration, it's time to look at the reviews to see what real users are saying.
HubSpot Service Hub vs. Zendesk: The Reviews Are In
Need some more convincing to choose a customer service tool? Look no further than these real reviews from users on G2.
HubSpot Service Hub Reviews
"The system is easy to understand and easy to navigate. Filters are very useful and very nice interface. It is easy to add and remove a specific table headers whenever you need them.
"It is also very easy to find the items that you are looking for. There are also two views that I liked, the table view and the board view. I can always switch to any of them whenever I want to, which really helps me in doing and finishing my tasks.
- Alvin M.
"I really like how customizable the ticketing process can be. There was a small learning curve, but all our CS reps were able to use the features quickly. Support on HubSpot's side is good with quick response and the feedback surveys are intuitive and helpful.
"The automation built in can really cut down on processing time and reduce our reps' workload. We've seen a big influx of new tickets and thankfully had things set up so we could handle things without spending too much time updating and changing a million fields."
- Lisa S.
"The formatting of the help center articles is very easy to use. I enjoy the tickets board, the group inbox, snippets are good. I like being able to see who has changed what. Quick assignment to others and then they get a notification or email about it.
"I don't have to keep nagging or asking if someone is following a case or completing their task. Especially with customer success, needing to know everyone's situation and internal backstory before reaching out and maintaining engagement, need to know what issues they are having and how is solving what."
- Aaron E
Zendesk Reviews
"The back end management system is extremely user friendly and takes little to no previous training to figure out. You are also able to download the app to your phone for on-the-go customer support when not in the office. This is extremely useful and helps us maintain 24 hour support as best as possible."
- Corey V.
"Zendesk makes it easy to contact customers and follow up with them. It provides great tools to maximize productivity by assessing clearly what tasks need to be prioritized. Metrics like the service level, the ratings, and the number of actioned tickets also allow us to constantly improve and maximize our performance."
- Aicha B
"There's a lot of things about Zendesk that are great. For example, it helps you in your daily job. It is a great way to manage or take control of how you work because you can use it with Ujet and you can change from available to unavailable to meal, break, and training or meeting.
"All of the things you need to get and to look for on your customer's account and batches or tickets I use it daily for my job. It is a really essential tool to use and it is a very necessary site in order to get my work done and do it properly. I really enjoy working with Zendesk and having it help me to get my job done and have it done in order while it takes care of my accounts."
- Luis M
HubSpot Service Hub and Zendesk: Your Best Option
As you can see, both of these tools have some excellent features that you can take advantage of. The one you select should be based on your customer service goals and the needs of your customer support teams.
HubSpot Service Hub is a tool that truly helps you to provide your customers with an ideal customer experience with their universal inbox, and Zendesk makes it easy to see what tickets you should prioritize.
If you want streamlined customer service that allows for thorough collaboration, HubSpot is likely right for you. Even better, when you get HubSpot Service Hub, you're able to connect it to your other HubSpot tools, like the Sales Hub and CRM.
HubSpot Service Hub is your best choice if you're invested in the inbound methodology and want to grow your business in an efficient way while delivering an A+ customer experience.