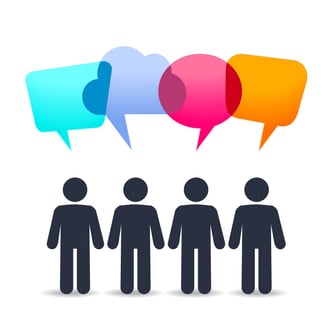 Creating remarkable content is the first step to successful Inbound Marketing for your business. Blogging is a great means for generating leads. In fact, companies that prioritize blogging are 13x more likely to enjoy positive ROI (HubSpot).
By now everyone seems to understand and embrace this concept, but the question always arises "What do I write about?" Coming up with topics to blog about can be daunting and many people use it as an excuse to procrastinate. However, finding good blog topics doesn't have to be stressful or difficult. Here are four easy ways to come up with alluring blog ideas:
1. Questions from Customers
Take the top 20 most frequently asked questions from your customers or prospects and answer them in individual blog posts. This is great in the eyes of Google; it's quality content with the intent of answering common questions. People are typically searching for answers to their questions online. You already have a built in list of questions that people who are interested in you product or service are asking. There's 20 topics already!
2. List of Links
Create a list of links to websites, articles, tools, etc. that your readers will find useful. Put these in a blog post, sharing your comments on how they can help your readers. Again, this is really the backbone of inbound marketing. You're attracting visitors instead of sending them annoying promotional pieces or ads.
3. Share a Recent Experience
If you have attended a tradeshow, conference, webinar or training session, share your experience and what you learned from it. Add some pictures to it and it's a great piece! Talk about the topics that were covered during the event and provide relavant links to further resources. Many people in your industry won't get the chance to attend every major conference going on; be their eyes and ears and they will sincerely appreciate you.
4. Short Survey
Create a short survey for your readers to fill out and then analyze the results. Visitors love reading intriguing facts. The facts you uncover will help visitors refine their inbound marketing efforts. Surveys are very simple to create. A great idea for an ongoing blog topic would be to create a survey every two weeks with a different theme, like "Web Design and User Experience." Instead of creating promotional-type pieces, you'll be helping your audience decipher the behavior of other to better their content.
You can make them for free on SurveryMonkey. Publish your findings in a blog post and make sure to include the key takeaways you got from the survey results.
Creating helpful, industry-related blog content will attract readers to your website; it's the backbone of inbound marketing. It's a known fact- consistently business blogging generates more leads and increases sales. B2B marketers that use blogs receive 67% more leads than those that do not (HubSpot).