The Best Customer Experience Tools
1.

HubSpot Service Hub

2.

SoGoSurvey

3.

Zendesk

4.

Satmetrix

5.

ResponseTek

6.

Medallia

7.

Qualtrics Customer Experience

8.

Whatfix

9.

Podium

10.

Clicktale
Successful businesses know that happy customers are the key to growth. When a customer likes the experience they have with your business, they are more willing to be loyal to your brand and to recommend you to their friends and family.
It may seem simple enough to just make sure customers are satisfied, but keeping up with hundreds or thousands of customers and responding to them all is no easy feat. Today, customers have the control, and they want conversational human interactions.
Customer experience tools are available to save you from being bogged down by customer concerns.
What Is Customer Experience?
Customer experience is the total amount of experiences that people have throughout the duration of their relationship with your service or product. The customer experience includes a person's initial inquiry, to discovery and demo, through closing, and any correspondence with your business thereafter.
via GIPHY
Your customer should have a good experience each time they touch base with someone at your company. This good experience should also extend to the usability of your website as well since a negative customer experience can be caused by a site that isn't user-friendly.
As your business grows, you may struggle to continuously provide personalized experiences that result in positive customer experiences like you did when you were first starting off.
Customer experience (CX) tools were created to help you shape customers' feelings about their relationship with your products and services by improving customer experience while maintaining personalization.
The Benefits of Using Customer Experience Tools
Your customers are the most important part of your business. In fact, they are your business.
Taking care of them and ensuring they have a good experience can be done easily with customer experience tools. Here are some more details about the benefits of these tools:
They Help You Improve Your Crisis Management.
Customer experience tools help your business to gain trust from your customers by providing consistent service. Trust between your business and your customers means they are more likely to communicate with someone at your organization about their issues rather than turning to the public in outrage.
via GIPHY
Honoring the trust of your customers by keeping a consistent and honest process with CX tools is essential 24/7.
They Increase Customer Engagement.
Customer experience tools allow you to interact more with your customers. With many CX tools, you can send a response to every message you get no matter what platform it is on. When people know you will respond to them, they are more likely to engage with you.
The real-time interactions you have with customers also increases their trust in you, and it makes them more willing to share their concerns or needs.
They Help You Retain Customers and Improve Loyalty.
It costs less to retain customers than it does to find new customers. The best way to retain customers is to provide them with an excellent customer experience each and every time they engage with your brand.
The experience you provide to your clients and customers helps to establish a foundation of loyalty.
via GIPHY
They may even be more willing to pay higher prices for similar products and services if they believe your company treats them right.
They Allow You to Provide Consistent Customer Service.
Consistency is key in anything you do, but it is especially important in customer service. Customer experience tools help you to format efficient and professional responses that are consistent with your brand so you can deliver great service each and every time you correspond with a customer.
People like to know what to expect from you. They don't want to assume they'll get a favorable response and then be blindsided by a negative response or worse – no response at all. Tools allow you to see everything in one place so you don't miss any steps.
They Reduce the Cost of Marketing.
A CX approach gives you insight into the needs of your customers. It lessens the need for you to guess what they want, which helps you save a lot of resources that you might be using in your marketing budget.
Keeping customer experience at top of mind in your approach to your business makes you proactive instead of reactive.
This means you won't have to try out a bunch of marketing campaigns that don't seem to work before you find the right one. Instead, you will have enough data to understand your target audience and the marketing dynamics that go along with them.
10 of the Best Customer Experience Management Tools
Review these top 10 best customer experience management tools to get a better idea of which tool is right for you and your customers.
1. HubSpot Service Hub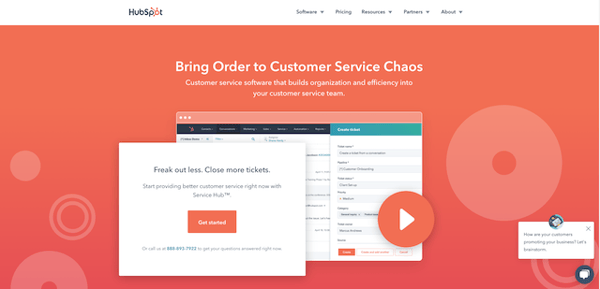 HubSpot Service Hub is a customer service platform that helps you stay organized so you don't create confusion or friction for your customers. The tools HubSpot provides allow you to provide efficient and timely service to customers.
This tool centralizes all of your communication data and correspondence in one place, and if you use it with the HubSpot CRM, then you have access to contextual information about your customers to provide them with a personalized experience each time.
Service Hub also offers you reporting automation with a complete help desk. With the help desk, you can turn emails and chats into tickets that are easy to prioritize, organize, and track.
Service Hub is used by many notable companies, including Atlassian, ClassPass, and Subaru.
This tool has an excellent G2 crowd rating of 4.3 out of 5.
2. SoGoSurvey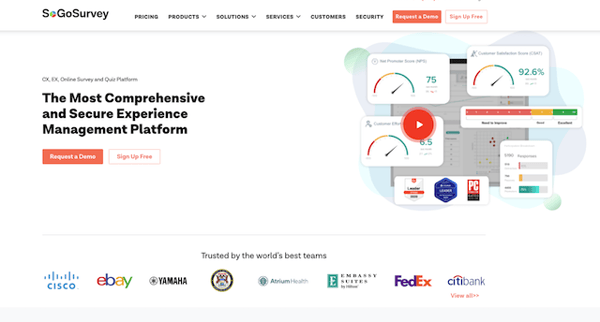 SoGoSurvey is a feedback management platform that helps organizations that value feedback as one of the most important factors for business growth.
SoGoSurvey's CX platform does more than just generate data. This customer experience platform helps your business focus on building long-term relationships with your customers that promote loyalty, in addition to providing you valuable customer insights.
Businesses like Yamaha, Cisco, and FedEx trust SoGoCX to help them use feedback to provide a consistent customer experience.
They have a 4.5 crowd rating on G2.
3. Zendesk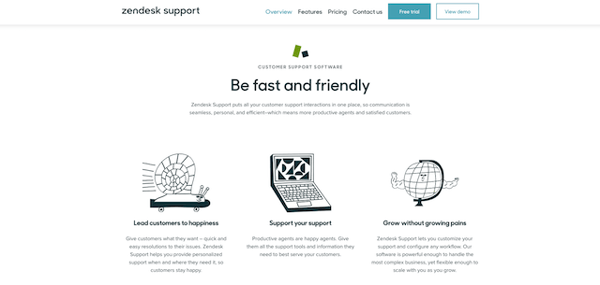 Zendesk Support Suite is a sophisticated platform that helps you increase the satisfaction of customers. Their goal is to help you meet the customers where they are by providing you with a platform that collects the right information.
Your team can work effortlessly with this set of tools, which has a consistent experience across any channel. You can also customize your Zendesk support environment to suit your business needs.
Zendesk is used by Slack, Uber, and Shopify, among other awesome brands.
They have a 4.2 G2 crowd rating score.
4. NICE Satmetrix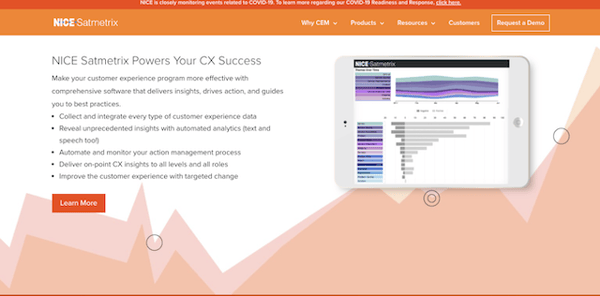 Collect, analyze, and integrate customer feedback data with NICE Satmetrix industry leading software. This great customer experience tool helps your business to close the gap with customers by providing you with comprehensive reporting.
The data delivery lets you know when to take action and when to manage any changes. The outcomes of using Satmetrix include reduced customer churn, improved retention, and higher growth rates.
They work with companies like Willscot, Exchange Bank, and PulseSecure.
Satmetrix has a score of 4.3 out of 5 on the G2 crowd rating scale.
5. ResponseTek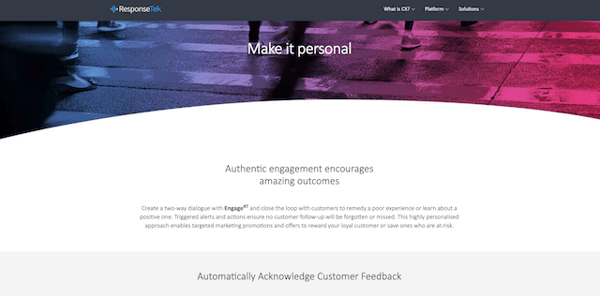 ResponseTek is a cloud-centric platform by ZephyrTel that helps you manage your customer's experience. This tool helps you learn about a positive customer experience and gives you the features you need to remedy a poor one.
You can set alert triggers to help you ensure that no customer follow up is forgotten or lost. The listening platform provided by ResponseTek can respond to feedback in contextual and personalized formats.
ResponseTek has a great G2 crowd score rating at 4.5 out of 5 stars.
6. Medallia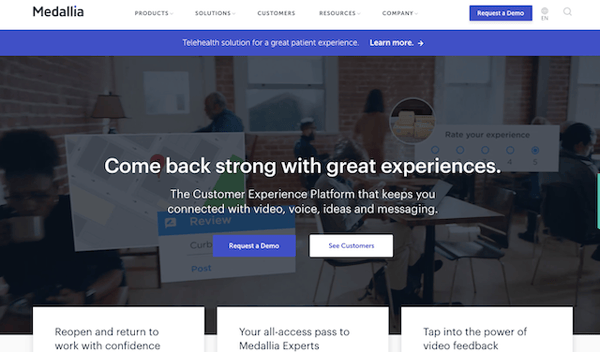 Performance and driving customer experience results aren't a problem with Medallia, the award-winning SaaS platform that includes the most efficient capabilities for recording feedback and experience signals.
The experience signals are picked up from social, digital web, conversational messaging, and in-app. Transactional and operational data is given to Medallia so you can easily understand the touchpoints along your customer journey.
This platform detects patterns, reveals issues, uncovers new business opportunities, and predicts behavior to help you make smarter business decisions.
The insights collected from Medallia are transmitted in real-time to help everyone in your organization make decisions by listening to the voice of the customer.
Medallia is used by businesses such as Paypal, Sephora, and Farmers Insurance.
They have a crowd rating on G2 at 4.5 stars.
7. Qualtrics Customer Experience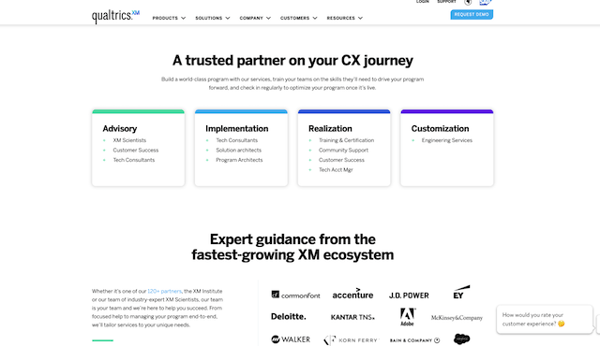 Through powerful machine learning with Qualtrics, you can hear and understand your customers with SMS voice, social, web, and app feedback collection capabilities. This solution features comprehensive analytics that deliver you predictive insights into your customer experiences.
Qualtrics is an amazing platform that provides you with experience data (X-data) that you can collect, manage, sort, and act on to create more loyal customers. They feature closed-loop ticketing, action planning tools, and integrations with all your current tools like Marketo and Jira.
Brands like Samsung, Dish, ABC, Forbes, and Coca-Cola currently work with Qualtrics to "deliver breakthrough customer experiences."
They currently have a G2 crowd rating of 4.2 out of 5 stars.
8. Whatfix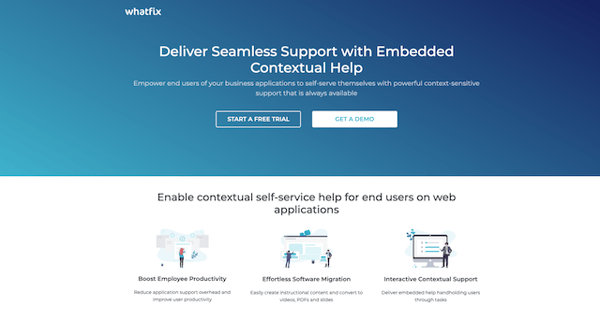 Whatfix is a digital adoption platform that helps users to adopt your product with ease. It streamlines the onboarding process and gives your user contextual guide that moves them through the app in real time.
Whatfix features user-segmentation, behavior-responsive messaging, live chat, web portals, data analysis, an excellent knowledge base, and more. With this tool, you can customize the interactive walkthroughs in the app without coding to help your users navigate your product thoroughly and quickly.
Whatfix is used by businesses such as Experian, Cisco, and Microsoft.
They have an excellent G2 crowd rating at 4.7 out of 5 stars.
9. Podium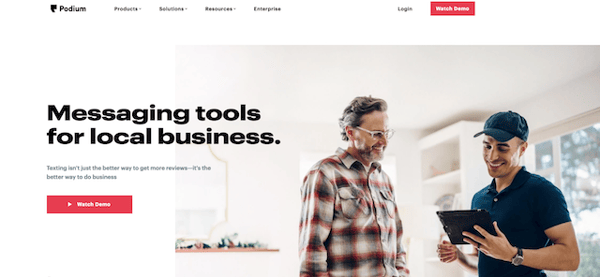 Podium is a powerful and helpful tool for local businesses. They help brands manage every single digital interaction from one platform. It allows businesses to take advantage of chat, collect payment via text, and earn reviews on a variety of sites.
It is an interaction management platform that makes it easy for you to engage with your team, leads, and customers through any touchpoint.
With this tool, you can speed past your competition to provide your customers with quick and efficient customer service. It's currently used by over 55,000 businesses.
They have a strong crowd rating score on G2 at 4.6 stars.
10. Clicktale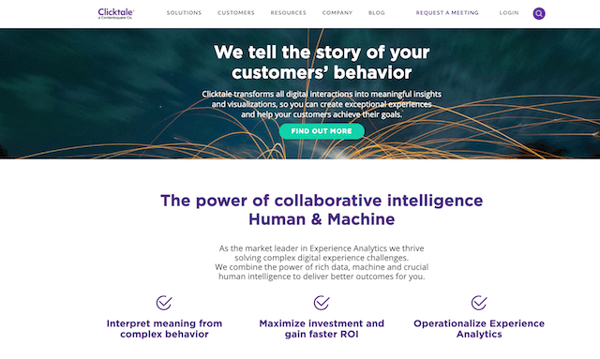 Clicktale helps transform the way enterprises connect with customers. With this tool, your organization can become experience-centric to provide the best customer experience possible. They include insights to allow you to improve your KPIs, optimize visitor engagement, and delight your customers.
This CX solution provides you with a host of illustrated reports like heatmaps, error reports, and funnel analyses. It can handle complicated digital touchpoints and integrates with and extracts data from over 50 tools to get a full picture of the buyer's journey and customer experience.
Some of Clicktale's customers include Walmart, Bank of America, and CNN.
They have an overall review score of 3.9 stars on G2.
Transform Your Customer Experience
The customer experience tool you choose should fit your business size and needs. With customer experience, there is a lot on the line. You want to do your best to ensure the CX software you choose really helps to take care of the various stages involved in the customer service relationship.
If you take care when choosing a CX software that helps drive retention along with upsells and cross-sells, you will be sure to notice a return on investment that truly pays off.