Business software solutions are your company's best asset for fueling growth and driving revenue.
There's a reason so many companies are adopting and upgrading their technology stacks with various tools and plugins. Even for people who use all-in-one solutions like HubSpot, there still might be a need to bring tools together.
In the world of marketing technology (martech), the number of options is truly staggering. As of 2020, over 8,000 vendors entered the market with new martech solutions.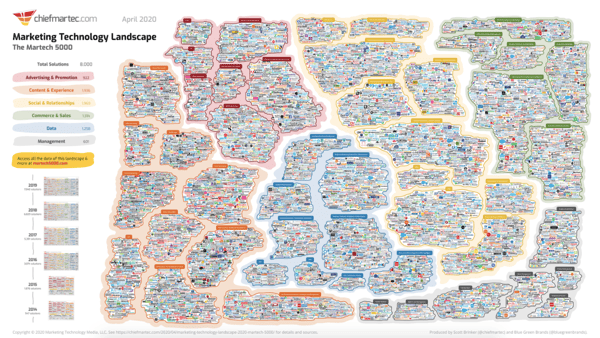 Source: chiefmartec.com
Yep. That's overwhelming. Solutions fall under various categories, including advertising and promotion, content and experience, social and relationships, commerce and sales, and beyond.
Naturally, when a company is using several disparate technologies, they need to integrate solutions. However, this is way easier said than done.
Without proper integration between your business technologies, you risk losing valuable customer and lead data, fragmenting important information in different portals, and causing team misalignment. This is where an integration platform as a service (iPaaS) becomes an essential component for your business.
What Is an Integration Platform as a Service (iPaaS)?
There are plenty of iPaaS options available in the world of business software. Some of the most notable options include:
Zapier
Jitterbit
Mulesoft
Informatica
You may have seen these names in the business software space. But what do these platforms actually do?
via GIPHY
How an iPaaS Works
An iPaaS is cloud based, acting as a platform to connect apps and technologies within the cloud. Users enjoy integration flows that are well maintained without the need for any additional hardware.
Essentially, these solutions provide infrastructure for building connections and using software applications within the cloud. Software companies set parameters for the kinds of connections allowed within their platform. Parameters are set in the form of prebuilt connectors or an application programming interface (API).
To put it simply, API is the blueprint that enables your software to talk to and work with other applications. APIs allow an app to extract information from a piece of software and use it within the API's own application. It's essentially an information middleman.
Once rules are established, the iPaaS builds a centralized ecosystem to manage and use data and operations.
The Benefits of iPaaS
There are many obvious reasons for the huge success of iPaaS. For decades, these platforms have exploded in popularity because they fill a gap that many companies experience – a need for integrating their various tools and systems.
The most notable benefits of using an iPaaS include the following:
Instead of juggling several technologies, you can use one cloud-based location to manage and connect all of your software tools and data.
With one centralized location for organized data, your teams can share and access all the information they need, ensuring accuracy and relevancy of data while eliminating silos within your company.
Your teams can work more efficiently and collaborate in a more impactful way, instead of having to switch between multiple tools and platforms.
As noted above, there are many leading names in the marketplace for iPaaS. One of the most notable selections is PieSync.
What Is PieSync?
PieSync sums up their platform with a simple tagline: "Finally, a true customer data sync."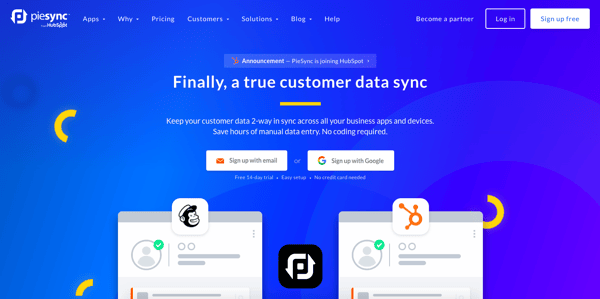 Perfectly said, PieSync. The iPaaS acts as a two-way sync solution for various types of tools, including:
So how does PieSync work?
Let's go through a short walkthrough of the tool. Say you're a HubSpot user. You have the CRM, and you want to sync your contacts data with your Eventbrite account.
For example, when you add a phone number to your contact in your CRM, that can trigger that contact to be subscribed to a list within Eventbrite. This ensures that your contacts are properly engaged with on a regular basis.
Setting up this integration takes a few simple steps and about five minutes. Simply select the apps you authorize to sync with each other, then configure the sync settings by adding field mappings, actions, and filters. Finally, sync it and get back to doing awesome work.
That's it.
There are over 200 apps you can choose to sync using PieSync. The most popular apps include:
HubSpot
Google Contacts
Zendesk
Zoho CRM
Outlook
iCloud
Pipedrive
Mailchimp
Active Campaign
As you can see, your company can benefit from PieSync capabilities in many ways.
The Benefits of PieSync
This tool empowers automation in marketing. To truly get the most out of customer data, you want to first ensure that your marketing team is getting all the information they need.
Remember, your marketing apps are not exclusively collecting contact information. Most likely, your CRM acts as the heart of your business, providing comprehensive, up-to-date customer data for all your teams, including sales and customer service.
Once you sync PieSync, it works in the background, delivering the customer data you need to share to the right tools. You can use a customizable dashboard and set up one-way or two-way sync options for get the data flow you need to succeed.
Marketing can automate plenty of tasks with PieSync, including:
Email list segmentation – sync groups of contacts from different business tools and set instructions on how your updated customer information will be presented in your marketing app in real time.
Lead qualification status updates – instead of fumbling with CSV files between marketing and sales teams, you can update lead qualifications in your marketing app, which will send that information to your CRM to keep your sales team in the loop.
No wonder why it's a popular choice for marketing professionals using marketing software like HubSpot.
How to Use HubSpot With PieSync
Instead of wasting time with manual data entry and putting your team at risk for data duplication, you can set up your HubSpot account with PieSync to automate merging contact information from several sources.
Unlike other tools that depend on triggers to sync data, PieSync is constantly updating in the background. It integrates with HubSpot in many ways, such as the following:
Make HubSpot your centralized resource for workflows and other integrations.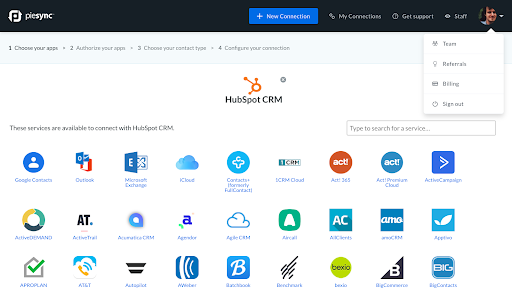 Source: HubSpot
Stay on top of the health of your customer data by tracking connector performances.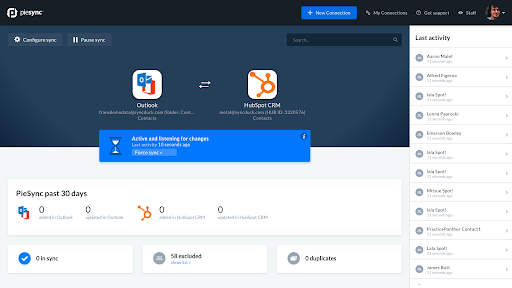 Customize distribution lists and control how leads are stored and organized in your marketing platform by setting specific rules.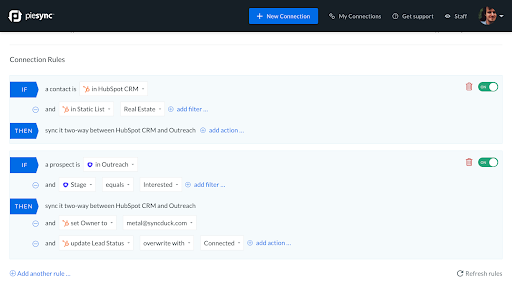 These are just a few use cases of how HubSpotters can leverage the power of PieSync to automate tasks and ensure accuracy and relevancy of customer data. There are many more options businesses can use within the PieSync ecosystem.
Real Life Examples of HubSpot-PieSync Integrations
Get inspired by checking out these real world case studies of businesses that make the most of the integration between HubSpot and PieSync
Ander Group
Ander Group, a design and branding agency, uses many tools in their stack, including the HubSpot CRM, Mailchimp, Google Contacts, and Nimble. Within Nimble, they keep over 5,000 contacts stored.
When the company gets a new contact, that information is added to Nimble. In some instances, they will add the tag "HubSpot" to automatically sync that contact with their HubSpot CRM. Here's what the rule-based workflow looks like.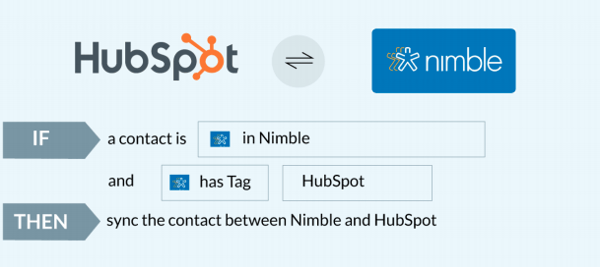 Source: HubSpot
The Ander Group team also uses PieSync to share contact information from Nimble to their G Suite, so everyone on their team is using the same database and up-to-date information across the board.
Propseller
Propseller, a property agent marketplace based in Asia, aligns their contacts across Google Contacts, HubSpot, and Aircall. The company uses clients' reviews, commission rates, and past transactions to match them with a property agent that suits them the best.
They keep specific contacts in sync between Aircall and HubSpot, ensuring that when a contact record is modified in one app, it will be updated in another. They created a custom field in their HubSpot CRM to identify each contact as an agent, vendor, client, or other role.
This custom field was used to dictate which contacts will be synced to Google Contacts, as noted in their PieSync account where they built customized rules. So whenever that custom role field is filled out in the HubSpot CRM, that data syncs to Google Contacts, which is how they manage their ongoing phone conversations.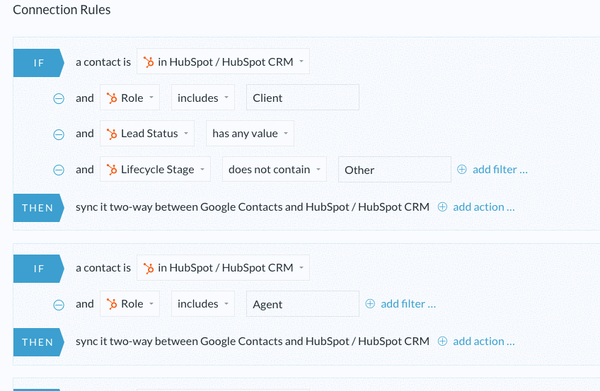 Source: PieSync
Not only does this help them prioritize contacts, but it also helps them personalize their conversations. So when a contact's call comes through to Aircall, that caller's information is in HubSpot, so the person receiving the call would already know the caller's name. Ultimately, this leads to more impactful conversations.
How are you bringing your business software solutions together? This is an important decision you need to make as a company to ensure the future success of your business.
With combinations like HubSpot and PieSync, the sky's the limit in how you can empower your marketing, sales, and customer service teams to deliver an amazing experience for your customers at every touchpoint. The ability to leverage these tools together results in better quality leads and a more efficient approach to guiding leads through the buyer's journey.