HubSpot has become the software equivalent of the popular kid in town. Browse through LinkedIn and you'll find a myriad of marketing professionals display their certifications. Enter a search engine query regarding marketing and sales automation, and you'll notice many blogs, service pages, and product comparisons mentioning the platform.
Whether you're looking to keep your contacts database organized, launch effective inbound marketing campaigns, or improve the processes in your customer support department, it's a name that will keep popping up.
But what, exactly, is HubSpot? And what are their top alternatives when it comes to investing in marketing automation?
HubSpot is a software as a service (SaaS) all-in-one platform that offers several tools for marketing, sales, and customer service. Within those hubs, you can find game changing features, such as customer relationship management (CRM) software, content management systems (CMS), social media marketing, search engine optimization (SEO), service desk, and web analytics.
It's designed to manage the full lifecycle of a customer, from lead to closed sale, and beyond. It streamlines teamwork between these three departments, so that you can optimize communication and workflows.
Currently, HubSpot is the world's leading marketing automation software. Here at Bluleadz, we live and breathe everything HubSpot, so we're a little biased toward this fantastic product.
However, we understand that in order to get the most out of marketing automation, you have to choose the right software that fits your company's unique needs.
HubSpot's Marketing Hub sets the stage for your business to attract the right audience. Depending on your specific needs and b2b marketing strategy, you can choose between their starter, professional, or enterprise tiers.
Pricing for the starter hub starts at $45 a month, and it includes a long list of features that will make you wonder how you ever lived without them. Some of our favorites include:
A CRM
Contacts' website activity
Email Templates
Ad management
All of these tools enable you to set them and momentarily forget them as you go about running your business.
If you opt to purchase the professional or enterprise hubs, you get additional functionalities, such as:
Pricing for these tiers range between $800 to $3,200 a month, billed annually, since they require a 12 month contract.
Before going down the marketing automation rabbit hole, take some time to consider the factors that come into play when seeking to find the ideal solution. These include:
Your Budget
Solopreneurs and small businesses may be able to get away with getting the starter option of many of these platforms. HubSpot even offers basic features for free. Do keep in mind that some of the free versions may come with very limited options; however, you can upgrade certain features (such as increasing contacts capacity). You can also opt for platforms that offer higher tiers at nominal costs (as some of the options listed below).
The Size of Your Company
By the same token, some marketing automation platforms cater to large enterprises, while others focus their efforts on smaller establishments. Factors that come into play include the number of team permissions, contacts, and whether you need to create custom objects for better database management.
Your Business Goals
What's most important to you at the moment? Is it to increase brand awareness? If so, you'll want a solution that makes inbound marketing easier. Is it to grow your social media presence? Social media management tools can help you take care of that. Are you looking to improve the customer experience by reducing their wait times and centralizing tickets? Some platforms let you achieve all of them. Others may require that you purchase a higher plan to access all of their features.
Make a list of what you're wishing to accomplish, prioritize those targets, then start doing your product research. Do keep in mind, however, that as your business grows, your needs will evolve, too. So keep an eye on all the available tiers and how easy or complicated it would be to scale.
Third Party Integrations
Something else that's crucial is that the marketing automation software you purchase can integrate with your existing tech stack. For example, having your CRM and email be able to talk to each other, or being able to store communications from social media messages into your shared inbox. Email, internal communications, analytics, proposal software, etc…. should all work together to avoid inefficiencies and duplicative work. To ensure that a platform works well with your applications, check their app marketplace.
Alright. Let's take a look at some of the top HubSpot contenders and at some of their best marketing automation features:
1. Easiest to Use: Zoho CRM
Zoho has a straightforward setup, so that you can start using it as soon as you install it. It's also user-friendly, so you don't have to spend hours trying to learn how to use every functionality. It also has a simple interface, providing users with an intuitive and easy-to-navigate interface. And that's just the tip of the iceberg:
Pros
Many customization options
Extensive third-party app marketplace
Free online video tutorials
Easy to use mobile application
Cons
The free version has very limited features
Long wait times when you call customer service
Pricing
Zoho has several plans, with the basic one being free; and once you upgrade, the paid versions are still pretty affordable, ranging between $12 and $45 a month, billed annually — making it ideal for startups and small businesses.
2. Best for Mid-Sized Companies: Pardot
Pardot is provided by another SaaS giant, Salesforce; so if you're already using the latter, and are already familiar with it, this may be a good solution for you. It does many of the things HubSpot does on their pros list:
Pros:
Easy-to-use landing page creator
Dynamic content
Targeted offers
In-depth data about your prospects' website activity
Cons:
Their knowledge base can be confusing
Lead routing isn't available
Not as many third party app integrations
It's more expensive than similar platforms on the market
Pricing
Pardot has three plans, ranging from $1,000 to $3,000 a month.
3. The Biggest Contender: Marketo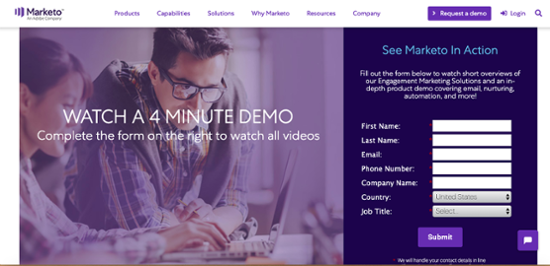 Marketo is often known to be HubSpot's top contender, as they both offer similar features and have high customer satisfaction rates. When you sign up, you're assigned a consultant who will help you with the onboarding process and integration of the system into your company.
Marketo offers five engagement marketing solutions: email marketing, lead management, consumer marketing, customer base marketing, and mobile marketing. Their pricing is based on which solution you choose and the size of your company.
Marketo is used mostly for larger enterprises with a high number of leads, a designated IT team, and a reasonable budget. It's a great option if you need extensive analytics tracking and workflow streamlining.
Pros:
Extensive and customizable email marketing campaign tools
Great for handling large quantities of contacts and leads
Strong mobile marketing tools
Excellent customer service
Cons:
The landing page builder has been reported to be a little lacking
The bundled pricing options make their services expensive
You'll need some IT skills for the more advanced tools and analytics options
Price:
Packages range between $895/month and $3,195/month.
4. Best for Small Businesses: Keap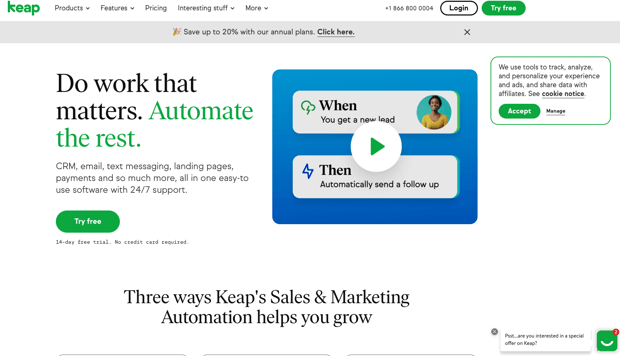 Keap is an affordable marketing automation software alternative to more expensive options like Marketo. It has great customer relationship management capabilities, which even includes invoicing and payment tools.
Keap is best for smaller companies, especially those with an eCommerce base. Their Premier option even has an online storefront that allows you to sell products, subscriptions, and services.
Pros:
Easy to design campaigns and landing pages
Big user-based support community
Known for good ROI
Cons:
Not ideal for B2B businesses
The onboarding kickstarter programs cost between $499 and $1,999
No A/B testing
Price:
Three tiered plan, starting at $199/month and up to $399/month.
5. Best for the Creatives: Adobe Marketing Cloud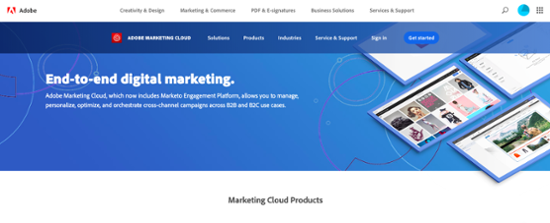 Creatives who are proficient in Adobe swear by it, and there's a reason: their software really is the best of the best.
Their marketing automation, Adobe Marketing Cloud, is obviously expected to follow suit, and for a lot of people, it doesn't disappoint. It's known to have a slick, user-friendly design, as most Adobe products do.
They offer eight solutions: Analytics, Audience Manager, Campaign, Experience Manager, Media Optimizer, Primetime, Social, and Target.
Adobe Marketing Cloud is best for large companies or creative individuals who already know their way around Adobe software, like photographers, videographers, and designers. It is not recommended for small companies who don't have a designated marketing team or experience with Adobe.
Pros:
Extensive resources available for support and learning how to use the software
Particularly strong email marketing capabilities
Allows seamless workflow across different teams
Cons:
No bulk social media posting
Doesn't integrate well with other services, including Gmail and Outlook interfaces, Oracle, Netsuite, or Sugar CRM
People don't love the subscription and pricing structure
Known to run slow on older computer equipment
Price:
Based on a quote-by-quote basis, but customers do consistently list the price tag as one of its biggest cons.
6. Best for All: Act-On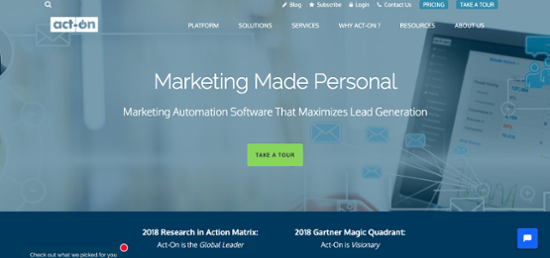 Act-On is a strong contender against both HubSpot and Marketo, but it doesn't have the big price tag attached to it.
They aim to provide the kind of all-in-one automated marketing platform that HubSpot does, including website hosting, email marketing, analytics, lead generation, social media management, and more.
Users have said that it helped them organize their marketing and campaign tactics to optimize efficiency and get the most out of them, and the interface is known to be very user friendly.
Similar to HubSpot, Act-On also features an abundance of educational resources to help companies and clients learn about marketing. This includes their online learning platform, Act-On University, a resource library, video learning options, and free automation guides and tools.
Act-On is great for companies of all sizes, but especially those who are looking for a more budget-friendly option.
Pros:
Good contact segmentation for effective email marketing
Requires minimal IT knowledge
Integrates with a wide variety of third party providers
Known for great customer service
Cons:
Features sometimes get updated without notifying users
Customers often complain about UI design
Price:
Two package options: Professional for $900/month, and Enterprise for $2,000/month.
7. Best Newbie: Wishpond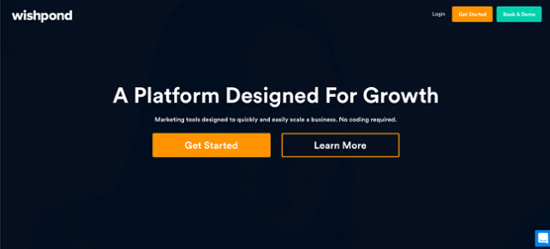 Wishpond is the new kid on the block, but they're making a big impact.
They feature four marketing tools in one powerful platform: marketing automation, landing pages, pop-ups and forms, and contests and promos. The key phrase on their homepage describes them well – "Marketing tools designed to quickly and easily scale a business. No coding required."
The major drawback is that Wishpond doesn't provide a platform to host your website, so you'll need to have one already built through a service like WordPress or Squarespace, in which you can integrate all their landing pages, forms, and other tools.
Their website provides a full list of the third party providers they integrate with, organized by category, so you'll know right away whether you'll be able to use your other business tools with them.
Their pricing plan is a little different, as you can choose the "do it yourself" option, using their marketing suite to build landing pages, create campaigns, and design contests and marketing emails.
Or you can choose the "done for you" option, in which Wishpond's marketing team handles the whole thing – designing and running a marketing campaign to help grow your business.
Wishpond is great for companies who are looking for a budget-friendly option and have limited IT knowledge. But it's important to remember that you'll need a website already up and running with a third party host!
Pros:
Connects with over 30 third party marketing platforms, including MailChimp, Salesforce, Gmail and Outlook
Easy-to-use interface
Budget-friendly pricing
Doesn't require much IT knowledge
Cons:
Doesn't provide website hosting
Templates can be hard to customize to your brand
Price:
"Do it yourself" pricing options have three tiers and range between $49/month to $199/month. The "done for you" option is based on a custom quote.
Before you decide on a marketing automation solution for your business, let us do a free HubSpot audit for you. We'll take a look at your goals, and provide you with actionable steps so that you can move forward with confidence. No commitment necessary. But if you end up falling in love with the platform, we won't really be surprised.