Top 5 HubSpot Competitors and Alternatives
1.

Marketo

2.

InfusionSoft

3.

Adobe Marketing Cloud

4.

Act-On

5.

Wishpond
Marketing automation is the future. When it comes to optimizing efficiency, boosting company growth, and managing customers, the integration of marketing automation software is unparalleled.
But with so many options out there, how do you know which marketing automation software is the right one for?
Currently, HubSpot is the world's leading marketing automation software. Here at Bluleadz, we live and breathe everything HubSpot, so we're a little biased toward this fantastic product.
However, we understand that in order to get the most out of marketing automation, you have to choose the right software that fits your company's unique needs – and that might not be HubSpot.
When choosing the right marketing automation option for you, you'll need to consider what fits into your budget and what tools you want to prioritize based on your company's goals.
You should take company size into consideration as well, as some automation providers cater well to large enterprises, while others are more focused on providing automation for smaller establishments.
HubSpot has some strong competitors, and there's a chance that one of them might be a better fit for your company.
What Is HubSpot?
At its basic core, it provides inbound marketing automation software services, with tools for social media marketing, content management, web analytics, and search engine optimization.
It also provides an all-in-one platform. With their interconnected focus on marketing, sales, and service, they're designed to manage the full lifecycle of a customer, from lead to closed sale, and beyond. It emphasizes streamlined teamwork between these three departments, which optimizes communication and workflow.
HubSpot has a comprehensive CRM and CMS and has tools that enable you to create, launch, and track complete campaigns.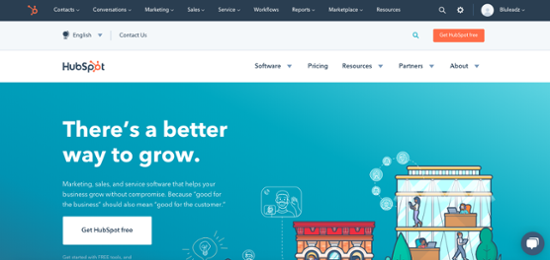 There's a reason HubSpot is top dog in the marketing automation world.
In addition to its automation and management systems, HubSpot also hosts an online educational platform, HubSpot Academy. The platform supplies customers with inbound marketing certification courses as well as educational resources covering topics like SEO, blogging, marketing best practices, lead generation and sales, client services, and much, much more.
Their customer service is known to be exceptional – you can quickly and easily connect with a service provider over the phone to help you resolve any issues you might be having.
Built to Grow With You: New Features Added in 2020
Another noteworthy aspect of HubSpot is how the platform is built. As you grow your business, your needs will evolve too. This is where HubSpot Marketing Hub Enterprise comes in handy.
They just launched new features at the beginning of 2020. The Marketing Hub Enterprise was always easy to use, and now, it's even more deeply powerful.
In terms of features, it's on parity with legacy solutions, including Marketo (listed below). What really sets HubSpot apart is the focus on user experience. Many software customers often need to make additional purchases for new features, like separate software for attribution reporting, whereas HubSpot includes all the features you need as you grow.
Where many legacy solutions are often too complicated, HubSpot Marketing Hub Enterprise puts you, the user, at the forefront, empowering you to leverage tools to hit your ambitious goals.
New Features for HubSpot Marketing Hub Enterprise
Revenue attribution – With multi-touch revenue attribution, marketers get credit for driving business growth by tying revenue to every marketing action, and marketing execs make better strategic decisions rooted in business value instead of vanity metrics. It also connects every customer interaction to revenue, automatically.
Partitioning (in beta) – Separate your marketing assets by team, so every user has access to the right content. Better organization and a cleaner database, made easy. (Note: Beta features are still in development and subject to change. Review HubSpot's terms and conditions for more information.)
Multiple subscription centers (in beta) – Create an email preference center for every team or brand, so every contact sees the right options when choosing their email preferences.
Adaptive testing – Use AI to optimize your conversion paths. You can create up to five variations of a page. Over time, HubSpot detects better performing versions to send more traffic to and eventually picks which page is most effective.
Account-based marketing (in beta) – These tools help you conduct an ABM program, with out of the box reporting and company scoring, properties, and templates.
Higher capacity limits – The existing limits on Marketing Hub Enterprise was doubled, which impacts workflows, lists, and more.
Pros:
Extensive educational resources to learn their software
All-in-one solution that can provide you absolutely everything you need for marketing automation
Easy-to-use platform
A free CRM!
Powerful enterprise features, so you'll never outgrow HubSpot
Cons:
Blog-editing interface could be improved – can't import from documents
Requires 12-month contract
No A/B testing in the lower tiered packages
Price:
Four solution options, each with tiered pricing. They have a free option, then prices ranging from $50/month to $5,600/month.
5 Alternatives to HubSpot That Are Worth Checking Out
via GIPHY
HubSpot is a fantastic tool that has a lot to offer, but it's important to make sure you're choosing the right marketing automation software for your company and its unique needs.
Different automation software options will have their own sets of advantages and disadvantages, and you should look closely at these to consider which will be the best fit for your priorities.
With that said, here are the top five HubSpot competitors for marketing automation software.
1. The Biggest Contender: Marketo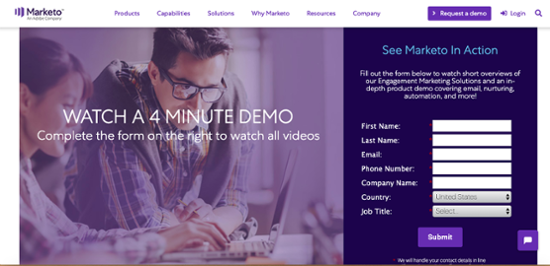 Marketo is often known to be HubSpot's top contender, as they both offer similar features and have high customer satisfaction rates. When you sign up, you're assigned a consultant who will help you with the onboarding process and integration of the system into your company.
Marketo offers five engagement marketing solutions: email marketing, lead management, consumer marketing, customer base marketing, and mobile marketing. Their pricing is based on which solution you choose and the size of your company.
Marketo is used mostly for larger enterprises with a high number of leads, a designated IT team, and a reasonable budget. It's a great option if you need extensive analytics tracking and workflow streamlining.
Pros:
Extensive and customizable email marketing campaign tools
Great for handling large quantities of contacts and leads
Strong mobile marketing tools
Excellent customer service
Cons:
The landing page builder has been reported to be a little lacking
The bundled pricing options make their services expensive
You'll need some IT skills for the more advanced tools and analytics options
Price:
Packages range between $895/month and $3,195/month.
2. Best for Small Businesses: InfusionSoft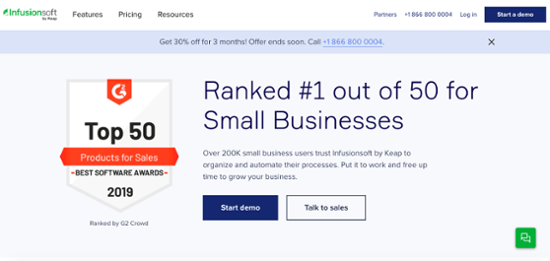 InfusionSoft is a great option for small B2C companies. It's an affordable marketing automation software alternative to more expensive options like Marketo. It has great customer relationship management capabilities, which even includes invoicing and payment tools.
InfusionSoft isn't known to be great for B2B companies. It's really best for smaller B2C companies, especially those with an ecommerce base.
Their Premier option even has an online storefront that allows you to sell products, subscriptions, and services.
Pros:
Easy to design campaigns and landing pages
Big user-based support community
Known for good ROI
Cons:
Not ideal for B2B businesses
The onboarding kickstarter programs cost between $499 and $1,999
No A/B testing
Price:
Three tiered plan, starting at $199/month and up to $399/month.
3. Best for the Creatives: Adobe Marketing Cloud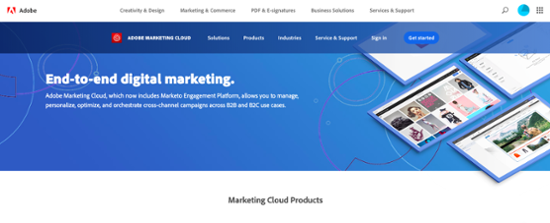 Creatives who are proficient in Adobe swear by it, and there's a reason: their software really is the best of the best.
Their marketing automation, Adobe Marketing Cloud, is obviously expected to follow suit, and for a lot of people, it doesn't disappoint. It's known to have a slick, user-friendly design, as most Adobe products do.
They offer eight solutions: Analytics, Audience Manager, Campaign, Experience Manager, Media Optimizer, Primetime, Social, and Target.
Adobe Marketing Cloud is best for large companies or creative individuals who already know their way around Adobe software, like photographers, videographers, and designers. It is not recommended for small companies who don't have a designated marketing team or experience with Adobe.
Pros:
Extensive resources available for support and learning how to use the software
Particularly strong email marketing capabilities
Allows seamless workflow across different teams
Cons:
No bulk social media posting
Doesn't integrate well with other services, including Gmail and Outlook interfaces, Oracle, Netsuite, or Sugar CRM
People don't love the subscription and pricing structure
Known to run slow on older computer equipment
Price:
Based on a quote-by-quote basis, but customers do consistently list the price tag as one of its biggest cons.
4. Best for All: Act-On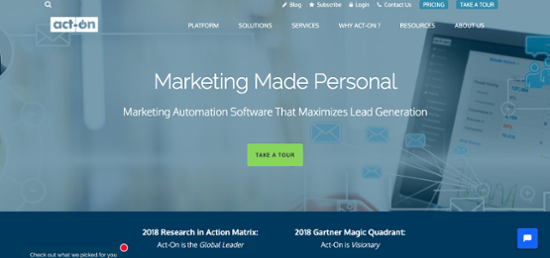 Act-On is a strong contender against both HubSpot and Marketo, but it doesn't have the big price tag attached to it.
They aim to provide the kind of all-in-one automated marketing platform that HubSpot does, including website hosting, email marketing, analytics, lead generation, social media management, and more.
Users have said that it helped them organize their marketing and campaign tactics to optimize efficiency and get the most out of them, and the interface is known to be very user friendly.
Similar to HubSpot, Act-On also features an abundance of educational resources to help companies and clients learn about marketing. This includes their online learning platform, Act-On University, a resource library, video learning options, and free automation guides and tools.
Act-On is great for companies of all sizes, but especially those who are looking for a more budget-friendly option.
Pros:
Good contact segmentation for effective email marketing
Requires minimal IT knowledge
Integrates with a wide variety of third party providers
Known for great customer service
Cons:
Features sometimes get updated without notifying users
Customers often complain about UI design
Price:
Two package options: Professional for $900/month, and Enterprise for $2,000/month.
5. Best Newbie: Wishpond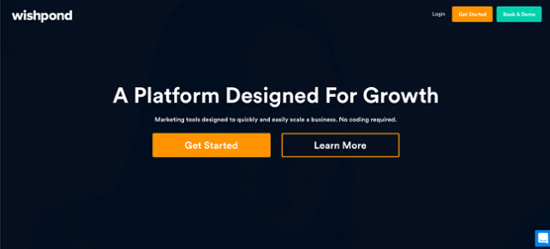 Wishpond is the new kid on the block, but they're making a big impact.
They feature four marketing tools in one powerful platform: marketing automation, landing pages, pop-ups and forms, and contests and promos. The key phrase on their homepage describes them well – "Marketing tools designed to quickly and easily scale a business. No coding required."
The major drawback is that Wishpond doesn't provide a platform to host your website, so you'll need to have one already built through a service like WordPress or Squarespace, in which you can integrate all their landing pages, forms, and other tools.
Their website provides a full list of the third party providers they integrate with, organized by category, so you'll know right away whether you'll be able to use your other business tools with them.
Their pricing plan is a little different, as you can choose the "do it yourself" option, using their marketing suite to build landing pages, create campaigns, and design contests and marketing emails.
Or you can choose the "done for you" option, in which Wishpond's marketing team handles the whole thing – designing and running a marketing campaign to help grow your business.
Wishpond is great for companies who are looking for a budget-friendly option and have limited IT knowledge. But it's important to remember that you'll need a website already up and running with a third party host!
Pros:
Connects with over 30 third party marketing platforms, including MailChimp, Salesforce, Gmail and Outlook
Easy-to-use interface
Budget-friendly pricing
Doesn't require much IT knowledge
Cons:
Doesn't provide website hosting
Templates can be hard to customize to your brand
Price:
"Do it yourself" pricing options have three tiers and range between $49/month to $199/month. The "done for you" option is based on a custom quote.
How to Choose an Alternative
If you think that HubSpot might not be the best fit for your company, you'll likely find the solution amongst the list of its top competitors here.
But it's important to make sure that you already have a marketing strategy mapped out – when it comes to automation software, you get out what you put in.
Consider your budget, company size, and overall goals when choosing the right marketing automation software for you. Take a close look at what each platform provides, and prioritize the tools you'll actually be using so you don't end up paying for features that aren't relevant to your campaigns.