HubSpot Pricing Breakdown: What Does HubSpot Cost?
1.

HubSpot CRM - Free

2.

HubSpot CMS Hub - Pro: $300/mo, Enterprise: $900/mo

3.

HubSpot Marketing Hub - Free, Starter: $45/mo, Pro: $800/mo, Enterprise: $3,200/mo

4.

HubSpot Sales Hub - Free, Starter: $45/mo, Pro: $450/mo, Enterprise: $1,200/mo

5.

HubSpot Service Hub - Free, Starter: $45/mo, Pro: $360/mo, Enterprise: $1,200/mo
When comparing the best marketing, sales, and customer service software platforms, there's no doubt that HubSpot stands tall in this increasingly competitive field.
They bring all the tools you need under one roof, and their growing list of integrations allows businesses to build a complete tech stack that works for them.
One of the best parts of the HubSpot experience is that it's built to grow with you. They offer free versions of many of their software tools for people to try it before fully investing in a paid account.
But you may wonder what these free versions actually include? And what is the difference between the free and paid versions?
HubSpot has a wide-range of price points that can be difficult to understand at first. That's why we provide you with this guide to HubSpot's pricing to help clarify what you're actually paying for when you choose one tier over another.
What Is HubSpot?
HubSpot is a full stack inbound marketing, sales, and customer service software platform that allows companies to attract site visitors, convert more leads, and ultimately close more deals.
HubSpot's arsenal of tools helps you to create and host webpages and landing pages, run email campaigns, write blogs, and manage your contacts and interactions.
In addition to these items, HubSpot also allows you to track and analyze user behavior with ease. Their tools can make a difference at each and every touchpoint in the buyer's journey.
Here are some of the tools that are comprised of the full-suite of HubSpot software:
HubSpot Marketing Hub: Landing pages, emails, social media, blogs, SEO, marketing automation, and analytics.
HubSpot CMS: Website themes, drag-and-drop editor, local website development, and multi-language content creation.
HubSpot Sales Hub: Free calling, email sequences, email templates, pipeline tracking, and meeting scheduling.
HubSpot CRM: Activity tracking, contact information and management, real-time chat, and pipeline visibility.
HubSpot Service Hub: Support tickets, live chat, knowledge base, reporting and goals, customer feedback, and conversational bots.
We know that HubSpot does so much more, but this was just a brief overview of some of the fantastic capabilities of their platform and tools. At this point, you may be wondering about the price tag on all of these great tools and features.
Let's take a look at some package options and numbers.
A Breakdown of HubSpot Pricing Tiers
With the different hub options you have with HubSpot, there are a variety of features and pricing tiers available to you. Many hubs have free versions with limited functionality. For the paid versions, there are options for the following: a starter tier, a professional tier, and an enterprise tier.
You can also purchase any combination of the HubSpot tools and tiers that you want.
We're going to break it down tool by tool for you in the simplest way possible so you can decide what the best options are for your organization.
HubSpot CRM Pricing
HubSpot's customer relationship management (CRM) software serves as much more than a contact database that allows you to store an unlimited amount of contacts, deals, companies, and tickets.
The CRM software also provides you with insight into your pipeline with contact website activity, company insights, and email tracking and notifications.
HubSpot's CRM is backed by their "Free Forever" offer on their pricing page, and it comes free when you purchase Sales Hub, Service Hub, or both.
The only time HubSpot's CRM is not free is when you switch to a paid Marketing Hub contract that charges you per 1,000 contacts that are stored in the CRM at any given time. This is actually incredibly beneficial for companies to manage their budget because you only pay for your marketing contacts.
Marketing contacts are the people in your database who you engage with via marketing efforts. For example, you only pay for the contacts who you send marketing emails to.
HubSpot CMS Hub Pricing
A powerful CMS makes website management easy. It's one of HubSpot's newest hubs, providing excellent security and performance for your website. The CMS Hub comes with customizable themes and a drag and drop editor that makes website updates quick and simple, which makes it stand out among top competitors like WordPress and Drupal.
The CMS Hub has two tiers, professional and enterprise.
Professional
Pricing: Starting at $300 per month billed monthly or $270 per month billed annually ($3,240/yr).
In addition to the features mentioned above, the Professional CMS Hub tier gives up to 10 teams access to:
100 custom reports
25 dashboards
25 filtered analytics views
A/B testing for two page versions
Enterprise
Pricing: Starting at $900 per month billed yearly at $10,800 per year.
Some of the upgraded and new features of enterprise include, but are not limited to:
500 custom reports
50 dashboards
50 filtered analytics views
Adaptive testing
Memberships
Additional brand domains
Site performance monitoring
Hierarchical teams
Code alerts
HubSpot Marketing Hub Pricing
HubSpot Marketing Hub is the software you need to launch the best marketing campaigns that generate people's interest in your business and make them happy to become your customer.
Marketing Hub has four pricing tiers: free, starter, professional, and enterprise.
Free
A good portion of Marketing Hub's core functionality is available to you for $0 per month, so you can try before you buy. With the free version, you can use live chat and basic chatbots, create simple forms, send out marketing emails, and manage contact records.
If you want to truly amp up your inbound marketing, you may want to upgrade this marketing platform because of its limited features.
For instance, you are only able to send out 2,000 marketing emails a month, and HubSpot is branded on all of your digital assets.
Starter
Pricing: Starting at $45 per month billed annually ($540 annually) or $50 per month billed monthly.
With this version, the HubSpot branding is removed from all of your assets, and you get access to the drag and drop landing page builder.
Some additional features you gain access to with the starter version include:
Emails that are five times your contact limit
25 email lists, instead of five
Conversational bots
Ad management
Forms
Form follow-up emails
Contact website activity
Email health insights
This tier is great for startups, small businesses, and teams between one and 20 that are just getting started with inbound marketing techniques.
Professional
Pricing: Starting at $800 per month billed annually ($9,600 annually) or $890 per month billed monthly.
Some of the additional features available on this tier include:
Custom reporting
Contact and company scoring
Marketing automation
Social media
Blog tools
A/B testing
Video hosting and management
CTAs
The pro tier is a great fit for companies that are interested in fully diving into inbound marketing strategies, tracking the success of their campaigns, and automating manual processes to save time.
Enterprise
Pricing: $3,200 per month billed annually ($38,400 per year).
The Marketing Hub Enterprise tier is created specifically for large teams who have a variety of users who need to use the tools in different ways.
Some of the features from pro that have increased limits include:
500 custom reports compared to 25 from pro
Up to 200 teams compared to 10 teams in pro
Some new features included with enterprise include:
CMS membership
Multiple scoring properties
Content partitioning
Custom attribution and event reporting
Hierarchical teams
The enterprise tier is great for large businesses that have various teams and multiple lines of business. It is also useful for companies with a large amount of contact databases and marketing teams with complex processes.
HubSpot Sales Hub Pricing
HubSpot Sales Hub is the second major hub after the HubSpot Marketing Hub. Sales Hub provides sales teams with the ability to track their deals and activities in the same place as their marketing data because the CRM is included. It also delivers a slew of amazing sales engagement tools that can accelerate revenue growth.
Sales Hub has four tiers – free, starter, professional, and enterprise.
Free
Yes, HubSpot has another free version! Get Sales Hub for free with limited features so you can try it out to see how you like it before you buy it.
With the free tier of Sales Hub, you can schedule meetings easily, set up one deal pipeline with multiple deal stages, manage your contacts, and create up to five text templates for emails to help you save time.
We recommend using the free tools if you have a single user to improve productivity and processes. The free tool is not robust enough to handle full sales teams.
Starter
Pricing: Starting at $45 per month billed annually ($540 annually) or $50 per month billed monthly.
The Sales Hub Starter tier provides you with these additional features:
1,000 automated email sequences
Quotes
Custom properties
Goals
Reporting dashboard
Deal pipeline
Simple sales automation
Similar to the free tier, the starter tier is good for single users looking to get their sales software set up and operating efficiently. It's an essential resource for sales teams looking to grow a small business.
Professional
Pricing: Starting at $450 per month billed annually ($5,400 annually) or $500 per month paid monthly.
The professional tier of Sales Hub allows you to generate custom reports on your team's activities and automate manual processes.
With the pro plan, you gain features such as:
Accessibility for up to 10 teams
Up to 15 different pipelines
1:1 video creation
Slack integration
Calculated properties
Product library and quotes
10 esignatures per user per month
Salesforce integration
This tier is good for sales teams with one to 20 sales representatives with no more than one level of management.
Enterprise
Pricing: Starting at $1,200 per month billed annually ($14,400).
Some functionality changes that come with this upgrade include:
Call transcription
Single sign-on (SSO)
Hierarchical teams
Webhooks
User roles
Predictive lead scoring
Record customization
This tier is great for organizations with large teams of sales reps and different levels of sales management who need a high level of control over processes.
HubSpot Service Hub Pricing
Last but not least is HubSpot Service Hub. This excellent hub allows you to keep your customers happy by providing them with the best customer experience.
Service Hub also has four tiers – free, starter, professional, and enterprise.
Free
The Service Hub Free tier allows you to connect and manage a team email, to set up a single ticket pipeline, and to look at a limited version of productivity reports for your customer support reps.
The free tier is best suited for one user who wants to improve productivity and track their progress and processes better.
Starter
Pricing: $45 per month billed annually ($540 per year) or $50 per month billed monthly.
Some additional features included with the starter tier include:
Basic monthly goal tracking
Simple automation
1,000 email snippets and templates
Conversation routing
Meeting scheduling
Tickets closed reports
Calling
This tier is a great fit for support teams of one that don't need to use reporting for team productivity or pipelines.
Professional
Pricing: $360 per month paid annually ($4,320 per year) or $400 per month billed monthly.
Similar to HubSpot Sales Hub and Marketing Hub, Service Hub Pro allows you to gain access to automation, additional pipelines, and custom reporting.
Here are some of the added functionalities you can get with this upgrade:
1:1 video creation
Customer experience, customer support surveys, and NPS
Up to 15 ticket pipelines with different statuses
Calculated properties
Slack integration
Workflows
Up to 10 teams
Use the pro tier when your organization has between one and 20 reps with one management level. You may want enterprise if you have a larger team and more complex management structures.
Enterprise
Pricing: $1,200 per month billed annually ($14,400 per year).
Additional features include:
Playbooks
Custom objects
Goals
User roles
Field-level permissions
Slack integrations
Hierarchical teams
Webhooks
Calculated properties
Single sign-on
Large businesses can benefit the most from this tier if they have a lot of support reps and managers.
The ROI of HubSpot
It is proven that customers who use HubSpot grow their businesses faster and better than other platforms.
One HubSpot user named Ben Twitchell from Mention wrote a testimonial on HubSpot stating, "Our landing pages have an average 55 percent conversion rate, while our visitor to contact rate is amazing – 13 percent of all visitors to the website have either signed up for a trial or given us their information. Our closed deals have increased; we have a five percent conversion rate from contact to paying customer."
Some highlights from a 2018 study show that HubSpot helped users gain an average of 2.1 times more visitors per month in a single year, 2.5 times more leads each month in a single year, and 70 percent of customers saw an increase in conversions.
Here is a visual look at some more stats from HubSpot's research study regarding lead growth with their software: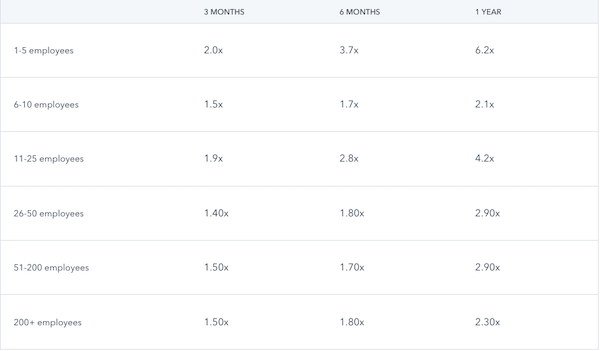 Source: HubSpot
If you want to calculate your own projected ROI, you can use HubSpot's helpful ROI calculator. Simply enter your current metrics for the following fields:
Monthly visitors
Monthly leads
Monthly customers
Monthly sales price per customer
Once you enter your metrics, hit "calculate," then take a look at your report, which is automatically generated. This report shows you projections for increases in potential monthly visitors and leads, which they then show you as both a dollar amount in estimated revenue generation and in growth rate.
HubSpot's full suite of tools wins the hearts of many with their ability to help people fulfill business needs and hit organizational targets and goals. Take a look at your current budget, and review this HubSpot pricing breakdown so you can see exactly where your investment will go and how that will impact your growth.
In the end, you're equipped to make an informed decision about the HubSpot tools and packages you'll choose to kickstart your business and continually accelerate your revenue growth.