LinkedIn InMail Best Practices
1.

Make Your Pitch Persuasive.

2.

Keep It Simple and Direct.

3.

Include the Goal of Your Message.

4.

Always Include a Strong Closing Statement.

5.

Add Some Personalized Messaging.
Looking to utilize LinkedIn ads to reach your target audience? LinkedIn Message ads are a great way to start! LinkedIn InMail and Message Ads are a way to expand on your email campaigns to your target audience via LinkedIn.
Start closing more customers and creating excellent engagement with your InMail message recipients by learning the ins and outs of LinkedIn InMail and messages using this comprehensive guide. Let's explore current pricing and the best tips for both LinkedIn messaging options.
What Is LinkedIn InMail?
LinkedIn InMail is a messaging feature available for premium LinkedIn accounts that allows users to send messages to people they do not currently have a connection with on the platform. This feature is essentially an extension of the standard private message feature on LinkedIn.
However, if you have a free or basic account, you won't be able to send InMail messages, but you will be able to receive them.
The Difference Between LinkedIn InMail and Sponsored InMail
We already discussed that LinkedIn InMail allows you to send messages to people you don't know for a variety of purposes.
Sponsored InMail, most recently known as Message Ads, is a paid LinkedIn feature that allows marketing and sales professionals to send messages to their target audience in a personal way with the goal of driving website traffic and generating more leads.
Message Ads come in two formats, Message Ads and Conversation Ads. You can create ads and include offerings, such as product demos, event invitations, ebooks, and other content. Message Ads are used for targeted messages with one clear CTA, while Conversation Ad campaigns allow you to have several CTAs with the option to connect to a lead generation form or to other landing pages.
InMail only lets you send a limited amount of general messages, depending on your premium plan, without the ability create an ad with targeted content.
LinkedIn Message Ads and InMail Costs
LinkedIn Message Ads and InMail have a variety of unique payment options for any budget. With Message Ads, you can choose your ad pricing.
Pricing Options for LinkedIn Message Ads
Cost-per-click (CPC): Pay when users click your ad. This option is great for driving traffic to your site or for lead generation.
Cost-per-1,000-impressions (CPM): Pay when users see your ad. This is best to drive awareness.
Cost-per-send (CPS): Pay only when Message Ads are delivered successfully. This option is good if you want to gain more high quality leads or event registrations.
Each of these bid strategy options allows you to set your own daily budget or total budget along with a schedule that has a set start and end date.
Pricing Options for LinkedIn InMail
Premium LinkedIn Career Account: $29.99/month for five InMails each month.
Premium LinkedIn Business Account: $47.99/month for 15 InMails each month.
LinkedIn Sales Navigator: $79.99/month for 20 InMails each month.
The InMail credits roll over each month, which means that any unused credits can be used up to three months later. Users can also receive InMail credits for an InMail message that gets a response within 90 days.
You may purchase more InMail credits if you run out at the end of a month, but they cost about $10 each.
5 LinkedIn InMail Best Practices to Drive Engagement
Check out these five tips to help you get more responses and engagement from your InMail recipients.
1. Make Your Pitch Persuasive.
Persuasive messaging isn't as complicated as you may think. All you have to do to add a persuasive element to your message is to explain why what you're offering is beneficial to them.
Even if you are asking them for something, you can outline how it is mutually beneficial. Essentially, create value so they can be enticed to respond and engage with you further.
Remember that persuasion is a major key to achieving your goal.
2. Keep It Simple and Direct.
Most people don't have time to read a long message that is full of fluff and pleasantries. Make sure your messages are easy to understand and grammatically correct with no redundancies.
When you are direct in your messages, you demonstrate your respect for their time by sending an InMail that is not the length of the classic novel War and Peace.
3. Include the Goal of Your Message.
All of your InMail messages should have a goal. The goal or point of your message should be included in the InMail content.
For instance, if you just wanted to connect, state that in the message. Ask for the connection and even mention why you want to connect.
4. Always Include a Strong Closing Statement.
Don't assume that your recipient knows what you want them to do. If you want to meet over the phone or in person, ask them.
Stating, "Let me know if you are interested" would be an example of a weak closing statement. Include specifics about what you want, including a time and date for a meeting to discuss the contents of your message further.
A strong closing statement or call to action puts the ball in their court and provides you with a higher response rate.
5. Add in Some Personalized Messaging.
Check out your recipient's profile in detail before you message them. Write down notes on some relevant information about them that you found on their profile.
Use this information to personalize the message. If you notice the recipient often uses funny memes or references from a movie or TV show, find some common ground by mentioning it in your InMail.
Only do this if you have some knowledge surrounding the personalized topic. If you don't know about the topic or show, don't pick it as a connection point.
You can mention mutual connections, education, employment, and articles and blog posts to show you have shared interests and establish some common ground.
How to Set Up LinkedIn Message Ads
Setting up LinkedIn Message Ads can be quite complex without step-by-step directions. Here is the four step process for you to follow so you can start creating your ads in no time.
1. Create a LinkedIn Message Ad Campaign.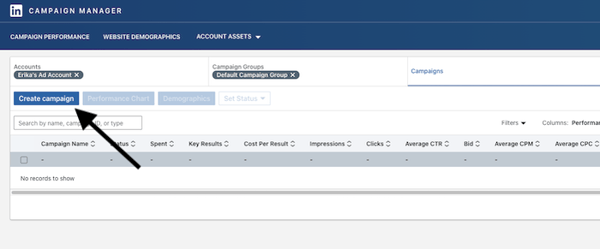 Next, select the objective for your campaign. For instance, you may choose "website visits" if you want to drive traffic to one of the landing pages on your website.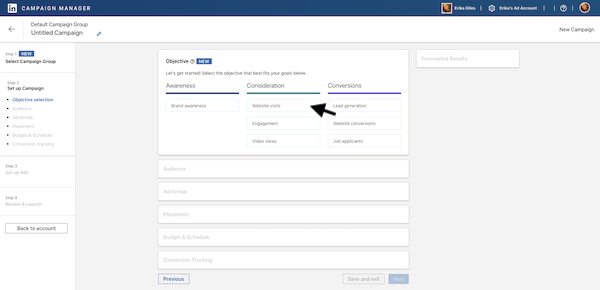 2. Define Your Target Audience for the Ad.
Now it's time for you to select the audience you'd like your message ad to target.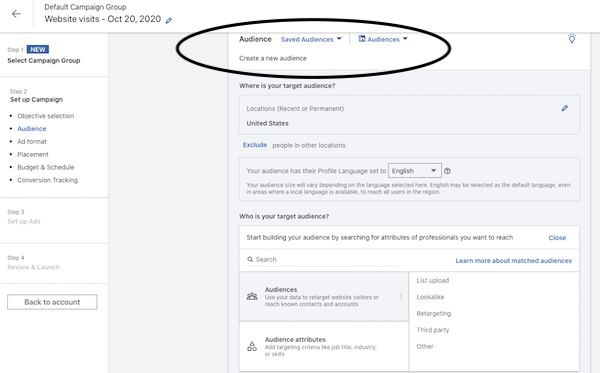 For the purpose of this walkthrough, let's say you want to target people who are interested in growing their business using inbound marketing strategies. Start by selecting Interests and Traits and Member Groups. Type in inbound marketing in the search bar.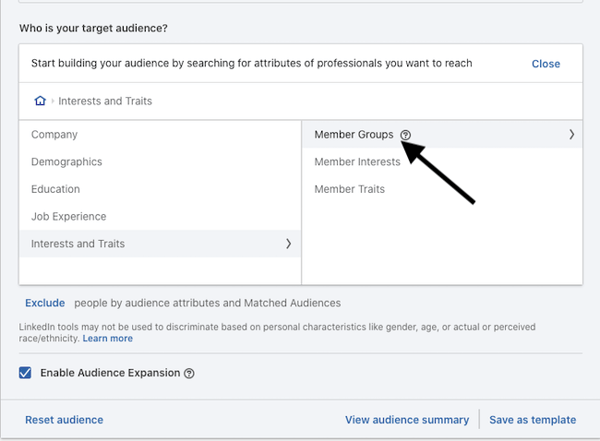 Select the groups you want to target. This would provide you with a reach of over 140,000 people in your target audience if you selected all Member Groups available.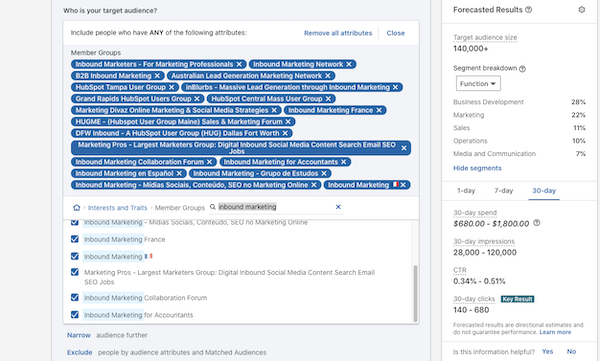 You can then narrow the audience further by targeting specific companies. Click + Narrow Audience Further.
Navigate to Company. Select an attribute like Company Growth Rate. If you select companies with a lower growth rate, you'll notice that your target audience size is now 67,000.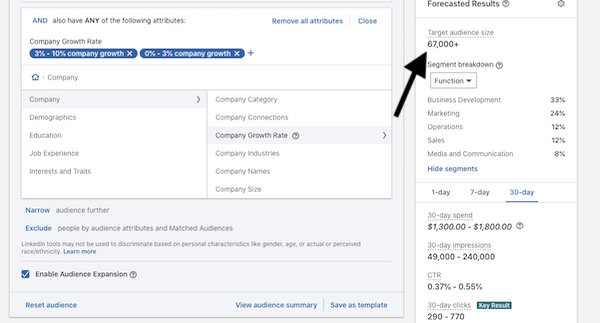 Lastly, to narrow the audience further, you can select Job Experience and Job Seniorities to target the decision makers in the business you are targeting. This takes you to a target audience of 24,000 people who are interested in inbound marketing who work in the following areas: Business Development, Marketing, Operations, Sales, and Media and Communication.
3. Select the Final Ad Details and Budget.
Choose your ad format based on the content you want to include.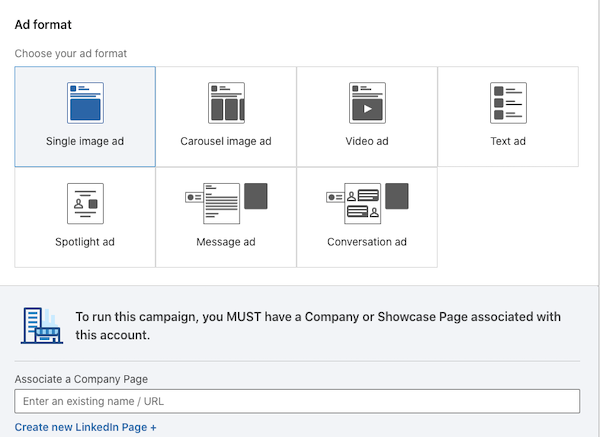 Set your budget and schedule by scrolling down to the Budget & Schedule section. Choose to run your campaign continuously, or set a start and end date.
4. Design Your Ad.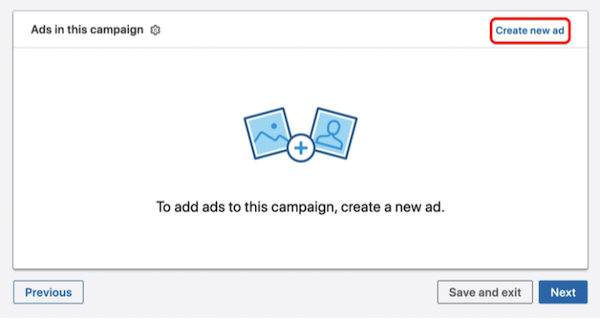 The message in your ad will automatically connect from a personal LinkedIn profile. In the Sender Section, decide who will be sending your sponsored message if you want it to be someone else.
Type in your ad name after you select a sender. Next, write a subject line.
Add text into the message. Consider inserting a link to your landing page into the message by selecting the relevant text and clicking the link icon. A box will pop up called Edit Link. Type in your URL, and click OK.
You can opt to add in a custom footer with terms, conditions, and disclaimers. Below that you may also add a CTA that can link to your landing page.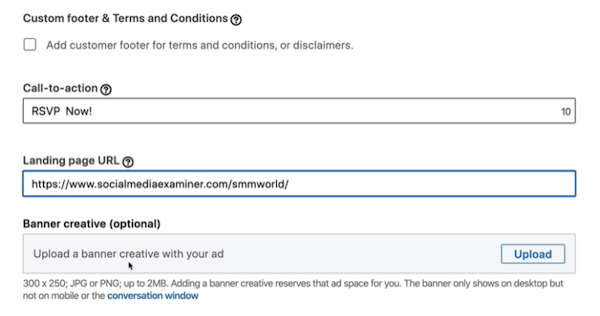 Once you are finished designing your LinkedIn Message Ad, click Create. You'll see a preview of the ad on the next page.
Click Next. Then, click Launch Campaign.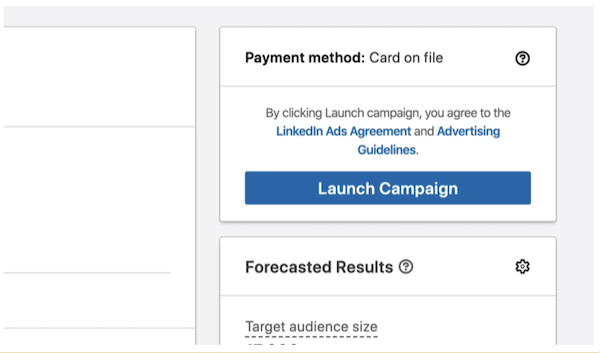 10 LinkedIn Message Ads Best Practices to Nurture Leads
Review our 10 helpful tips for Message Ads to help you nurture your leads on their buyer's journey.
1. Choose a Credible Sender.
An important starting point for creating your LinkedIn Sponsored InMail ad is deciding who your sender will be.
The name tied to your message should be relevant to the person receiving the message. Their job title should also be credible in order to show value to the message. For example, if Bluleadz was to send a marketing message, our sender would most likely be our marketing manager or CEO.
2. Make Your Subject Lines Stand Out.
Just like your email marketing campaigns, you need to create valuable and engaging content that will stick out in an individual's inbox.
While their LinkedIn inbox may not be as full as their email inbox, you need to still have a catchy subject line that will entice them to open your message. It's important to keep subject lines short and impactful.
LinkedIn mentions that the best performing subject lines include the following words:
Thanks
Exclusive invitation
Connect
Job opportunities
Join us
3. Create a Valuable Straightforward Message.
Now that you've gotten the reader's attention with an eye-catching subject line, you need to make sure that you have a valuable and engaging message inside.
Chances are, they may not know who you are personally, but they fall under the criteria you set. Therefore, you need to have a strong message inside the InMail ad to keep their attention and make an impact.
Address them directly by using a customized greeting (you can use personalization tokens in LinkedIn InMail), and also using the word "you" can help make a personal connection instead of sounding like an ad. In your message, you should also be straightforward and relevant, while keeping your copy under 1,000 characters.
Mobile tip: Copy that is over 1,000 characters may not perform as well on mobile devices.
4. Keep Them Engaged With a Clear Call to Action.
To make your LinkedIn Message Ads effective, you need to keep readers engaged. You're not just paying them to open your InMail and read your message – that would be a waste of money.
You want readers to continue to engage with you. So, you need an obvious, clear, and enticing call to action (CTA) at the end of your message. With LinkedIn Message Ads, you can add in a button CTA at the end of your message.
However, it is also good to have a text link within your message as well. Top performing InMail CTA keywords include the following:
Try
Register
Reserve
Join
Confirm
Download
5. Use a Strong (But Not Distracting) Image.
For InMail ads shown on a desktop, you can add an image to go along with your message. However, unfortunately, this is not available on mobile.
It's important to include a strong visual that will enhance your InMail message yet not distract them from it. Your image should be relative to the message in your copy, and keep in mind that with images, you are limited to a 300x250 px space.
6. Select the Right Target Audience.
The most important part about your ads is selecting the right target audience.
You're paying money to get in front of these individuals – so, before setting up your campaign, really think about who you want to target. Use the targeting filters to get in front of more qualified individuals even if that means a smaller pool of people.
The first thing to consider is location – meaning the city, state, or even country you want to reach. Then, think about the experience and what level you want these individuals to be. LinkedIn allows you to choose specific job junctions, titles, seniority, and years of experience.
Another important aspect to consider is what type of company you want these individuals to be from. For company targeting, you can select specific names, industries, size, etc.
But the targeting doesn't stop there. You can also look at education, interest, age, and gender of the individuals you want to reach.
As you can see, there are a lot of targeting options so think about it in advance and really make sure you're selecting the right targeting options that will fit your buyer personas in order to increase qualified leads.
7. Try A/B Testing to Learn How You Can Optimize Your Ads.
LinkedIn Message Ads allow you to A/B test your campaigns. This is a feature you should always take advantage of. When A/B testing, be sure you only test one variable at a time.
For instance, you can test two different CTAs or two different headlines, but don't test both at once. If you do, you won't be able to identify which variable had the biggest impact on the ad's performance.
Run A/B tests for about a week or two, and then use the insights to help optimize your ad.
8. Use Analytics to Continue to Improve Your LinkedIn Message Ads.
As with most aspects of digital marketing, you cannot adopt a "set it and forget it" mindset.
Once your ads have been up for about a week or two, start using the analytics you've received to continue to improve your ads and increase performance.
You can click on the demographic tab in your Campaign Manager dashboard to receive detailed information about your ad. You can see the type of job title, industry, seniority, and more details associated with the people who have interacted with your ad. This is valuable information that you should use to improve your content and targeting.
9. Match Your Sponsored Message Ads with Sponsored Content.
Send your sponsored LinkedIn content out at the same time as your message ads and use the same audience for both. This gives you the opportunity to impact the same users twice through various channels.
Both ad formats complement each other, and the content you sponsor on LinkedIn could be a blog post explaining a specific concept related to your message ad. This way, your audience can educate themselves. This can increase brand recognition and garner you more clicks on your campaign ads.
10. Use Lead Generation Forms.
Lead generation forms included with your LinkedIn ads allow you to collect information from your leads seamlessly. The forms on LinkedIn auto-fill information by taking data from the profiles of your audience.
This means that your leads don't have to manually fill out all of their information, which can improve their user experience and boost the amount of leads you generate.
Focusing on these best practices will help you to avoid some of the common pitfalls users make when creating LinkedIn Message Ads.
LinkedIn Message Ad Mistakes to Avoid
via GIPHY
We've talked about all the best practices for your LinkedIn Message Ads, but there are some major "don'ts" you need to avoid when you're creating ads. If you don't prevent these mistakes, your ad performance will suffer, causing a waste of ad spend while also potentially hurting your brand.
Assertive Content
While Message Ads is a paid form of advertising, you don't want to sound like an ad. No need to sound super salesy.
You should also avoid using too many exclamation points and all caps. You want your content to be conversational and personal, not overly pushy.
Vague Content
The receiver should not be left wondering what your message was after reading it. If your content is too vague, you have little to no chance of engaging with these targeted individuals.
Too Much Content
While vague content is bad, too much content is even worse! You don't need to get into all the nitty gritty details in your message.
Your landing page connected to your call to action should present additional content for readers. This is where you can deliver more details and entice them to convert into a lead.
Long, Complex CTAs
Your CTAs should be short – like three to four words. Anything that is too long will get cut off on mobile.
Also, it should be obvious want they are clicking on. If they think they are taking one specific action (like booking a consultation or downloading an ebook) and getting something else (like a sell sheet), you'll lose credibility and they will most likely not convert.
Hyper-Targeting
While targeting is important, it's also important to not limit your audience. Try to not add more than three targeting criteria in the beginning. After all, you want to be able to optimize your campaigns while reaching a sizable group of people.
With these best and worst practices in mind, you'll be better prepared to start using LinkedIn to fuel your lead generation, engage with prospects, and grow your business.