Your service reps interact with your customers daily, often in different ways and varying capacities.
How are these interactions going down, though? Are they just brief touchpoints, or are your customers being fully engaged?
If you're keeping up with your market, then you likely have customers coming to your business through multiple channels with a wide variety of needs. Without customer interaction management, your service team can quickly become overwhelmed or burnt out.
We'll go over just how important having a sustainable process in place can be below.
What Is Customer Interaction Management?
Customer interaction management describes how a business engages with its customers at every stage. It's how the company addresses different customer needs and serves its different personas.
via GIPHY
There are several different ways a business and a customer can interact, including:
Questions
Complaints
Requests
Praise/Compliments
Each interaction requires different processes in order to address them, and some interactions carry a higher priority than others.
But, however a business handles it, there should be a management process in place in order to properly accommodate and satisfy every customer to the best of their ability.
How Customer Interactions Impact Your Business
Customer interactions can actually improve your business. Hearing from a customer should never be perceived as a chore but rather an opportunity.
Engaging with customers can:
Boost Brand Loyalty.
There's really no reason for customers to be loyal to any one business in today's flooded market except for one differentiator: quality.
Providing your audience with positive interactions and a personalized relationship with your brand can make all the difference in making you more valuable than your competitors.
Discourage Negative Reviews.
via GIPHY
Customers are just as likely to share their bad experiences as they are their good ones, and bad word-of-mouth travels fast. The process of avoiding a business is a lot easier than justifying buying from one.
Prioritizing customer satisfaction and great interactions can mean less bad press on social media and other channels.
Increase Referrals.
On the opposite end of this spectrum, successful interactions can boost your chances of customers recommending your business to those in their social circle.
Referrals are a great way to grow your business, so don't be afraid to follow up with a request after a positive service interaction happens.
If they're impressed with your customer interaction management, they'll have no trouble turning around and speaking on your behalf.
Save Customer Relationships.
Sometimes things don't go according to plan and customers approach you with serious, justified complaints. How you handle that interaction decides whether you lose that customer or not.
This is true even after a customer has left.
Handling every interaction with care and taking the time to find solutions can change their minds and bring them back around to your business.
Tips for Making Every Customer Interaction Awesome
Customers appreciate personalized care and attention, but it can be easy to interrupt a positive relationship if you're not engaging with them appropriately.
Here are a few tips to help you make sure you're providing your customers with a high-quality level of service.
Act With Intention.
Being conscientious and intentional is an invaluable quality in all aspects of life, not only when engaging with customers.
Following through on finding solutions for a customer in order to genuinely provide value and aid, not just because it's "your job," shows them that you care.
Oftentimes, customers don't believe they're actually going to have their problem solved when they reach out. Prove them wrong.
Display Gratitude and Empathy.
You should always make an effort to treat customers the way you want to be treated if you were in their shoes.
By showing empathy, you'll be able to form an actual relationship with your customers through your various interactions. This puts you on a path to better understand their problem and also show them that you truly value their business.
via GIPHY
It also pays off to display some gratitude for their loyalty. Thank them for everything, including their time, patience, and purchase. After all, they didn't have to choose your business to work with.
Take Note of Customer Feedback.
Regularly ask for customer feedback so that you can better optimize your service processes and strategies. You can gather this through surveys and learn about the interaction from the customer's point of view.
But make sure you're not simply logging their input. Actually act on it!
Take their feedback and turn them into actionable items that you can use to improve your business and their overall experience.
Be Human.
This might sound a bit silly, but it's extremely important for your service reps to remember that they're not robots. Robots are not what customers want to interact with.
Reps should talk like people, with empathy, patience, and concern. If it feels scripted or overly formal, then the entire interaction will come across as insincere.
Endear yourself to your customers with some individuality and personalization, while staying in the realm of professional. Build up a natural rapport that generates familiarity. Customers will feel a lot more relaxed about their problem and confident that you're going to help them with it.
How to Develop Your Customer Interaction Strategy
Even if you've already got an engagement plan in place, there's always room to improve and optimize your customer interaction strategy. Here are some steps to follow to bolster your efforts:
Create a Training Plan.
Training your team to be effective support members is critical to retaining customers and providing value throughout the customer journey.
You'll want to come up with a list of skills to teach or reinforce based off of the types of interactions your team encounters on a day to dat basis.
Practice Internally.
This is a great practice for two reasons.
First off, team members will be able to use their newfound skills practically and also receive feedback. They can role play through the entire customer lifecycle and get an inside view of how customers feel and what they're looking for.
Secondly, it makes for great team building. Engaging with your peers in fun and interactive ways is important toward your overall satisfaction as an employee.
Assess Competencies.
via GIPHY
As your team undergoes the process of learning more about customer interaction management, look for areas of improvement in each team member.
You can offer personalized feedback, support, and training to help them develop their skills over time. They'll improve even more with regular reviews and check ins.
Leverage the Right Tools.
Build up your team's arsenal and give them the tools they need to properly handle customer needs with customer interaction management software.
Using multiple channels, such as live chat, social media, and forums, can help them keep track of the general attitude your customers have and their relationship with your brand.
Benefits of Using Customer Interaction Management Software
It might feel like you need software for everything these days, but having these tools at the ready can actually improve the way your business operates dramatically.
Interaction management software is no exception. Investing in a CIM platform can help you:
Monitor Effectiveness.
You'll get a comprehensive overview of how your team interacts with customers and be able to perform quality assurance checks on the regular.
Keeping track of how both your team and customers feel about their interactions is important. On the one hand, you want to satisfy your customers. On the other, make sure to get weigh in from your own employees.
With the right software, you can monitor productivity and effectiveness to make sure that you're maintaining both by identifying gaps and space for improvement.
Organize Your Interactions.
With the aid of tickets and organization modules, you can meticulously filter the types of interactions you have and how high priority they are.
Since every interaction requires a different response, categorizing them can help your staff with addressing them all appropriately.
Improve Collaboration.
Most of the best software options bring all elements of CIM onto one dashboard, making it easier to monitor and also to collaborate.
As different departments and teams tap in to help provide insight or resources, they can see exactly how your service reps have been handling their interactions and build from there.
4 of the Best Customer Interaction Management Solutions to Consider
We always make an effort to set you on the path to success, especially if you've only recently been introduced to the idea of customer interaction management.
Here are our recommendations for some of the best CIM software options available right now.
1. HubSpot Service Hub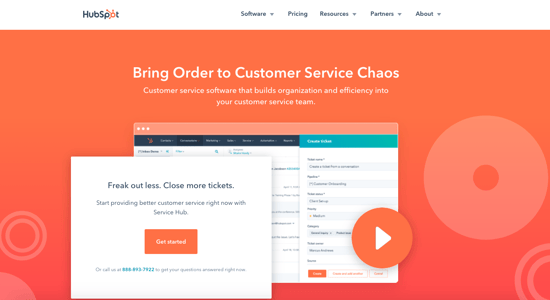 HubSpot provides a full suite of tools for every aspect of your business, including marketing and sales. Their Service Hub is a great option for managing your customer interactions.
The Conversations inbox centralizes all communication channels while seamlessly integrating with HubSpot's free CRM. Your customer service team gains full visibility of each contact and their history of touchpoints with your brand, making it easy to personalize how you support and delight them.
You can also reduce friction in the customer experience with automation tools (e.g., chat bots) and self-service options (e.g., knowledge base tool) while learning more about their experience by using feedback tools.
The best part: You can get started for free using some of the best features, with an opportunity to upgrade for more tools that fit your needs.
2. Zendesk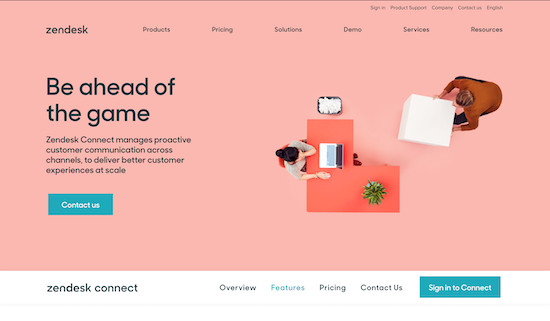 Zendesk enables your sales team to get up close and personal with your customers with personalized variables, conditional logic, and the ability to grab dynamic content that's specific to the customer they're talking to.
A software that prioritizes organization and clean communication, you'll always be able to keep tabs on your customers' satisfaction. Users can segment contacts and create recurring messages to target customers who are experiencing service issues or looking to learn more.
You can also experiment with A/B testing capabilities and monitoring test control groups.
3. eGain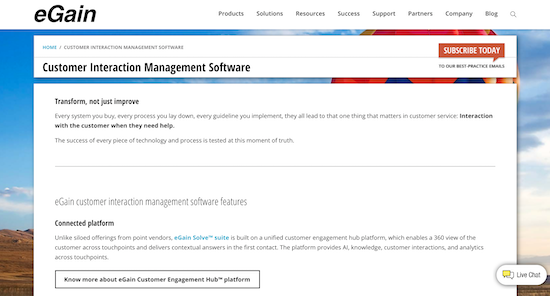 eGain has prioritized omni-channel support options for your customers through a connected platform, giving you the assets you need to help them.
With external system integrations, users can sync their CRM, content management programs, and call center systems to this software. Service reps won't have to go hunting for solutions for customers. They'll be able to access it all on a single desktop.
4. Q-nomy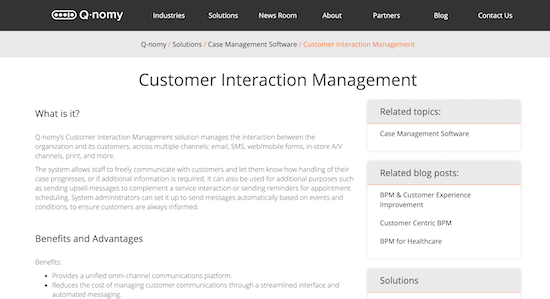 Leveraging multiple channels (email, SMS, web/mobile forms, in-store A/V channels, etc.), Q-nomy users will be able to meet customers wherever they are and easily communicate.
With an impressive, flexible UI, the software can be scaled up from a small service center up to an enterprise level based on user needs.
There's never a bad time to improve your customer interaction, and it'll only be reinforced after implementing a customer interaction management strategy.
Putting your customers first will always be a win for your business. So start looking into how you can engage with them on another level today.