Cloud integration is a core challenge that many of today's enterprises face. Many enterprises often possess more than one hundred cloud applications that are used all over the organization.
The systems that businesses use regularly include IoT devices, business SaaS applications, databases, and various other devices. And those stuck using a legacy approach often experience complications with their workflows and business processes.
If you find that your systems are disconnected and difficult to use together, it may be time to consider integration technology provided by iPaaS vendors to help empower you to take control of your infrastructure for your employees and customers.
What Is an Integration Platform as a Service (iPaaS)?
Integration platforms as a service are any cloud-based platforms that connect a variety of systems, technologies, and applications. These platforms are provided either on the cloud or on the premises of the individual or company that uses the platform.
iPaaS allows for integration flows to be built and deployed between the cloud and the enterprise within the cloud. This means that there is usually no hardware or middleware installation needed before integration flows are bought, sold, or exchanged between service providers, integration providers, and users.
via GIPHY
Generally, iPaaS vendors provide the data infrastructure and server, as well as additional testing, building, deploying, and managing software tools and applications available in the cloud.
The software company is responsible for setting the parameters for the connection types that are permitted on the platform. Some rules or parameters may be in the form of prebuilt connectors, an application programming interface (API), or another rule.
After the rules are set, iPaaS makes a primary ecosystem that allows users to manage, modify, and view all data, operations, or infrastructure. This allows user establishments to easily modify their product.
4 Ways to Use an iPaaS (With Examples)
iPaaS is a powerful solution that has many potential uses for your business. To help you understand what some of this technology can do, here are four ways to use an iPaaS:
Microservices Integration
Microservices, also called microservices architecture, are corporate applications that are broken down into independent services to serve a business goal. Each microservice architecture gets rid of any dependencies that prevent the ease of adding, deleting, or upgrading features without having to do a complete redesign.
iPaaS vendors offer reusable connectors that are prebuilt, which allows developers to generate and produce APIs quickly to support microservices architecture.
For instance, Under Armour uses microservices integration to help them scale, process, and manage their assets using a cloud-based approach. They currently use Adobe Cloud Service to bring all their marketing and IT needs together.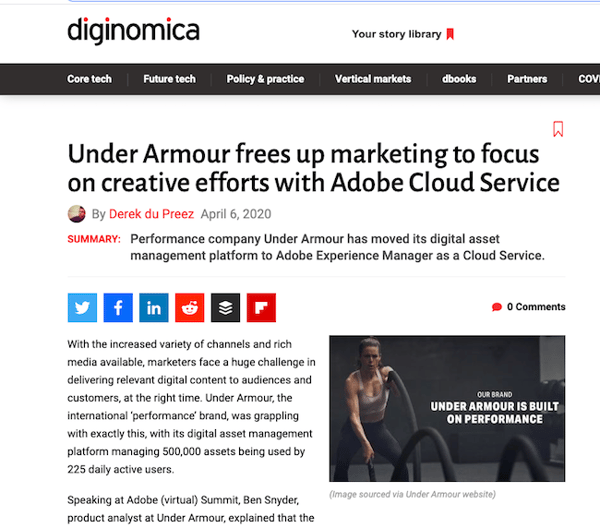 Source: diginomica
Data Transformation
Data transformation is a process that involves converting or transforming data into different formats. Data is often present in various locations and formats across businesses, but data should be available and usable from one application or database to other applications and databases. When data is not available across all applications, a business must undergo data transformation by data mapping.
iPaaS makes it easy to harness data with data transformation, which makes it more valuable to your business. For example, BMW recently worked with MuleSoft to help them unlock data to connect a variety of their services.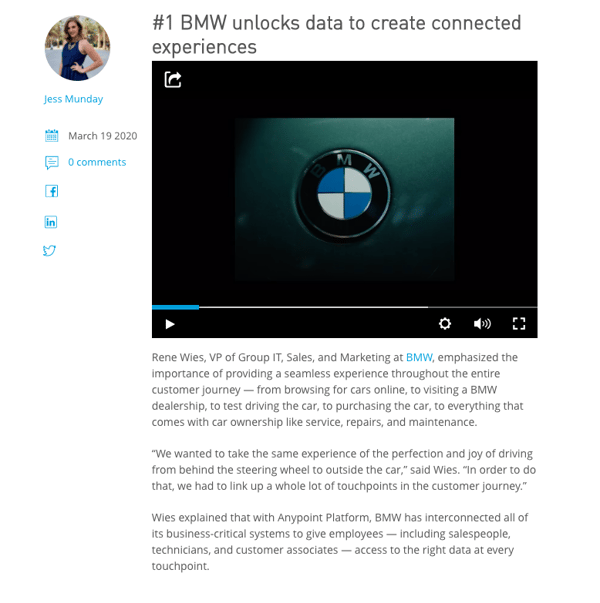 Source: MuleSoft
BMW wanted to provide a seamless experience for customers during their customer journey, including browsing online, visiting a dealership, test driving a vehicle, and purchasing a vehicle to the many things that are involved with vehicle ownership, such as service and maintenance.
Business Process Automation
Business process automation (BPA) involves automating the workflows and activities for your organization using software and application integration. This helps to improve efficiency, consistency, and transparency.
BPA systems are often used in departments, such as human resources, marketing, customer service, and IT. Tedious tasks become automated with BPA to help make daily business processes faster and more cost-effective.
Using an enterprise-class integration solution that automates common processes and reduces IT complexity is the best way to achieve BPA.
For instance, Tic:Toc began offering the first instant home loans to help Australians gain control by using smarter home loans. Mulesoft helped them integrate data and automate the home-loan process by requiring less information by using APIs.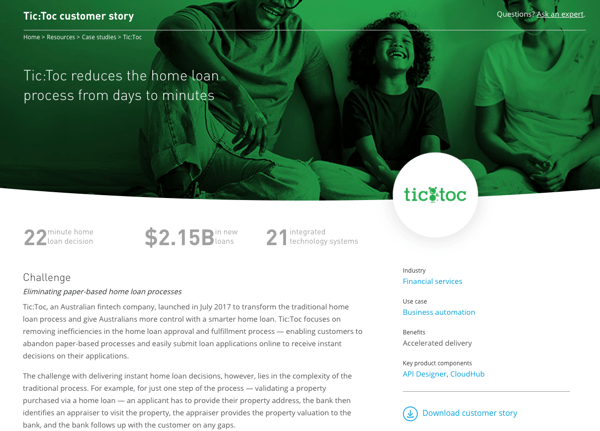 Source: MuleSoft
With Tic:Toc, customers just enter the address of the property, then the technology used by Tic:Toc integrates that data on the back-end that enables it to determine the value of the property. The business process automation took the home loan process down from 22 days to about 22 minutes.
Automatic API Generation
Application programming interfaces or APIs are the backend tools that integrate the data between business applications. APIs connect software, such as the CRM, with accounting, data storage, HR, and other applications.
API is hand-coded traditionally by in-house engineers. Completing APIs this way is time-consuming, tedious, and often expensive.
iPaaS solutions simplify the creation of APIs. Advanced iPaaS solutions may offer you no-code API generation with prebuilt connectors, which lets users who aren't tech-savvy to point and click on APIs to configure, build, and publish them.
For instance, Netflix used APIs for their digital transformation strategy. The APIs in their software landscape were used as gateways that enabled third-party developers to construct applications used on customer experience platforms.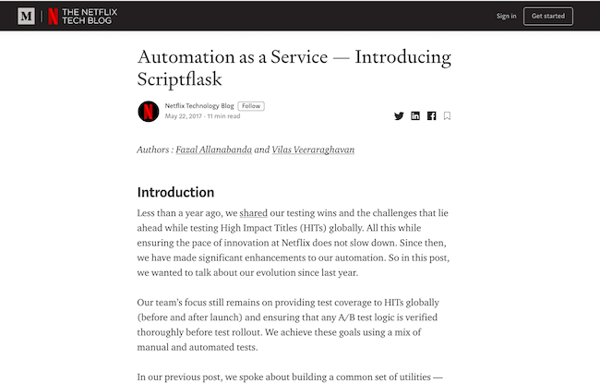 Source: The Netflix Tech Blog
10 of the Best iPaas Vendors You Need to Use
Each iPaaS vendor may have different services and tools they offer to help you integrate tools, scale performance needs, and transform data. As you review the tools and services the vendors offer, you will have a good idea of which iPaaS vendor is best for your business.
Here are some features, reviews, and pricing information for the 10 best iPaaS vendors:
1. PieSync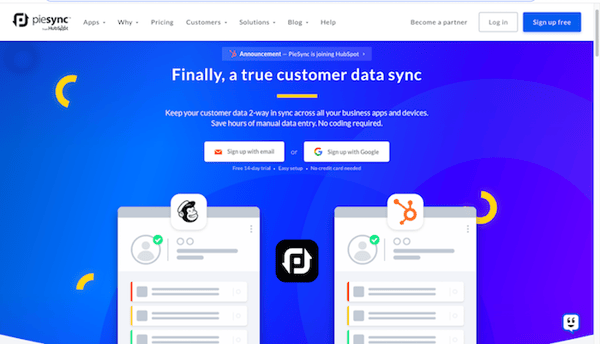 PieSync is an iPaaS service from HubSpot that offers two-way sync for your contacts in real time for over 200 apps to help you improve efficiency. PieSync also offers you full control over your sync, which allows you to map out how you want to sync various fields for your apps.
Pricing for PieSync starts at $9 per month for the starter sync of supported apps and goes up to $49 per month for custom field mappings and more sync and segmentation options.
G2 Crowd has a rating of 4.6 stars for PieSync.
One user recently stated that "It really is just so simple. I set up 6 links for my trial in no time at all, and then reduced those links to 2 when I purchased, which was extremely simple."
2. MuleSoft Anypoint Platform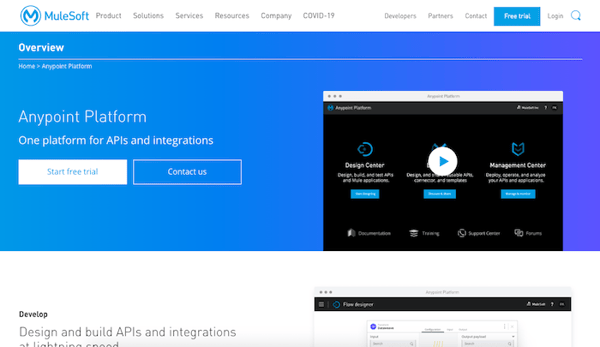 This hybrid integration iPaaS platform offers many customizable leading solutions for various industries. They help companies to integrate and unlock data from any system while creating a network of devices, apps, and data in the cloud and on-premises.
They also provide API lifecycle management unified with one platform for all designing, testing, securing, and retiring APIs.
You must contact MuleSoft directly to receive a pricing quote for your business.
G2 has a 4.5-star rating for MuleSoft's Anypoint Platform.
A MuleSoft user recently left a review and stated, "Thanks to Anypoint Platform you can manage the implementations, the definition of the APIs and the management of them easily and quickly. Also with Anypoint Exchange, you can exchange APIs and projects with the rest of your team wherever you are, being able to import it without problems."
3. Zapier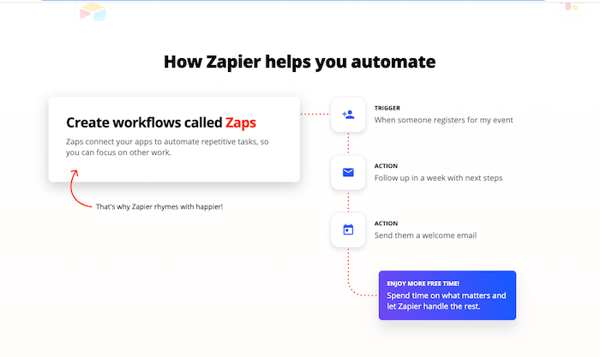 Zapier allows anyone to automate work and integrate various apps, without using code. It also connects more than 2,000 apps, allows you to begin workflows from any app, and finishes standard tasks for you automatically.
This iPaaS solution helps you to focus more on the important things.
Zapier has a free plan with fewer features that you may select to start. If you decide to upgrade, the prices range from $19.99 per month to $599 per month, depending on the features you need for you and your team.
G2 has a 4.5-star rating for Zapier.
Many reviewers of Zapier comment on its simplicity and affordability.
One reviewer recently commented, "Zapier is like having a bunch of really smart people magically added to your staff. If there's an integration you've thought of, it probably exists on here. Walking through the setup is extremely easy too - there's no need to have a computer science degree or be a NASA scientist."
4. Jitterbit
Jitterbit allows its users to accelerate innovation to provide customers with better experiences. They connect SaaS, on-premise, and cloud-based applications to help incorporate AI into any business process instantly.
Jitterbit doesn't display prices on their website. Instead, they prompt you to contact them for a quote if you're interested in their services.
G2 lists a 4.7-star rating for Jitterbit.
Many users of Jitterbit comment that the platform makes the integration process easy.
A recent reviewer wrote, "I can't say enough about the capabilities we've been able to use to simplify our workflows, speed up syncing between platforms and ultimately provide the experience we expect to deliver to our customers. All without having to have full-time developers on staff or on call. Our BA's are able to set up and maintain the integrations without an in-house developer."
5. Celigo integrator.io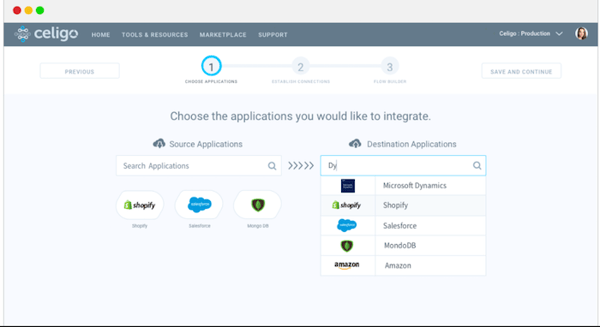 Celigo makes it easy for businesses large and small to integrate their systems. It helps companies synchronize their data, streamline operations, and automate processes by integrating cloud apps.
They also provide user interfaces that are guided with free pre-packed flows and templates. There is also an integration app featured on Celigo integrator.io that has pre-built and completely managed integration applications to use with well-known cloud apps such as Amazon, Salesforce, and Netsuite.
Celigo has a free version that you may use with fewer features. Prices range from $600 a month to $2,500 a month depending on the features you're interested in and the size of your business.
G2 has a 4.5-star rating for Celigo integrator.io on their site.
Recently, one reviewer stated, "Celigo is an awesome integrator for companies that are looking to expand!"
6. Workato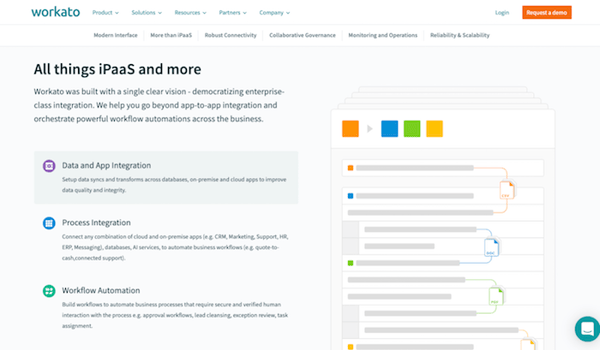 Workato has intelligent automation and is an iPaaS industry leader. The platform provides process automation and enterprise integration.
The goal of Workato is to provide business users the ability to collaborate with their IT staff to create, build, and operate automations that are secure and coding-free.
Workato has a free 30-day trial period so you can test their iPaaS platform with no risk. If you decide to continue using the platform, it costs $10,000 per year.
G2 has a 4.7-star rating for Workato.
Many of Workato's users report that the integration platform is easy to use and that it has a great selection of major apps to integrate with.
One recent reviewer shared their experience: "Extremely powerful toolset that is easy to use even for non-technical people. However, the level of deep customization and ability to write custom scripts makes even the most technical users jump with joy."
7. Automate.io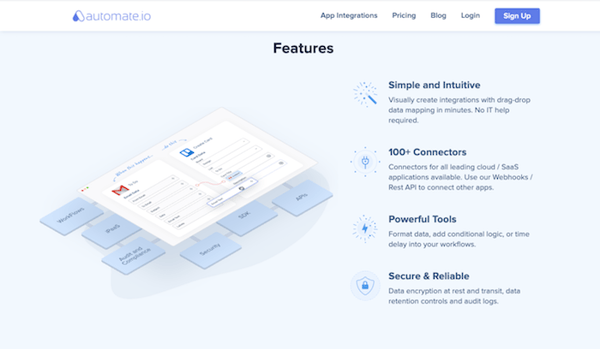 Automate.io is a simple solution for creating one-to-one integrations for cloud and SaaS applications to help automate sales, business, and marketing processes.
It enables users to integrate various apps without needing to code. They have over 100 apps to integrate with, including HubSpot, Salesforce, Facebook Lead Ads, and Mailchimp.
Automate.io offers a free plan to users who don't need many features. If you are interested in upgrading your plan, the prices range from $25 a month up to $199 or more per month, depending on the features you need for your business.
G2 has a 4.8-star rating for Automate.io.
Many users comment that Automate.io has great features and is easy to use. A user recently reviewed Automate.io, stating, "They do a great job of anticipating necessary features and building for that while also giving you tons of flexibility to configure your way."
8. Martini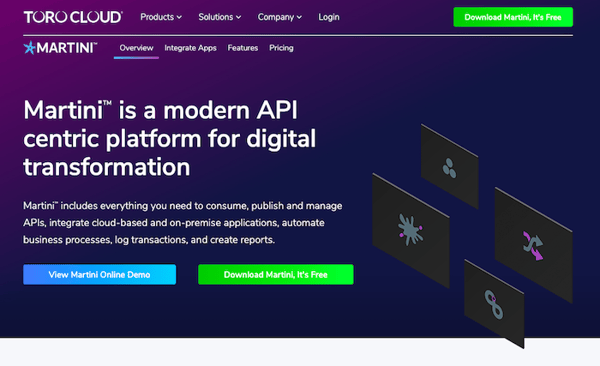 Martini is an API centric iPaaS provided by ToroCloud that requires low code to digitally transform your business. When you use Martini, you can design and publish APIs, monitor API analytics, and apply security usage tools to your APIs.
Martini also allows you to integrate databases and applications using cloud-based services that help you automate workflows.
Martini has a free desktop version of their service, but they also offer an online version for $75 per month or a runtime version for $125 per month.
G2 has a 4.9-star rating for Martini.
A satisfied user of Martini recently wrote a review explaining that "Martini is very easy to use and tool which can easily integrate different types of services (Apache Solr, Apache Kafka, database services and so on)."
9. Flowgear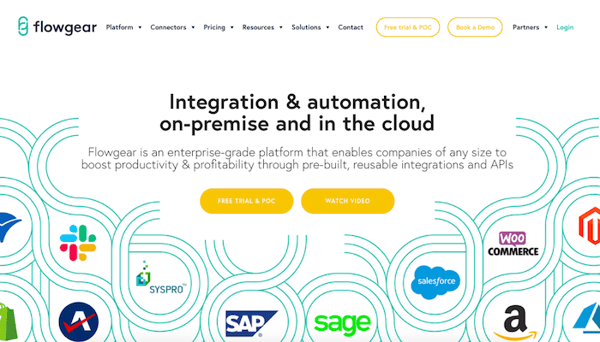 Flowgear helps businesses build applications and data and API Integrations and workflow.
The Flowgear platform is internationally renowned and enables small and large organizations to integrate and build powerful apps whether they are developers or non-technical users. They have a drag and drop design with prebuilt connectors and templates that is code-free.
The price for Flowgear starts at $749 per month for a base plan and goes up to $5,999 per month for an enterprise plan.
G2 has a 4.7-star rating for Flowgear.
They recently received a review from one user that stated, "Flowgear is very easy to use for simple integration and can be a really powerful tool when you need more complex integration, it is suitable for anyone from the simplest user to the most advanced user."
10. Cyclr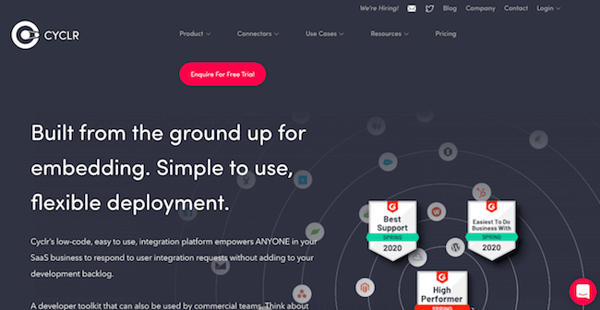 Cyclr is an iPaaS that helps SaaS applications to expand their integration capabilities. They have hundreds of third-party applications that allow you to create useful integration automations and workflows.
Cyclr has a unique white-labelled integration platform that helps you launch your own store with integration services. The entry level price for Cyclr is $599 per month and the growth price is $1,299 per month.
Enterprises must submit their information to receive a pricing quote.
G2 has a 4.8-star rating for Cyclr. One recent reviewer shared their awesome experience with this tool:
"The product is feature-rich and one of the best value offerings we've found AND the customer service is by far the best part of this product. The Cyclr team is one of the most professional and responsive teams I've ever worked with.
"They worked extensively with us on our initial implementation. Training was phenomenal and suggestions regarding the product were taken very seriously (and often acted on)."
There are so many simple and efficient integration platforms out there to help you and your team work quickly to delight your customers.
If swift and ever-changing customer demands outpace your IT department's capabilities to deliver or if you are working on managing vast amounts of customer data that arrives from various channels at a fast pace, then an iPaaS platform may be exactly what you need.