Effective Blogging For Any Internet Advertising Campaign Starts With Choosing A Writing Approach
The Importance of Having A Blog
A blog is an inbound marketing tool which every company needs to incorporate into their internet advertising campaign. Blogs are no longer just for teenagers who bash ex-boyfriends or write depressive thoughts.
Blogs exist to create a company's interior definition.
What does your company represent?
How do you want others to view your company?
What values do you want your company to reflect?
A webpage may have products and services, but a blog is the connecting thread that ties a brand image together.
Some Successful Blogs:
The fantastic feature of Todd Selby's blog is his ability to engage his audience and potential readers/customers with inspired photographs of creative individuals inside their homes. His blog becomes a place for viewers to come and find inspiration, hire him for marketing campaigns, or buy his book The Selby from the sidebar on his page.
Duck Duck Collective is a group of young, forward-thinking minds who create stimulating visual material through photography, print, audio production, video, and web design. Being a visual "collective," their blog creatively centers around their images.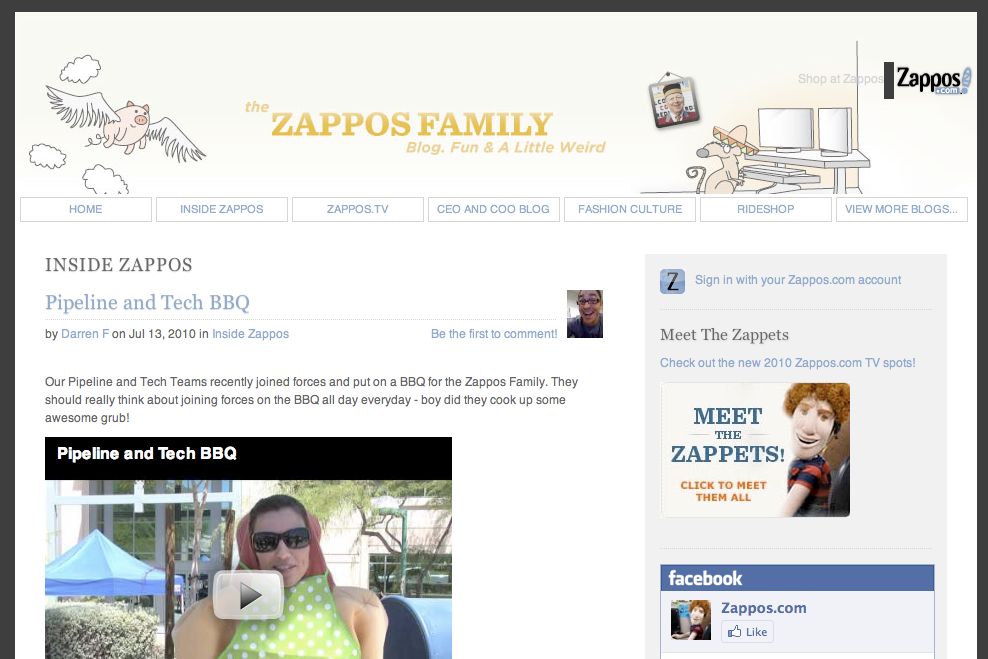 The purpose of the Zappos blog is to connect the reader with the company's fun environment. By highlighting the fun atmosphere behind the company name (they post silly work videos and refer to the group of employees as "family"), the company establishes trust with the customer.
Zillow is an internet real estate marketplace. The blog features real estate trends across the country, as well as advice to increase the value of your property.
Northfield Construction Company is a full service general contractor who features their current projects on their blog pages. They use plenty of images to show the development of a home or office, as well as explanations as to the work the company performed.
These are merely a few examples of companies/persons who creatively used the blog medium as low cost branding and to engage potential customers.
Benefits of Blogging:
Boosts Your Internet Marketing Campaign
Enables Direct Communication with Your Audience and Even Allows Them To Respond By Leaving A Comment
Builds Your Brand
Separates Your Company From The Competition
Establishes Your Company as An Authority
Builds and Maintains Your Reputation
Cost Effective
Maybe blogging did not cross your mind when you were thinking about improving your internet advertising campaign, but let these be your assurances. The benefits to effective blogging are endless. The many different styles of blogging approaches you can take are available to the industry-specific creative mind. You just need to be real with yourself and ask, "What would I enjoy reading about?" Make a list of ideas, talk them over with your employees, coworkers, husband/wife, friends, and get started. It is about choosing what you want your company to look like to another person's eyes, and fullfilling that role and those values.