Software as a service (SaaS) makes business processes a lot easier for companies. This is especially true in a world where the majority of office workers are now working remotely. No need to actually purchase anything from a store, install it, and maintain it. The tools are available from anywhere, making collaboration a cinch. And while this is the most efficient way to provide online tools, it can also be a bit more challenging to market it.
Thankfully, inbound marketing can be an ideal solution for these issues. Specifically, HubSpot provides you with all the tools you need to nurture your leads and provide an extraordinary customer experience once you make the sale. After all, service is what SaaS relies on.
But how so? What makes SaaS marketing so challenging, and which HubSpot tools can help address them?
Typically, when people make a purchase, they receive an actual product or the result of someone's work — such as a developed website, new content, someone managing social media, or hey, a fixed car.
With SaaS, however, there's no tangible product. There isn't even a work product that reflects hours worked by someone else. It's like telling someone to buy an app. They won't do it unless they know exactly what it does, why they need it, and why they should pay for it when there are so many available free options online.
In addition, the customers are businesses, and B2B transactions can take a lot longer to come to fruition, and it can be difficult to convince someone who's been using old school software for years to make the switch to something more modern. After all, humans are creatures of habit, and the prevalent hustle culture makes it difficult to take time out to learn how to use something new. Enter inbound marketing: the golden ticket to slowly reel them in.
Business owners are busy. Between running their companies and actually getting their job done, they're not going to be receptive to disruptive attempts to inform them about a product.
Inbound marketing provides you with the perfect opportunity to slowly reel them in in a way that benefits you and them. You create content that provides value. This could be informational, instructional, or simply making a list or checklist of to-dos to simplify their day-to-day. You can share content on LinkedIn and address their questions and concerns. You can send marketing emails with timely and relevant information that's helpful to their business. And while you're doing all of this, you're tying it all together with how your SaaS provides even greater solutions.
Inbound marketing is a courtship. You understand that the sales cycle may be long, and that you may need to patiently guide your audience through the sales funnel at their own pace.
Now, all of this requires a lot of strategizing and work hours, so you definitely want to track its progress. How many people are visiting your website, reading your blogs, and opening your marketing emails? How many contacts are you adding to your email list? How many sales qualified leads are reaching out with questions or scheduling meetings?
HubSpot lays down the road for each of these steps, from first point of contact to continued support once a person becomes a customer.
Ok. So what are all of these wonderful tools? And what makes them more ideal than those offered by other similar platforms?
Customer Relationship Management (CRM)
CRM software is where you keep all of your contacts — their names, businesses, job roles, and how to reach them. HubSpot's basic plan is free, and it includes features like keeping track of all prior communications, email templates, custom form fields, ticketing, and integrates with the applications you're already using. And because all information pertaining to each contact is included within their file, you can provide a better customer experience without having to constantly put them on hold or transfer them from department to department.
Email Marketing
Email marketing is crucial to build long-lasting relationships with leads and customers. You use it to communicate directly with them to promote products, answer questions, follow up, and provide free content. HubSpot streamlines this process by offering a wide array of email templates that can be customized to match your brand. They can also be automated based on specific user behavior, such as first-time subscribers, downloading lead magnets, or to re-engage them.
Content Management System (CMS)
A content management system is the platform you use to create, edit, and publish your content. They come with website themes and host your website and blogs. However, HubSpot's CMS is a lot more than a practical tool to type in. It comes with drag-and-drop capabilities so that you can make your web pages look exactly the way you want them to look — no coding knowledge required. But wait! There's more! It also shows you a list of suggestions to improve your search engine optimization (SEO), provides data analytics, manages social media accounts, and has a native payment feature (discussed in more detail below). And all of this is all included in the platform. No need to purchase third-party plug-ins.
Sandboxes
Sandboxes are available exclusively for enterprise customers. The feature lets you experiment with any element of your marketing campaign — a webpage, landing page, or custom objects, for example — without disrupting the existing experience of current customers. If you like the results, you can then deploy them across the board.
Customer Support
Customer support is everything. Even if your service is the most extraordinary invention of the 21st century, if your customers feel like they're constantly falling through the cracks, your business is not going to grow in a sustainable way. HubSpot centralizes all service tickets in one location — regardless of whether the queries came in via email, social media, or online form.
Customer Feedback
HubSpot also provides customer feedback software, which is integral to fully understand your customer's needs. You can easily deploy customized customer satisfaction surveys or use one of the pre-built tools to gather net promoter scores (NPS) or customer effort scores (CES).
App Integrations
HubSpot syncs well with over 50 other popular business applications, such as Salesforce, Mailchimp, Gmail, Slack, Campaign Monitor, Hotjar, and Shopify. You can choose to interconnect only some portions of your databases, or do one-way or two-way syncing. To find out whether it would work with all of your applications, all you have to do is browse through the HubSpot App Marketplace.
Automation
Automate emails, workflows, customer service, and any marketing or sales actions, such as sending quotes, starting a ticket, follow-up communications, etc… You can also set up notifications so that your sales team knows when it's time to reach out to or follow up with a prospect or customer. No need to wait for something to occur to set up tasks manually.
Native Payments
Most people don't want to have to call someone to make a payment. HubSpot's native payments feature not only enables recurring online payments, it also lets you include secure payment links in any customer communications — including email, live chats, and custom quotes. And all of these payment histories appear on the customer's CRM file.
Customer Portals
In 2021, HubSpot released customer portals. These provide a platform where your customers can log in and manage their support tickets, check the status of a request, browse your knowledge base, or go over past communications. It enables your customers to access information when they need it, and frees up your team to focus their attention on more complex issues.
There are several reasons why HubSpot is so helpful specifically for SaaS companies' marketing campaigns.
Get Found With Best-in-Class SEO Tools
The SaaS landscape is extremely competitive. If one of your prospects enters a query in a search engine, they will have plenty of options to choose from — even if what you have to offer is better. Therefore, you have to always prioritize SEO when publishing content. And since all suggestions are right there on your screen as you craft copy, you can focus on saying what you have to say, then simply follow directions on how to optimize it.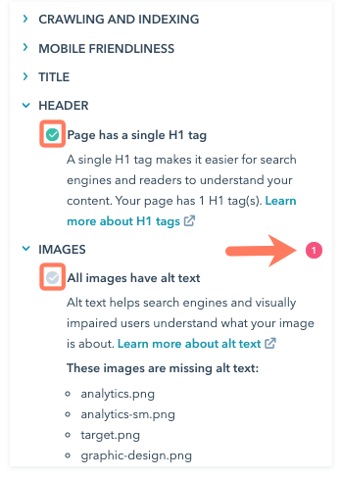 Source: HubSpot
Shorten Sales Cycles With Automated Lead Nurturing
Convincing a prospect to become a customer can take a long time; especially when the nature of SaaS means that they will first want to do extensive research. With features such as personalization and the ability to easily create landing pages and instructional content, you'll be able to move that needle faster.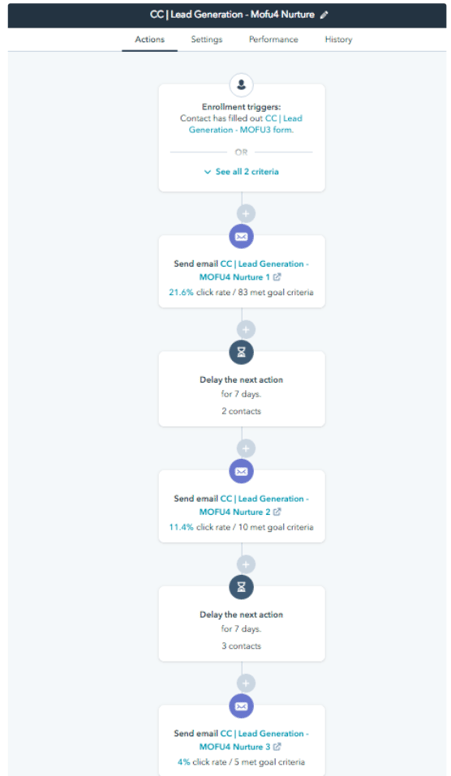 Source: HubSpot
Create Separate Nurture Tracks
Not all your prospects will be at the same stage in their buyer's journey. This is why contact segmentation is an essential element of any marketing strategy. And Hubspot lets you do so based on a wide array of categories, including geographical location, values, interests, software preferences, lifecycle stage, website activity, last engagement with your company, device type they use to browse, service needs, job roles, etc…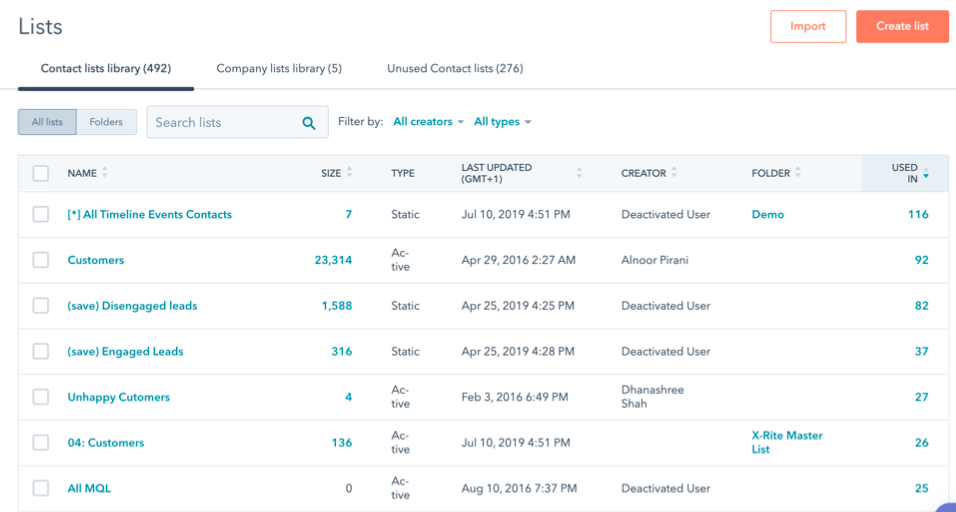 Source: HubSpot
Increase Online Presence With Inbound Marketing Tools
Every time you publish a new blog post, you are creating a new web page that search engines crawl. And when doing SEO right, you increase your chances of getting found by your target audience with each publication. And the more you publish, the higher the likelihood of people finding you often, and other bloggers using your content as sources of information — which helps you establish yourself as an industry expert in the eyes of your readers.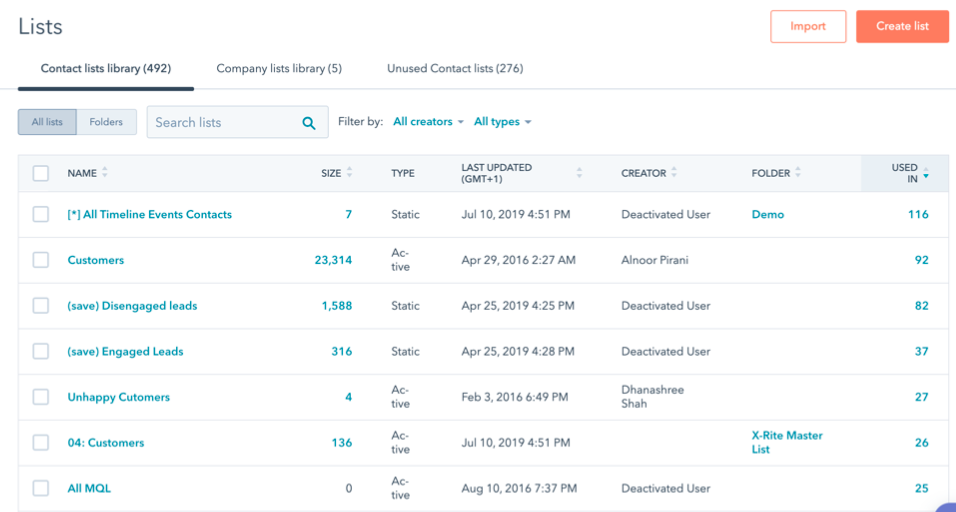 Source: HubSpot
Create Saas Onboarding Workflows
Signing up new customers is always exciting, but getting to show them the ropes as they implement your services can be time consuming. HubSpot lets you set up workflows to help new users become familiarized with your features. And you want to exceed their expectations during this process, since it sets the stage for long-term business relationships with them.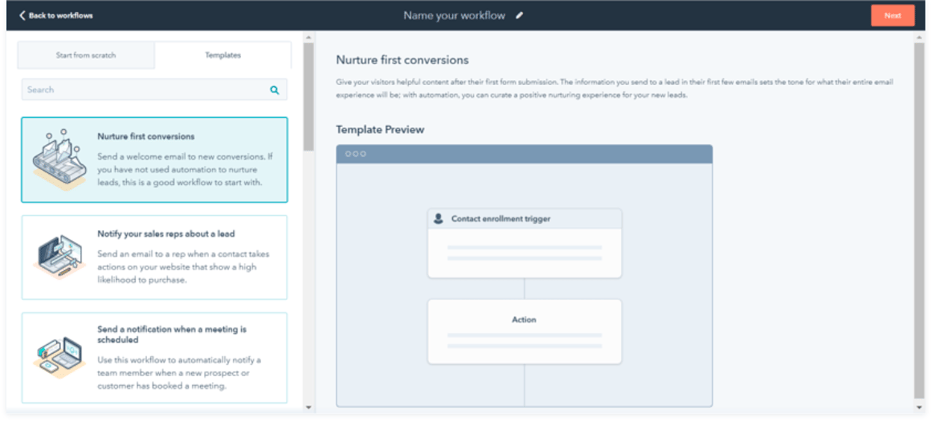 Source: HubSpot
Create Custom Reporting Dashboards
HubSpot provides a custom report builder that enables you to set it up in a way that makes sense to you and your team. It also offers guidance so that you collect data that's relevant to your goals. This will allow you to easily identify insights as you track the progress of each of your marketing campaigns.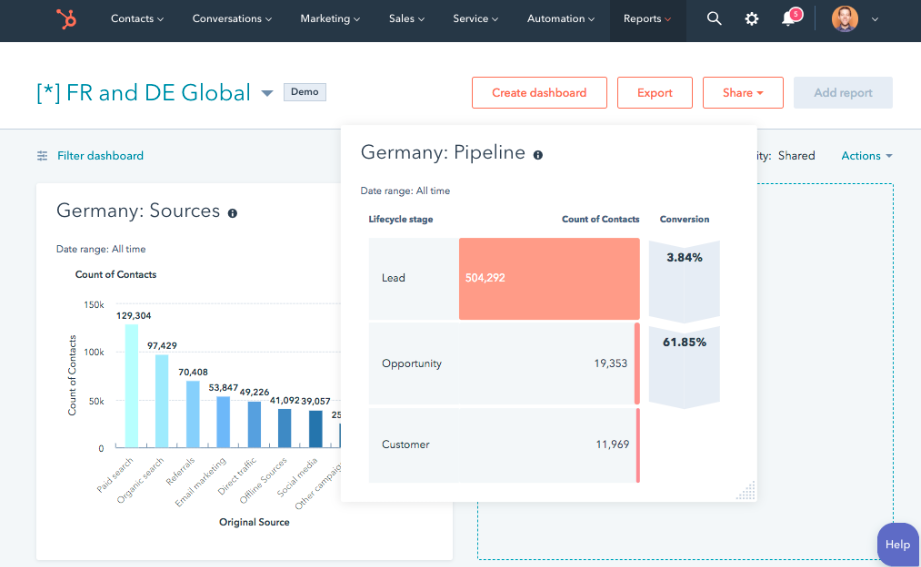 Source: HubSpot
Save Time With an All-in-One Platform
The reality is that there are many companies that offer similar services. The problem is that they do so piecemeal; and you have to purchase numerous third-party plug-ins and widgets, or use different platforms altogether for each feature. HubSpot streamlines sales, marketing, and service by offering all the tools you need within a single platform.
Support Onboarding Process with Implementation Services
Even user-friendly software comes with a learning curve. You may be wondering how to migrate your website or how to train your team to get everything done. The good news is that you don't have to go through the onboarding process alone. With numerous partner companies (and Diamond Partners, to boot, like Bluleadz), you get ongoing support, consulting, and implementation services.
As you can see, HubSpot is a lot more than simply a CRM, or simply a CMS. It's an all-in-one solution that will streamline your processes and help your SaaS company optimize your sales and marketing strategies.