Whether you're a creative, entrepreneur, or into any type of industry where you get to share your gifts with other people, you're likely aware that the only way to accomplish any level of success is with good marketing. Effective marketing. Smart marketing.
But even knowing that on a fundamental level can leave you with a lot of questions. How can you market yourself in this age of instant gratification?
There's social media, inbound marketing, and public relations. There are several people working together in each campaign. What can you do to bring it all together in a seamless way? Here's where marketing technology can come to the rescue.
What Is Marketing Technology (MarTech)?
Marketing technology (MarTech, because why not shorten the term as with everything else?) refers to any kind of technology that makes your marketing efforts more cohesive, efficient, and effective.
Think of software such as HubSpot, Zendesk, and SurveyMonkey, for example. Even if you're not familiar with all of their features, you're likely aware that they're used by companies worldwide to facilitate their digital and inbound marketing campaigns.
What Is a MarTech Stack?
A martech stack is a suite of marketing tools that streamline and optimize your marketing efforts. They work together like pieces of a puzzle, allowing collaboration among your team.
Specifically, it allows you to establish your goals and track your progress by enabling the following features:
Content management
Client relationship management
Collaboration
Analytics
While each of these elements work well on their own, integrating them ensures that you optimize your efforts. When grouped together to work in concert, they form your ideal martech stack.
Why Invest in Your MarTech Stack: 5 Benefits
While technology will always be an essential part of any business strategy, there are specific benefits that come from investing in the right martech stack. These include:
1. Deploy More Efficient Campaigns.
You didn't start a business to focus most of your time and energy on marketing. You want to get it done, do it well, and continue running your business.
A good martech stack lets you streamline workflows and saves you time by automating repetitive tasks.
2. Improve Communication and Collaboration.
The marketing and sales teams can't work in silos. The right hand needs to know what the left hand is doing and vice versa, so that marketing can send more sales qualified leads (SQLs) to sales, and sales can describe in a cinch how your products and services are a panacea for these prospects.
Therefore, you want each team member of both departments to have full visibility of each element of your marketing campaigns.
3. Build Relationships With Prospects and Customers.
Traditional marketing uses a one-size-fits-all approach with everyone, regardless of their stage in the buyer's journey. That method isn't the most effective way to approach people, since whenever you send irrelevant content to someone, you're wasting your money and wasting their time.
On the other hand, martech lets you gain insights from who's visiting your page (a first timer? An existing customer?) and tailor their experience to their specific needs.
4. Improve the User Experience (UX).
As mentioned above, martech lets you customize content so that it's always useful and relevant to whoever is receiving it. This, in turn, enhances their experience, making it easier and more enjoyable to navigate through your content.
And because you're providing a user-friendly, valuable experience, you'll have a higher likelihood of increasing customer loyalty.
5. Track Your Campaigns' Effectiveness.
It only makes sense to continue investing in marketing campaigns if they're yielding results. And you can't improve what you can't measure.
Therefore, you want to look for martech tools that let you identify insights so that you can make data driven decisions on your campaigns.
Things to Consider Before Developing Your MarTech Stack
Since every business is different, what you need may vary from what another business requires. Therefore, it's crucial to take into account the following factors before developing your martech stack:
Your Business Goals
What are you trying to accomplish? Get more website visitors? Brand awareness? Establish yourself as an industry authority? Close on more sales? Retain existing customers?
While you may want to do all of them, you should focus on one at a time. This will better enable you to look for tools that will optimize such efforts — such as search engine optimization (SEO), social media communications, creating ads, promoting content, and/or offering customer support resources, to name a few.
Input From Everyone On Your Team
While there is such a thing as having too many cooks in the kitchen, your employees are the frontline workers who know what are common pain points — both for them and for your prospects/customers.
So ask them what they believe would make processes easier. Maybe they need tools to take care of email marketing, an easier way to conduct keyword research, a better designed website to reduce the number of calls from confused prospects. Use this information as a roadmap of what you need to build your stack.
Features of Available Tools
There are several things you want, regardless of which tools you opt for. Number one, you want them to be user-friendly. The whole point is to make things as easy and efficient as possible for your teams.
Number two, you want them to integrate well with other tools you're currently using to run your business, such as your CRM, social media channels, and analytics.
Types of Tools You Need in Your MarTech Stack
You don't need all of the tools listed below, but it behooves you to honestly consider which of them would make your marketing efforts more efficient.
Customer Relationship Management (CRM)
Customer relationship management platforms provide a centralized location to include all of your contacts' information, including all previous communications with your business, prior purchases, and customer support queries.
It also stores other information that can help you provide personalized service, such as likes, dislikes, birthdays, anniversaries, participation in past events, etc.
Marketing Automation
Marketing automation software uses insights you've gathered from prospects and customers — through surveys, landing page forms, website visits, and previous communications — then segments your contacts for personalized automated marketing, such as follow-up emails, promotions, abandoned cart and appointment reminders, order confirmations, and re-engagement messages.
Email Marketing
Email is an essential part of building relationships with prospects and customers. You want to remind them of upcoming sales and events, or send them discount codes to encourage repeat business, or send out surveys to gather their feedback.
All of these communications are an integral part of running your business, but they can also be tedious, repetitive, and time consuming. Email marketing software enables you to reach an already engaged audience and deliver targeted messages that are relevant to their specific circumstances and stage in their buyer's journey.
Social Media Marketing
Depending on your target audience, social media may be an integral part of your marketing campaigns. Whether your buyer persona prefers Facebook, Instagram, LinkedIn, or TikTok, these channels let you engage with them on a regular basis.
You can answer their questions, monitor mentions and industry hashtags, and share marketing content, so you want to implement social media tools that help you manage all of these tasks effectively.
Content Management System (CMS)
A content management system is software that makes it easy to build, manage, and publish website content. The reason why they're so useful is because they include everything you need to create and edit content — modules, SEO tools, pre scheduling capabilities, customization to fit your brand.
And, in many cases, you can opt for platforms that also offer omni-channel management and the ability to install extensions.
Analytics Data
You want to track the behavior of prospects across multiple channels, including your website, blogs, social media, PPC ads, and marketing emails.
No matter how much market research and customer feedback you take into account (and you should always take those into account), analytics show you whether your marketing strategies are working. And not only do you want to be able to collect data, you want your marketing software to organize and display it in easy-to-read formats.
The 10 Best Marketing Software Tools to Use for Your Tech Stack
There are many software tools that can help you optimize your marketing campaigns. Some of them offer all-in-one solutions, while others integrate well with existing platforms you're currently using.
1.HubSpot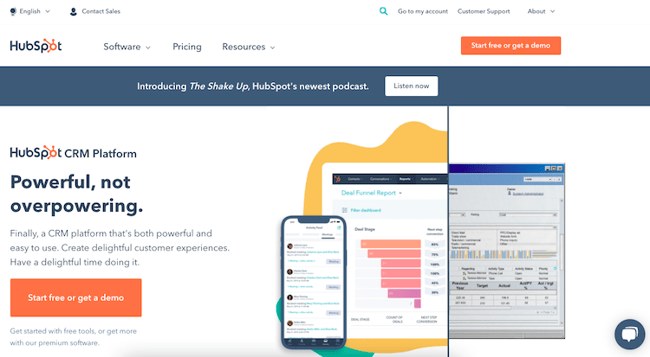 HubSpot offers all inbound marketing solutions you need in one centralized location.
You can segment contacts, design your website, manage and optimize content for search engines, customize smart content based on who's visiting your site, automate email marketing campaigns, and design powerful call to action buttons, to name a few.
And if you're just getting started with your business (or modernizing an existing one), the platform includes everything you need to grow — marketing, sales, and customer service hubs, as well as the free HubSpot CRM.
2. Marketo
Marketo offers similar features as HubSpot, and their marketing tools capabilities are pretty extensive.
The platform is ideal for handling a large quantity of contacts and a user base that does most of their interactions through mobile devices (such as smartphones and tablets). It also includes marketing automation, email marketing, and lead marketing, which helps you identify the right approaches to engage customers depending on their buyer's journey stage.
3. Zendesk
Zendesk is software that's designed to ramp up your customer service game, with different approaches for startups, companies that are starting to scale, and enterprises.
It also includes email marketing templates for each stage of the sales funnel — brand awareness, lead generation, sales, and customer retention, along with A/B testing capabilities.
4.Salesforce
Salesforce includes all the features of your regular all-in-one CRM solutions.
It also includes a demand generation tool for personalized B2B interactions, which tracks user engagement in real time. This is then used by AI to offer more accurate product/services recommendations based on the user's intent.
5. Zoho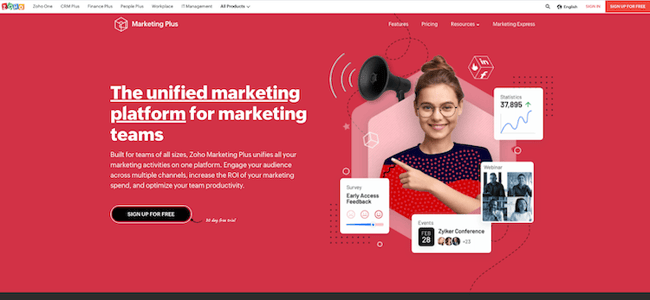 Zoho helps you align your marketing and sales teams by allowing collaboration within their CRM platform.
It also helps enable lead nurturing by segmenting leads and customers and targeting each of them with marketing content based on their interests. In addition, it provides capabilities to host webinars, deploy customer satisfaction surveys, design email campaigns, and plan events.
6. Semrush
Semrush provides a full suite of marketing tools, such as creating ads, editing images, boosting posts, tracking your audience growth, and breaking down your audience's demographics.
It also manages your social media content, while at the same time tracking and comparing it with your competitors. In addition, Semrush identifies the best times of the day for your post to receive the highest engagement.
7. Hootsuite
Hootsuite lets you manage all of your social media channels within one centralized location. And once posts are shared, the software monitors their performance — likes, comments, mentions, and shares.
In addition, the platform provides you with weekly analytics reports so you can gauge whether your efforts are headed in the right direction or need some tweaking.
8. Campaign Monitor
Campaign Monitor comes with easy-to-use drag and drop interfaces so that you can design landing pages and marketing emails to fit perfectly with your brand's look, feel, and voice.
It also lets you preset specific user behaviors that will trigger granular workflows promoting your marketing campaigns.
9. Mailchimp
Mailchimp is one of the most popular email marketing automation tools for a reason. It's super easy to use, it comes with a database of free images, and it was specifically designed for people who aren't particularly tech savvy.
So you can create ads, landing pages, marketing emails, postcards, and social media posts with helpful features, such as campaign templates, subject line helpers, and a creative assistant.
10. Hotjar
Hotjar is a heat mapping software that lets you install tracking code on your website, so that you can see how visitors are interacting with your content. Insights include which pages are getting the most visits, how far they scroll down each page, and when they leave the website, to name a few.
These behavior analytics can provide valuable insight as to which content needs to be optimized. The platform also lets you know the source of visitors (organic Google searches, social media, email marketing, backlinks, etc.)
While it may seem overwhelming to browse through so many solutions, keep in mind that many of these platforms offer a myriad of tools other than marketing — including CRM, internal communications, HR, customer service, and analytics. So you can either look for piecemeal solutions that are currently missing from your current suite, or opt for software that provides everything you need straight out of the box.
In the end, no matter what solutions you go with, you're equipped with all the martech stack tools you need to drive revenue and grow your business fast.