Most people check or send emails every single day, and the amount of email users recorded last year amounted to about 3.9 billion users worldwide. That's a lot of opportunity for brands to connect and engage with their target audience.
Email marketing is a tried and true marketing technique that provides you with reliable communication between your customers and your company.
It's an easy and cost-effective way to reach out to the largest amount of people in the least amount of time. Beyond its ability to help you communicate with customers and clients, email also provides businesses with an excellent return on investment (ROI), with about $38 being generated for every $1 spent.
If that's not enough to convince you that email marketing is worth your time, here are some additional stats:
59 percent of respondents say marketing emails influence their purchase decisions.
About 59 percent of marketers mention email as being one of the biggest sources of ROI.
Marketers who personalized content based on email segmented campaigns noted about a 760 percent increase in revenue.
This means that email marketing is one of the most effective options available for your business. With the right email marketing tools at your disposal, you can achieve a great ROI with minimum effort and resources expended.
5 Benefits of Using Email Marketing Tools
Email marketing tools have a host of benefits to offer your business no matter what industry you work in or what size your business is.
via GIPHY
Here are five benefits to using email marketing tools for your business:
1. They Help You Expand Your Market.
With email marketing tools, you can instantly send messages to thousands of people around the world. No other tool gives you the power to perform this task.
Social media may help you spread your marketing messages, but there is no way to tell who is actually receiving your message. With email marketing tools, you can expand your market and increase awareness for your brand across your growing list of contacts.
You can also track which market is engaging most with the emails and clicking the links based on their location.
2. They Deliver Messages Fast.
With great automation technology included with email marketing software and tools, you can send messages fast without spending too much time on each email. You can plan out every email campaign and brainstorm creative messaging for each type of customer.
via GIPHY
Email marketing tools allow you to schedule your content for just the right time, allowing you to tailor the messages as necessary to keep it relevant.
3. They Provide You With Accurate Metrics.
Email marketing tools help you track all of the necessary metrics from your email marketing campaigns in one place. You can see how many people opened your emails and how many people clicked on the links within your emails.
This lets you know how well the call to action in your email performed, which allows you to tweak your emails to fit the needs and wants of your consumer for better performance.
4. They Help You Communicate Regularly With Customers, Which Builds Trust.
Sending consistent emails is a way to be in constant communication with your customers. But you need to make sure you're sending quality content.
Sending good emails that add value is the key to building trust with your customers and your audience. Strong email content ensures that your recipients won't send you to the spam folder or unsubscribe from your email list.
Email marketing tools streamline the process of writing good emails, thanks to the many templates they make available to you.
via GIPHY
Email marketing tools can also help you to create "drip" campaigns that enable you to slowly send emails to prospects and customers with helpful information, blog links, products, and tips over time.
5. They Allow You to Send Targeted and Personalized Emails.
Email marketing tools have settings that allow you to section off your customers based on their preferences.
This means you can send them highly personalized content via email to provide them with the most value, which helps to cultivate a strong bond between your recipient and your brand.
What to Look for In Your Email Marketing Tools
The email marketing tools you choose should include many different features that help you carry out your email marketing campaigns efficiently. Here are the essentials you need to look for in each tool.
Customer Support
There will likely be times that you need help troubleshooting your email marketing tools even if you are experienced with them. It is essential to select a tool that has a great support team who you can call, email, chat with, or reach out to via social media.
via GIPHY
You may also consider an email marketing tool that has knowledge base blog articles that have valuable information to help you with some of your email marketing workflows.
Easy-to-Read Instructions
A great email marketing tool should be easy for anyone to use and help you plan your content. Therefore, the software you select should also provide you with guidance on how to use the platform effectively to help you become successful.
With a proper guide, you'll learn when to send content using the email marketing tools to gain more engagement.
Great Selection of Email Templates
Crafting a great marketing email is time consuming. You should select email marketing tools that have a great selection of templates that have various email marketing purposes.
For example, the email tool you select should have template options for announcements, newsletters, promotions, and beyond.
Mobile-Ready Capabilities
About 50 percent of people access email via their mobile devices, so your emails must be compatible with mobile devices. This way, your recipient can see all the graphics and click links in your emails on a phone or tablet.
via GIPHY
Make sure your email marketing software has a good selection of mobile-ready templates that makes creating mobile emails stress-free and easy.
Design and Spam Testing
It is important to have the ability to preview your email campaigns before you send them. You want to get an idea of what your recipients see in a variety of inboxes, including mobile devices and desktops.
You also want to select a tool that lets you test your campaigns so you can catch any content in your email that triggers spam reports.
After you check for spam triggers, you can tailor your emails accordingly if there are any issues. This way, more of your emails will reach the recipient's inbox.
Unlimited Sending Limits
As your email send list grows with your business, you want to be sure you have unlimited sending frequency.
When you search for email marketing tools, look for those that offer pay-as-you-go plans so you can have a variety of levels for adjusting your send frequency. This will help you scale your email efforts by giving you the option to test and optimize which frequency works best in certain segments.
via GIPHY
Before assessing tools, you need to look at what volume of emails you plan on sending. For instance, if you have 300 subscribers, you likely want to send them at least four to five emails per month. This means you may want to select a tool that allows you to send about 1,500 emails per month.
When you have an estimation of the volume and frequency you need for your campaigns, you can research what tools will fit those needs.
Plug-Ins and Integration
Email marketing is likely just one portion of your marketing plan. It is essential that your email tools and software seamlessly extend and integrate with many of your other business applications, including your CRM or CMS solutions.
When you integrate your apps, you can easily make hyper-targeted and personalized emails for your customers based on their unique experiences with your brand.
HubSpot and SendGrid are some of the top email marketing software picks for businesses. Both of these options have many of the features you need to make the most out of your strategies.
HubSpot vs. SendGrid: Which Is the Best Email Tool For You?
Choosing an email tool is difficult because you must choose one that aligns with your budget, goals, and planned initiatives. There is a lot to consider when you're evaluating software.
Here are some key comparisons that can help you make an informed decision about which email marketing tool to select:
What Is HubSpot?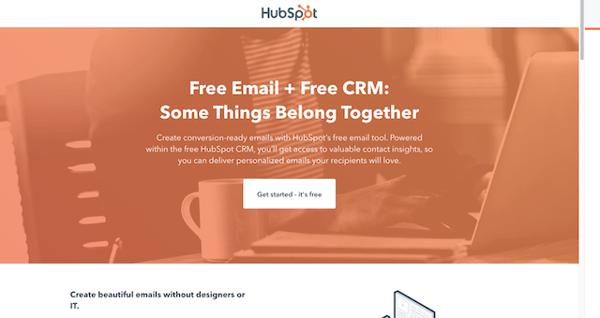 HubSpot is an inbound marketing and sales software founded in 2006 by Brian Halligan and Dharmesh Shah. The software now serves more than 37,000 companies and owns over 40 percent of small business automation, making them an industry leader.
The HubSpot software assists your company with attracting visitors, converting leads, and closing customers. The tools they provide cover all aspects of your business needs, including marketing automation, sales enablement, and customer service tools.
Additionally, they provide a robust CMS Hub for building and managing your site and a free CRM to track and optimize the customer experience.
Within the Marketing Hub, they offer convenient and easy-to-use email marketing services through their email dashboard. The tool allows you to:
View the performance summary of recently edited, sent, and created emails.
Create new emails.
Navigate through scheduled, sent, archived, or drafted messages.
Search for specific emails.
Export email information.
Edit dashboard columns to display metrics such as delivery rate, bounce rate, and others.
Filter by campaign or email type.
via GIPHY
Some additional features allow you to do the following:
Create your own emails using HTML, or choose from email templates.
Schedule emails up to a year in advance.
Send automatic, mobile-friendly emails.
Provide unsubscribe options for users.
Personalize email marketing.
Track analytics and create reports.
The automation capabilities are helpful in reducing the time it takes for certain manual tasks. For example, you can set three workflows that trigger an email once a form is submitted on your site.
You can also have emails sent to your contacts on their birthdays, or you can send a series of emails automatically with useful tips. You may also choose to automate reminder emails when an appointment or other important date is approaching.
What Is SendGrid?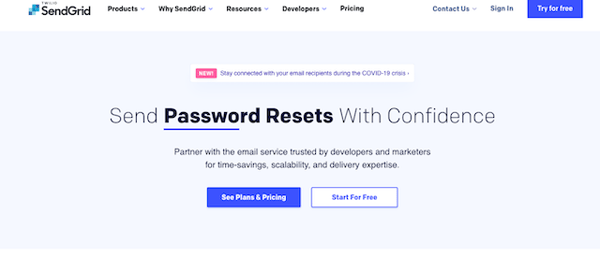 SendGrid was founded in 2009 by Isaac Saldana, Tim Jenkins, and Jose Lopez. The company took off after enrolling in the TechStars accelerators program to receive seed funding, and it was recently acquired by Twilio in 2019.
This cloud-based email delivery platform helps you manage the technical details involved with email servers. The service manages email marketing features such as:
Sign up confirmations
Email newsletters
Shipping notifications
Automated email responses
Building and personalizing emails
Email templates
Mobile preview
Sign up forms
Actionable Insights and real-time analytics
Each platform has so many email features that are beneficial to you and your business, so which one should you choose? Check some reviews to help you see the strengths and weaknesses of both options.
The Reviews Are In
The best way to determine which tool is right for you, aside from researching pricing and features, is by reading helpful reviews from real users.
via GIPHY
Take a look at the pros and cons of SenGrid and HubSpot to help you identify which tool best fits your needs.
SendGrid Pros and Cons
Real users for SendGrid provide plenty of feedback on leading review sites. The most notable entries are as follows:
via GIPHY
Pros
"SendGrid has been very efficient in boosting marketing campaigns. You can add or delete contacts very easily and connect them to the database.

"It is very efficient to schedule email delivery so as not to activate spam filters. Its ability to track is surprising, being able to track the activities of people who receive emails."

"The SendGrid system has its own filter to verify which messages have been marked as spam by customers, and which have had a successful flow.

"This tool seems very necessary to us to have accurate information on which types of clients we should focus on professionally. It is a completely valid way to define the target audience and be guided by their online consumption habits."

"We can easily create an intuitive and interactive marketing template through the SendGrid visual template designer and send it to our marketing lists. Creating a marketing template through visual design is very easy and it creates very interactive and intuitive templates."

–Prateek S. via G2

Cons
"I think that some email campaigns occasionally have trouble getting through to the recipients' primary email inbox. Even though there are tools that we can use to improve our chances of getting past promotional and spam email boxes, we are often getting reports that our emails don't get through."
"The Python documentation of SendGrid is very poor. The Github repo contains consider the number of issues also. I have to build and customize the Python code on my own. I think SendGrid should give more time to resolve these issues."
"The biggest negatives are that there are some confusing issues with email design. The emails often don't look the same in edit mode, the preview mode and after sending them out via an email campaign. Moreover, SMTP integration is quite complicated procedure."
HubSpot Pros and Cons
There are a ton of HubSpot users who are vocal about their experience with the software, which isn't surprising. They have one of the biggest online communities around where users can ask questions, find answers, and submit suggested updates.
Here are some reviews that highlight the benefits and disadvantages of the email marketing tool:
via GIPHY
Pros
"The automated workflow system, it saves our team a lot of time where we would have to send a lot of emails out as our customer base is big. As a telecoms company, we have a lot of customers in different stages of their build.
"With the automated workflow we can let them run on their own journey so they're touched enough times but not too often without us having to keep checking in."
"So, for context, I primarily use HubSpot to implement email campaigns for potential clients. For this use, it definitely does a great job!
"Each email is timely and has little to no issues with delivery. I'm able to track all the things I need to in terms of my campaigns. Managing them is pretty easy as well. We also have it integrated into our Salesforce, and it works super well in this regard!"
"Web and email templates are simple, easy to update text and images, minor layout changes. Platform is very fast. Dynamic lists auto-populate in seconds, even when pulling thousands of contacts using dozens of criteria."
Cons
"The HubSpot Design manager could be improved. It would be nice to have an all HTML version where we can control over layouts."
– Brent M.
"The email platform's drag and drop could use more customization. I'm not sure that having an all-in-one tool will be that much more effective."
– Jacob D.
"I am not a fan of the email builder. It is not very flexible, has lots of limitations when designing emails. I also do not like that you have to purchase templates. I don't mind creating my own templates, but I don't find the flexibility when doing so."
Choose Your Best Fit
As you consider the important features of these email marketing tools, you must also consider your budget to make sure you are getting the most out of your marketing money.
Do your best to align your goals with your budget to help you decide what tools are best to invest in for your business.
Email marketing is one of the best and easiest ways to reach your target audience. Since people still prefer receiving marketing messages via email, why not start today and take advantage of one of the great email marketing tools mentioned in this article?