10 Tampa Digital Marketing Agencies That Help You Grow Your Business
1.

Bluleadz

2.

Evoke Strategy LLC

3.

Bayshore Solutions

4.

SimpleTiger

5.

Trading Up Media

6.

BrandMinded

7.

Chatter Buzz

8.

Leverage

9.

Pure Digital Marketing

10.

Red Wall Marketing
The marketplace has undergone a huge transformation with the digital revolution.
This has changed the way businesses operate because of the rise of the internet and social media. And these massive shifts present great marketing opportunities.
Leveraging these opportunities with efficient, data-driven marketing strategies can be tricky to master. This is why many organizations choose to outsource their marketing efforts.
Let's take a look at what digital marketing agencies do to grow businesses, why you need to hire one that's your best fit, and a list of some great digital marketing agencies in Tampa to get your started.
What Is a Digital Marketing Agency?
A digital marketing agency is a business that employs digital marketing strategies to help their clients target, engage, and cultivate relationships with online audiences across various channels
Some of the most successful digital marketing tactics include:
Digital marketing includes a wide scope of work associated with different strategies, tactics, and online tools. This can make it confusing for solopreneurs and small marketing departments to carry out a digital marketing campaign successfully.
Fortunately, no matter your size or budget, there are plenty of types of agencies that fit your needs.
Types of Digital Marketing Agencies
Since there is such a large scope of digital marketing, let's take a look at the various types of digital marketing agencies and what they specialize in.
Inbound Marketing Agency
This is a larger full-service marketing agency. They are great for small businesses or startups that don't have internal marketing teams or have limitations with small marketing teams. Their expertise lies in the inbound methodology.
Digital Marketing Firm
These agencies focus exclusively on digital marketing activities, often providing comprehensive services associated with digital channels.
SEO Agency
SEO companies help organizations with their website and content to make sure they boost their rank on search engines in an ethical manner that doesn't incur penalties.
Digital Ad Agency
These agencies produce high-quality paid digital ads using multiple platforms for their clients.
Social Media Marketing Agency
A social media agency specializes in helping companies manage and produce consistent content on their social media channels.
Web Design Agency
Some services offered by a web design agency include image creation, user experience design, web hosting, and web development.
Digital Marketing Consultant
A digital marketing consultant is one person who may or may not be associated with an agency that provides businesses with digital marketing advice and strategies.
With so many outsourcing options available, you're bound to find a good fit that aligns with your budget and your goals.
5 Reasons You Need to Hire a Digital Marketing Agency
You may think you are doing alright in the marketing department for your business, but what if you could be doing even better and save time while increasing your marketing returns?
Here are five good reasons to change course now and hire a digital marketing agency:
1. They Give You Access to Marketing Industry Professionals.
The best marketing professionals work for digital marketing agencies. They are the best because they've worked with a variety of businesses throughout different industries.
This means they know how to work with you to make sure your marketing strategies fit with your defined business goals in your industry.
They can provide you with expert advice and even provide you with insights about what your competitors are doing so you can differentiate yourself from them.
2. They Allow You to Focus on Other Areas of Your Business.
Marketing takes a lot of time and effort, and that effort needs to be continuous. Marketing trends are always changing, which can make marketing for your business difficult to keep up with.
Hiring a local digital marketing agency in Tampa, Florida allows you to focus on building and growing your business.
The last thing you may want to focus on is the performance of a LinkedIn blog article or the bounce rates on your website. Hire an agency and let them take care of all of the marketing details while you run your business.
3. They Make It Easier to Manage Your Marketing Budget.
A large portion of your budget likely goes to marketing. And sometimes unexpected expenses can pop up when you least expect it.
This could be because the marketing campaigns you are running aren't getting you the results you'd like, which causes you to spend more money on marketing campaigns that you think will work.
Digital agencies can outline their pricing for you, and you can choose the services you want. This will be the same rate for as long as you choose to outsource some or all of your marketing.
The only time your rate changes is if you sign on a contract for additional services. With good digital agencies, there are no surprises.
4. They Help You Gain New Ideas.
Not every digital marketing tactic or idea will work for you. Some ideas can only provide you with disappointing results. Finding the ideas that work for you takes time, but you may be overlooking new concepts that can provide you with great results fast.
A great digital marketing agency can expose you to the best techniques for your business.
They also give you a fresh perspective on some of the marketing techniques you and your team have already worked on. The agency professionals will assess your efforts and give you new ideas based on your audience's viewpoint.
5. They Offer Measurable Results.
Digital marketing teams know how to effectively evaluate data and analytic metrics using the marketing analytics tools at their disposal. They analyze the results of marketing campaigns for you to determine what is working, and then they identify areas of improvement.
They can also help you to measure your results up to your short-term and long-term goals so you can make sure you are on track.
How to Define Your Good Fit Agency
All digital marketing agencies are not created equal. The one you choose matters. A best practice for finding the right agency is to start with a list of items you want your ideal agency to have.
Here are some good aspects to consider when you are searching for an agency that is a good fit for your business needs.
Their Clients' Results
Beyond figuring out how long an agency has been in business, you need to identify what results they have generated for their clients.
The best way to do this is to read case studies, check out reviews, and look at client testimonials.
This helps you to see if they have a good track record, and you can match up your goals with the items you review to make sure they can help you with your specific goals and needs.
The Agency's Own Results
Successful agencies implement their own digital marketing methodologies. If they offer you software, they should also use that software to drive results.
Make sure you find out how these methods work for them before you expect the methods to work for you.
Their Company Culture
Company culture says a lot about an agency and its leadership. Take a look at the core values and mission of the agency you are interested in hiring to see if their values match up with yours. This is usually found on a company's About Us or Meet the Team page.
You can also learn more about the company culture by looking up reviews on sites like Glassdoor, LinkedIn, or Indeed.
Their Costs
You may have to talk to a digital marketing agency to get a clear amount of how much it'll cost you for their services. Sometimes you can go on their website and get an idea of their base pricing.
You can also check sites like G2 or Capterra to see what their current or former clients say about their prices. These resources also give you a good sense of whether or not their prices meet the value they provide.
Their Accountability
Most importantly, make sure your digital agency tells you about their project management and strategy development process. This way, you can track their progress to make sure they are staying accountable to what they told you.
You should know the exact plan they have for you, what the strategy looks like, how involved you can be as a client, and how they can adapt if you need to change your focus or strategies.
Now that you know what to look for in a marketing agency, check out some of the best digital marketing agencies in the Tampa Bay area. You can use some of these tips to help you find your best fit agency.
10 Tampa Digital Marketing Agencies That Drive Business Growth
Here are 10 great digital marketing agencies in Tampa for you to consider to help you take your business to the next level.
1. Bluleadz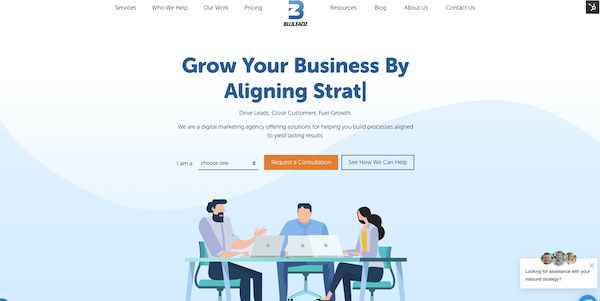 Bluleadz (Hey! 👋) is a premier inbound agency and a HubSpot Diamond Solutions Partner that is committed to forward-thinking innovation that drives leads and converts prospects into satisfied customers.
We have a team of qualified experts who take a holistic approach to our clients' companies, providing them with the best marketing, sales, and customer experience strategies. Our full service agency specializes in the flywheel model, helping companies develop sustainable revenue growth through inbound.
2. Evoke Strategy LLC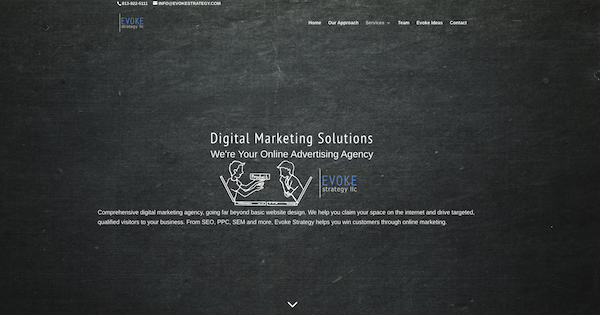 Evoke Strategy LLC is a digital marketing and PR agency that encompasses a wide range of services for their clients.
They help with branding, content marketing, marketing automation, inbound marketing, SEO, social media marketing, and more.
3. Bayshore Solutions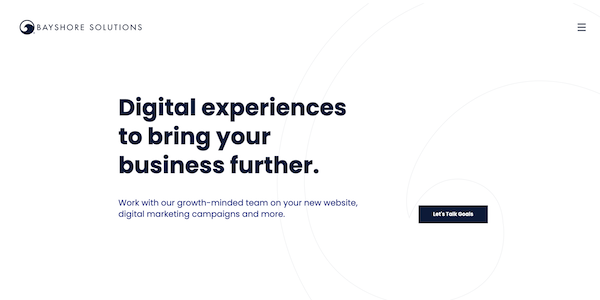 Bayshore Solutions is an end-to-end agency that offers a full range of marketing services like customized branding, hosting, digital marketing solutions, web design, and development to companies that want to grow their business.
They have been helping their clients to achieve their strategic goals since 1996.
4. SimpleTiger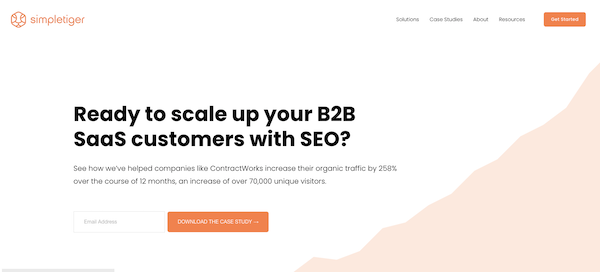 SimpleTiger specializes in content marketing and SEO for SaaS and software companies.
They work with startups, enterprises, and a variety of company sizes in between. Their hyper-targeted services help grow traffic and increase conversions for their clients.
5. Trading Up Media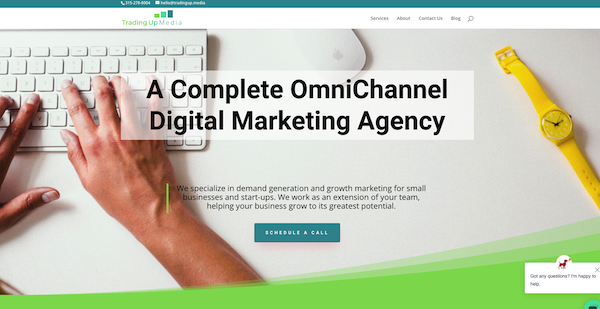 Trading Up Media is a complete digital marketing service that helps businesses with marketing through multiple channels.
Their specialty is in growth marketing and demand generation for startups and small businesses.
6. BrandMinded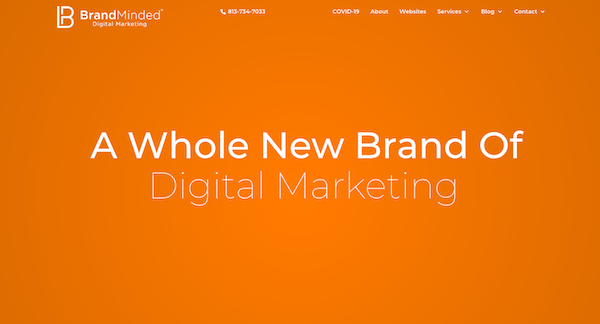 BrandMinded offers full-service digital marketing solutions, including SEO, content marketing, paid search, social media, content creation, email marketing, and more.
They help to increase their clients' visibility by making great branded content. Some of their previous clients include GTE Financial and Bayshore Fit.
7. Chatter Buzz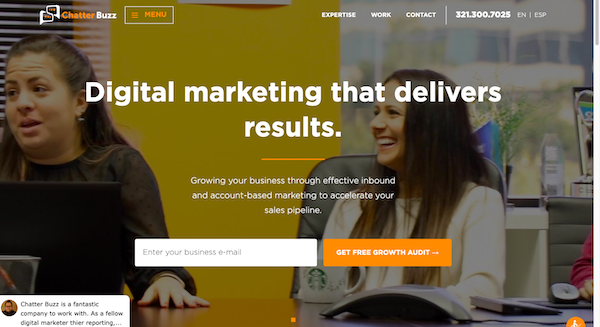 Chatter Buzz is a full-service agency that implements innovative digital marketing strategies to help businesses grow online.
They use white hat SEO techniques to help boost a company's ranking on search engine results pages. Chatter Buzz also helps companies to increase their sales by producing high quality blog posts, email newsletters, videos, and print materials.
8. Leverage
Leverage is an award-winning agency that specializes in content marketing.
They provide their clients with content strategies that help build trust and authority, which ultimately boosts their clients' SEO, visibility, and traffic.
9. Pure Digital Marketing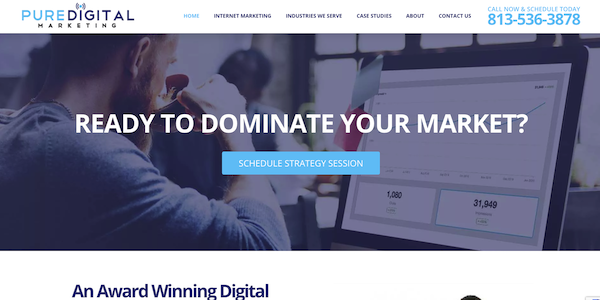 Pure Digital Marketing helps companies drive calls, leads, and profits in a way that is budget-friendly and creative.
They focus on using proven techniques and the most up-to-date tools to help their clients thrive. The Pure Digital Marketing team includes certified experts in SEO, web design, and web development.
10. Red Wall Marketing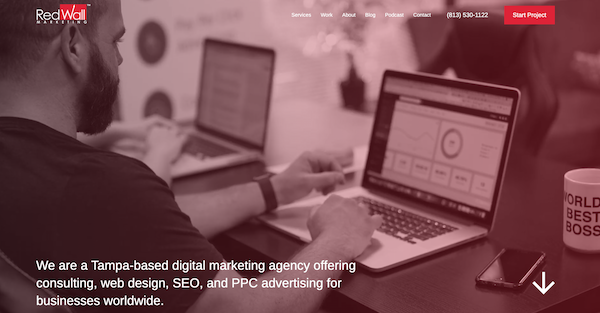 Red Wall Marketing is a full-service digital marketing agency that gives their clients the help they need to grow their business.
They include several marketing services such as PPC, branding, advertising, inbound marketing, local listing, and more, along with consulting and education for small businesses.
Outsourcing marketing may be the best fit for you and your business so you can focus on the things that really matter.
A digital marketing agency does more than write blog content and post on social media for you. They will work hard for your brand to make sure your ideas, products, and services are at top of mind for your target audience.