As a savvy entrepreneur, you already know that developing a strategic plan for online marketing is the most efficient and cost-effective way to increase your customer base. But how do you take advantage of all the Internet has to offer your company while staying focused on your own industry expertise?
At first the task may seem daunting. How do you successfully promote your organization online if you don't consider yourself an expert in marketing or technology? What if you don't have the budget to sustain a large marketing team with the kind of knowledge and experience that is required?
HubSpot is the online marketing system you have been looking for. In one platform, you will have all the tools and resources you need to attract leads and convert those leads to customers.
Manage Your Web site and Promote Your Content
With HubSpot, you can easily create new pages and update old pages on your Web site. HubSpot includes blogging software to build your company blog and a social media publishing tool that schedules and publishes posts. It automatically integrates all pages and blogs with content sharing buttons so you can reach prospective customers via Twitter, Facebook, and LinkedIn. The social media monitor tool will track your brand's mentions online.
Increase Traffic
In 2011, organizations using HubSpot experienced a 13% increase in visitors each month. This success is due to the online marketing system's built-in search engine optimization. The keyword grader tool helps you discover the keywords potential customers are using when searching for your product online. A page-level SEO analysis determines the keywords and inbound links that are driving traffic to specific pages, then provides instructions on how to improve your Web pages to attract relevant traffic to your site.
Capture Leads
Research shows companies with 30 or more landing pages generate seven times more leads than those with fewer than 10. HubSpot allows you to easily create landing pages with customizable lead capture forms and a call-to-action builder. After 3 months of use, HubSpot customers report getting 32% more leads per month. If you would like to see HubSpot in action click here.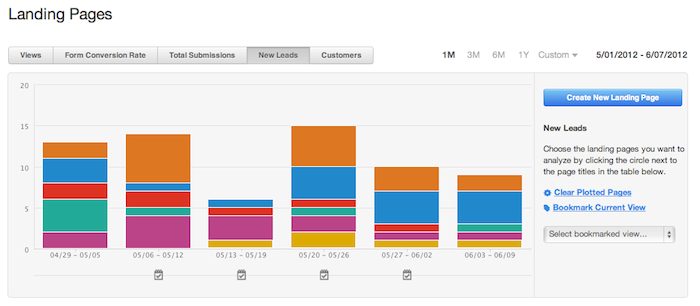 Convert Leads to Customers
With HubSpot's prospect and lead intelligence, you will learn how prospects are interacting with your site and what interests them most about your product or service. Or, identify segments of your leads based on their activity across your marketing channels, such as social media. Nurture your leads through customized emails, or emails personalized to your visitors based on their online behavior.
Analyze Your Marketing Efforts
As part a comprehensive online marketing system, HubSpot provides analytics to help you make smart marketing investments. Through its extensive reports you can determine:
Which of your marketing channels are bringing in the most customers?
How much traffic was generated from search optimization versus paid advertising?
How does your marketing plan compare to your competitors?
Which pages and activities are most influential in converting leads?
How long did it take to convert leads into customers?
It is important to choose an online marketing system that addresses all of your needs – from creating and promoting your content, to analyzing the success of your marketing efforts. Not only will Hubspot give you the tools to get found online by more qualified visitors, but it will also show you how to convert those visitors into leads, and close those leads efficiently.