The Best Enterprise CRM Solutions
1.

HubSpot Sales Hub

2.

Salesforce

3.

Oracle CRM On Demand

4.

Zoho CRM
5.

Pipedrive

6.

Microsoft Dynamics 365

7.

Freshsales

8.

SugarCRM
It's no secret that salespeople often spend more time searching for prospects and doing administrative work (like data entry) than selling.
Time is money, so how do you work to improve efficiencies?
Technology is beginning to address this age-old dilemma with tools like customer relationship management (CRM) software.
A CRM is a tool used to centralize data across channels so companies can manage relationships and interactions with current and potential customers.
Used correctly, CRMs can streamline efficiencies, increase sales, and improve client retention. With benefits such as these, it's no wonder that more businesses are shifting from manual processes to digital solutions.
According to a 2020 Customer Relationship Management Market Report by Grand View Research, the industry is expected to grow 14.2 percent each year from 2020 to 2027.
With so many CRM systems on the market, it can be challenging to know the right solution for your company. Throw terms like "enterprise CRM" in the mix, and the confusion increases.
To help curb any uncertainty, we're going to explain enterprise CRMs and look at the best systems for bigger companies.
As a brief overview, here are the top eight enterprise CRM tools we'll be discussing:
HubSpot Sales Hub
Salesforce
Oracle CRM On Demand
Zoho CRM
Pipedrive
Microsoft Dynamics 365
Freshsales
SugarCRM
What Is an Enterprise CRM?
In its purest form, an enterprise CRM is a more robust CRM solution. The software is built to address the intricacies of larger businesses.
How?
Enterprise CRM systems consolidate customer data into one platform to close the gap on siloed workflows across departments with exhaustive operations. This allows full context across teams to improve the overall sales process.
It's important to note that enterprise tools come with a higher price tag due to what's needed in terms of the scale, customization, and deployment.
Each solution has its benefits and disadvantages, but there are key features to look for with any software you're considering.
Features to Look For When Selecting an Enterprise CRM Software
Enterprise CRM software is tailored to more customizable inclusions and a higher level of automation. While some CRM tools claim to support the enterprise level, features are usually lacking.
Before selecting an enterprise CRM for your business, make sure to look for these key services:
Customer data management: This is a primary function of CRMs that collect and organize customer information.
Customer service support: You'll likely have questions, so it's important to consider the support offered (e.g., chat, email, or phone).
Sales acceleration and automation: CRM software should automate sales-related functions, such as order processing and sales forecasting, to improve efficiency.
Marketing functions: Integrating marketing features (like email campaigns) in your enterprise CRM helps align your sales and marketing teams for improved success.
Hosting environment: Some CRM tools are cloud-based, while others have to be installed.
The 8 Best CRM Solutions for Enterprise Companies
1. HubSpot Sales Hub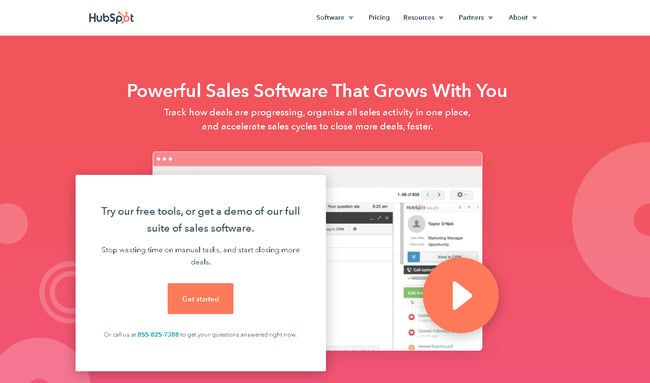 HubSpot Sales Hub Enterprise is a powerful, all-in-one solution that's best known for its ease-of-use and simplicity. It combines tools like sales engagement and custom reporting analytics to help sales and marketing teams leverage consistent data, increase revenue, and save time.
HubSpot Sales Hub Enterprise includes advanced sales acceleration features like sales playbooks, e-sign, call transcription, custom reporting, automated email sequences, and unlimited tracking to send timely follow-ups.
The platform also syncs with Gmail, Office 365, Slack, and over 500 other apps and web services. Its email marketing features allow for A/B testing, list segmentation, and landing page customization.
Additionally, HubSpot includes sales automation, pipeline management, predictive lead scoring, and scheduling software. Not to mention, the reporting function is highly customizable and able to include granular details.
Compared to Salesforce, HubSpot Sales Hub Enterprise is more affordable, especially when it comes to support, implementation, and maintenance.
2. Salesforce

Salesforce is the current industry leader for CRM software. It boasts feature-rich technology and is designed to be mobile-first — including offline functionality — which is ideal for teams on-the-go.
From client authentication to data encryption, you can rest easy knowing your sensitive information is protected.
Salesforce works to align sales, marketing, service, and internet technology (IT) teams. Salesforce Einstein uses artificial intelligence (AI) to provide recommendations specific to your business. It also offers rules-based lead scoring and unlimited custom apps.
A few additional noteworthy enterprise features:
Highly customizable reports for real-time insights
Enterprise territory management
Segmentation based on cross-channel data
For sales teams, account and contact management gives you insight into customer communications for full visibility. You can even keep track of information from Facebook, Twitter, and LinkedIn without leaving the Salesforce CRM.
As a disadvantage, a sophisticated CRM like Salesforce comes with a steep learning curve, and the interface is tricky to navigate — not to mention the sticker shock of any add-ons.
3. Oracle CRM On Demand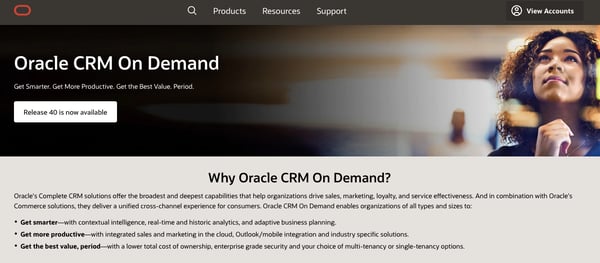 Oracle has been developing computer software since 1977, so they know a thing or two about technology. However, Oracle's CRM On Demand interface hasn't seemed to age with the times.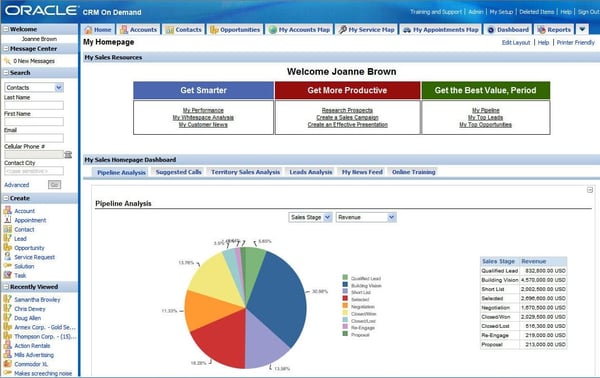 Despite its design, the tool is a popular CRM for enterprise businesses. Unlike newer solutions, Oracle CRM On Demand doesn't have a complicated setup process. It also includes enterprise-grade security.
If you're looking to increase sales productivity, the system offers lead qualification, sales automation, and real-time reporting. Oracle CRM On Demand also enables marketing teams to deliver higher quality leads through progressive profiling.
Inbound and outbound campaigns can be created using lead management and lead nurturing tools.
Additionally, Oracle offers industry-specific features geared toward vertical markets like life sciences, high technology, and wealth management. For example, the Oracle CRM On Demand Life Sciences Edition - Medical Solution tracks revenue by the clinic, physician, product, or hospital.
If you can look past the superficial dashboard, Oracle CRM On Demand is a highly flexible solution.
4. Zoho CRM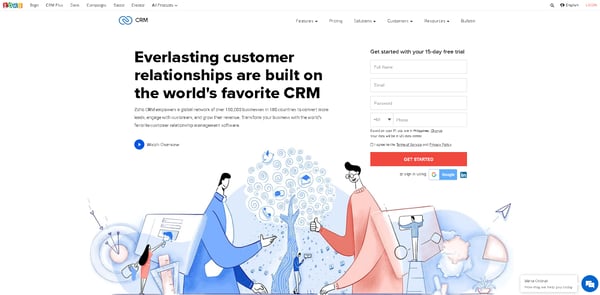 Zoho CRM is a global system that powers more than 150,000 businesses across 180 countries.
Its sales features address each stage of the customer journey through Zoho's CommandCenter. The visual editor aids in building complex customer workflows. You can also coordinate brand messaging and implement data-based personalization.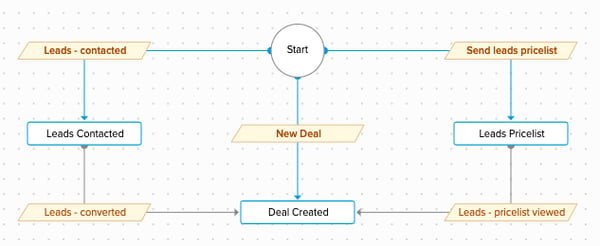 Beyond the CommandCenter functions, Zoho CRM improves the sales process with automated lead scoring, deal management, and cross-channel communication. For further customization, the software integrates with dozens of built-in and third-party apps.
Similar to Salesforce, Zoho CRM offers an AI-powered assistant — Zia — for predictive sales. Zia can assign records to the best-suited rep based on performance history and suggest workflows based on patterns.
For the needs of enterprise-level companies, Zoho CRM offers flexible contracts, migration assistance, and 24/7 customer support. But, as with many enterprise CRM solutions, it does require a lot of customization before you can start using it effectively.
5. Pipedrive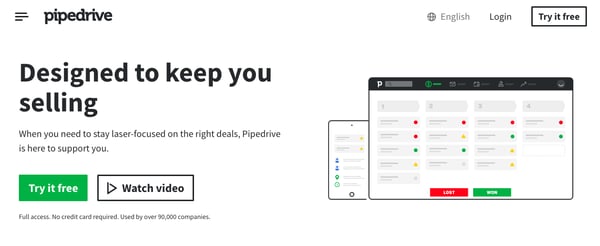 Known for its positive user experience, Pipedrive is another cloud-based enterprise CRM. While the tool mainly focuses on small businesses, it still packs excellent features for larger companies.
All Pipedrive CRM plans include 24/7 chat and email support and over 150 app integrations. Additionally, the software is General Data Protection Regulation (GDPR) compliant and runs on both iOS and Android.
Core enterprise features include two-way email sync, contact and organization management, and customizable pipelines. Additionally, Pipedrive CRM has an AI sales assistant and unlimited visual dashboards. For full visibility, you can also sync activities with Google Calendar.
Tracking with Pipedrive CRM is more inclusive than some alternatives in this list. Beyond the basic open and click tracking, you can follow progress, goals, and reporting activities.
Arguably the most unique capability is being able to create custom features for free.
For enterprises with more restricted budgets, Pipedrive CRM is a more affordable solution.
6. Microsoft Dynamics 365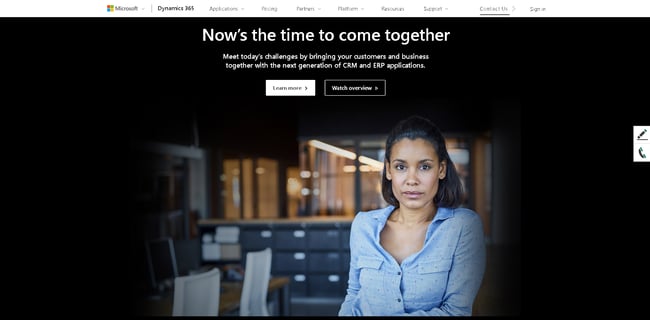 Similar to the HubSpot Growth Platform, Microsoft Dynamics 365 is a set of business applications. It combines Microsoft's enterprise resource planning (ERP) tool and CRM into one cloud-based solution.
Microsoft Dynamics 365 has the basic features you would expect to find with an enterprise CRM, such as marketing automation, custom dashboards, lead scoring, and A/B testing.
However, compared to most enterprise CRM systems, Microsoft Dynamics 365 takes a more customer-focused approach. Using conversational intelligence technology, it allows you to replicate successful sales calls to deliver similar personal experiences to future prospects.
Real-time feedback lets you easily coach sales teams and make necessary adjustments in the pipeline before it's too late.
Microsoft Dynamics 365 also features highly complex offerings like a product visualizer for mixed realities. It allows your buyer to see a 3D digital clone of the product in the work environment as if it's actually there. Advanced tools like these, paired with leading software, improve the sales process.
If you already work with other Microsoft tools like Office 365 or Outlook, they integrate seamlessly with Dynamics 365.
Microsoft Dynamics 365 is highly customizable and extremely robust. As such, this CRM software is one of the most expensive solutions.
7. Freshsales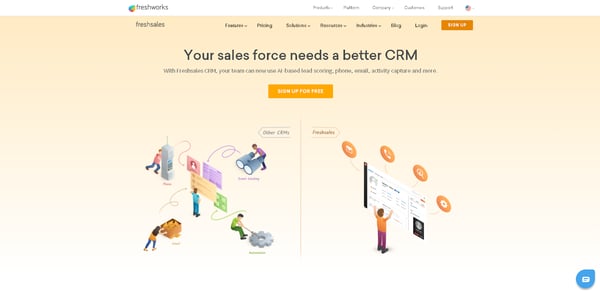 If the name didn't give it away, Freshsales CRM focuses on improving sales workflows. It's a part of the Freshworks suite of business tools, including helpdesk software and IT service management software.
With Freshsales CRM, you can set up multi-currency and multi-language functions. As an enterprise, these features are essential to your business.
Freshsales CRM also has built-in Freshcaller integration, which lets sales teams make calls with one click — while auto-logging the information. Auto-profile enrichment saves time by automatically augmenting leads and contacts with their social media and public information.
You can also give role-based access, apply bulk actions, and use web-to-lead smart forms. And, Freshsales CRM offers 5,000 bulk emails per user, per day.
For enterprises, Freshsales CRM delegates a dedicated account manager to assist with any needs. However, current users have reported subpar tech support with the platform.
8. SugarCRM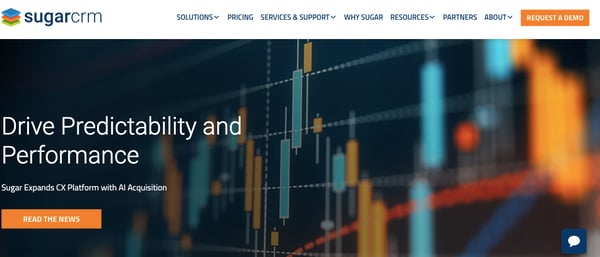 SugarCRM is an ecosystem of tools meant to help you sell smarter, market more intelligently, and increase client retention with better service.
Using AI, SugarCRM delivers predictive insights proven to optimize sales pipelines. Additionally, the interface provides a positive user experience and the systems are easy to navigate.
Each tool offers great CRM features for companies working at a larger scale, but with Sugar Enterprise, you have more flexibility.
On-premise deployment gives you complete control over the technology stack to better comply with any regulations. SugarCRM is completely customizable. It also allows you to automate unique sales processes and is mobile supported.
Key features of SugarCRM include:
Customer journey mapping
Subscription-based sales automation
Drag-and-drop process automation
Although SugarCRM is intuitive, it's not as well-known. The setup process is also known to take longer.
Final Thoughts: The 8 Best Enterprise CRM Solutions for 2020 Revealed
CRM software is vital for any company to establish unified workflows across departments and improve sales productivity. With larger companies, regular CRMs won't offer tools at quite the desired scale.
An enterprise CRM solution might be better suited for your business needs. They build their tools as more robust solutions for companies operating on a larger scale.
With so many CRM systems on the market, it can be difficult to determine the best option for your specific needs. As with any technology you're considering, there are a few essential features to keep in mind.
To save time on browsing Google for the best tool, we put together the eight best enterprise CRM platforms. With any of the above selections, your business will be in good hands.
An all-in-one CRM shouldn't force you to sacrifice between ease-of-use of customizability. Learn more about enterprise software that features both.