We live in an age where there's a software as a service (SaaS) solution for most business needs. Need a customer relationship management (CRM) software? Email marketing solutions? Customer service? Name it, it exists, and it's ready to make your life a lot easier.
One of the top contenders in this arena is HubSpot. This is because it's actually an all-in-one platform that provides extensive lists of features for your marketing, sales, and service needs.
But how do you get started with it? It seems that since it's so comprehensive, it may be easy for something to fall through the cracks.
Fortunately, they have a pretty robust knowledge base that walks you through all of its processes. And you also have the roadmap below to set the stage for a successful HubSpot implementation.
But first, let's go over some of its core benefits.
The benefits of HubSpot are many; and depending on the features you use and on your industry, you may come up with a list that may be slightly different from someone else's.
However, there are many advantages that are common denominators across the board, including:
A Comprehensive Platform
It's entirely possible for a business to get a CRM from one provider, email marketing from another one, and a help desk from yet another SaaS solution.
And while this may certainly work well, it also entails hoping that all of these applications work well together. Otherwise, you'll end up with duplicative work, or frustrations as your teams try to figure out how to best conduct their job roles across all platforms.
HubSpot makes this easier by having their CRM, marketing, sales, and service hubs work well with each other.
Extensive Integrations
A comprehensive platform doesn't mean that you have to get rid of your existing tech stack. While there are certainly businesses who decide to migrate, say, their content management system (CMS), CRM, or other applications to HubSpot, the platform still integrates well with a long list of other solutions.
All you have to do to ensure that they work with what you're already using is to browse through their Application Marketplace.
Free CRM
No matter your industry or the size of your business, having a CRM is crucial to keep all of your contacts organized, and to gather data about your website visitors and anyone else who interacts with your company. This ensures that all communications are addressed, and that you can tailor them to your contacts' needs.
And HubSpot's CRM is free, so there's really no reason not to use it. You can track interactions with contacts, automate communications, manage your pipeline, and keep everything in one centralized location.
Free Education Courses
In addition to their knowledge base, HubSpot Academy offers an extensive list of free courses so that you can learn how to use each of their hubs. But beyond that, they provide useful and practical content relating to trends and best practices in marketing, sales, and service.
And when you're done taking the courses, you can take an hour-long test after each of them so that you can obtain industry-recognized certifications. These are good for two years. After that time, you'll have to take the course again to stay in the loop regarding new trends, features, and updates.
User-Friendly Interface
Although HubSpot has a learning curve, the interface itself is pretty simple to understand. And once you start learning how to use it, it becomes second nature.
The platform is consistent, intuitive, and you're not required to have any specialized knowledge (such as coding) to use any of its features.
Streamlined Processes
Since HubSpot has marketing, sales, and service hubs, they are designed to work well together, eliminating having to transfer information manually from hub to hub. And because they integrate well with so many business applications, you get to reap this benefit regardless of what you're using.
This helps eliminate wasted time and enables your teams to access the information they need, when they need it.
Alright. So now that you know that HubSpot is most certainly something to write home about, let's go over the steps you'll need to take for its basic setup:
Connect Your Email.
Connecting your own email to HubSpot enables you to send communications directly from the platform. This, in turn, saves all communications, responses, and follow ups on the CRM.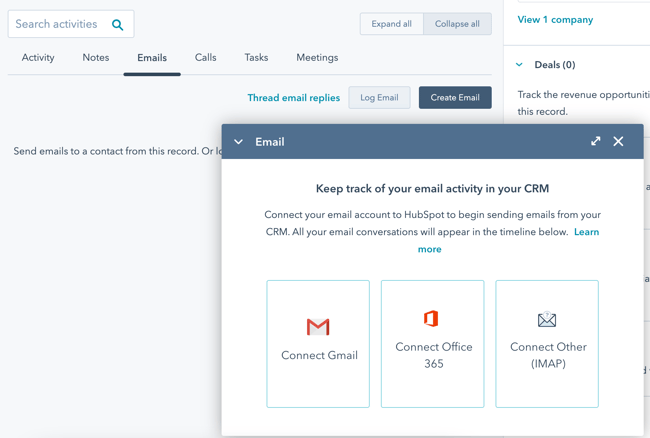 You can leverage this data to segment your contacts based on their categories and lifecycle stage. You can also use it to send personalized communications — and thus increasing the likelihood of engagement.
Connect Your Calendar.
Connecting your calendar to HubSpot enables you to keep track of meetings in your CRM. You can also use the platform to send calendar invites and meeting reminders.
This feature also eliminates the need of having to go back and forth as you propose meeting dates and times by providing recipients with access to your calendar so they can book meetings directly.
Invite Your Team.
Inviting your team allows them to work within the platform. For example, you want your content team to be able to access the CMS, your marketing team to access features like workflows, and your sales team to access deals, lead scoring, and the CRM.
Remember to set up permissions based on each member's job role and on the features they'll need to access to perform their duties successfully.
Integrate Your CRM.
This bears repeating every single time: personalizing the user experience is crucial. Some of your competitors are likely doing it, and the last thing you want to do is lose prospects to them when there are so many tools available for you to also have a competitive advantage.
The best way to do this is to use a CRM. If you're not using HubSpot's, you'll have to integrate the one you're using with your HubSpot account.
Import Contacts.
Importing your contacts will help you maintain a complete database from the beginning. Plus, it eliminates the need to enter them manually, which has to be one of the most boring tasks in the universe.
Once you create your import file and import it, remember to segment your contacts based on categories, such as leads, prospects, existing clients, former clients, people to re-engage, job roles, geographical location, budget, products or services use, and any other categories that may be relevant to your business.
Set Up Filters.
HubSpot filters enable you to find contacts that you're looking for a specific reason. For example, if you only want to pull up former customers, use a former customers filter.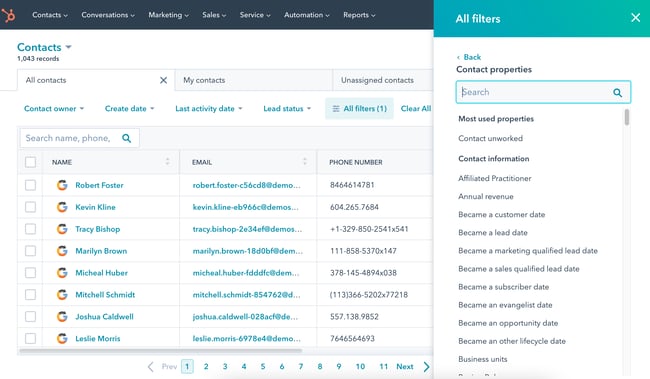 You can use filters in your HubSpot CRM to look for objects within contacts, companies, deals, tickets, and custom objects.
Identify Deal Stages.
HubSpot deals are ongoing communications with a contact. These can be categorized to track their progress. You can also build a customized deal pipeline with stages to visualize your sales process.
For example, you can set up the initial deal to be "Scheduled an appointment" or "Sent proposal." This helps you monitor your pipeline accurately and gauge how much revenue is tied up in each stage.
Install the HubSpot Tracking Code on Your Website.
In order to monitor your website traffic, pageviews, bounce rates, conversion rates, and any other behavior pertaining to your site — as well as how each contact interacts with it — you'll have to manage your website analytics with your HubSpot account.
You'll then want to install a tracking code. You can do this by clicking on the Settings icon on the main navigation bar, then selecting Reports & Analytics from the left sidebar menu.
Click on Tracking Code, then copy and paste the code that appears on screen on every page of your site, before the </body> tag. Remember to exclude internal traffic for accurate analytics.
Set Up Marketing Email Settings.
Email marketing is an excellent way to nurture your leads and stay top of mind. And HubSpot's workflows feature enables you to set up drip campaigns that will deploy automatically based on preset user behaviors.
Once you complete the setup, you can also use email templates, drag-and-drop editor, and CTA creators to create emails that match your brand.
Users with an Enterprise plan can establish their frequency settings to keep subscribers engaged in a way that won't overwhelm them with numerous messages.
Integrate Your Social Media Accounts.
This one requires having a Professional account on HubSpot's Marketing Hub. The benefit of doing this is that you can schedule posts for all of your accounts from one spot. You can then track their performance — including clicks, comments, likes, and replies.
Currently, you can connect accounts on Facebook, Instagram, Twitter, LinkedIn, and YouTube.
Set Up Your Blog in HubSpot.
Having a business blog is an essential tool of any inbound marketing campaign. Every page you create has to be crawled and indexed by Google. And as long as you're implementing SEO best practices, every page is a new chance to rank on search engine results pages (SERPs).
HubSpot's CMS makes it easy to create and customize blogs by providing you with templates, CTA creators, and built-in SEO suggestions, making it a cinch to draft, edit, and publish your content.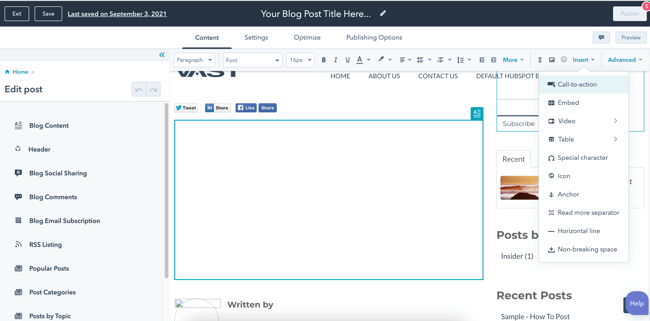 You can also set the length of each blog's summary that you can display on your blog listing page, as well as insert a Read More separator.
Set Up Ticket Pipelines.
Keeping track of your customer interactions is essential to ensure that queries are getting attended to promptly. With the ticket pipelines feature, you can also track how each service ticket progresses — when it was submitted, what was the wait time, resolution time, and any other element that is relevant to your business practices.
Do keep in mind that each HubSpot plan (Starter, Professional, and Enterprise) has a maximum number of ticket pipelines.
Set Up Reporting Dashboards.
You can't track what you can't measure. I didn't make up that line. It's repeated ad infinitum in all marketing (and fitness) circles. And it's done so because it's true. So remember to set up your reporting dashboards on HubSpot.
You can set dashboards up to track the metrics that are important to you based on campaign goals or departments — including website traffic, sources of traffic, page performance, email subscribers, open rates, clickthrough rates, social media campaign performance, and revenue attributed to XYZ.
Set Up Your HubSpot to Fuel Growth
As you can see, HubSpot really is an all-in-one solution that helps facilitate many business processes and keep track of their performance. And if you find it all too overwhelming or simply don't have time to learn it all, you can always contact your favorite HubSpot Elite partner for consulting or management services. We're always happy to help.